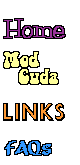 Mod Top #90
Danielle Boiteau in Bainville, Ontario Canada had a 1969 Y2 318/auto Barracuda ModTop

Note: This car was sold for $33,000 at a Barrett-Jackson Auction in 2015.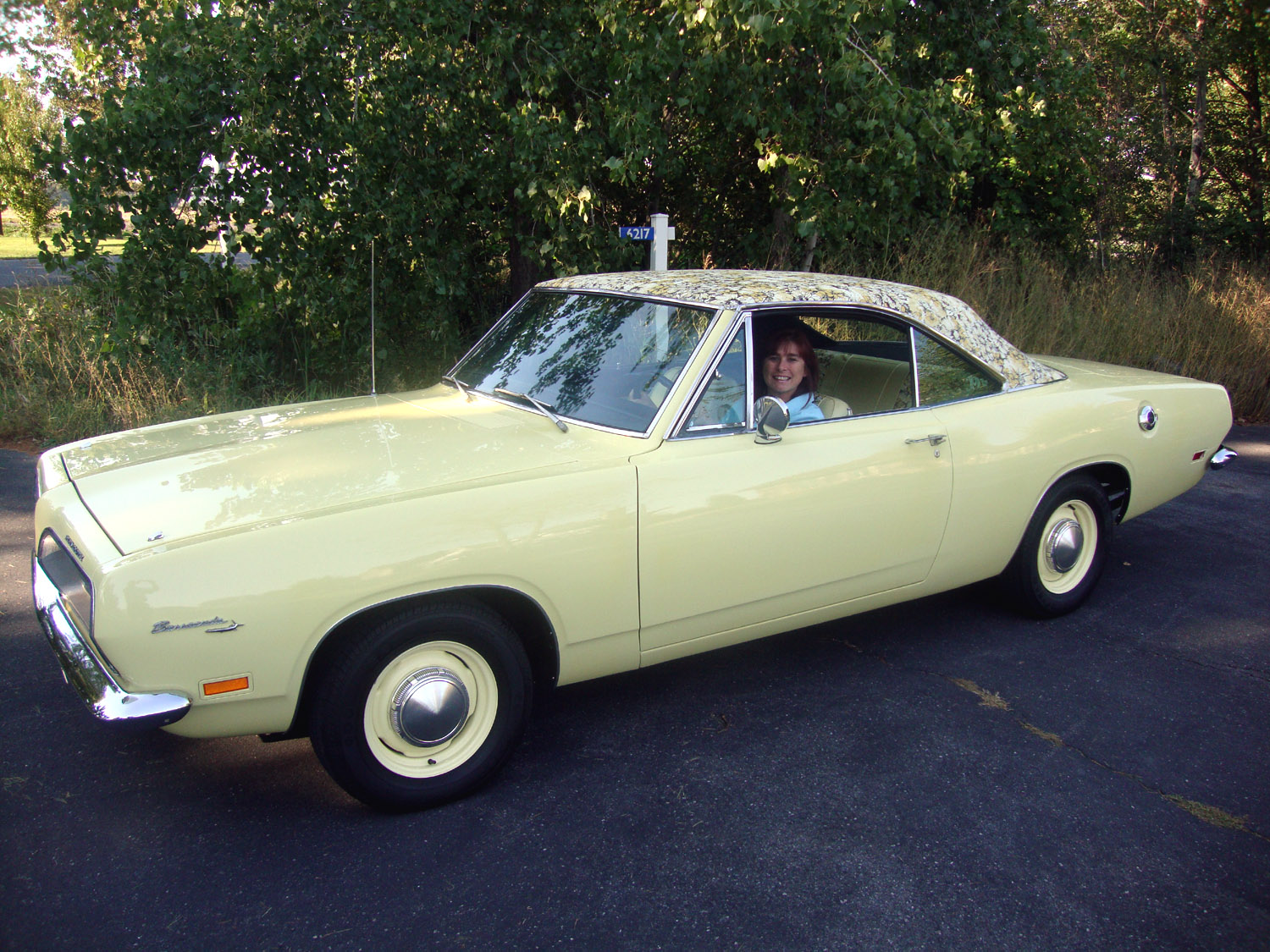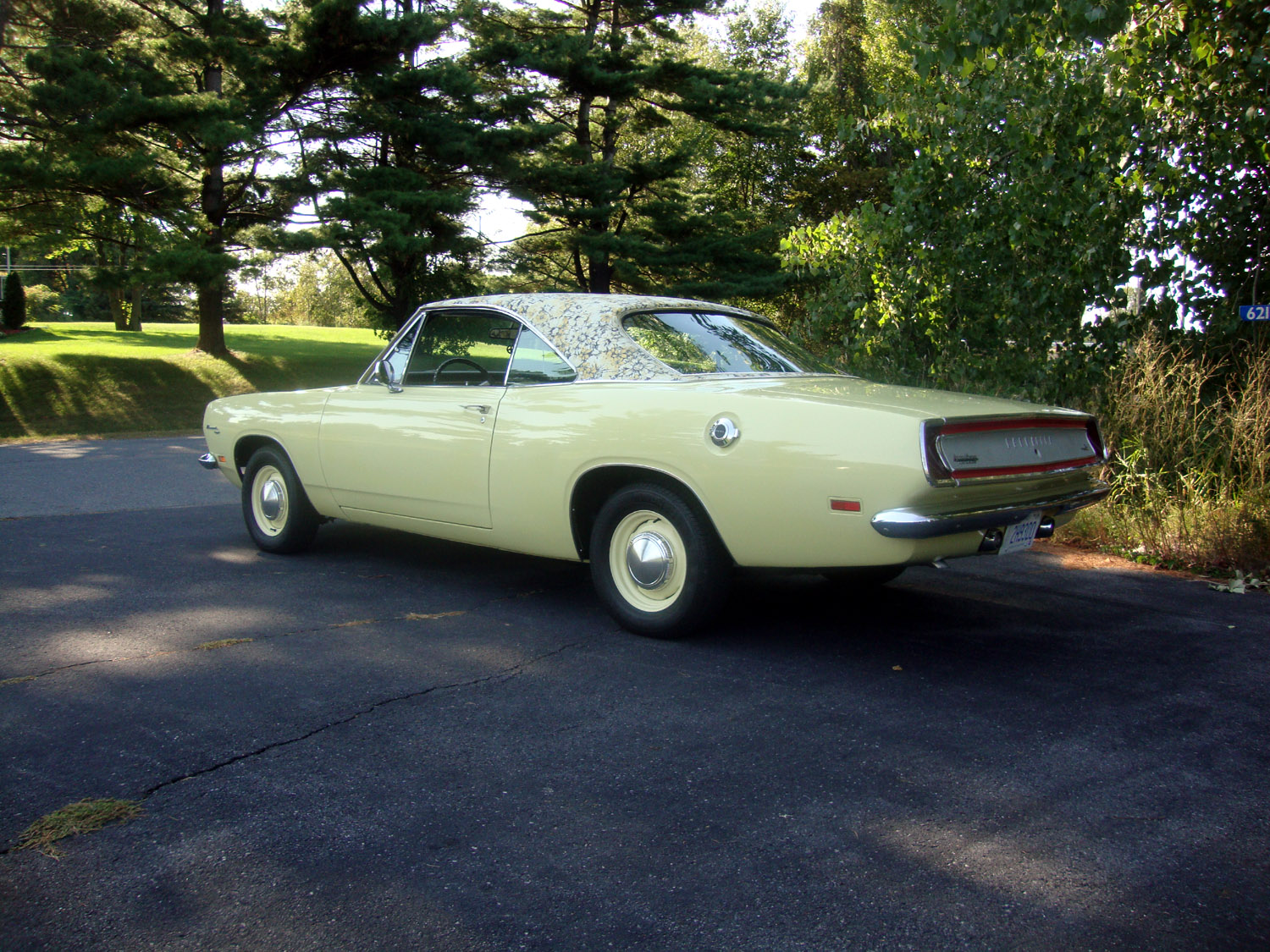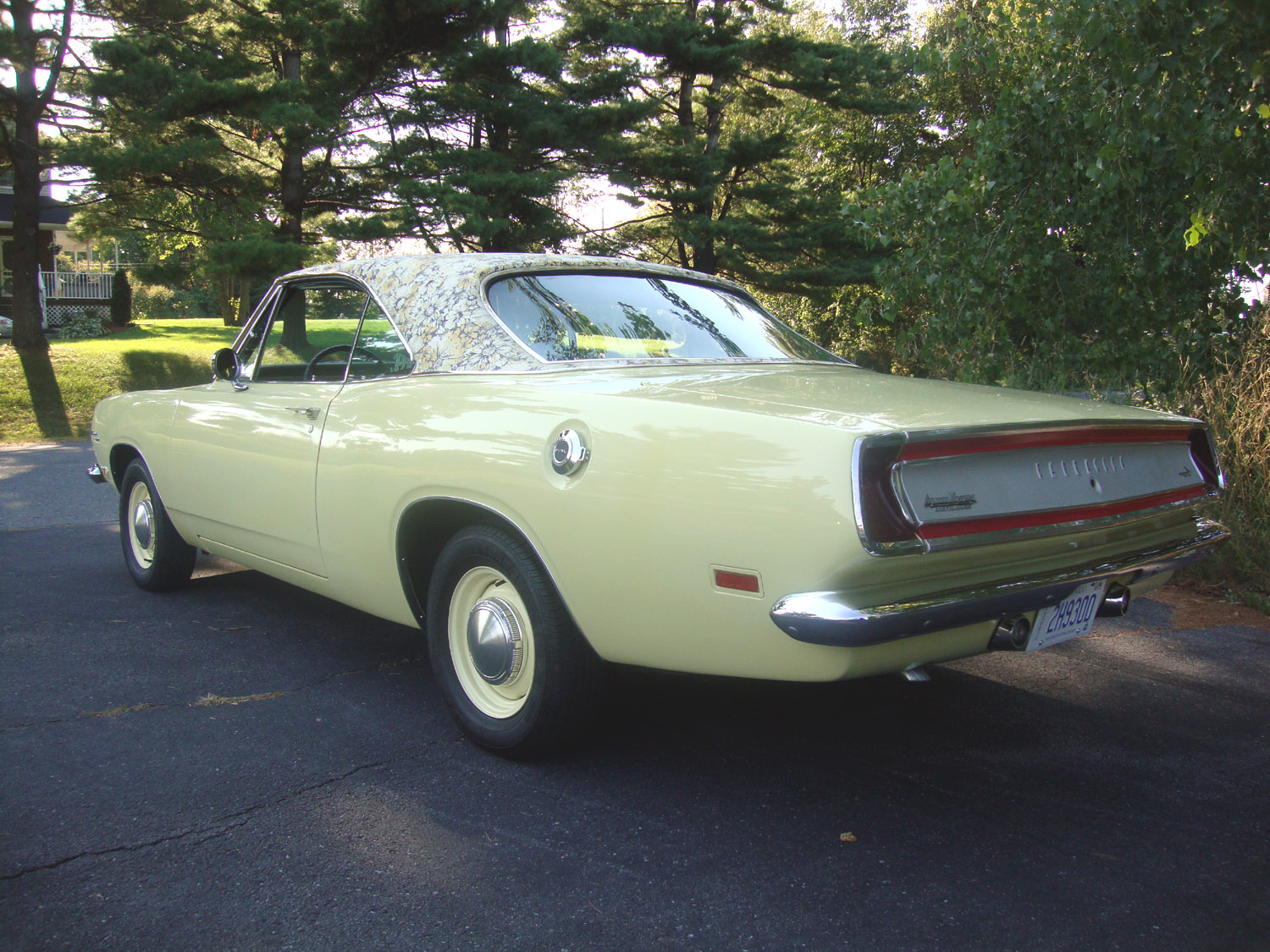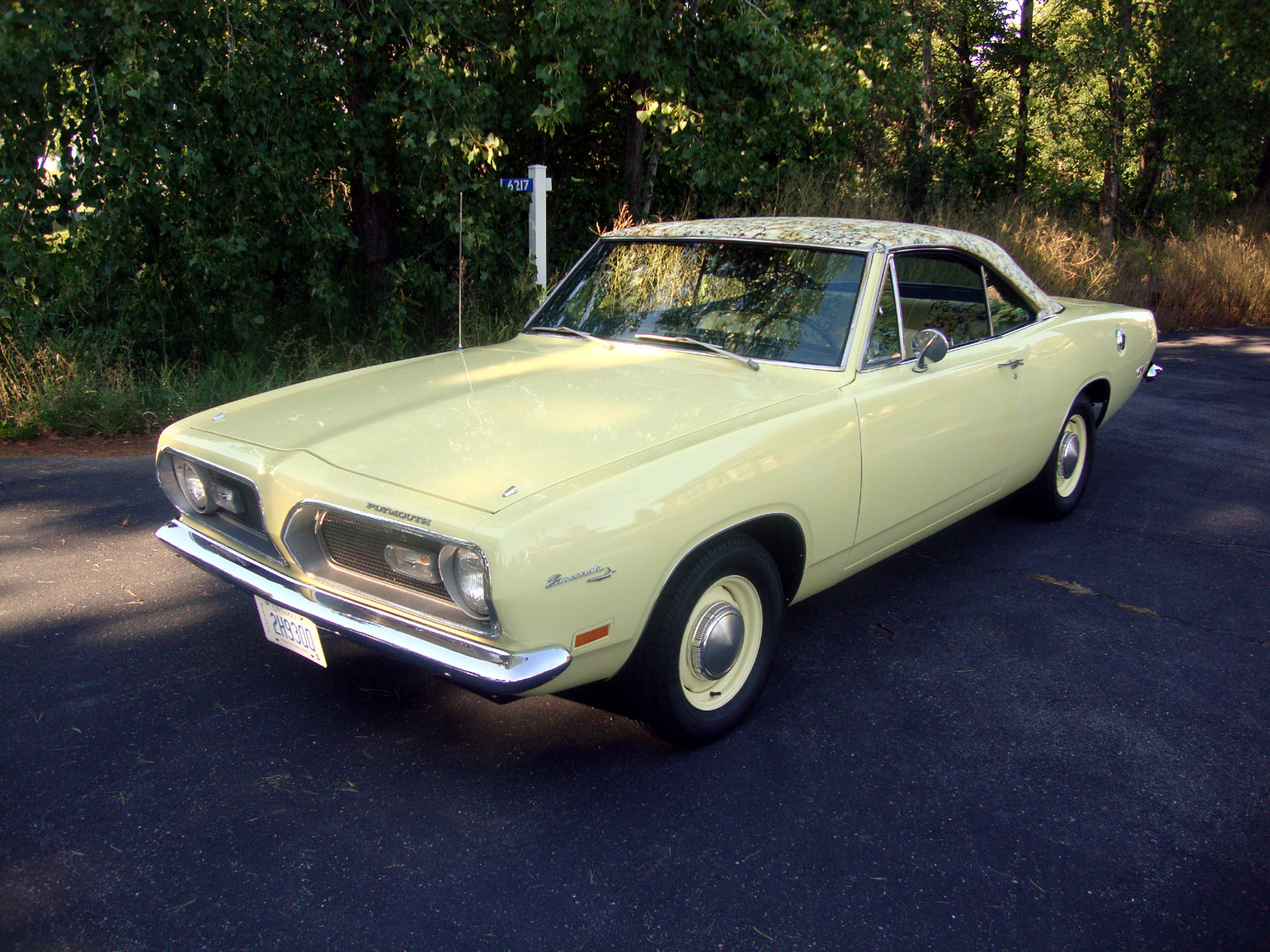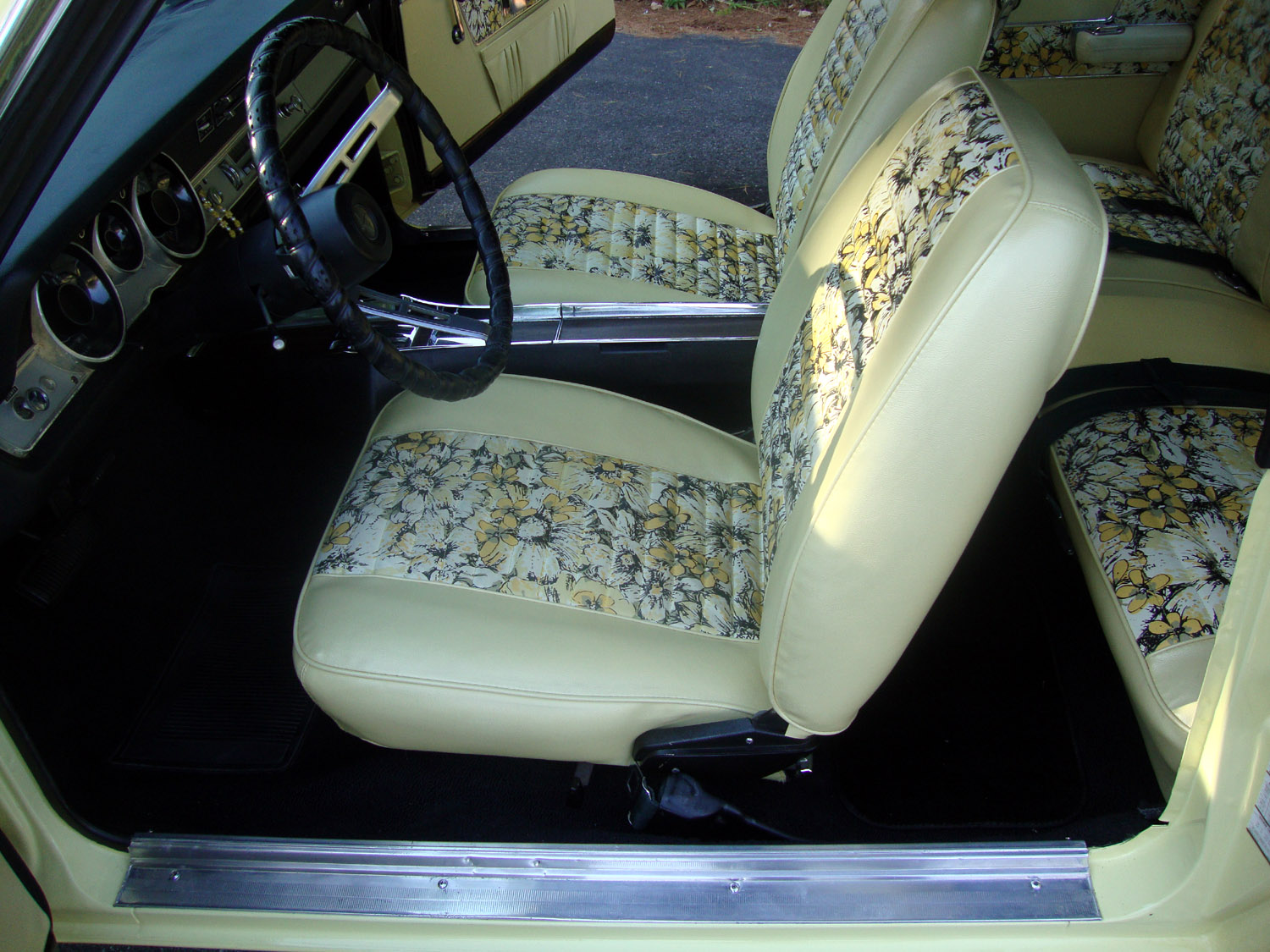 Fender tag info:


M21 M31 R11 VIP V7X END
A01 C16 C55 G11 G33 L31
 Y2 F6P X9 916 062891
E44 D31 BH23 F9B 140XXX

M21 = Drip Rail Mouldings; M31 = Body Belt Mouldings (under the side windows); R11 = Music Master AM Radio (2 Watt); V1P = Yellow floral vinyl roof; V7X = Black longitudinal accent stripe; END = end of codes

A01 = Light package (glove box lamp, etc); C16 = Console with woodgrain; C55 = Bucket seats; G11 = Tinted glass all windows; G33 = Driver's side remotely-operated side mirror, chrome; L31 = Hood mounted turn signals;

Y2 = Sunfire Yellow exterior paint; F6P = Yellow vinyl seats with yellow and black floral inserts (mod interior), also yellow and black floral inserts on the door panels; X9 = Black Interior paint (console, instrument panel); 916 = September 16, 1968 build date; 062891 = order number

E44 = 318 engine (230hp); D31 = A904 3 speed auto tranny; BH = Barracuda High Price Class; 23 = 2 Door Hardtop; F9B = 318/1969/Built at Hamtramck, MI; 140XXX = Sequence number.

More info about the car:
Engine that came with the car orginally? - 318
Engine in the car now - 360
Tranny that came orginally? - Auto
Tranny in the car now? - same
Original Exterior color? - Y2 Sunfire Yellow
Interior seat color - F6P Yellow vinyl bucket seats with mod (floral) inserts

Note: this was originally Ruth Campbell's Mod Top from Tennessee (VIN was incorrectly submitted as 110XXX but is now corrected to 140XXX) and this car was sold at Carlisle in July 2012 to a lovely Canadian family who lovingly calls their new Mod Top, "Ruth". :)



Go back to the Mod Registry Info Page!
Last updated 12/1/2012 10:11:57 AM