Mod Car #7
Cathy Malinowski has a white '69 Satellite with Mod interior! She has some pics of her Mod Satellite, and may share them with us soon.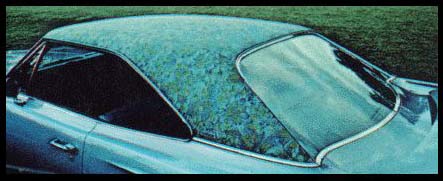 Here's the fender tag:
R11 V7B 26 END
A01 G33 H51 L31 M21 M33
W1 W1 F2Q B7 905 091696
E44 D31 RH23 F9E XXXXXX

AM radio (R11), Light Blue Accent Stripe (V7B), 26 inch Radiator

Light package (A01), Left remote mirror (G33), Air Conditioning (H51), Fender mounted turn signals (L31), Drip moldings (M21), Body side moldings (M33)

Alpine white exterior paint and upper door jams (W1), Floral class interior vinyl bench - turquoise and blue & green floral (F2Q), Jamacian blue metallic interior paint (B7), 9/5/68 Build date (905), order number (019696)

318 2bl (E44), 904 3spd auto (D31), Belvedere series-high price class (Satellite) 2 dr hrdtp 318 LA assembly plant (RH23F9E), serial number Deleted

More info about the car:
Engine that came with the car orginally? - 318
Engine in the car now - 383
Tranny that came orginally? - 904 auto
Tranny in the car now? - 727 auto
Original Exterior color? - W1 Alpine white
Color now? - W1 Alpine white
Interior bucket seat color - It's not listed!
If not listed, what is it? - front bench not buckets and is turquoise blue with blue flowered inserts
Cathy tells us about her Mod Satellite:

"The car is not a mod top car it never came with a vinyl top. It also has a front split bench.

I got the car 10 years ago from a used car dealer in Phoenix. I bought it sight unseen and had it delivered up to me in MN.

I do not know anything about its previous owners except that the used car dealer said it was an Italian family that brought the car to him. The dealer gave me a good deal on it because he thought that the Italian family had put this "real ugly aftermarket interior" in the car.

The 318 smoked enough to clear the neighborhood of bugs and the Arizona sun had done a number on the interior, but the body is unbelievably clean.

I've been working on it for about 10 years now. Buying a house, getting married, having kids and finishing my husband's '69 charger, our '68 Coronet wagon (at the nats in '96) '72 Dart and '72 New Yorker have taken priority.

The interior of the car is basically done with new seats and new door panels. It also now has a new 383 that runs great. This year we hopefully will get to painting it."
---

Go back to the Mod Registry Info Page!
Last updated 1/31/98 10:20:16 AM EST