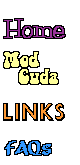 Mod Top #65
Larry Mack in Minnesota has a '69 Satellite 318/automatic Mod Top.

More info about the car:
Engine that came with the car orginally? - 318
Engine in the car now - 318
Tranny that came orginally? - automatic
Tranny in the car now? - automatic
Original Exterior color? - Not listed!
Color now? - Light blue and rust
Interior seat color - bench seat with blue -green mod interior

Notes from Larry:

I bought the car in 1992 for $175. dollars I bought it because it had a factory am/fm radio. I still have it but it is rusty and basicly a parts car but everything is still their. The car was sold new in my town.
---

Go back to the Mod Registry Info Page!
Last updated 8/6/05 2:49:29 PM