Mod Top #31
Check this out folks! A 1 of 14 Dart GT Mod Top!


As you'll see below, the Top is gone, see Eddie's notes below for explanation!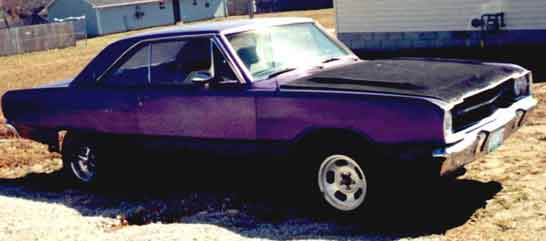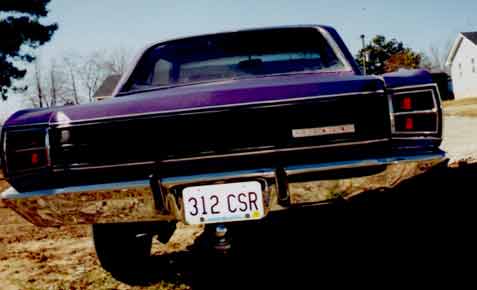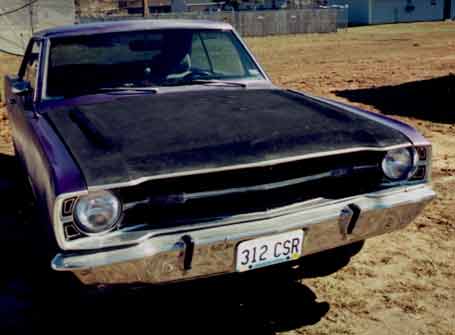 Here's the fender tag: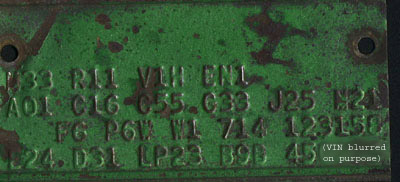 Fender tag info:

M33 R11 V1H EN1  
A01 C16 C55 G33 J25 M21
  F6 P6W W1 714 123158
E24 D31 LP23 B9B 45XXXX 
M33 = Body Side Mouldings ; R11 - AM Music Master radio; V1H = Green floral vinyl roof (came on Darts and Coronets only); EN1 = end of codes
A01 = Light Group (interior lamps); C16 = Console with woodgrain; C55 = Bucket seats; G33 = Driver's Side remote mirror; J25 = 3 speed variable windshield wipers; M21 = Drip Rail Mouldings
F6 = Bright Green Metallic exterior paint; P6W = White bucket seats, with black carpet, instrument panel, steering wheel and headlining; W1 = White upper door frame paint; 714 = July 14, 1969 build date (very, very late in the model year! The new 1970 model year started August 1, 1969; 123158 = order number
E24 = 225 Slant 6 1bbl engine (145hp); D31 = A904 3 speed Automatic Transmission (Torqueflite); LP = Dodge Premium Price Class; 23 = 2 Door Hardtop; B9B = 225/1969/Built at Hamtramck, MI; 45XXXX = Sequence number.
Eddie adds these tidbits of information:

"The info on the car from me is: when I found the car it was next to an old barn the guy said he got it from a friend and didn't know any thing about the car so i got a hold of the other guys number and name he said it had flowers on the top so he took the flowers off the kid was he was 17 and said he did not want to drive around with flowers on it the top is gon the car has been painted plum crazy it needs restored but i did not know you could get the material so i can try and make it original again.

P.S. the kids dad said he bought the car new, i also have a pic. of it the way it looks now not restored. "
---

Go back to the Mod Registry Info Page!
Last updated 9/1/00 8:52:18 PM EST