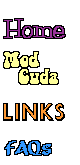 Mod Top #29
Dave in NY has a 1969 20,000 mile, unrestored Barracuda Mod Top:
**THIS CAR IS FOR SALE! Contact Dave Goodwin at mopar1969_70@yahoo.com**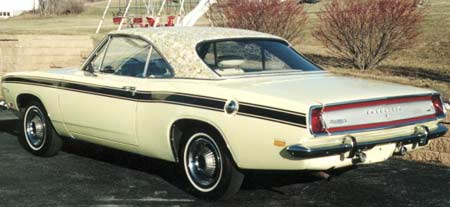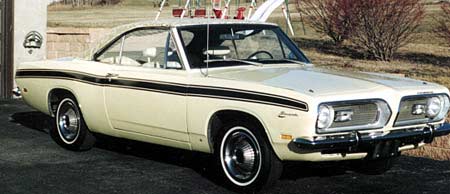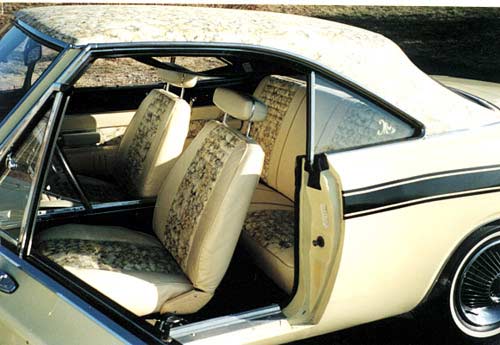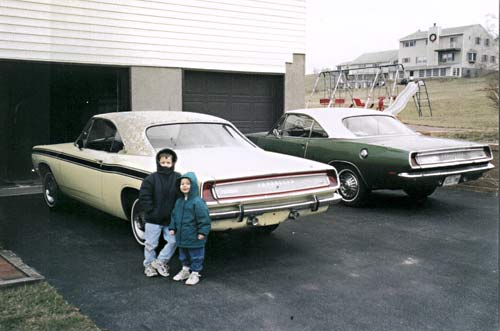 Note the original speed nuts in the trunk with the original spare: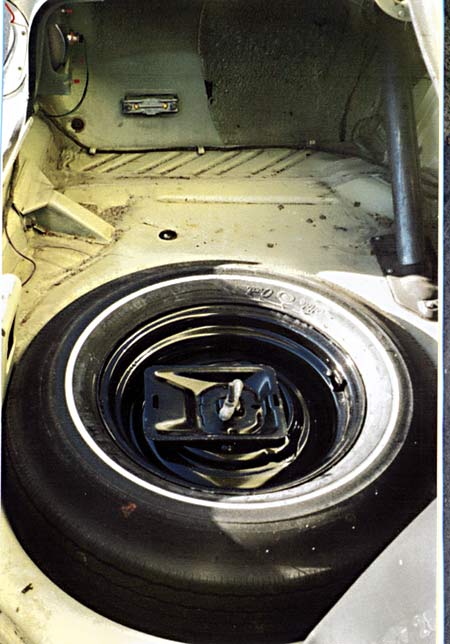 Also, check out these NOS flower key chains in sealed bags that Dave has:




Fender tag info:

M31 R11 V1P V6X EN2
A01 A14 C16 C55 L31 M21
   Y2 F6P X9 529 172767
E44 D31 BH23 F9B 392XXX

M31 = Body Belt Mouldings (under side windows); R11 - AM Music Master radio; V1P = Yellow floral vinyl roof; V6X = Black longitudinal tape sport stripe; EN2 = end of codes
A01 = Light Group (interior lamps); A14 - Spring Special Package with Vinyl Roof (Sport Stripes, Vinyl Roof, Light Group, Front and Rear Bumper Guards, Deep Dish Wheel Covers, White Wall Tires); C16 = Console with woodgrain; C55 = Bucket seats; L31 = Hood- mounted Turn Signal Lights; M21 = Drip Rail Mouldings
Y2 = Sunfire Yellow exterior paint; F6P = Yellow vinyl seats with yellow floral inserts; X9 = Black upper door frame paint (black console and dash, black carpet, too); 529 = May 29, 1969 build date; 172767 = order number
E44 = 318 2bbl engine (230hp); D31 = A904 3 speed Automatic Transmission (Torqueflite); BH = Barracuda High Price Class; 23 = 2 Door Hardtop; F9B = 318/1969/Built at Hamtramck, MI; 392XXX = Sequence number.
"Finding a low mileage one owner Cuda is hard enough, this one has the rare Factory Mod Top option with floral vinyl top and interior.

"The original owner bought this from the local Chrysler Plymouth Imperial dealership Friedman Motors Inc. on July 15, 1969 at the time she was 57 years old and just loved the pretty yellow flowers on the top and interior! She spent her hard-earned money from working pressing shirts to make a down payment. Then made payments as she drove the car to work until she retired at 60. Since then the car has spent most of its time in the garage, taken out only to have the oil changed and to go for a spin around the block to knock off the cob webs. The car was continually serviced through the years to ensure that it was ready to go should the owner get the urge to take it for a spin."

Click Here (62k file) to see the original window sticker! The car also has the original bill of sale, owners manual and all the past registrations.

"The Mod Top trim option was designed to get the 60s youth market! Remember the Mod Squad? (The hippie and love child culture) "Flower power" but this one attracted the attention of a little old lady and its condition shows her care!

"The car is equipped with a 318 V-8 with torqueflite transmission bucket seats console, power steering, sport stripes, bumper guards, light package and heavy-duty suspension with sway bar! The original jack appears new and from what the owner believes may have never been removed from the trunk, the spring that holds it in place is even in excellent condition."

Dave adds these tidbits of information:

"This is a car with 20,793 original miles which i purchased on January 7,2000. [...] my wife was actually impressed with the car when i got it home, and i am glad i bought it. Also, This car actually has the original wide oval spare tire and it probably has never touched the ground except maybe at the factory!! "
---

Go back to the Mod Registry Info Page!
Last updated 03/29/2018 at 20:29 EST