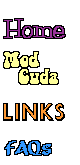 Mod Top #120
Johnnie Patton in Kentucky has a Y2 Sunfire Yellow 318/A904 Mod Top Barracuda

More info about the car:
Engine that came with the car orginally? - 318
Engine in the car now - 318
Tranny that came orginally? - A904
Tranny in the car now? - A904
Original Exterior color? - Y2 Sunfire Yellow
Exterior color now? - Jamaica Yellow
Interior bucket seat color - D6P Deluxe Yellow Floral (Buckets)
---

Go back to the Mod Registry Info Page!
Page last updated: 12/19/2014 4:07:30 PM