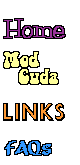 Mod Top #112
Todd Savage in Canada has a 1969 F8 Ivy Green Daytona (1 of 1)!

UPDATED: 7/31/15, click to view updates!

UPDATED: 1/22/16, click to view links to several articles on the Floral Top Daytona!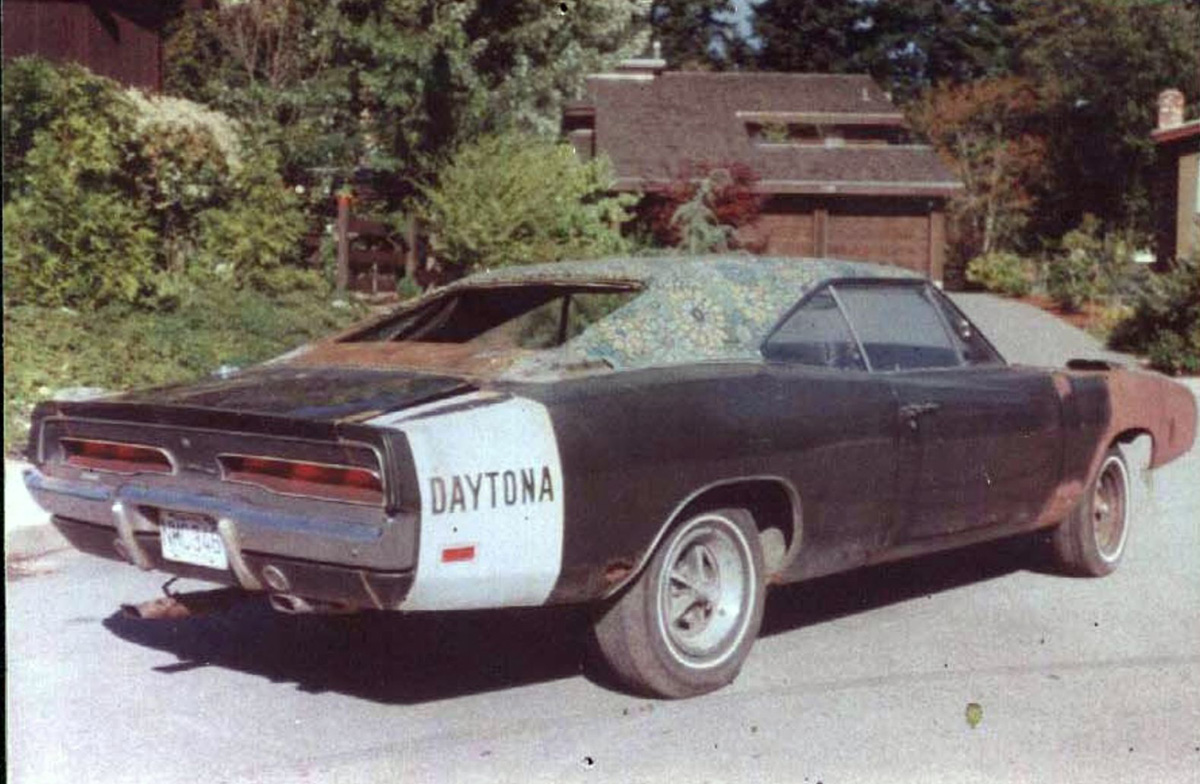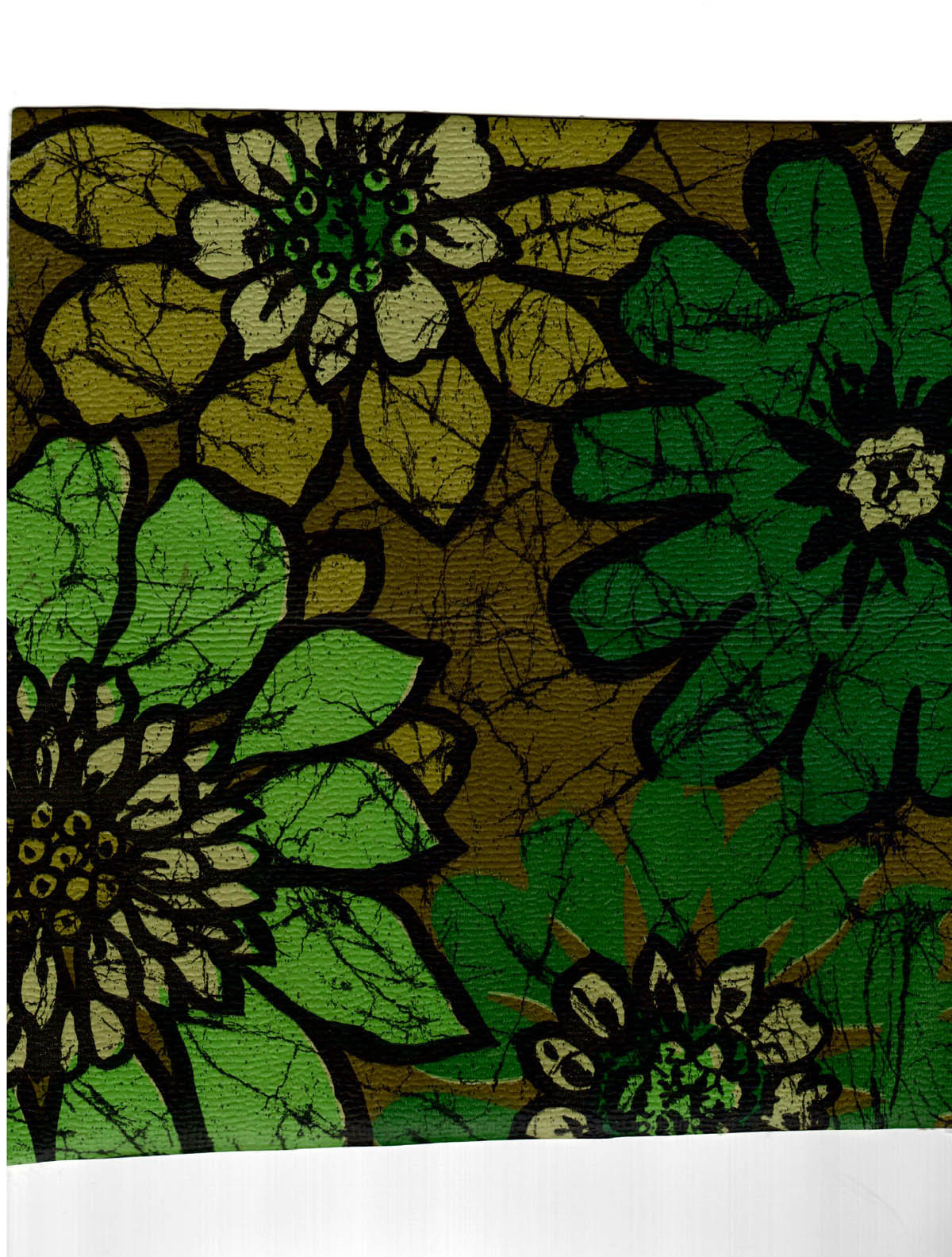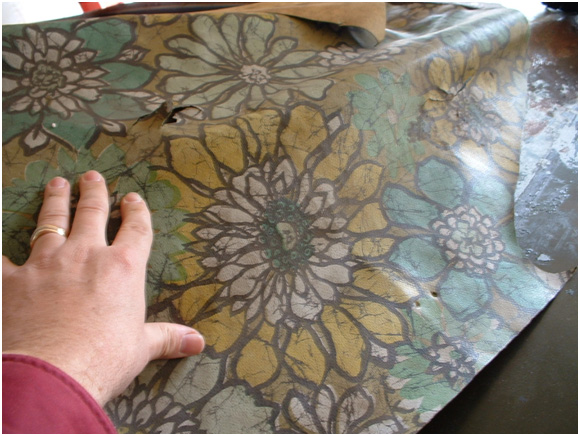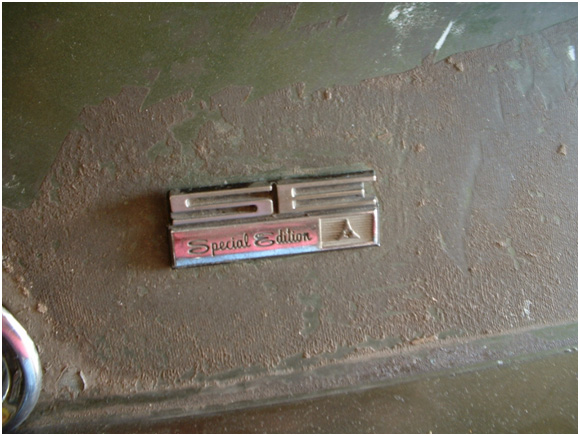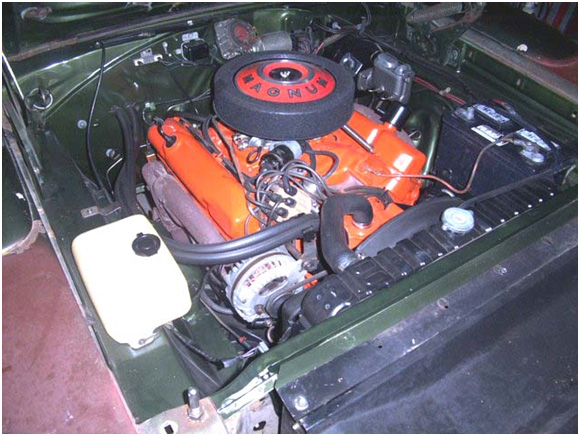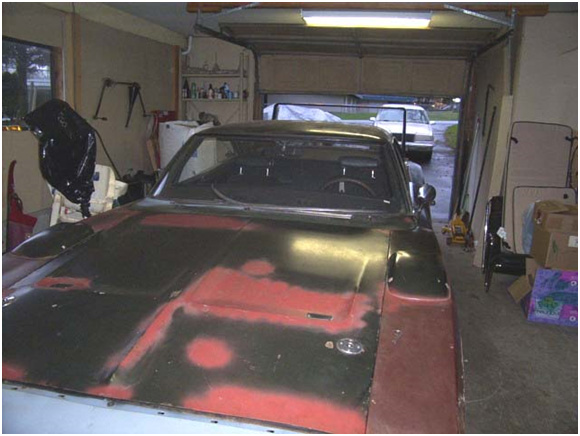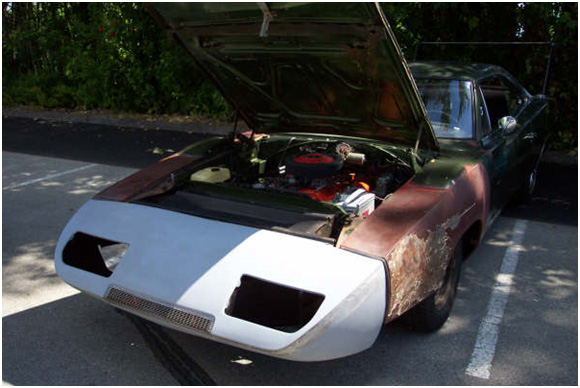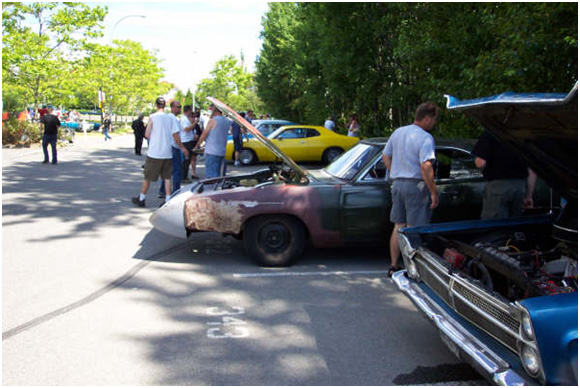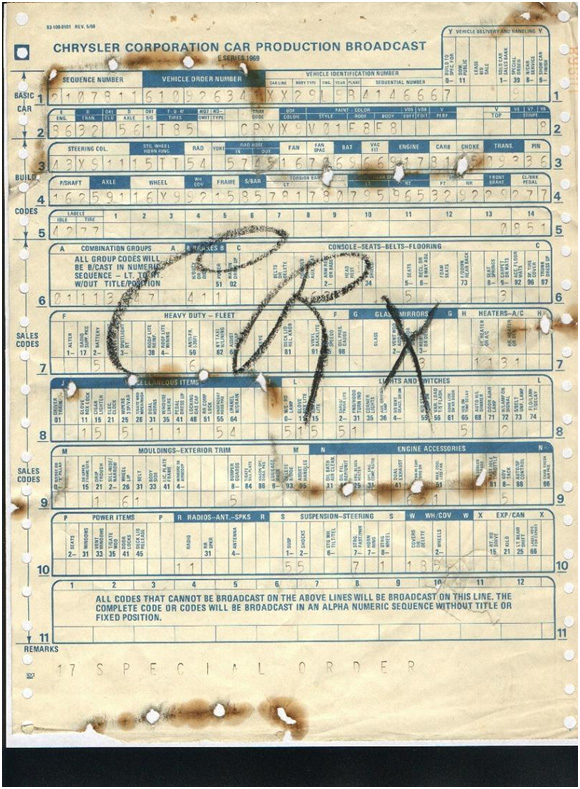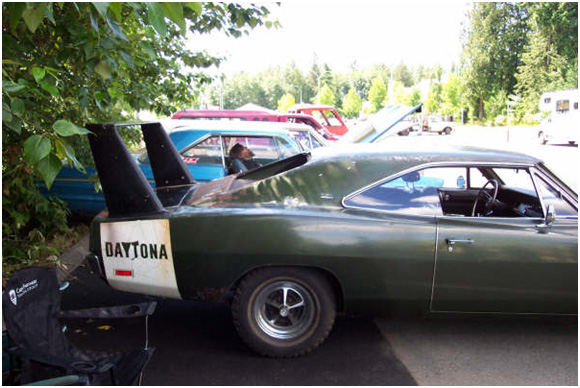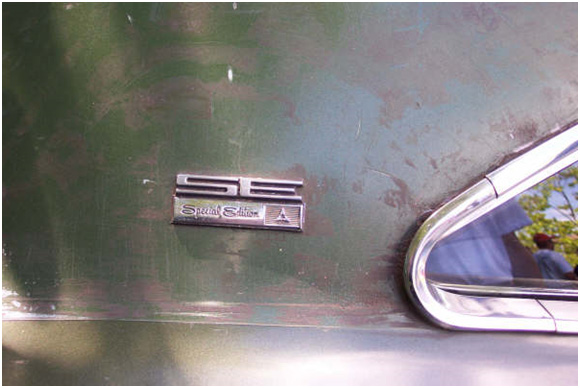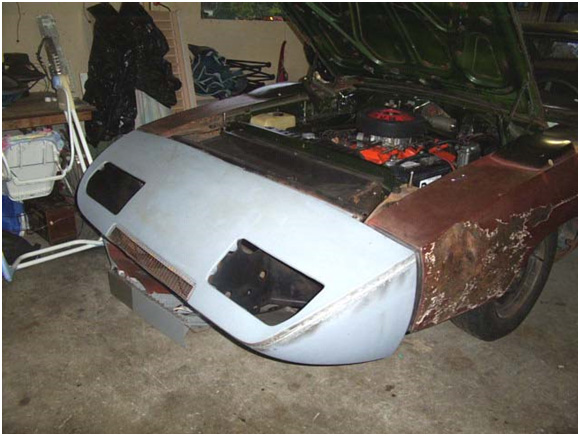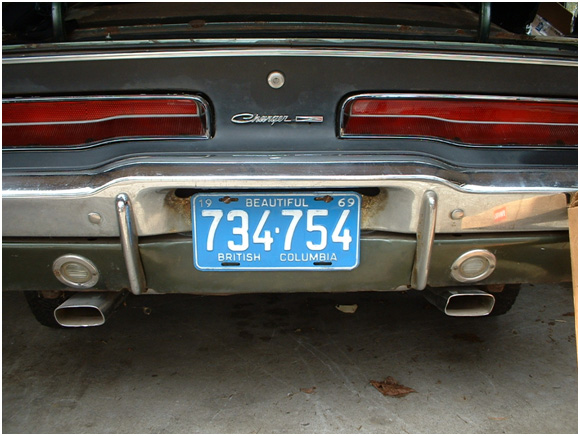 More info about the car:
Engine that came with the car orginally? - 440
Engine in the car now - 440 numbers match
Tranny that came orginally? - numbers matching auto
Tranny in the car now? - same
Original Exterior color? - F8 Ivy Green Metallic
Interior bucket seat color - H6X Black (Bucket seats)
Other good stuff about this '69 Mod Top Daytona from Todd Savage:
"One of 3 documented Vinyl top Daytonas & the only known MOD TOP DAYTONA Chrysler built.

The Material is a pre- production 1970 material not shown in the Mod Top registry. It was a special order by Chrysler in 1969 and wound up on one car. The MOD TOP DAYTONA Samples of the original material in four colors made by Stauffer Industries have been documented. Mopar Collector's Guide magazine ran aticle on the car in Feb and March 2011. The Car is an SE Daytona one of 14 built with black interior and a white wing.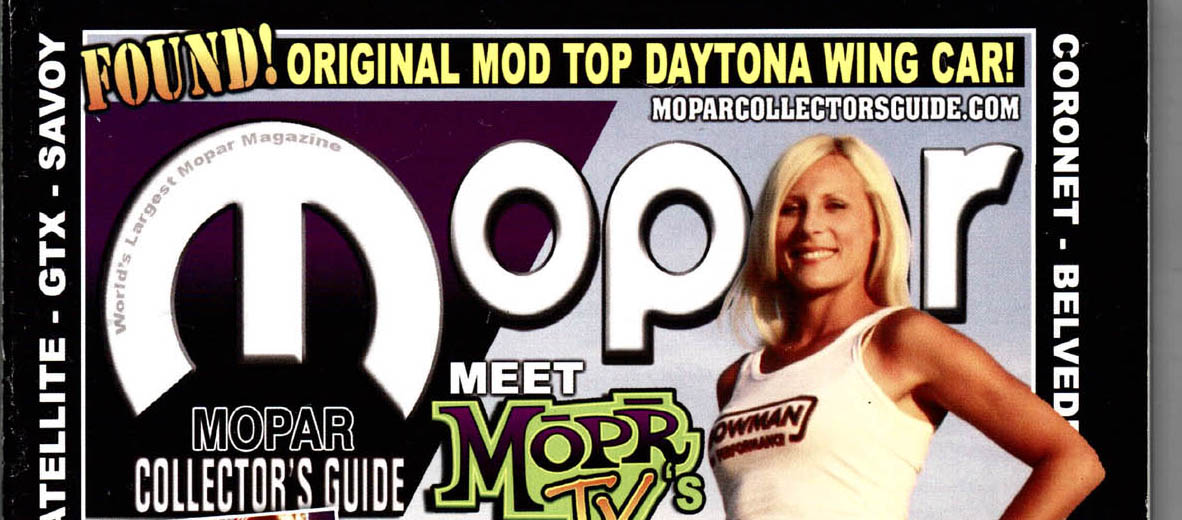 Some lesser known facts about Dodge's attempt to produce the 1970 Mod Top material for regular production , the material was created in 4 distinct colors for 1970.

The gentleman shown below, Mr. Mounsey, owns the only known samples of all 4 colors (& they are Not For Sale, & yes I asked ….big time …) he had saved them on a book shelf with some Chrysler headliner material which he designed while working for Stauffer Industries. The Headliner he designed was used in all Chrysler vehicles from 1971 throughout most of the 70's and eliminated the tiny holes in headliners from the 60's and Stauffer did this to reduce road noise at Chrysler request.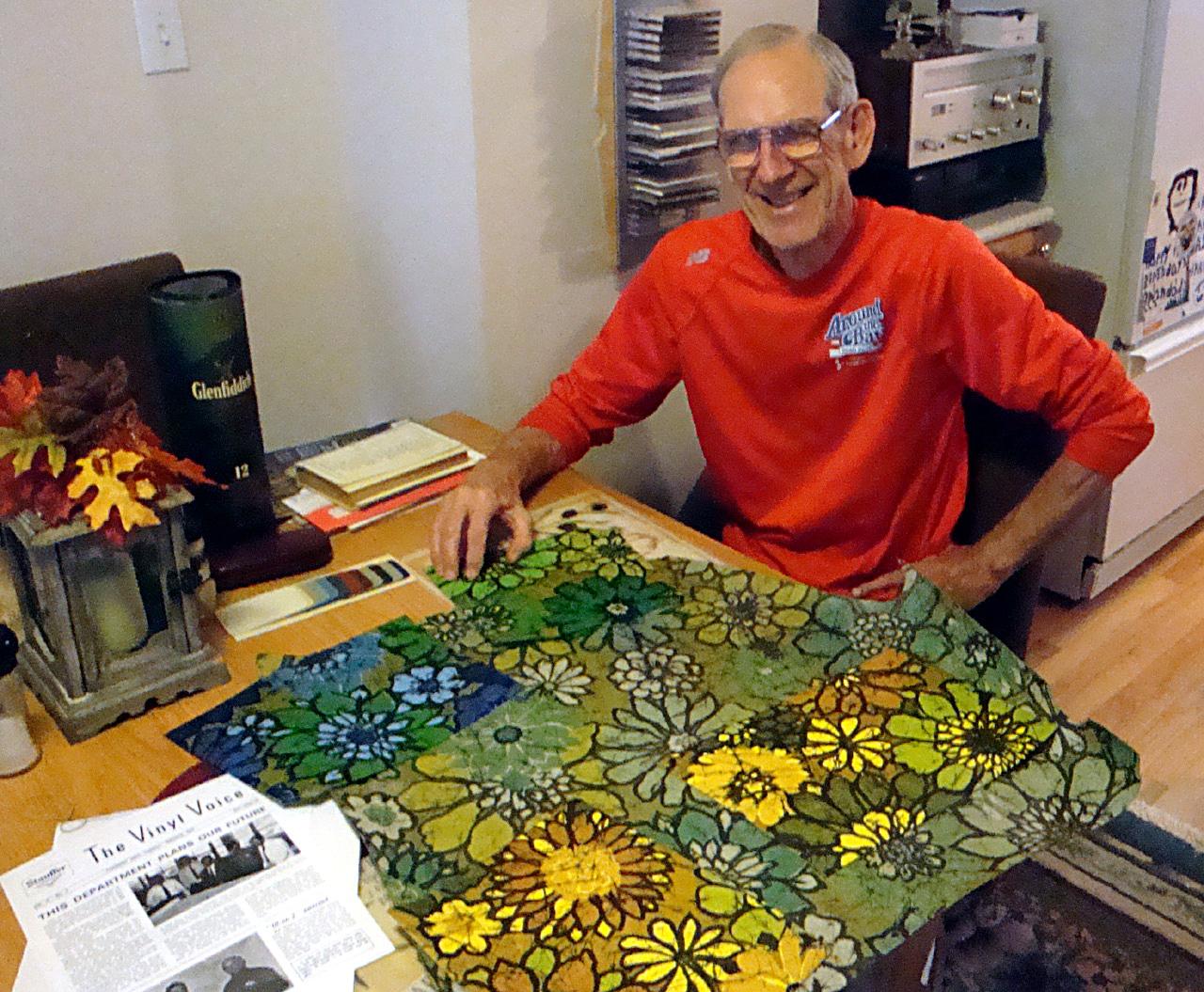 He had described in great detail how they engineered and manufactured the solid style headliner material which did reduced road noise considerably also reducing discoloration and was much more durable than what we have in our cars. He has swatches of pre production headliner material also and was most interested in discussing the engineering of that rather than the creation of the one of Mod Top Material which wound up on the F8 SE Daytona.

As Daytonas had been built in the summer of 1969, it would make sense that Chrysler used a high profile car on hand to test something as wild as a new vinyl top material. It is speculated this was done for a show of some type but that has yet to be confirmed, another Daytona with a vinyl top was prepped for a show and that is fully documented. This particular car was sold new in British Columbia Canada at Plimley Dodge with the top installed when it arrived which has been confirmed. , See Shipping Records provided, you can still see the name from the dealer ID tag on the real tail panel of the car.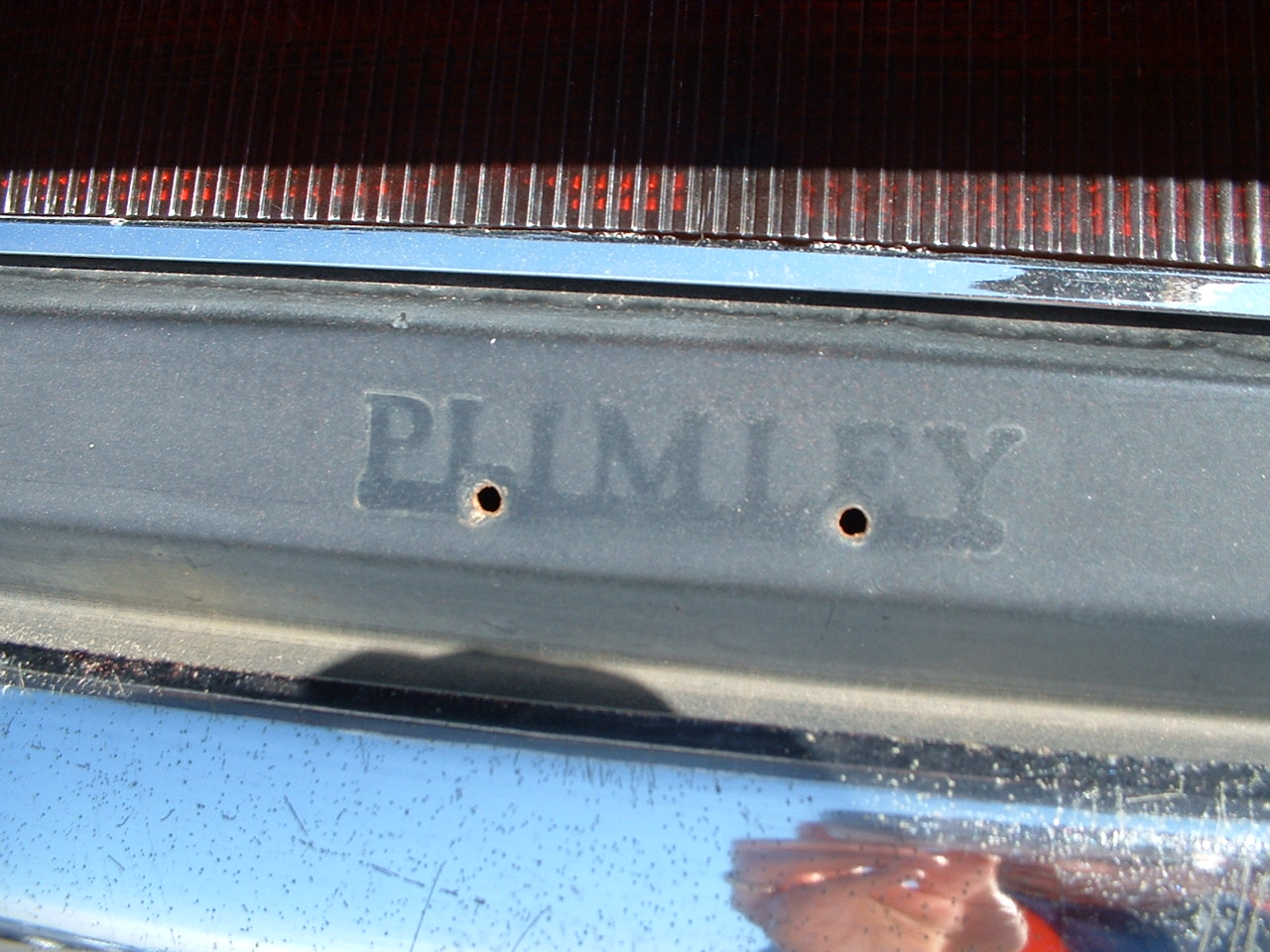 According to Mr. Mounsey the Mod top material was designed by Chrysler Corporate with the " Films" (used for transferring the flower pattern to vinyl) coming from a Chrysler plant in Indiana. Stauffer ran a pre-production small batch in 4 colors for Chrysler which he commissioned and personally dealt with. The smaller than normal rolls of material all with the same pattern but distinct color differences in each flower could be handled by an individual while production rolls of vinyl top material required a forklift and weight over 1,000lbs . They ran one lot of it in all four colors and Mr. Mounsey sent it directly to Corporate Headquarters , he kept the samples as it was "the strangest thing he had ever produced" while working at Stauffer Industries.

I found it quite interesting the Mr. Mounsey kept a hand full of items from his employment at Stauffer and fortunately one of them happen to match the Mod Top Daytona Vinyl material exactly, you can literally line up the flower pattern when you lay it over the original section of faded vinyl top material right off of the car.

The car is undergoing a full restoration at this time, new photos will be available soon."


---
Updates, 7/31/15

From an email from Todd Savage on 7/16/15:

"Here are a few never seen before shots [see below, next three pictures] of the meticulous work being performed on the Super Strange Mod Top Daytona. Massaging out all the blemishes in those original fenders was no little feat ! It was important to maintain the Original Steel parts the car was built with., As you can see from the shots posted by the Moore's [see pictures above] the front fenders had been hammered on pretty good back in the day.

Thankfully a true metal craftsman was engaged very early on in the restoration to keep every panel the factory placed on this car original and with ZERO Body Filler no less. Few cars make it into this shop as it has a multi-year waiting list with a rather exclusive client list, thankfully the MOD TOP DAYTONA was rare enough to make the short list.

As shown in the attached photos It took hours to heat shrink and massage out all the dents by picking and filling then quenching with a damp rag. The end result you will see in the next e mail being sent is just astonishing , after a light coat of gray primer you can truly see the emergence of a perfectly straight body line from front of the car all the way to the back. It took over 2 weeks to fix the fenders almost 100 hours 92.6 according to my bill. I personally watched what I thought was impossible happen to some fenders most would have discounted as non-repairable by too many other shops."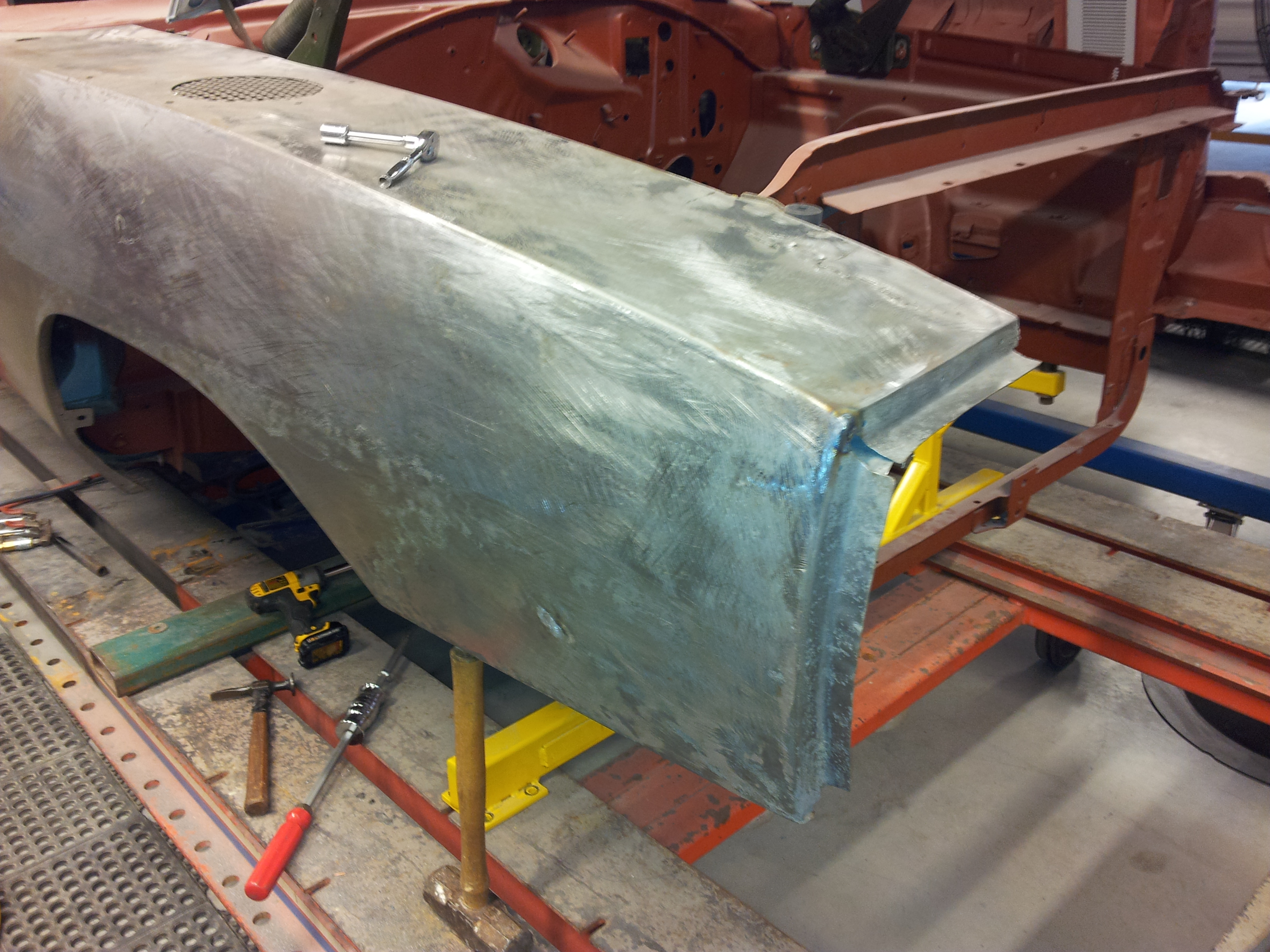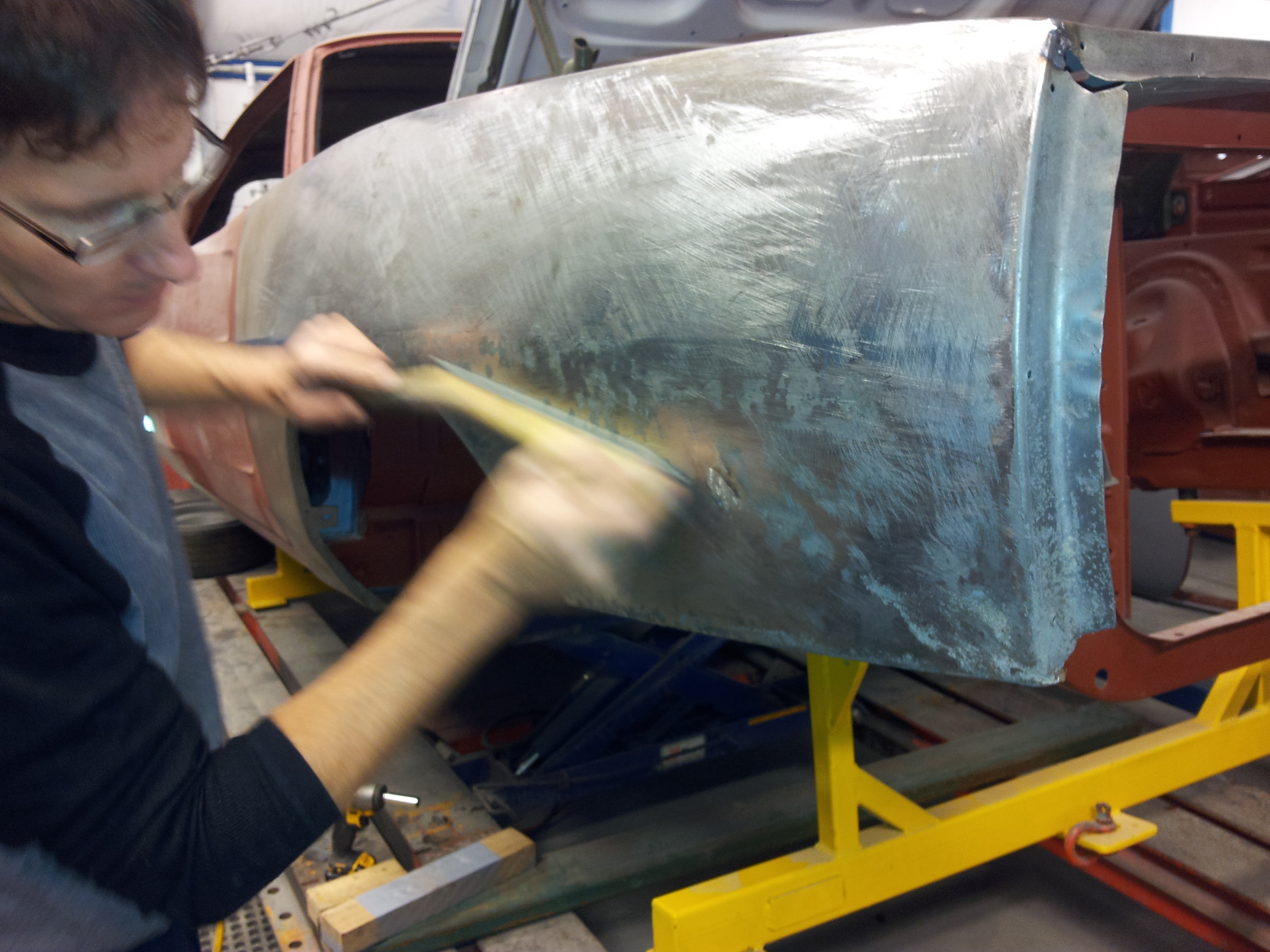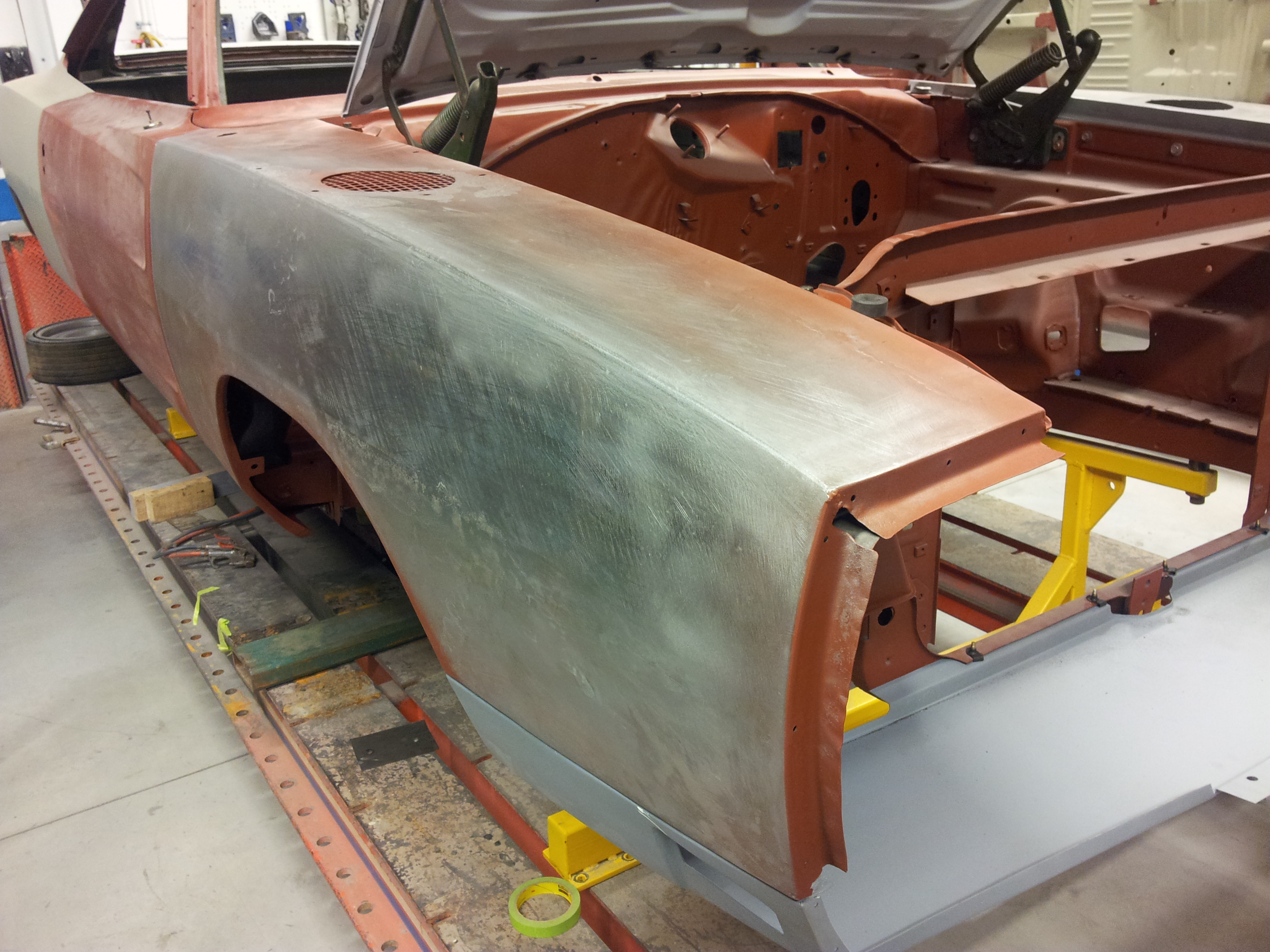 Informaton about the next three pictures from Todd Savage email on 7/16/15:

"AS SHOWN the MOD TOP DAYONA it is ready for paint, well from what I have been told it is ready for a week of block sanding then paint."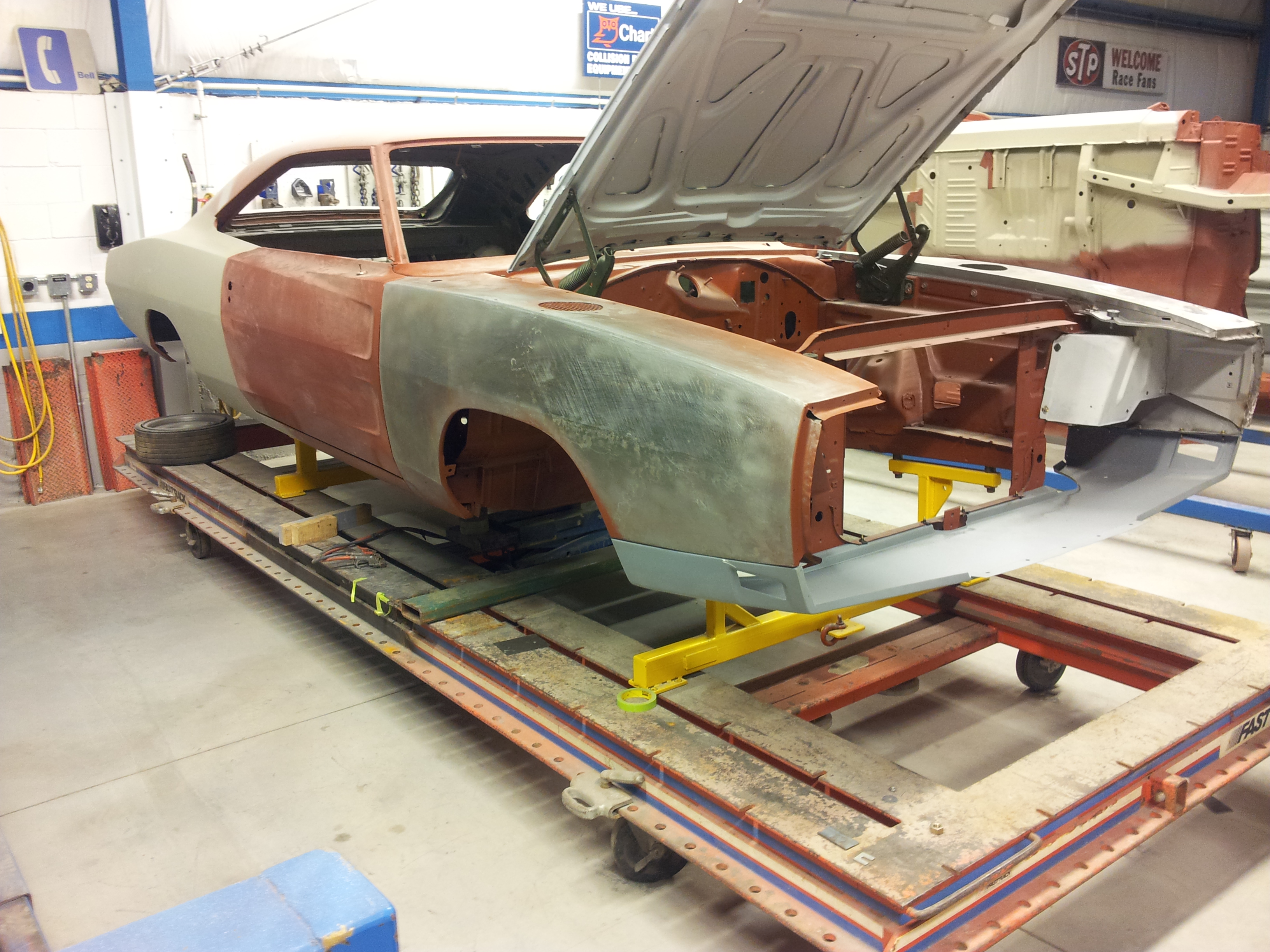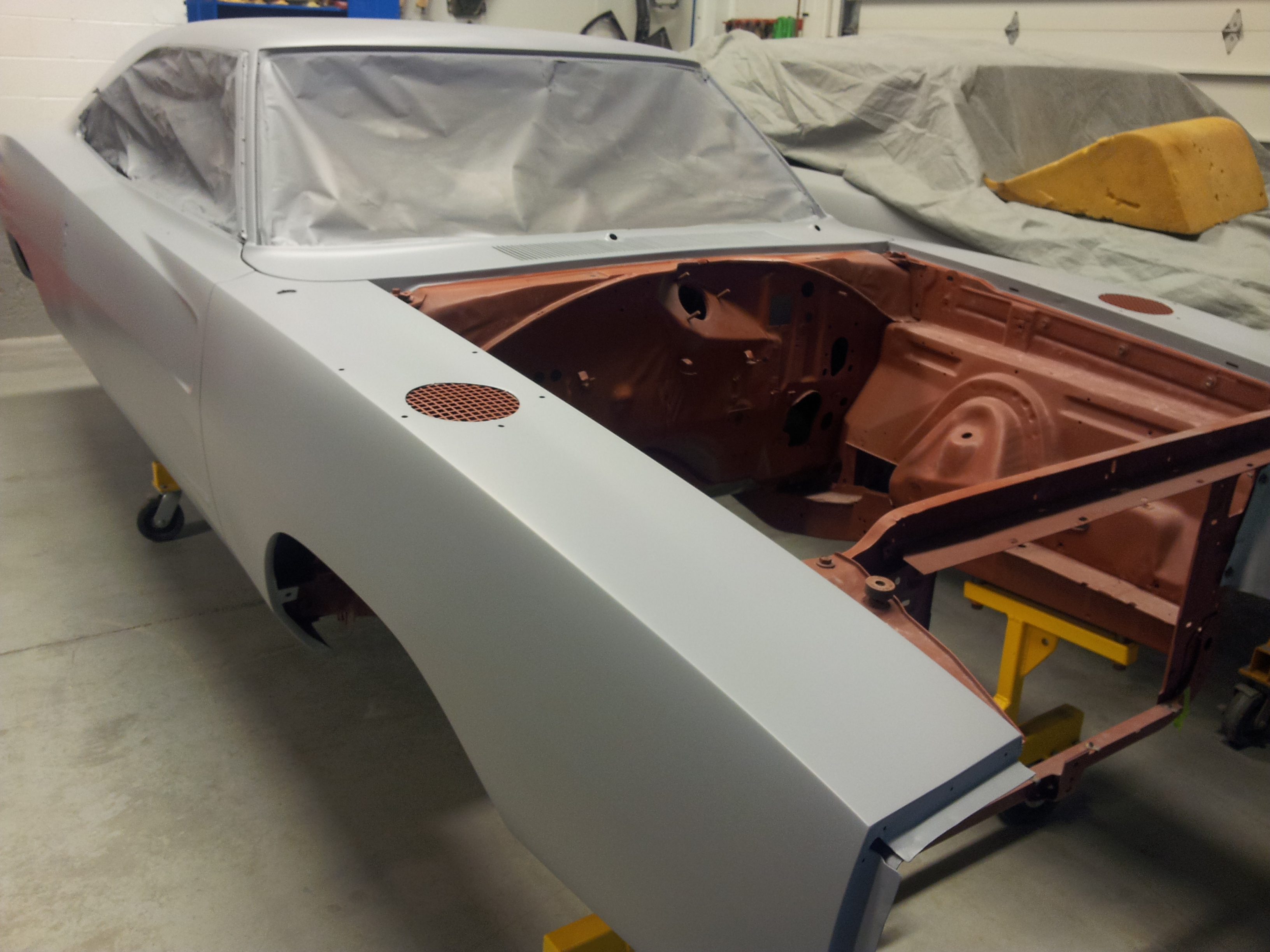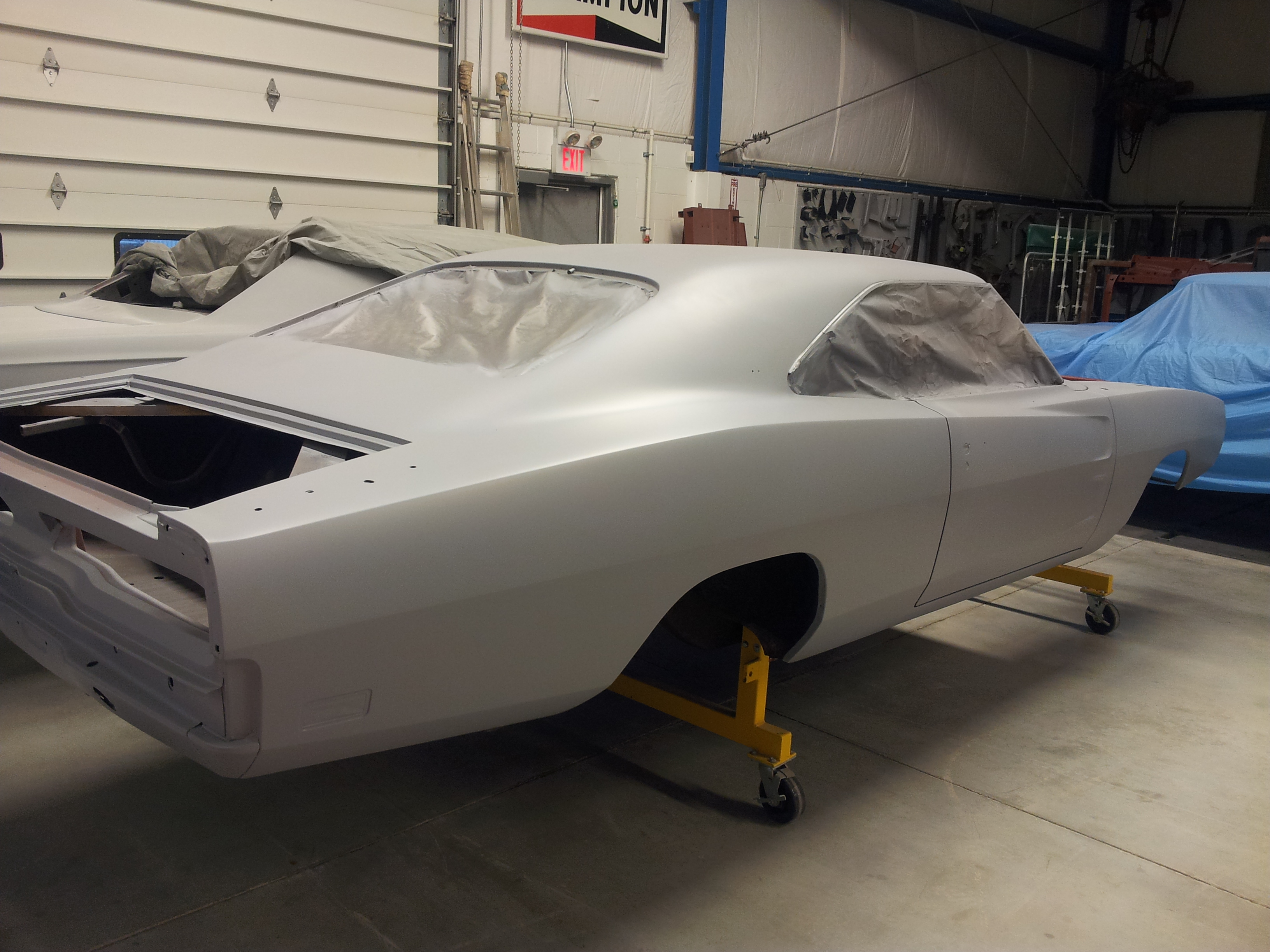 Final set of new pictures (see three pictures below) and information from Todd Savage email on 7/16/15:

"During the restoration determining when and why this very strange MOD TOP car was built became a priority . We can now conclusively say it was a design team "one of" creation built during the summer of 1969 while the vehicle was converted from an R/ T Charger into a DAYTONA CHARGER at creative industries .

During the restoration, the car's original markings and paint process was heavily scrutinized revealing many clues about its creation . You see Daytona's followed a specific assembly process and placing a vinyl top on a car with a special back window and great big Aluminum Wing had to be special. The shots enclosed reveal secrets that you can see confirming all the windows where out when the top was installed. This was done at Creative Industries prior to the window clips being installed that hold the window trim on around both front and back windows . You see a special headliner needed to be installed in all Daytona's right after the rear window plug was installed. Installation of this headliner required the windows to be out and we know this was done while at Creative Industries. During the restoration we found MOD TOP MATERIAL behind window clips and in places it could only have been placed when the car was being converted into a Daytona. Further discussions with a design team employee conclusively confirmed our thoughts on what design projects where ongoing during the summer of 1969. This is a Chrysler Built-during the summer of 1969 Mod Top proto type with what most think is the ugliest flowered top pattern Chrysler ever built ! No wonder why this new for 1970 design never got off the ground.

Enjoy these never seen before shots of us removing the window clips revealing MOP TOP material also showing the vinyl top glue residue right to the bottom of the window channel. WOW

Most importantly , the Last SHOT ….. A great Big Thanks goes out to Legendary Interiors with a Special Mention of Brian Ridley, who is the team leader at Legendary Interiors tasked with spending hours upon hours studying the original Material Samples provided to us from Mr. Duncan Mounsey, the Staffer Engineer who created the legendary Mod Top Proto Type material for the Dodge Design Team during the summer of 1969.

You see Mr. Mounsey' s foresight way back in the summer of 1969 has made this restoration possible. Right after Mr. Mounsey created this super strange material for Chrysler Corporate in 4 unique colors & just before shipping It he cut 4 small samples one off each colored roll and then shipped the 4 rolls of MOD TOP MATERIAL directly to Chrysler. The last shot shows Brian Ridley of Legendary Interiors placing those 4 NOS material Samples on a full size mockup of the flowered vinyl tops pattern getting ready to duplicate the pattern and make the new vinyl top.

Few companies have the technical expertise and production capabilities of Legendary Interiors. Trusting them with the duplication of this mod top material has proven to be single most important step in seeing the MOD TOP DAYTONA come back to life. Fortunately Legendary Interiors was been able to speak directly with the materials original creator Mr. Duncan Mounsey, the ensuing discussions related to material width and flower pattern repeats all of which will ensure a faithful O.E. reproduction of this unique MOD TOP MATERIAL will take place.

With the purchase of the car and the ensuing restoration costs literally hundreds of thousands of dollars has been spent thus far and we are still not done!

After reviewing the enclosed work a special thanks needs to go out to the dedicated professionals who have taken on this project making it their own, SO yes…………… the MOD TOP DAYTONA is alive and well and we all hope to see it VERY SOON at a Chrysler show near you.

Restoring This JAW DROPPING UGGLIEST CAR ALIVE has been quite an experience. "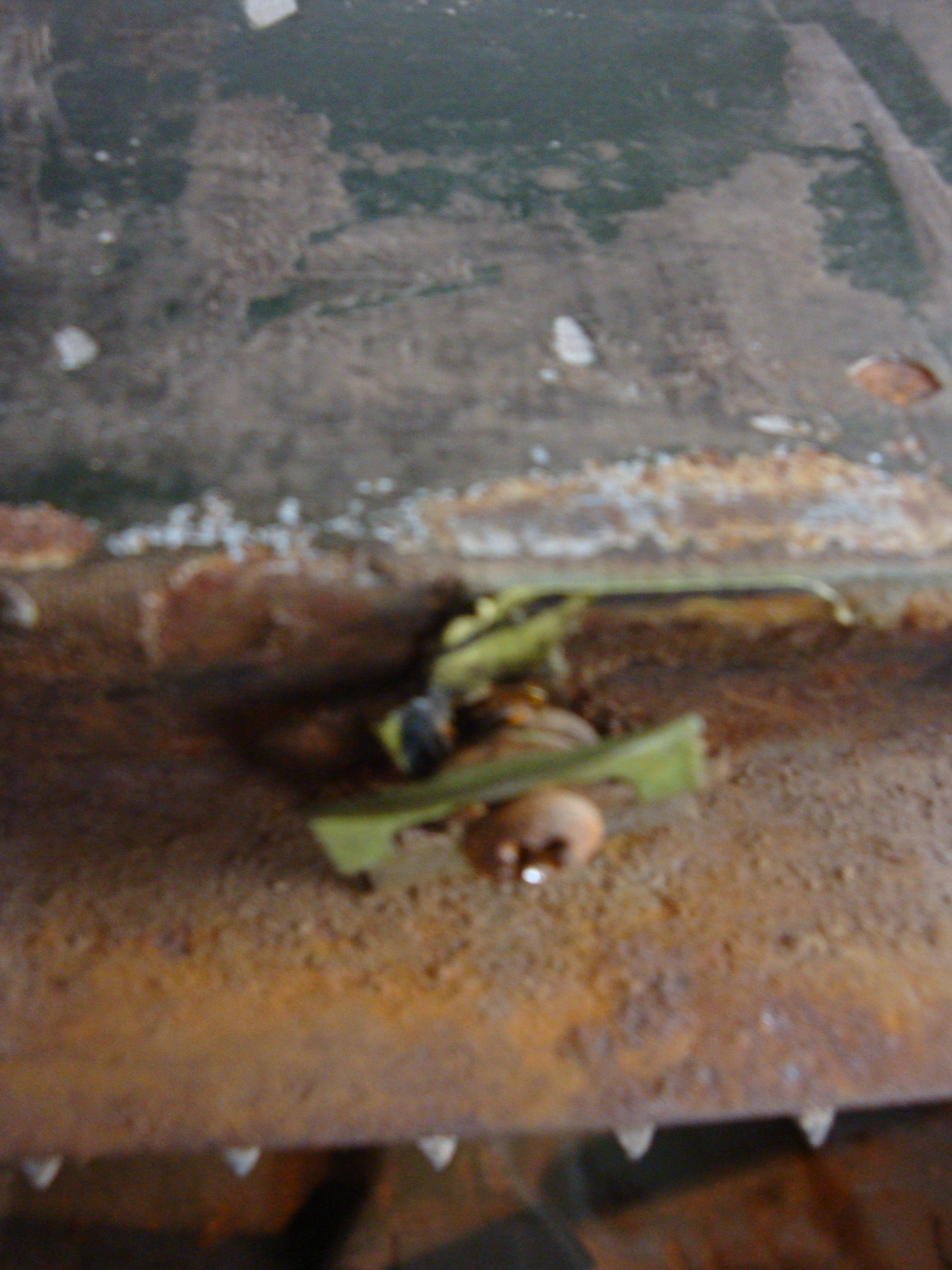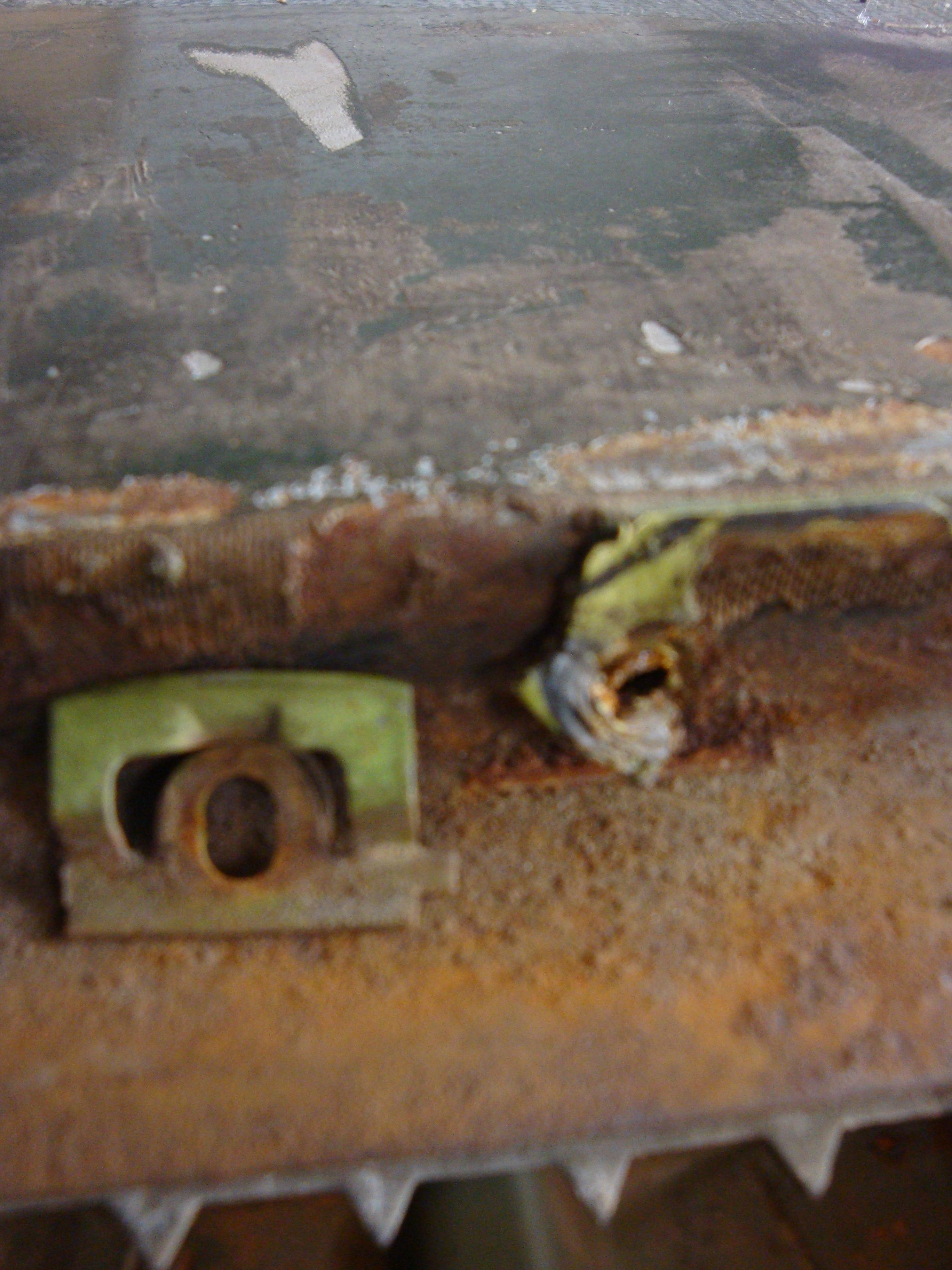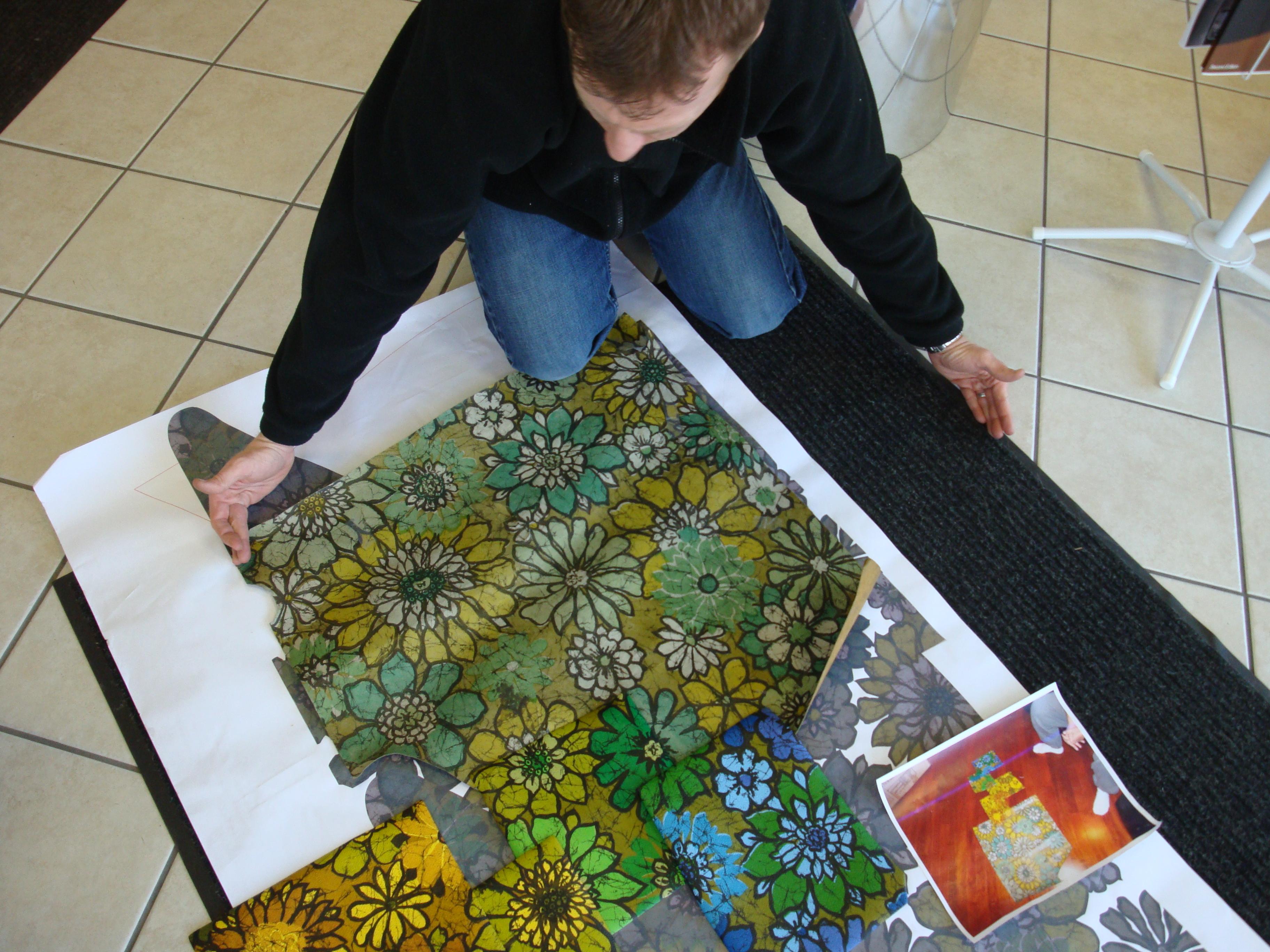 Also, check out this link for some amazing shots of some rare cars including the Mod Top Daytona .

---
Updates, 01/22/16


Todd Savage emailed us to let us know of some great articles on his Mod Top (well, Floral, actually) Daytona:

Directly Connected Link to Mod Top Story: click here

Hemming's Blog on Todd's Mod Top Daytona: click here

Auto Blog …. Todd says, "I found it interesting they are discussing my car's history back in 1969 … this gave me several answers !" : click here

Auto Blog Update on the Mysterious MOD TOP DAYTONA: click here

---

Go back to the Mod Registry Info Page!
12/26/2016 5:23:38 PM