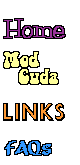 Mod Top #108
Chris Houg in California had a 1969 Road Runner with a Dodge Mod Top


Check out the pictures: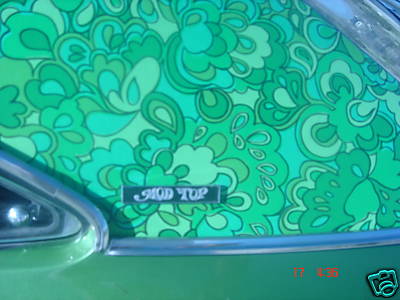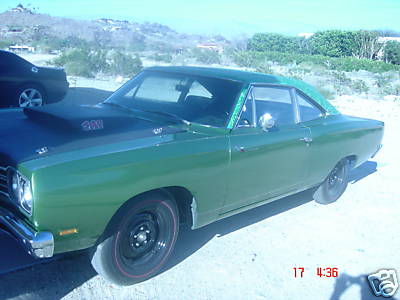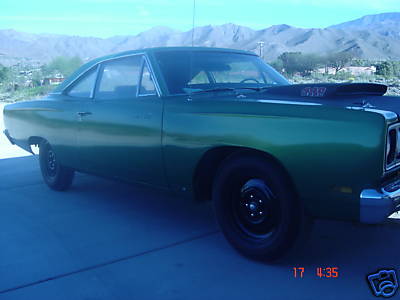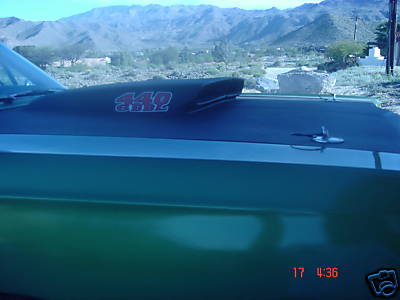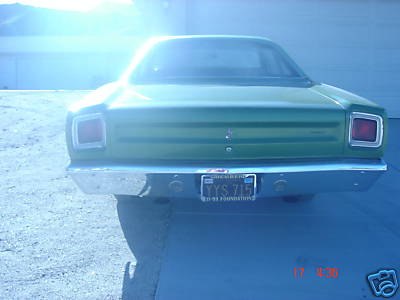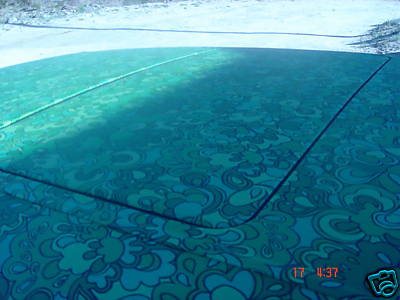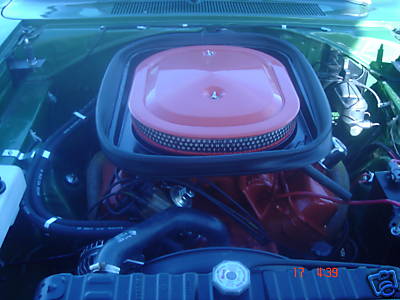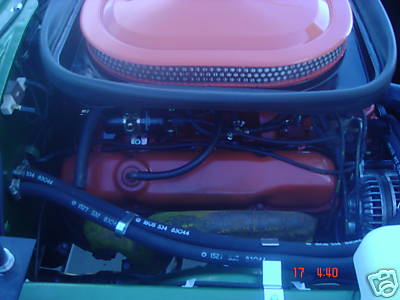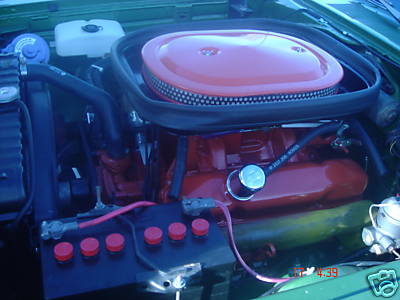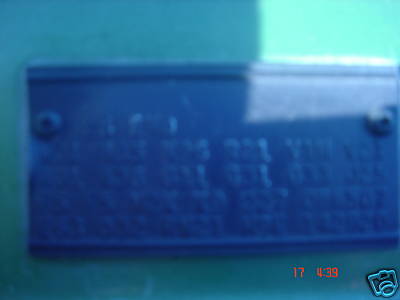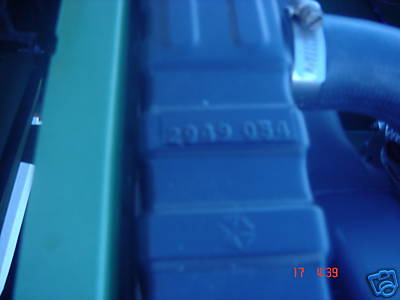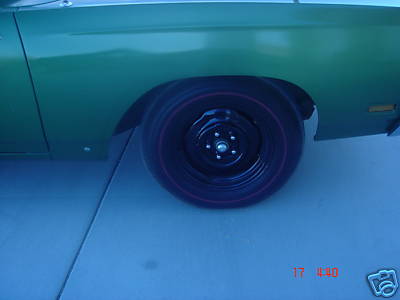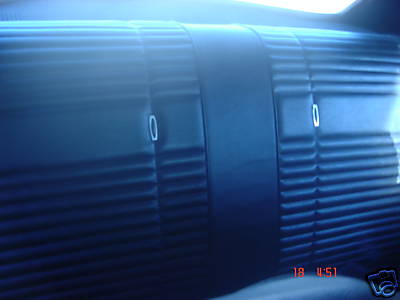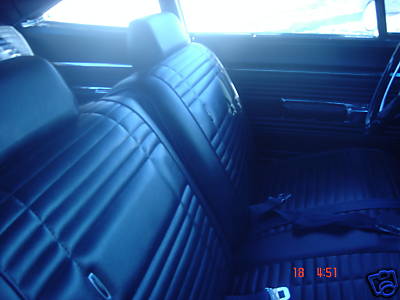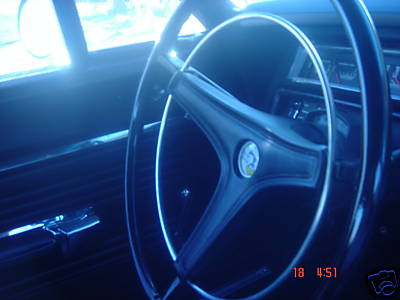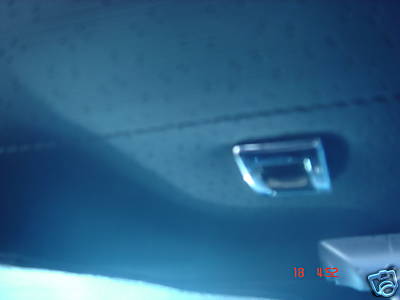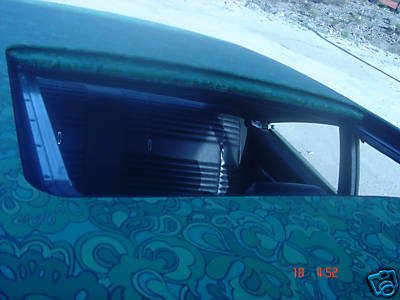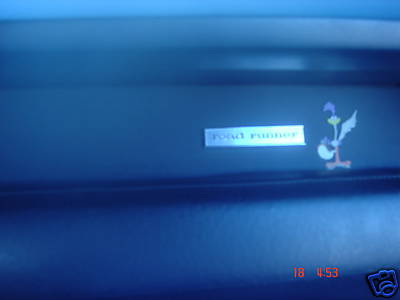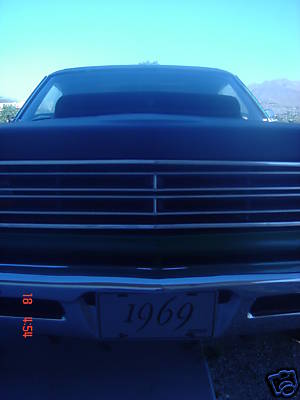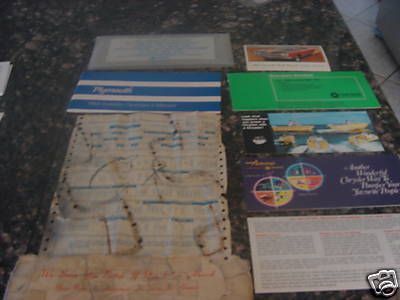 More info about the car:
Original Engine? - 383
Current Engine? - 440 6-pak
Original Transmission? - AUTO
Current Transmission? - AUTO
Original Exterior color? - F5 Limelight Metallic
Interior bucket seat color - H4X Black (Bench seat)
Fender tag:


26 END
M21   N85   N96   R21   V1H   V21
A01   A36   G11   G31   G33   J25
F5    F5   M6X   X9   227   086507
E63   D32   RM21   H9E   142XXX

26 = 26" radiator; END = end of codes;

M21 = Drip Rail Mouldings; N85 = Tachometer; N96 = Carb Fresh Air Package ("Air Grabber"); R21 = AM/FM Solid State radio; V1H = Green Floral (for Dodge Dart/Coronet) - owner said this Plymouth Roadrunner which would usually have a Plymouth V1Q green/blue Mod Top was ordered with a special V08 code to get the Dodge Mod Top instead); V21 = Performance Hood Treatment;

A01 = Light Package; A36 = 3.55:1 High Preformence Axle Package; G11 = Tinted glass all around; G31 = passenger's side manual outside mirror; G33 = driver's side manual outside mirror; J25 = 3-speed variable wipers;

F5 = Limelight (Green) Metallic exterior paint (upper/lower body color was same - that's why F5 is listed twice. A two-tone car would have two different colors listed); M6X = Black vinyl bucket seats; X9 = Black Interior paint (console, instrument panel, carpet, upper door frame); 227 = February 27, 1969 build date; 086507 = order number

E63 = 383-4 Barrel; D32 = HeavyDuty A-727 TorqueFlite Transmission; RM = Roadrunner Medium Price Class; 21 = 2 Door Coupe; H9E = 383 engine/1969 model year/Built at Los Angeles, CA; 142XXX = Sequence number.

Other good stuff about this Mod Top Road Runner from the Ebay page on which it was for sale in March 09:


"Well where do I start this is just a RARE car that back when we could order the car the way we want...like ordering a hamburger from Burger King. The original owner was determined to order the car his way. It started with a Road Runner Post with a extremely rare Mod Top roof. Then the next thing was again the extremely Rare Factory Sunroof that has been serviced and works perfect like it was new. The car is F5 Lime Light Metallic with Black interior. The interior has been recovered with Legendary Auto Interiors. The complete interior has be restored to factory specifications. The Rare Mod Top was purchased from a Chrysler NOS part retailer and the top itself was $3,000.00 for that Leprechaun. The paint still is original with about 80% of it as a survivor. The car itself has had a full restoration with the execption of the paint...they are only original once. The full suspension was completly rebuilt with the front disc brakes as well . The torsion bars are also new and HEMI rated. The rear suspension was also completly new as well. Okay, now the motor it is a unstamped warrenty block dated 1971 and has been bored 10 over with the ability to run pump gas. The Runner has only less than a 100 miles from completion. The 440 has a factory six pack with an original A12 air Cleaner with the original Fram filter. The Hood is an original A12 hood that also has been restored to factory specs. I always wanted to have an A12 car an figured that this was a great opportunity to do with this Rare Road Runner. All hoses are dated coded as the A12, Mopar Correct Battery and the rare HEMI Radiator 054.The car is listed on the Mod Top Regestry site as being the only one like it made. This is a rust free car that is Los Angeles built and has no RUST (desert car).

Options include: power steering, disc brakes, heater, optional full horn ring steering wheel, am/fm radio, POWER SUNROOF, MOD TOP, Redline tires with Hemi 450 wheels with chrome lugs, and chrome tips

The sunroof as an option was RARE in itself, but with the Mod Top even Rarer. With the current economy I really didn't want to sell the car, but like most people I need the money. Please feel free to ask question on the car and I will try to promptly answer them or call me at (714)421-5014 Phillip"
More from Chris when I inquired about the oddity of having a Dodge (V1H) Mod Top on a Plymouth (they had different floral patterns): "Its a special ordered car by the original owner...V1H is the green top and it was a V08 EDIT WAVIER car to have the Dodge top on a Plymouth. Rare and just plain cool."

---

Note about this Mod Top: after publishing information about this car to the web, several people emailed me questioning the validity of this car, specifically the Dodge material vinyl top on a Plymouth and it being a sunroof car. There isn't really a good way to verify or validate any of these claims, so this car remains in the registry. I did ask for a better picture of the broadcast sheet and fender tag, but did not receive a reply. A quick search on the internet for " Chris Houg mopar " (the person who was selling this car on Ebay) indicates several allegations against him for being fraudulent with some transactions. Thus, suspicion about the validity of this car is raised.



Go back to the Mod Registry Info Page!
Last updated 7/15/2011 4:14:45 PM