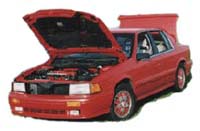 Welcome!
Have you had the classic problem with your special Lotus head cracking? How about a meltdown of your O2 sensor harness? Want production info for '91s and '92s? Click here for info on this and other info gleaned from emails I've received over the years!
---
NOTE: WE SOLD OUR (2) SPIRIT R/T's in FEBRUARY, 2008!
---
Dodge Spirit R/T Registry

There is a Spirit R/T Registry online! For more information, go to this website: Turbo Dodge official Spirit R/T registry , or send email to Cliff and Lorraine Ramsdell (MOPAR1MAD@aol.com). Contact them today.

---

Here's some links to Spirit R/T info:
---

Decode of our '91 R/T fender tag by David Wright:

  NDA TBC END
catalyst/compace spare/end of codes

  112286
line sequence number or something to that effect

  HAA JPA JPB MXR NAA NBK
air conditioning/power windows/power door locks/low profile rear spoiler/
federal emissions/evaporative control system

  BRG CAC CKP CSG CUA CUF
15" front and rear discs with ABS/low back buckets/trunk dress-up/fold down
rear seats/front armrest/full length front console

  APA PRB QRB   S7D5 EDS
single tone paint/radiant fire primary paint/radiant fire secondary paint/
cloth low back buckets seats, quartz/turbo III

  503 R7503101 014 AADS41
5-3-91 scheduled build date/order number/(vinyl roof,door combo codes?  This
spot is usually blank, dunno what the 014 means)/AA body (Spirit, Acclaim,
LeBaron)-Dodge (Spirit)-Special Sport price class (= R/T)-4 door-sedan

  DDV U 3B3XA66A9MTXXXXXX
A568 5-spd/USA spec/Mexican built-Dodge-passenger car-driver's air bag with
passenger manual seat belt-AA body-special sport price class-4 door sedan-
turbo III-check digit-1991-Toluca Mexico assembly plant/sequence number


--------------------------------------------------

Do you have questions or comments? Please

EST

Return to the top of the page