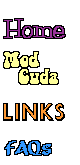 Mod Top #98
Chuck Harris in Massachusetts owns a 1969 LM23 Swinger 340 Mod Top :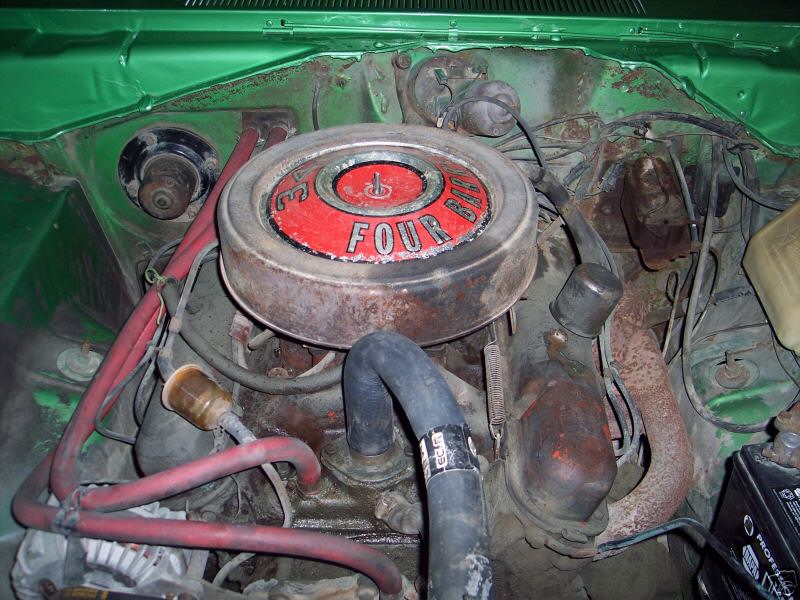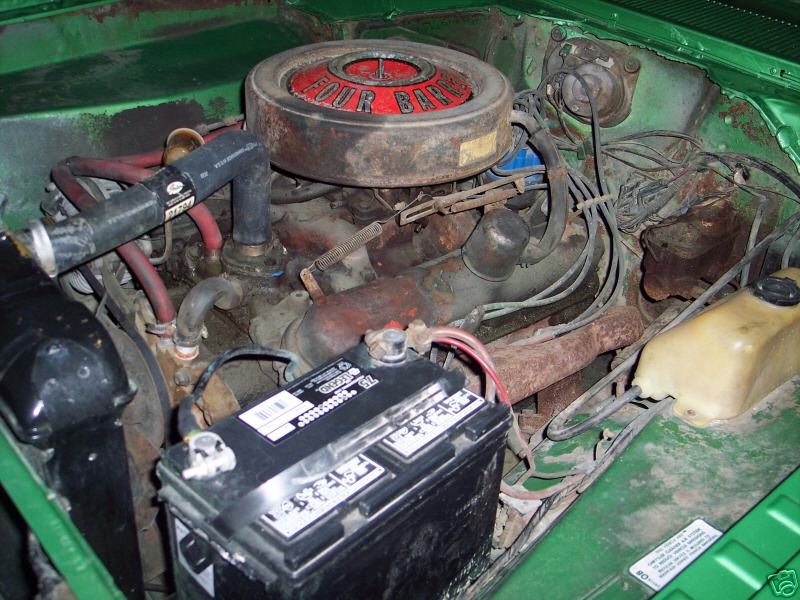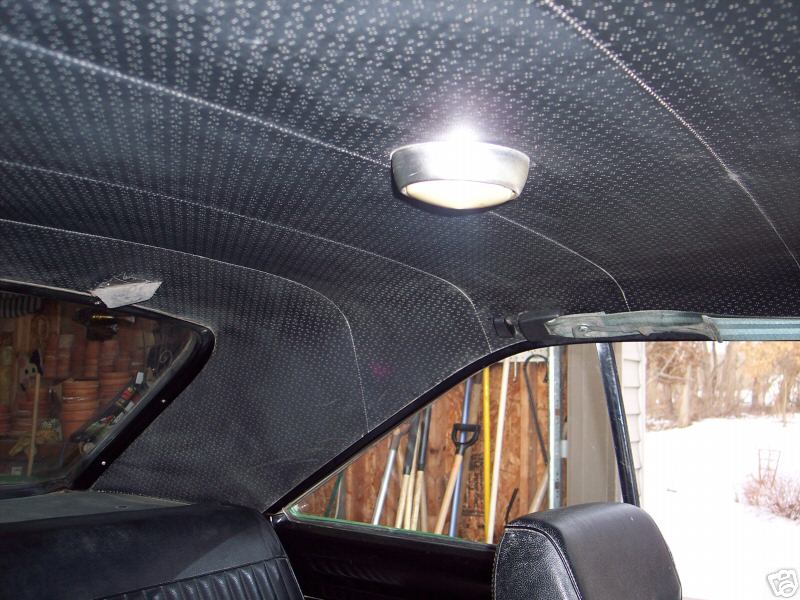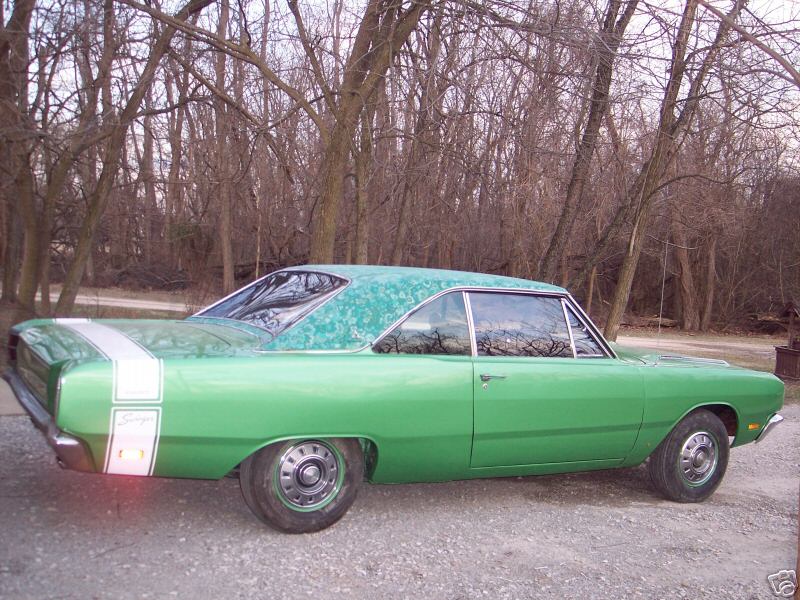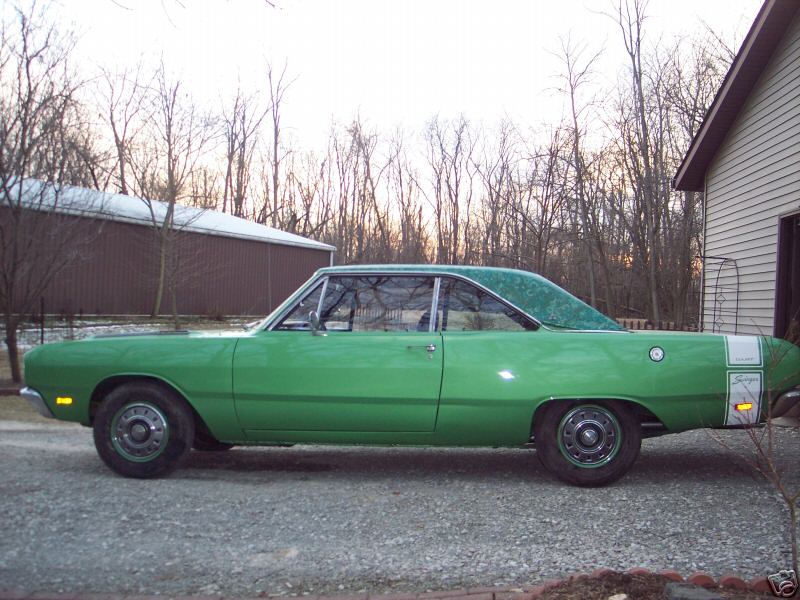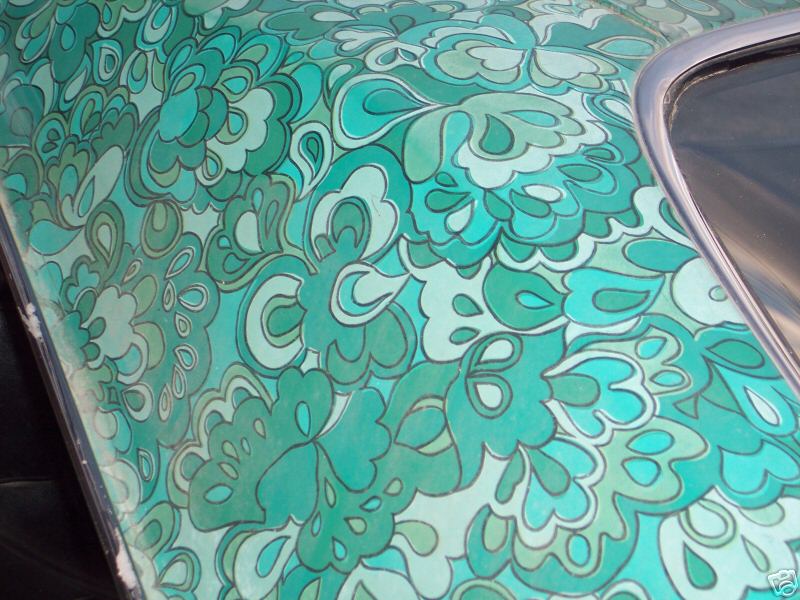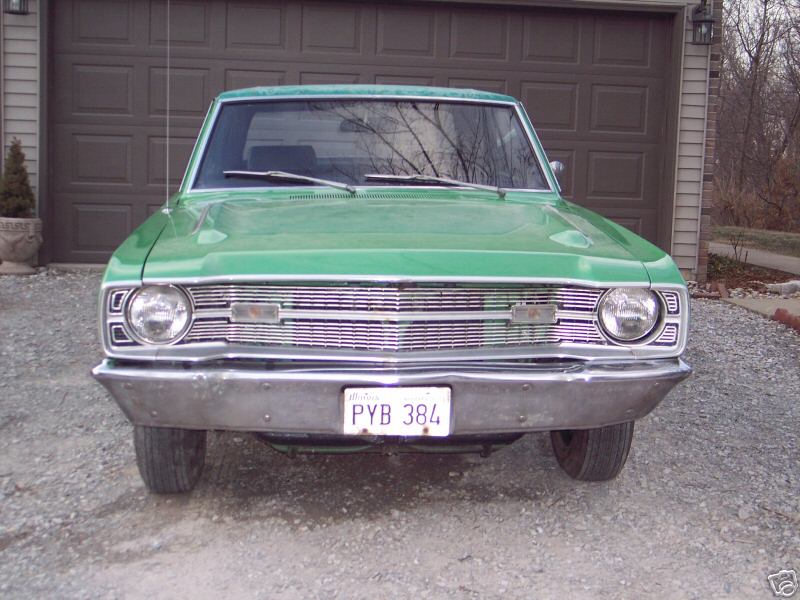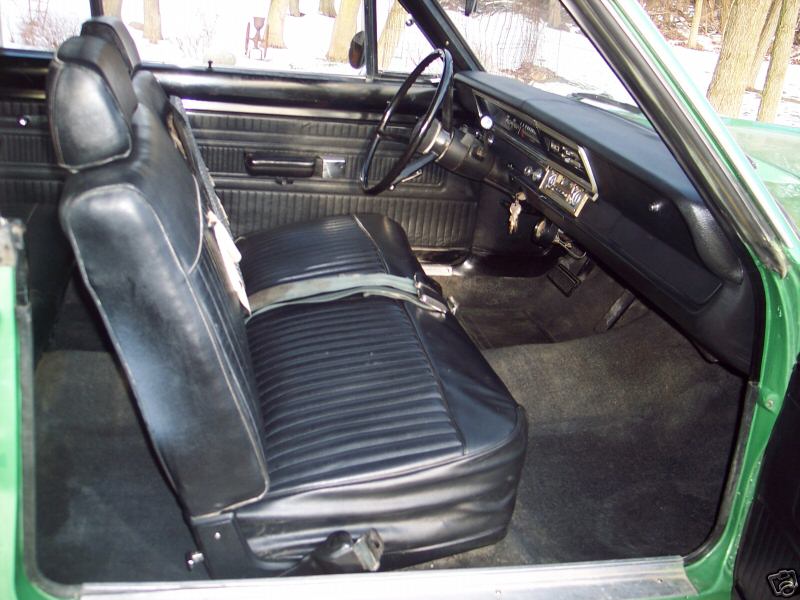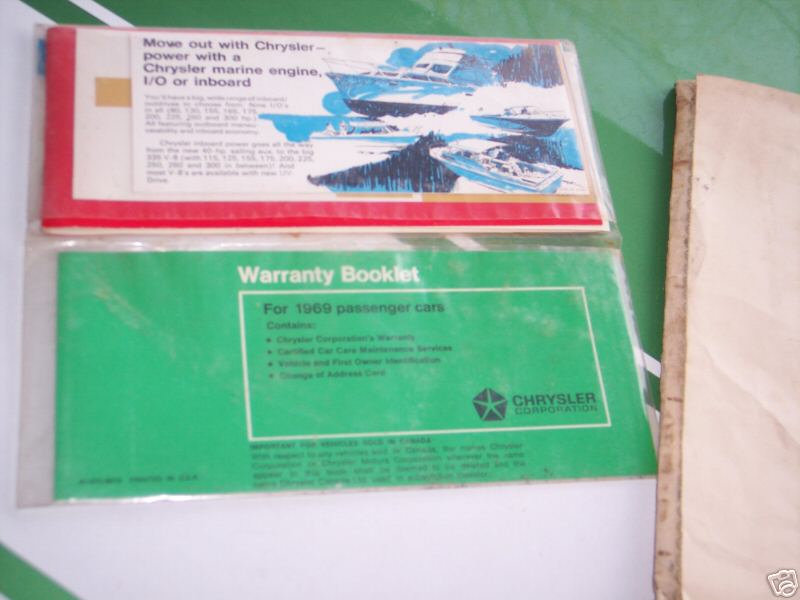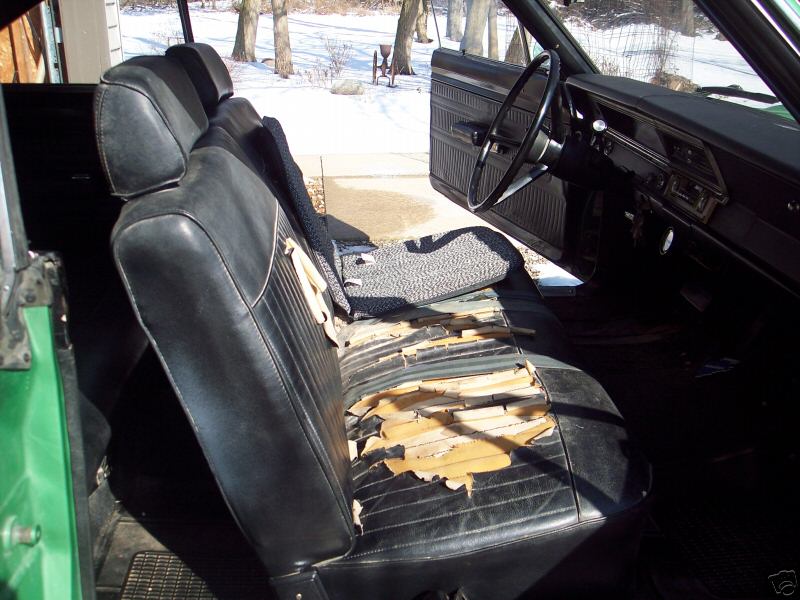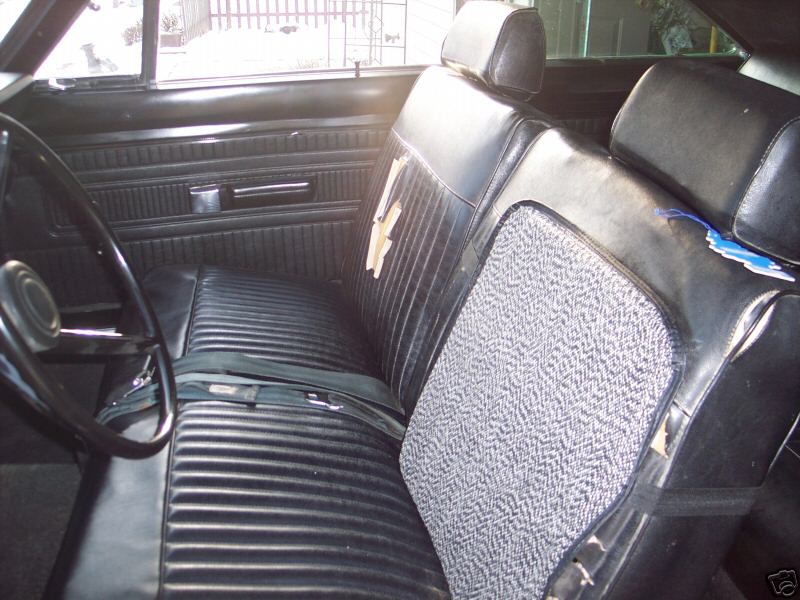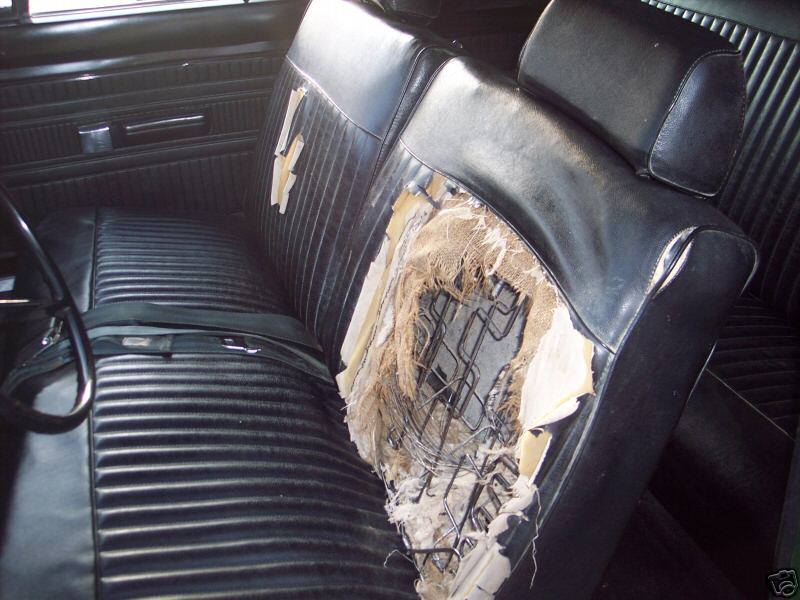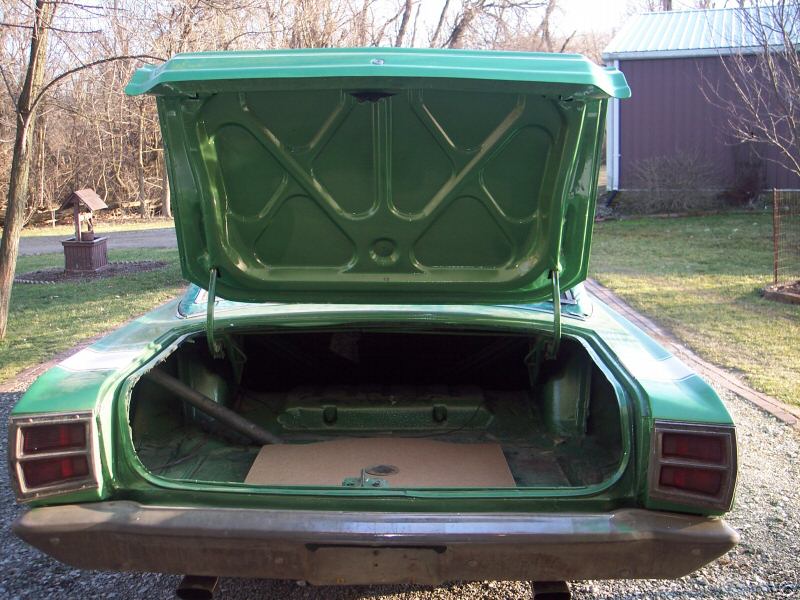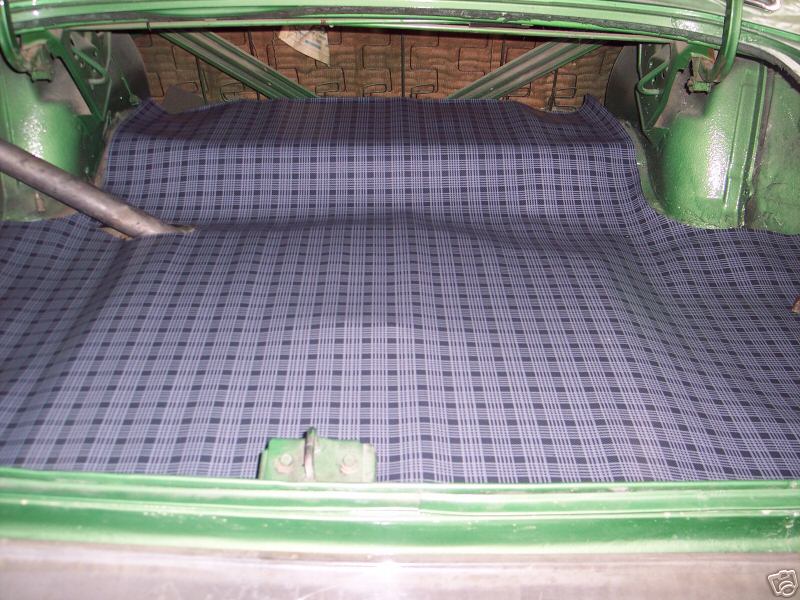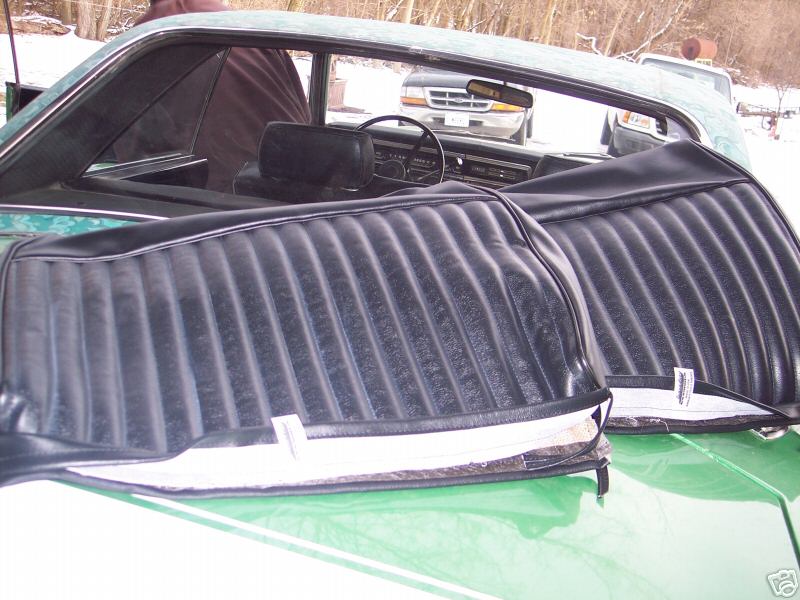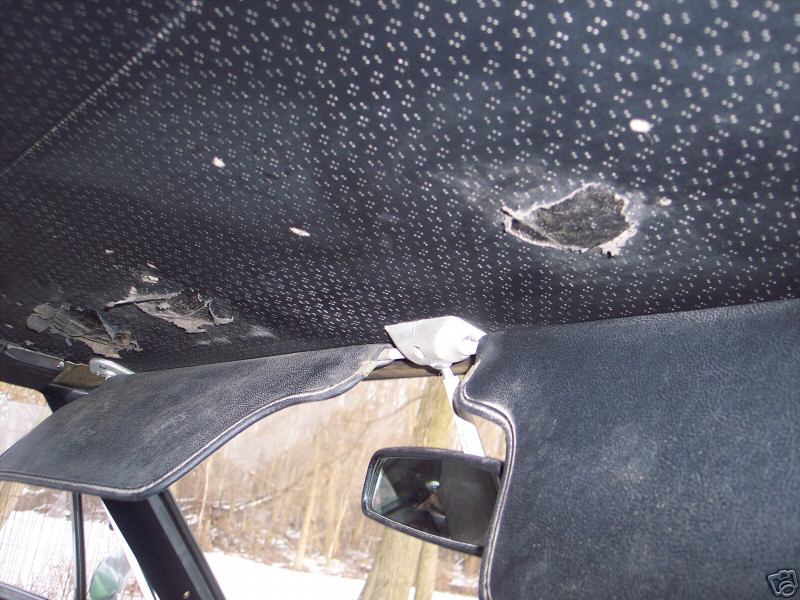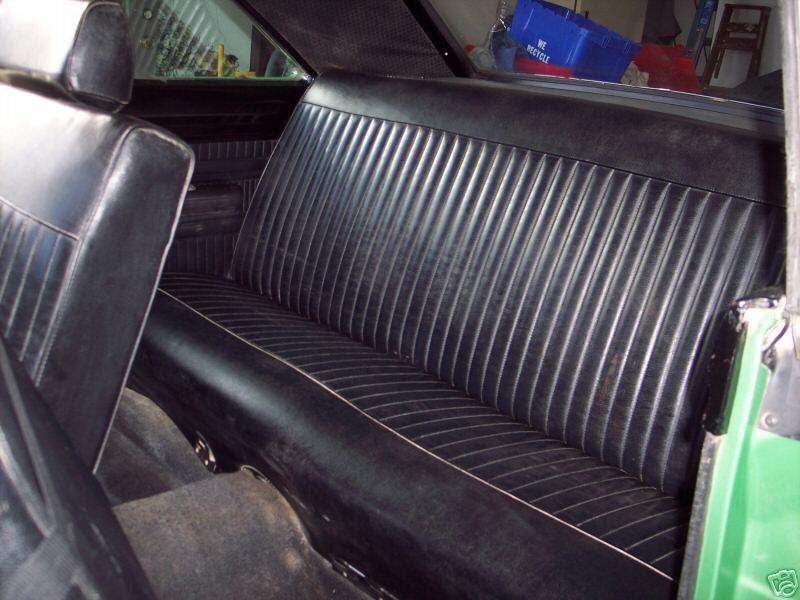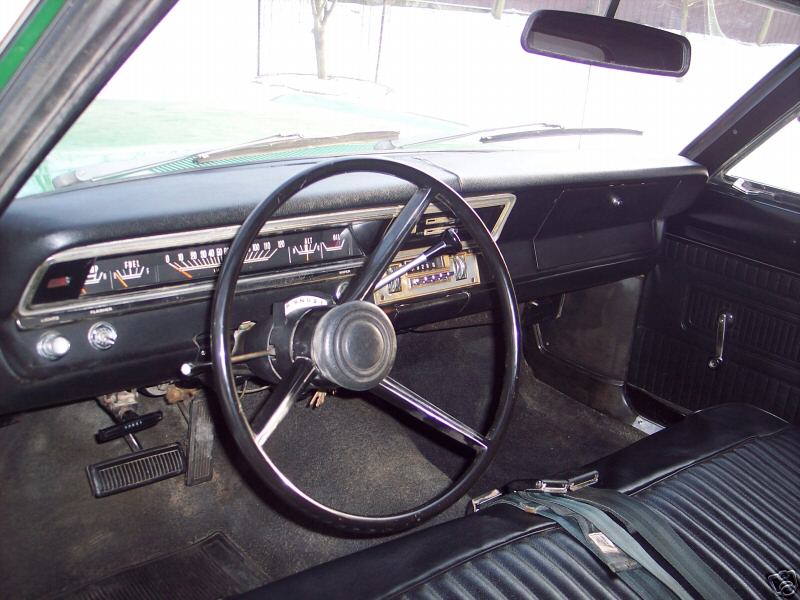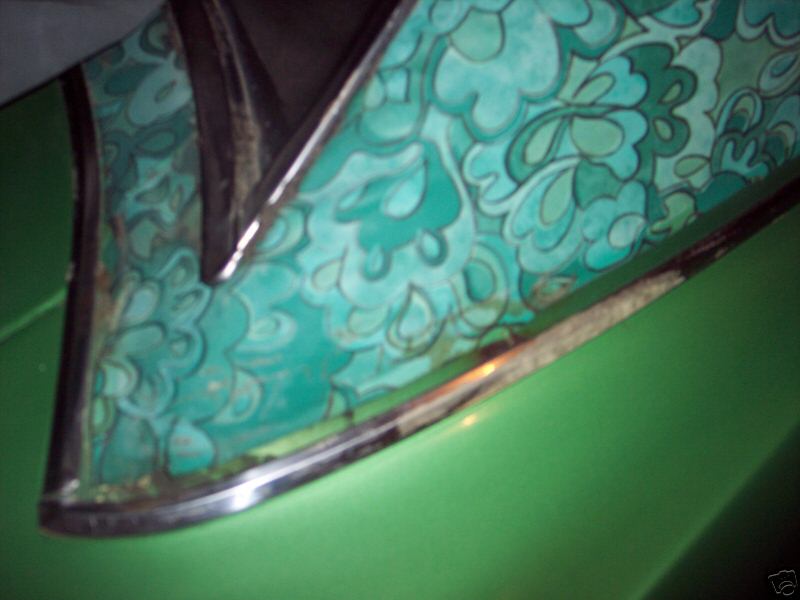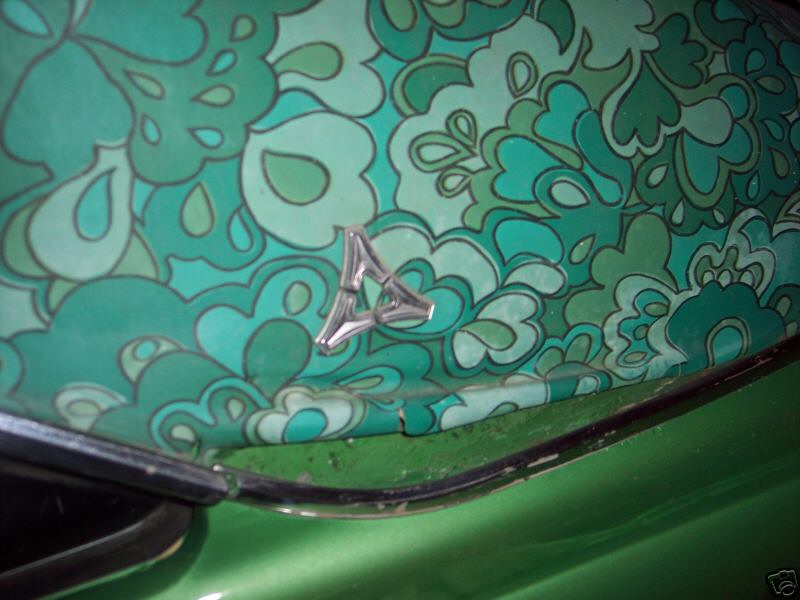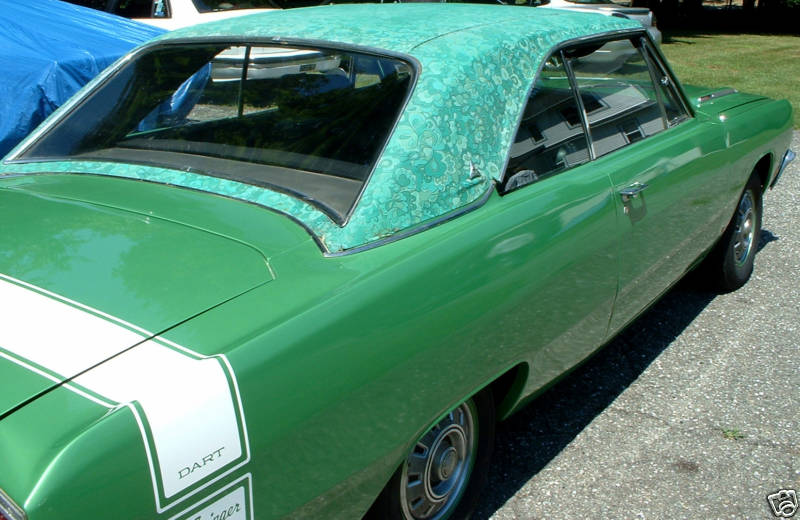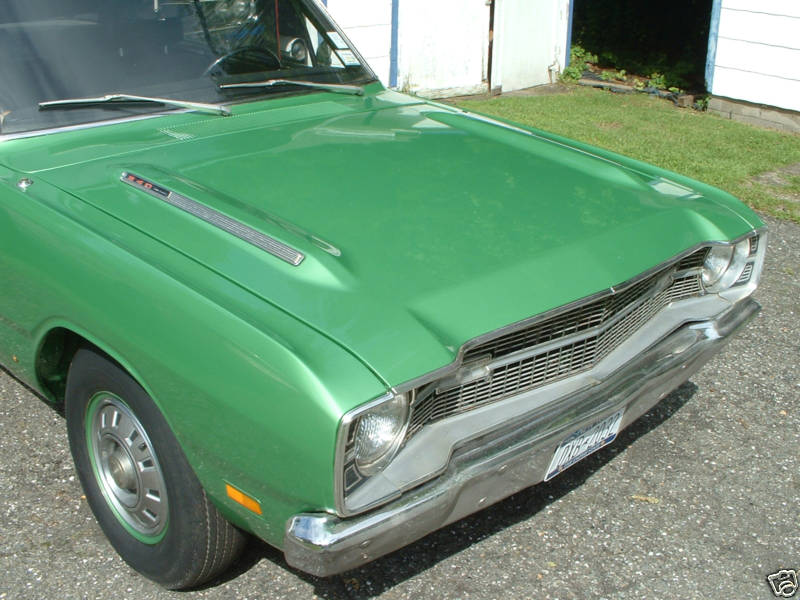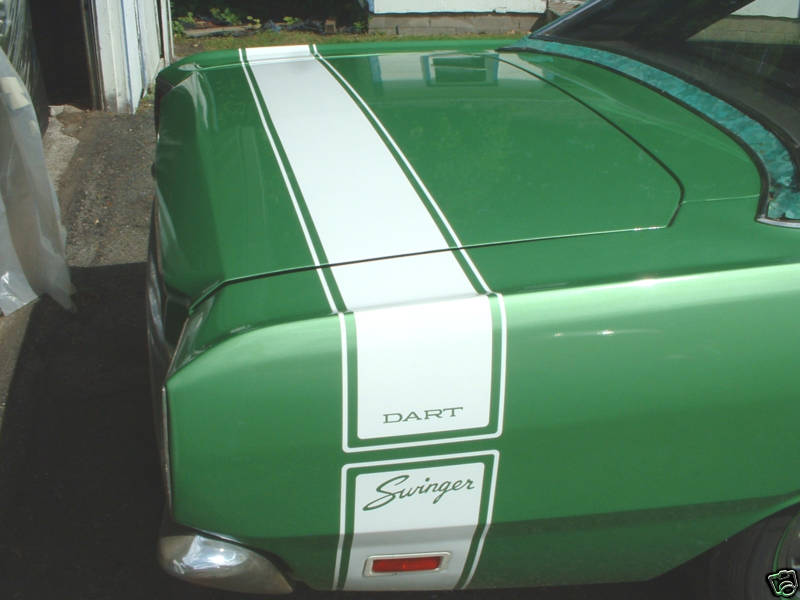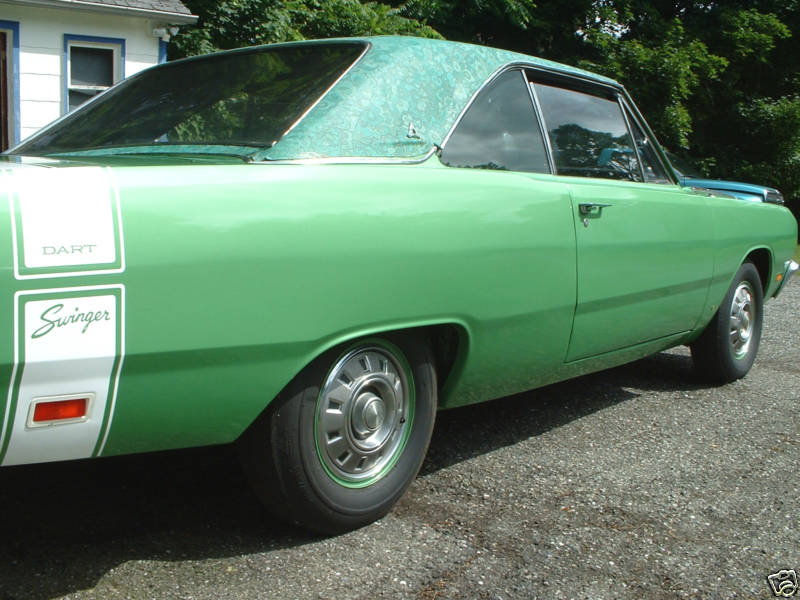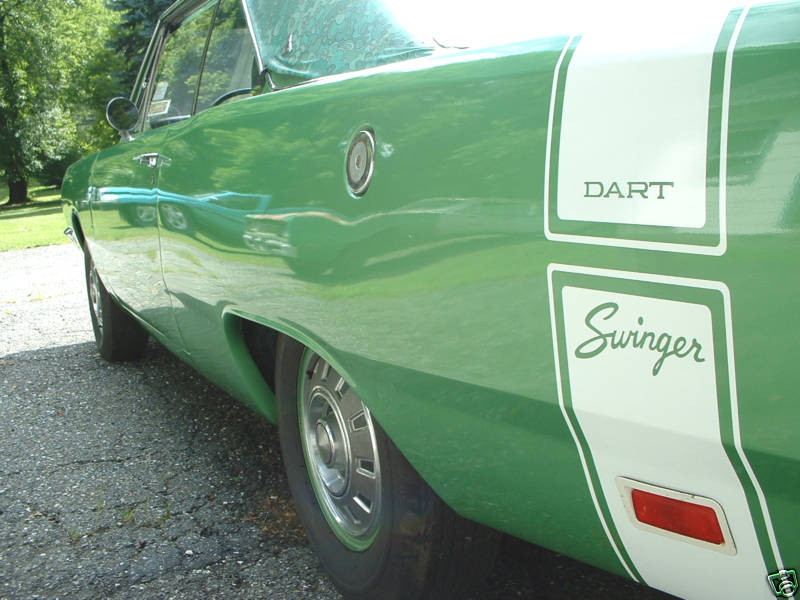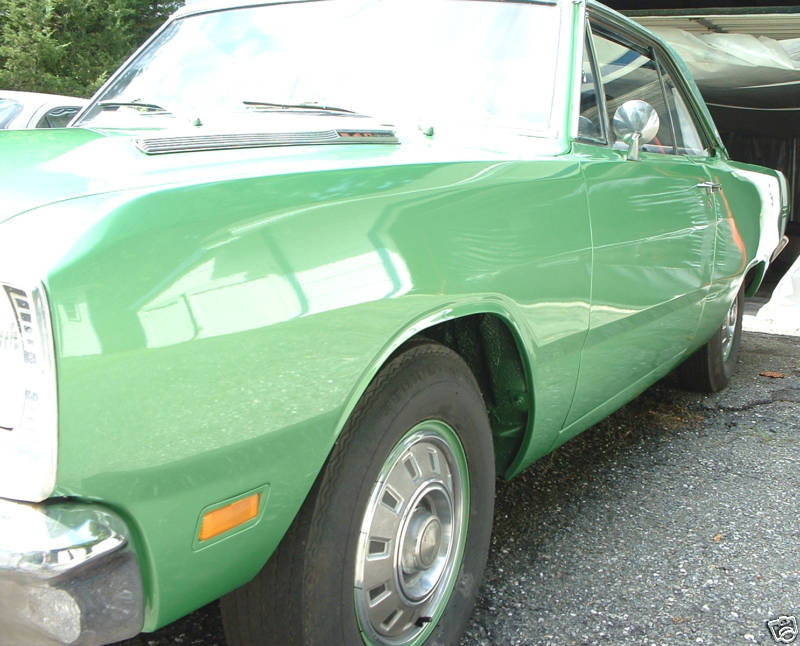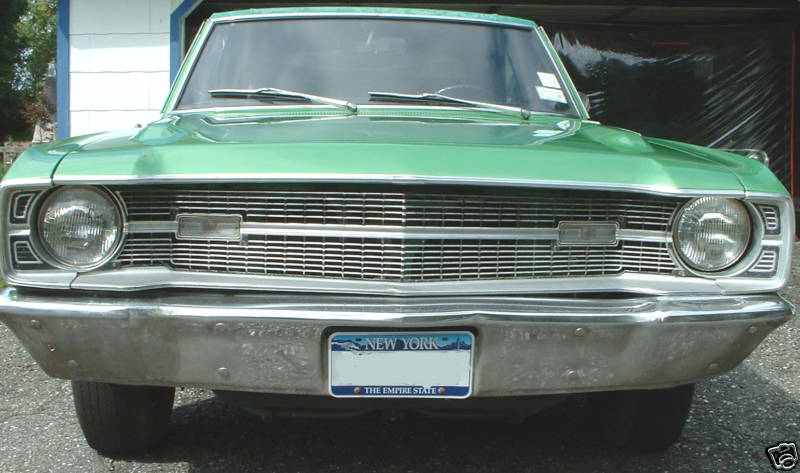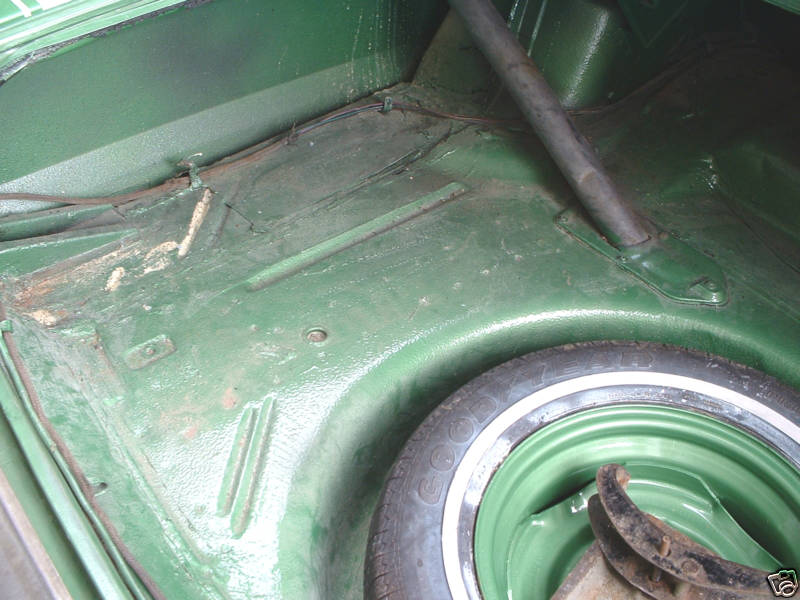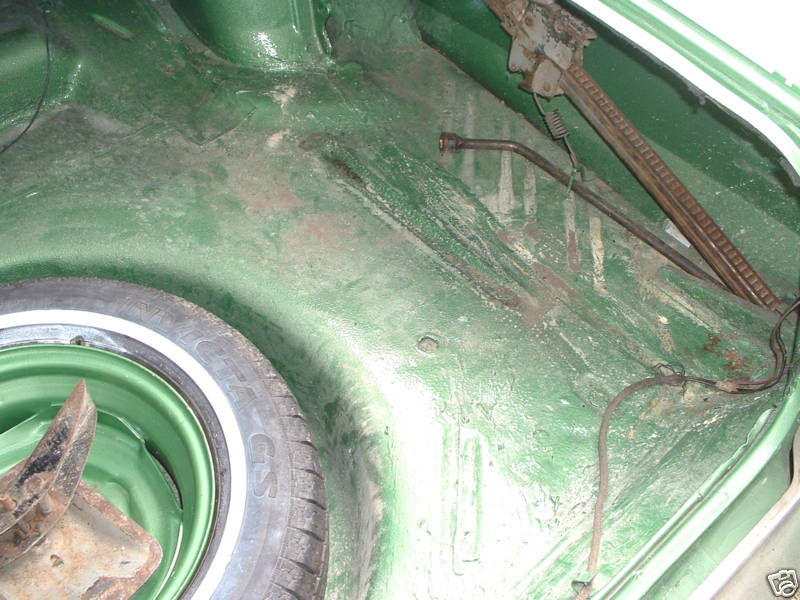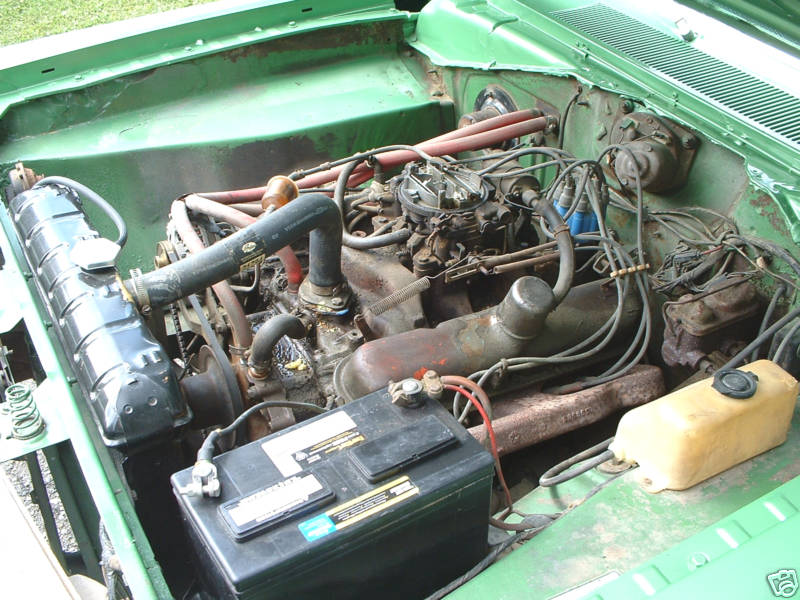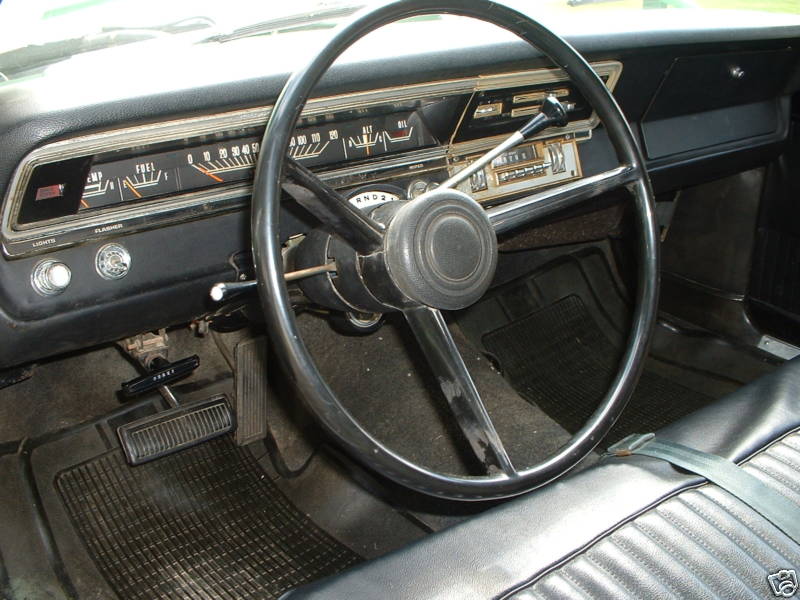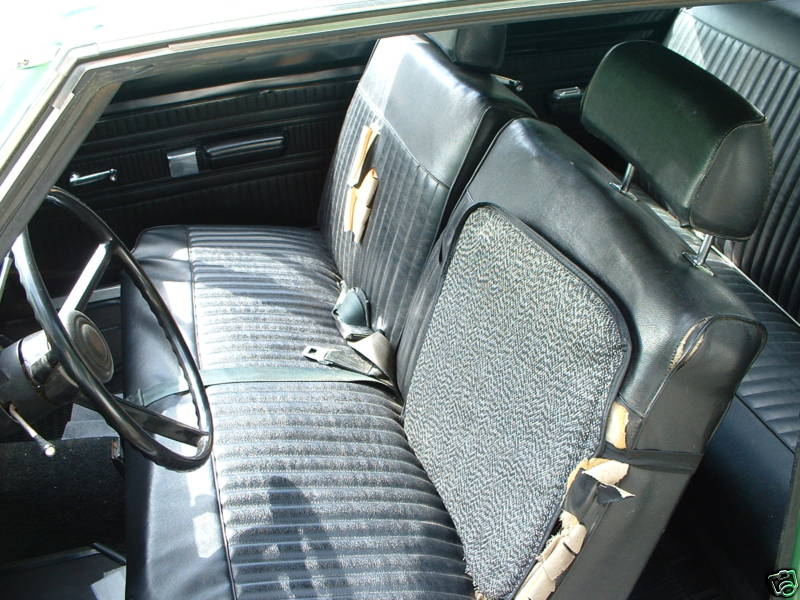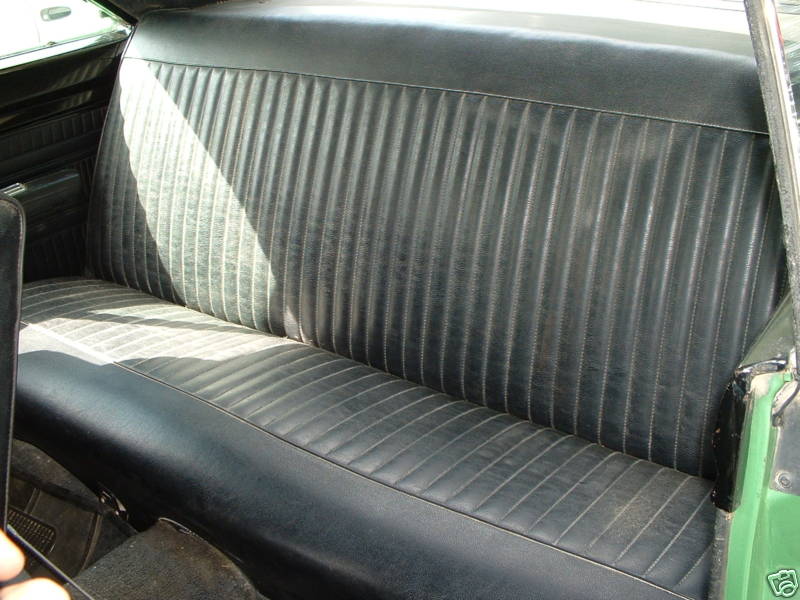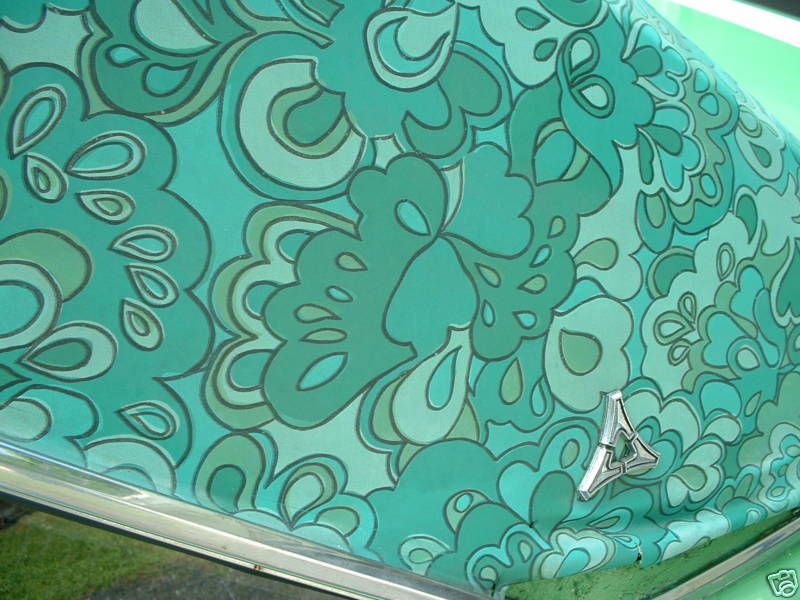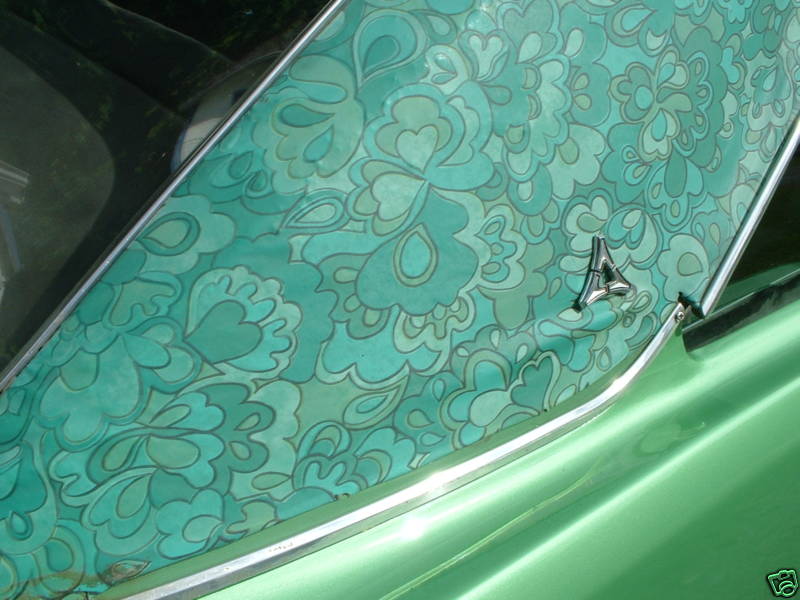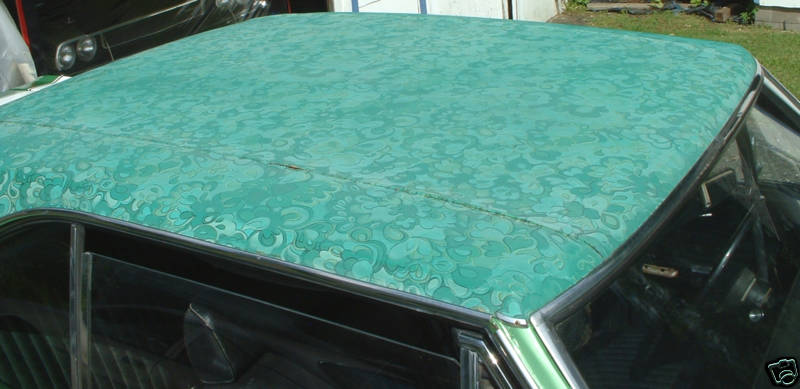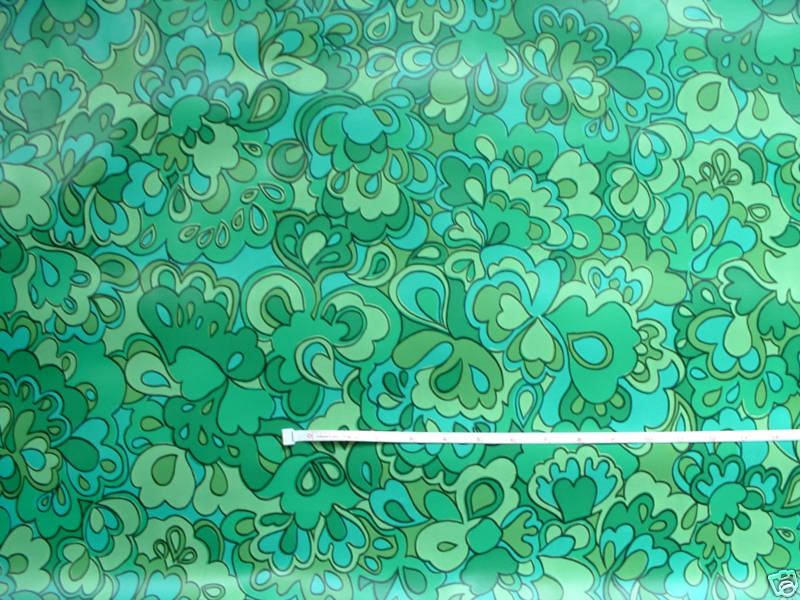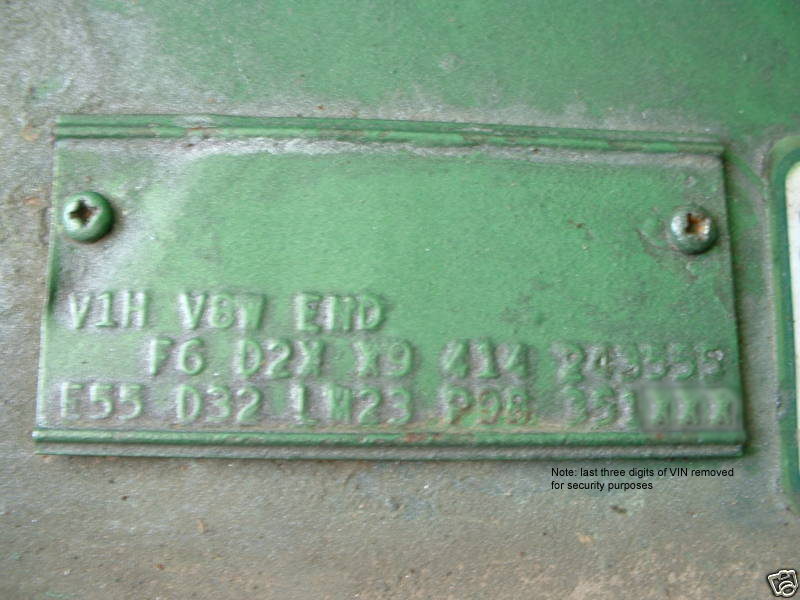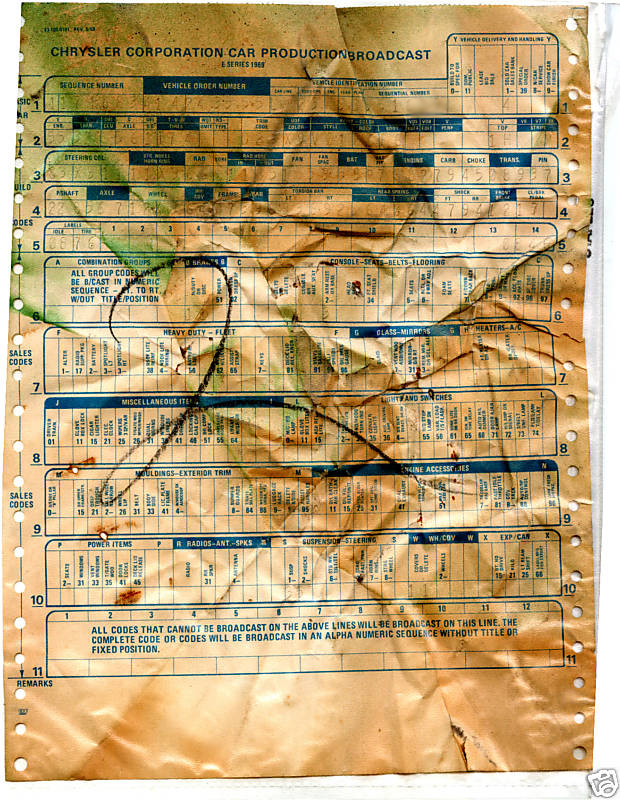 Fender tag:


V1H V8W END 
F6 D2X X9 414 243555 
E55 D32 LM23 P9B 35xxxx


V1H = Green/blue floral vinyl roof for Darts/Coronets; V8W = White transverse tape sport stripe; END = end of codes

F6 = Bright Green Metallic exterior paint; D2X = Black vinyl seats; X9 = Black Interior paint (console, instrument panel), and black carpet; 414 = April 14, 1969 build date; 243555 = order number;

E55 = 340 4bbl engine (275hp); D32 = A727 3 speed Automatic Transmission (Torqueflite); LM = Dodge Medium Price Class; 23 = 2 Door Hardtop; P9B = 340/1969/Built at Hamtramck, MI; 35XXXX = Sequence number.

More info about the car:
Engine that came with the car orginally? - 340
Engine in the car now - 340
Tranny that came orginally? - 727
Tranny in the car now? - original 727
Original Exterior color? - F6 Bright Green Metallic
Interior bucket seat color - H4X Black Bench seat
---
Other good stuff about this Mod Top Dart from a previous Ebay listing:


"This is an original Mod Top car. There were 50 built in 1969 with the green on green. There are only 2 registered in the U.S, not including ours. The green paisley top is original from the factory. There is also a diecast model made of this car.

All original numbers matching drive train.

Have owned the car since 1970.

340 Automatic. 114,993 miles. The original engine was rebuilt at 89,000 miles. This car runs great, like it did when it was new.

The car was repainted in 2006 with the original green color. A new original bumblebee white stripe from Year One was applied.

Original owner manual and broadcast sheet included.

It has all new exhaust from manifolds back and new radiator.

Condition: There is one crack on the dashboard (see picture). The headliner has three holes; 2 above visors and 1 above backseat. We have recently purchased new seat covers for the front bench seat and head rest. The front passenger seat has a small tear and driver side has large hole. The top seat covers are currently not installed, but included. The back seat is in great orginal condition. Mod top is original and in good condition other than two places where it has pulled away from the chrome near the back fenders (one on passenger side, other on drivers-see pictures). The carpet is original and in very good shape. The orginal rear fenders were rusted and we replaced in 2006 with all-new parts from Year One. The trunk liner was also purchased at Year One and is a replication of the original."
---
More info from August, 2009 when this car was for sale on Ebay:
Options include:

F6 Rallye Green
Green floral top
White Swinger stripe
Column automatic
Black bench interior
340 4 bbl

Paint and body nice
Quarters replaced

Runs and drives but needs to be gone through mechanically (brakes, tune up etc)

Currently has it's original floral top on it.
Has separated on the edges, and seams are separating in spots.
I have 6 yards of NOS material, more then enough to have a new top made.

Glass is good, bumpers need to be rechromed/replaced.
Engine needs cleaning/detailing.
Have front seat covers to replace torn originals.
Back seat is fine.
Needs headliner replaced.
One crack in dash in the center.

Have TWO buildsheets/original fender tag and previous owner history.
Matching engine.
Tranny is unstamped, however been with car for it's entire life according to previous owner who had it for the past 37 years.

Rare, complete car , which can be enjoyed while restoring it.
Only reason I am considering selling is to fund another project.

Any questions please feel free to use "ask seller a question" or email mohjo69@yahoo.com

Inspections welcome prior to auction close.

See my other Mopars for sale.

Car is sold " as is "

No warranties or guarantees expressed or implied.

---

Go back to the Mod Registry Info Page!
Last updated 12/27/2013 9:34:17 AM EST