Mod Top #96
Jessica in California has a 318/Auto 1969 Plymouth Satellite ModTop: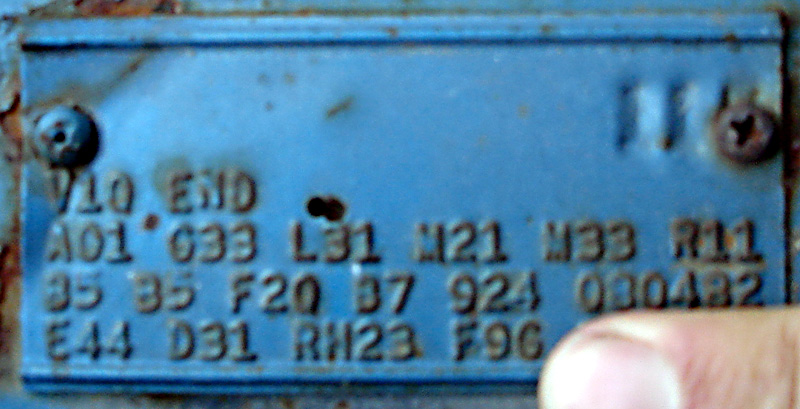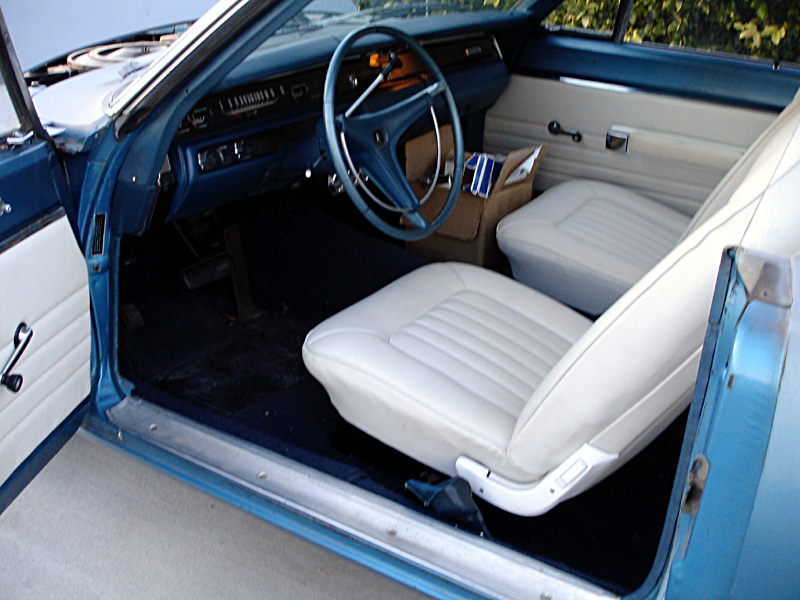 Check out more pics at this link!

The Fender Tag:


V1Q  END
A01  G33  L31  M21  M33  R11
B5   B5  F2Q  B7  924   080482
E44   D31   RH23  F9G  XXXXXX

V1Q = Blue/green floral vinyl roof; END = end of codes;

A01 = Light Package; G33 = Driver's side remote-adjustable mirror; L31 Fender/hood mounted turn signals; M21 = Drip Rail Mouldings; M33 = Body Side mouldings; R11 = Music Master Radio (2 Watt);

B5 = Bright Blue Metallic exterior paint; B5 = Bright Blue Metallic exterior paint (B5 is listed twice to show it was not a two-tone paint car); F2Q = Turquoise vinyl seats with blue/green floral inserts; B7 = Dark blue upper door frame paint; 924 = Build date of 09/24/68; 080482 = Vehicle Order Number

E44 = 318 2bbl engine (230hp); D31 = A904 3 speed Automatic Transmission ; RH = Satellite High Price Class; 23 = 2 Door Hardtop; F9G = 318/1969/Built at St. Louis, MO; XXXXXX = Sequence number.

More info about the car:
Engine that came with the car orginally? - 318
Engine in the car now - 383
Tranny that came orginally? - 904 AUTOMATIC
Tranny in the car now? -
Original Exterior color? - B5 Blue
Color now? -
Interior bucket seat color - BLUE BENCH
More info from the owner:
"My girlfriend and I were walking around Spring Fling, a mopar show here in CA, and we saw a 69 yellow mod top barracuda. She loved the look of the mod top and we decided to clone one with the reproduction material available. I never in my wildest dreams thought I would find a real one.

Well I was racing my 68 roadrunner over the new years weekend and a guy approached me and asked if I was interested in his satellite. When I went to look at it I was dumbfounded to find that it had the codes for the mod top and interior on the fender tag! So I bought it and gave it to my girlfriend as a suprise gift. It needs a lot of work and I am looking around for the rare mod top emblems. My intentions are to restore it cosmetically over the next year, it has low miles so it is mechanically in good shape. It was originally b5 blue and still wears its original paint on 75% of its body. It still has the original top underneath the trim."
---

Go back to the Mod Registry Info Page!
Last updated 2/23/2007 8:41:06 AM