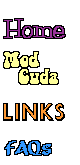 Mod Top #9
Denise Netka has restored her 1969 F3 Frost Green Metallic 340!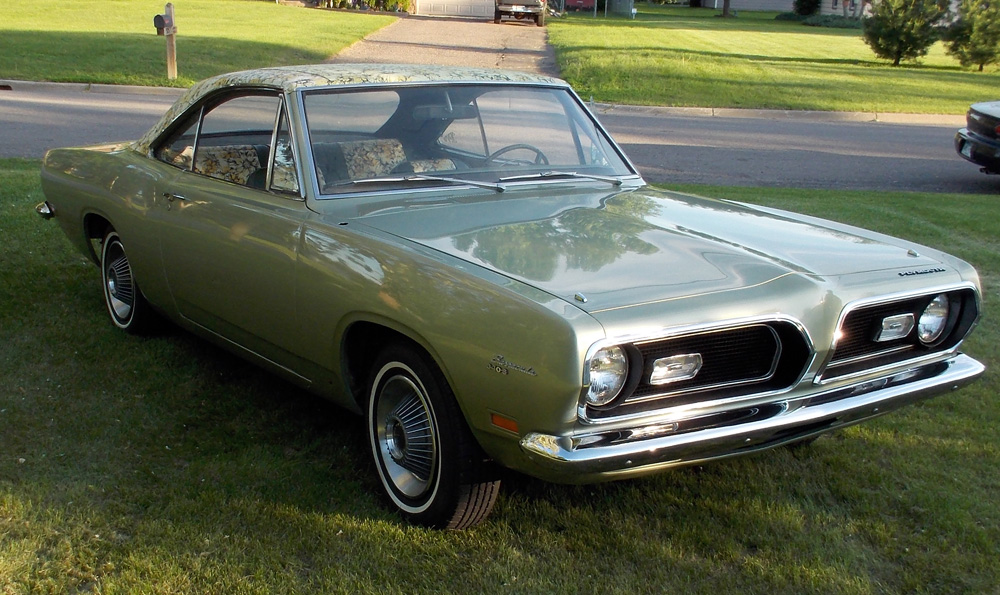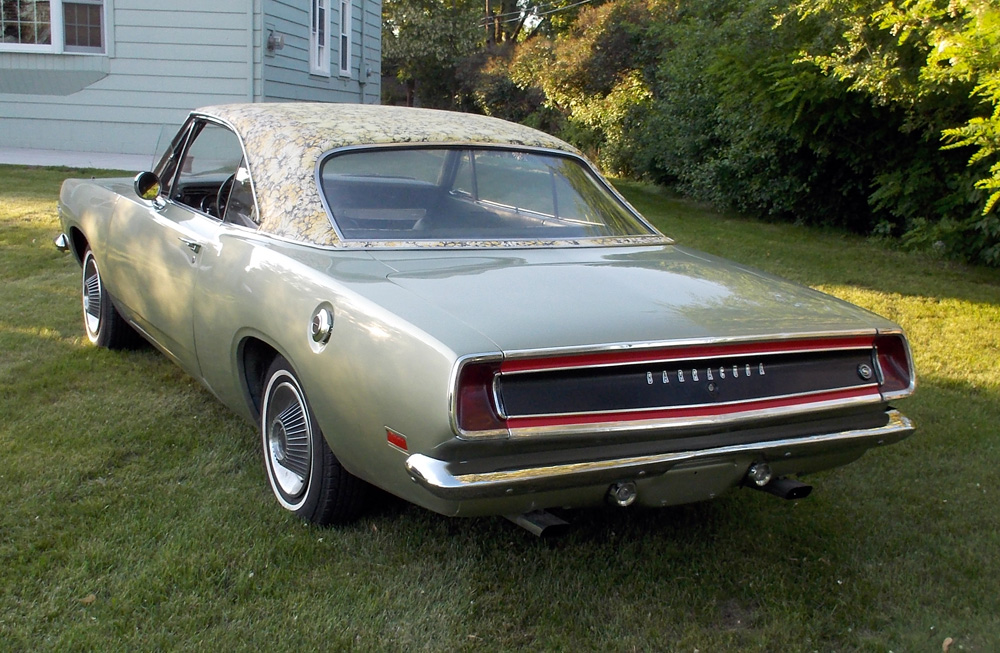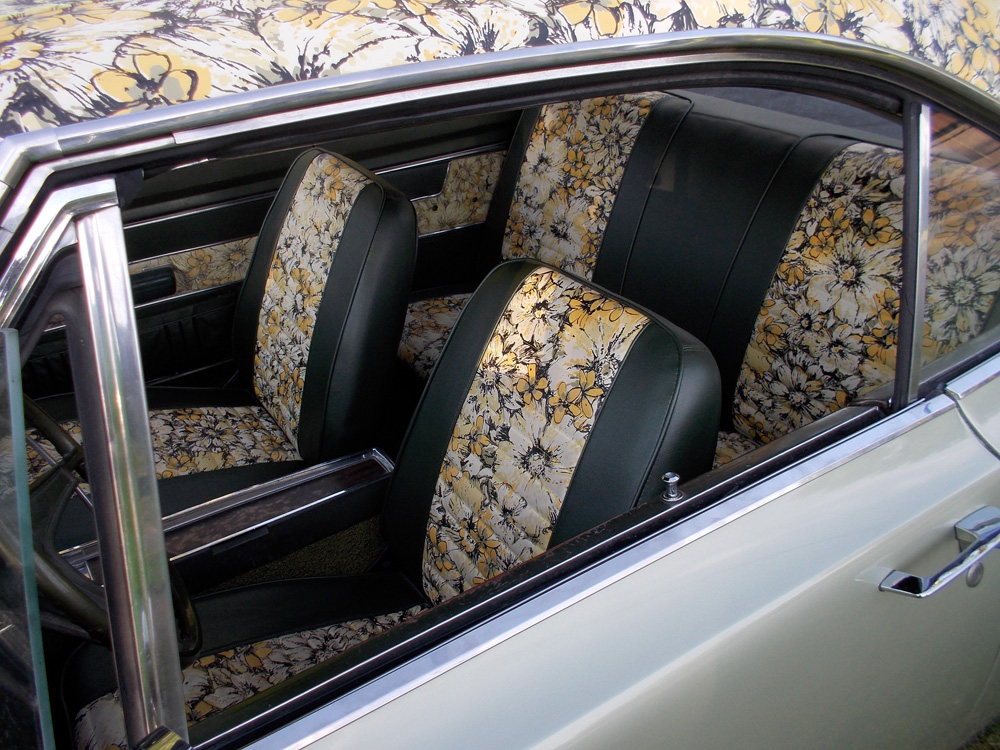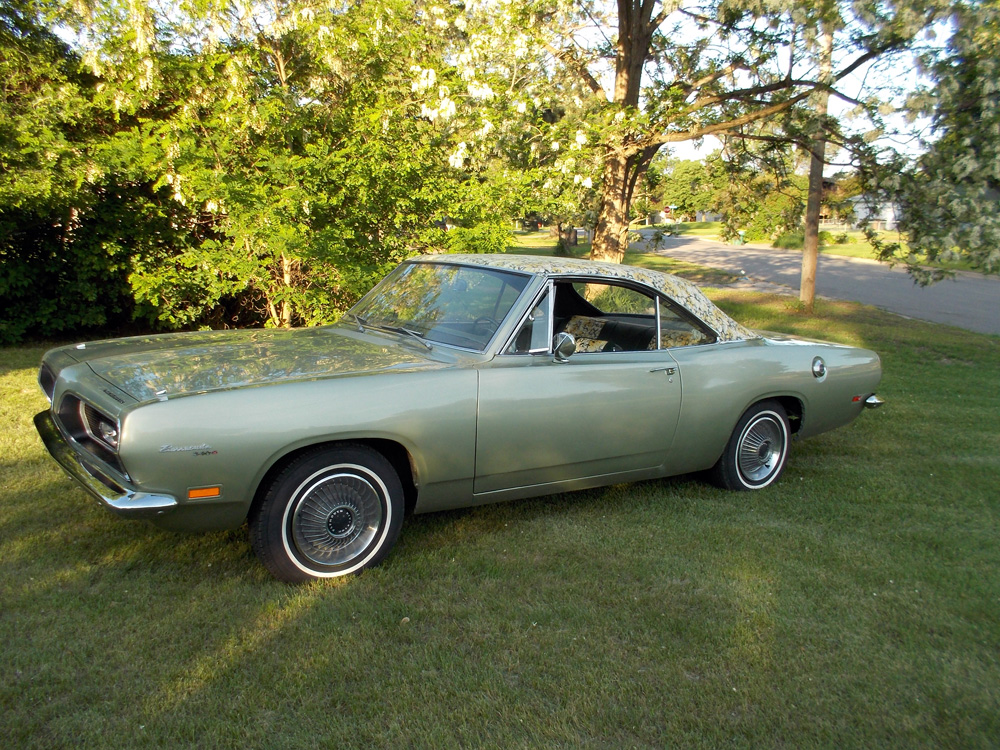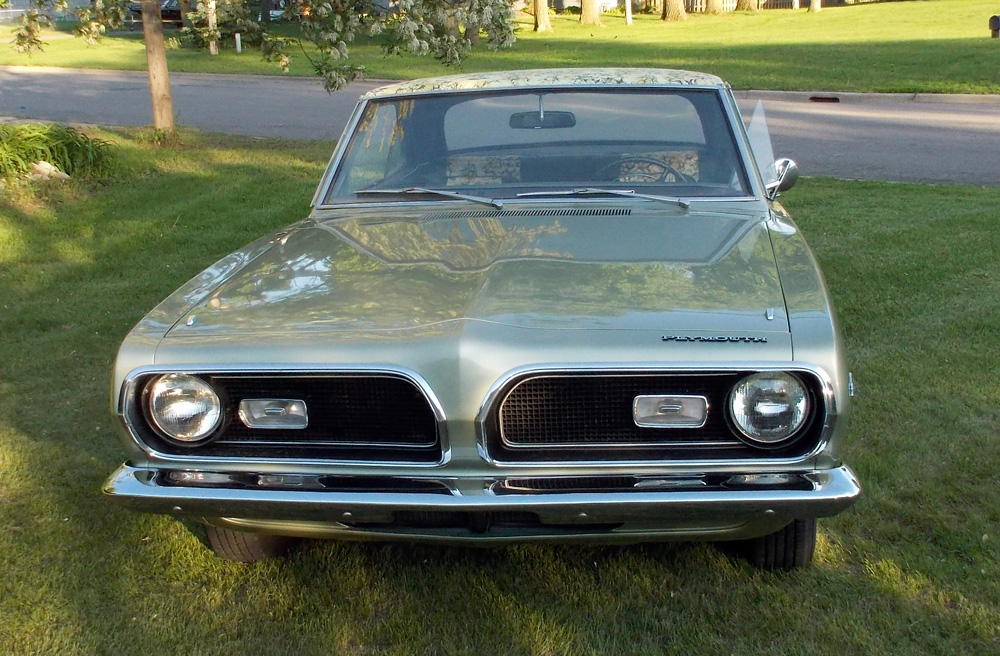 ---
(The next 6 pictures are were submitted by previous owner Todd Rhynes back in the late 1990s):


---
These pictures are from Ebay in July 2011:
Here's the fender tag:
END
L31 M21 M31 R11 V1P V78
A01 A04 C16 C55 G33 J25
   F3 F6J F8 924 06XXXX
E55 D32 BH23 P9B 14XXXX

More info about the car:
Engine that came with the car orginally? - 340
Engine in the car now - 340 (numbers don't match)
Tranny that came orginally? - 727 auto
Tranny in the car now? - 727 auto (numbers match!)
Original Exterior color? - F3 Frost Green Metallic
Color now? - "A sad Forrest Green"
Interior bucket seat color - F6J Green vinyl with mod inserts
A former owner tells us about this Mod Top:

"You may have noticed, this car is a Formula S Mod Top car. [Editorial note: well...actually...to be a Formula S, it must have the A53 code on the fender tag. It is definitely a "340-S", which means it has the same stuff as a Formula S (340 engine, dual exhaust with chrome tips, and heavy duty suspension) but it doesn't have the badging (Formula S medallion on the sides of the car, Black rear deck applique instead of silver (this is the metal panel on the trunk lid), black front grilles instead of silver on the regular 340-S). My ModCuda is the same way, a 340-S, but not a Formula S.] A friend of mine is a car scavenger... he drives around looking for muscle cars. This one was sitting on someones side yard. An old lady owned it. She ran it out of oil and water. It ran on about 5 cylinders. She drove it this way. My buddy gets it for $700.00, drives it home and shows it to me. I had to have it! I also had to give him an extra grand. Some friend. I still feel like I stole it. A '69 Barracuda Formula-S Mod Top car with a blown-up 340 and a demolished interior. The challenge began. Making the car mechanically correct was no problem for me. It runs great, I drive it every day. The seats are abused and the roof has been replaced. I cannot find the stuff. Can you help me? I would like N.O.S. or even good used. I love this car. "



---
More info about this car from an Ebay page when it was for sale in February 2004 (don't know if it sold or not):


Vehicle Description  

 OPTIONS INCLUDE

E55 340 4 BARREL

D32 727 AUTO

924 SEPT. 24 1968 BUILD DATE

F3 FROST GREEN METALLIC F6J F8 DARK GREEN/YELLOW FLORAL INTERIOR

C16 CONSOLE WITH BUCKET SEATS

AO1 LIGHT PACKAGE

G33 REMOTE CHROME MIRROR

J25 3 SPEED WIPERS

L31 FENDER TURN SIGNALS

M 26 WHEEL OPENING MOLDINGS

V1P YELLOW FLORAL ROOF

V78 STRIPE DELETE

W15 DEEP DISH WHEEL COVERS

Y13 DEALER DEMONSTRATOR

           This is truely a once in a lifetime opportunity to own a very rare
 and special mopar. Out of the 30 or so MOD BARRACUDAS know to exist there 
are only 7 340 cars one of the best engines plymouth ever made.This car is 
one of the most special cars as it not only a MOD TOP car but a complete 
MOD INTERIOR car as well.The vast majority of MOD INTERIOR cars were optioned 
with the yellow vynal inserts but 4 of the early cars got the f8 dark green 
inserts,this is the last of those 4 built on sept 24 1968.All numbers 
verified by Gaylen Govier.We believe this to be the most documented MOD 
car in existence today.The large file of documents include the original 
buildsheet,original fender tag,original warranty contract with dealer seal, 
original California pollution compliance certificate from the highway patrol, 
original customer satisfaction letter from World Dodge Vallejo cal., 
original owners manual,original warranty booklet,as well as service records, 
emmision inspections,and title renewals dating back to the 1970's. 
This rare beast was one of the first of it's kind built and one of the 
last sold as it was ordered as a dealer demonstrator and was the property 
of World Dodge until it was sold to it's first owner on Feb.19 1970. 
Don't miss this rare chance to add one of the truely rare mopars to 
your special car collection. GOOD LUCK

Vehicle Condition  

 This is a 99% rust free all original sheet metal car.There are a fiew 
small dents on the body and the paint has various chips.There is no bondo 
at all.The floors, trunk and engine compartment are still in there original 
paint and are totally rust free.The 340 has been recently rebuilt and 
runs super fast.All the elecricals work fine.The interior has a new 
carpet installed and all new mod seat covers ready to be installed. 
The door panels are in very good shape.The only thing the interior 
needs is a new dash.The car need a fresh paint and a new MOD TOP
which is availible through various suppliers
. This is a very special car that needs only minimum work.. 

---

Go back to the Mod Registry Info Page!
Last updated 6/21/2013 11:30:35 AM