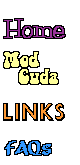 Mod Top #85
Toby Isenberg in Oklahoma has a 1969 Barracuda 318/904 Mod Interior car (mod top "Delete!&quot)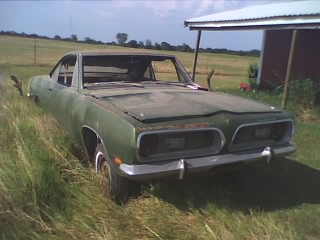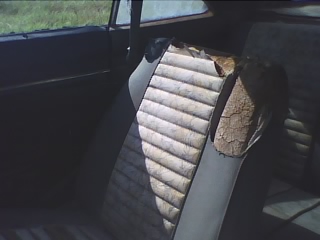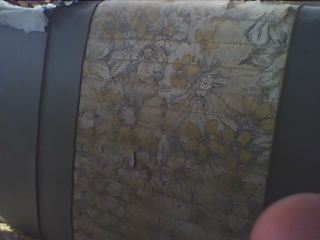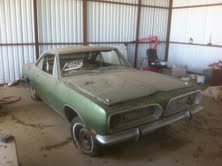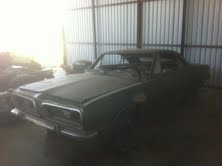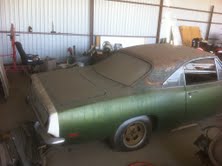 Fender tag info:


 V7X END
 J25 L31 M21 M31 R11 V1F
 AO1 AO4 C16 C55 G15 G33
   F5 F6J F8 830 065631
 E44 D31 BH23 F9B 117XXX


V7X = Black longitudinal accent stripe; END = End of codes;

J25 = 3 speed variable windshield wipers; L31 = Hood mounted turn signals; M21 = Drip Rail Mouldings; M31 = Body Belt Mouldings (under the side windows); R11 = Music Master Radio (2 Watt); V1F = Green vinyl roof;

A01 = Light package (glove box lamp, etc); A04 = Basic Radio Group; C16 = Console with woodgrain; C55 = Bucket seats; G15 = Tinted windshield (only, not side windows); G33 = Driver's Side remote mirror;

F5 = Limelight Metallic Green exterior paint; F6J = Green vinyl seats with yellow and black floral inserts (mod interior), also yellow and black floral inserts on the door panels; F8 = Dark Green Interior paint (console, instrument panel), and black carpet; 830 = August 30, 1968 build date; 065631 = order number;

E44 = 318 engine (230hp); D31 = A904 3 speed Automatic Transmission (Torqueflite); BH = Barracuda High Price Class; 23 = 2 Door Hardtop; F9B = 318/1969/Built at Hamtramck, MI; 117XXX = Sequence number.

More info about the car:
Engine that came with the car orginally? - 318
Engine in the car now - 318
Tranny that came orginally? - 3 speed auto
Tranny in the car now? - auto
Original Exterior color? - F5 Limelight Metallic
Exterior color now? - original Limelight Green
Interior seat color - F6J Green vinyl bucket seats with mod (floral) inserts
Extra info about Toby's Mod Top:
"The interior in mine is shot really, but it still has the floral interior. The vinyl top is entirely gone and has been peeled off. ... The body is in pretty good shape with some rust, but not too bad. Overall the body is pretty straight for a project car, and very origianal. It hasnt been cobbled together, but appears to be the original sheet metal." Toby looked more at his fender tag and realized it was a V1F (green vinyl top) and not a V1P (Barracuda floral "Mod Top"), so he has one of the rare Barracudas (I only know of three, including mine) with a "Mod Top Delete."





Go back to the Mod Registry Info Page!
Last updated 7/15/11