Mod Top #84
There was a 1969 Barracuda 318/904 ModTop for sale on the Internet in January 2006 (not sure whether or not it sold).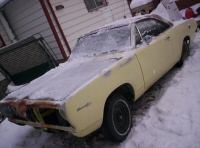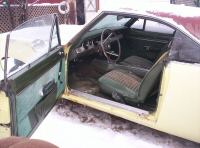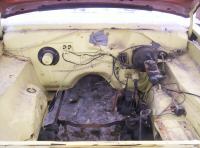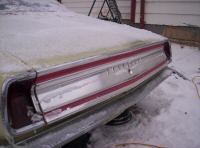 More info from the page when this car was for sale (don't know for sure whether or not it sold):


THIS IS A 69 BARRACUDA FACTORY MOD TOP CAR ..HAS RUST ON THE 
INNER FENDERS ROCKERS AND POSSIBLE THE TORSION BAR MOUNTS.
QUARTERS HAVE BEEN REPLACED ONCE.HAS ONE FIBBERGLASS FENDER.
OTHER NEEDS WORK.HAVE FRONT BUMPER BUT IS DENTED UP.
IT HAS THE BUCKETS SEAT WITH HEAD RESTS,CONSOLE WITH WOODGRAIN .
FACTORY CLOCK,REAR DEFOG AND DELUXE DOOR PANELS.
THE REAR PANEL IS REAL NIE ON IT.THE TAILIGHTS ARE GREAT ALSO...
THERE ARE NO FRONT GRILLS AND THE STEERING WHEEL WILL BE 
REMOVED FOR I AM USEING IT FOR ONE OF MY CARS.THIS CAR WOULD BE 
EXELLENT FOR RESTORING ..I BELIVE ONLY 937 MOD TOP CUDAS MADE..
VERY RARE.THE MOD TOP MATERIAL IS STILL AVALIBLE THROUGH YEAR 
ONE OR LAYSONS RESTORATION...ALSO HAS POWER  STEEERING AND POWER BRAKES 
---

Go back to the Mod Registry Info Page!
Last updated 1/20/2006 10:26:23 AM