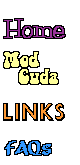 Mod Top #82
"now cars" had a 1969 Barracuda 318/904 ModTop for sale on Ebay in December 2003 (not sure whether or not it sold).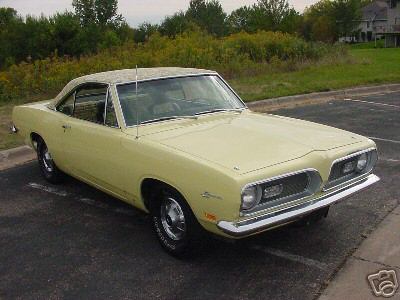 More info from the Ebay page when this car was for sale (don't know for sure whether or not it sold):


This is an unrestored ORIGINAL 1969 Barracuda MOD TOP.  
It is VERY rare to find these cars and especially in this condition! 
The "Mod Top" vinal top and interior are 100% original and in MINT condition.  
It is all numbers matching with it's original 318 V8 and automatic transmission.  
It is rust free and in excellent condition.  It is documented with two 
broadcast sheets and all original ID tags and stampings. This car was 
available for $15,000. earlier this year and I was offered $12,000.  
and decided to keep it.  Well, the reserve is much less than that now 
and this will be a very good deal for it's next owner.  Bid to buy this 
60's flower power machine!  Must sell!

---


This same car was also for sale at the MoPar Nationals in 2004. (Do not know if he sold it or not).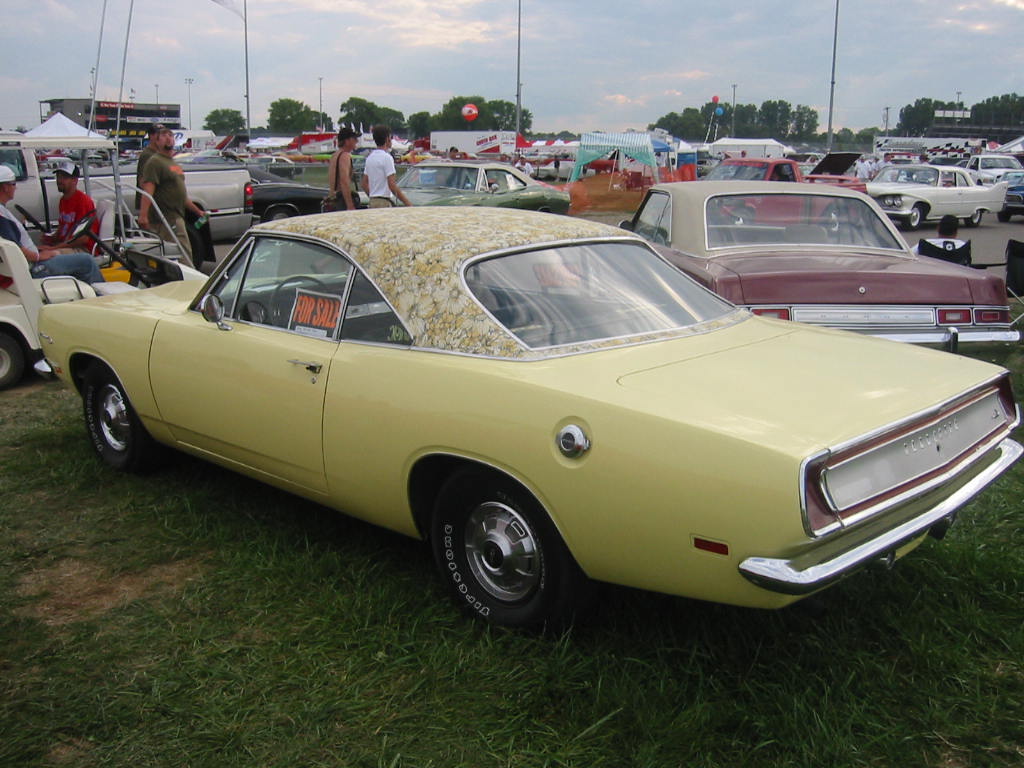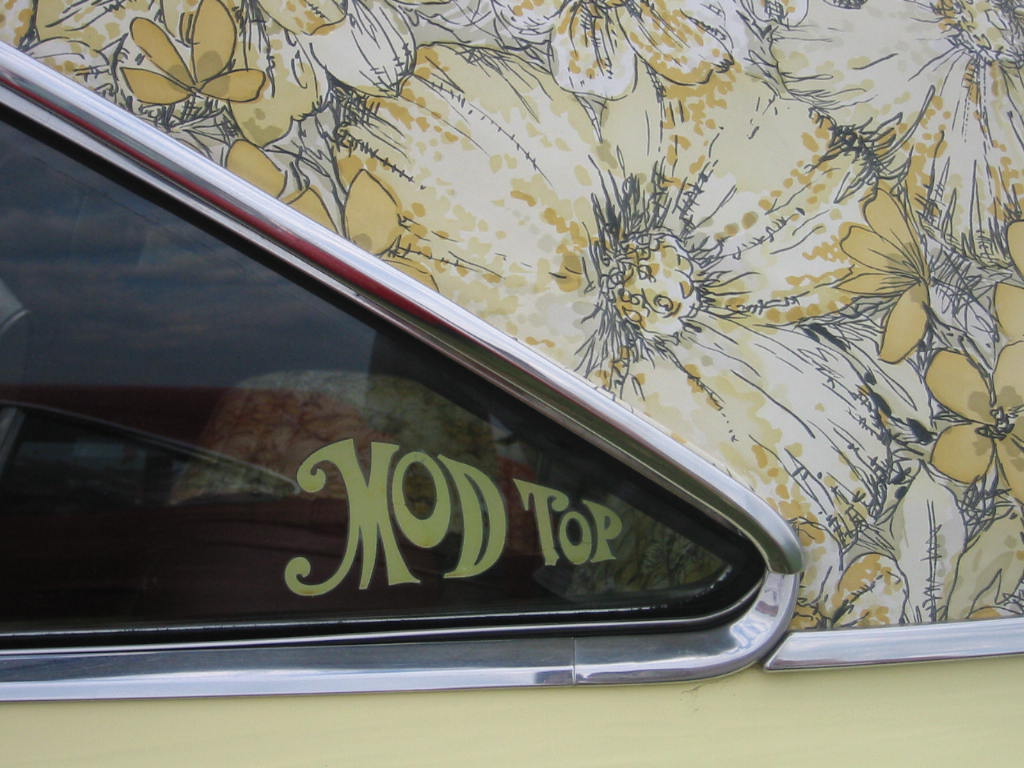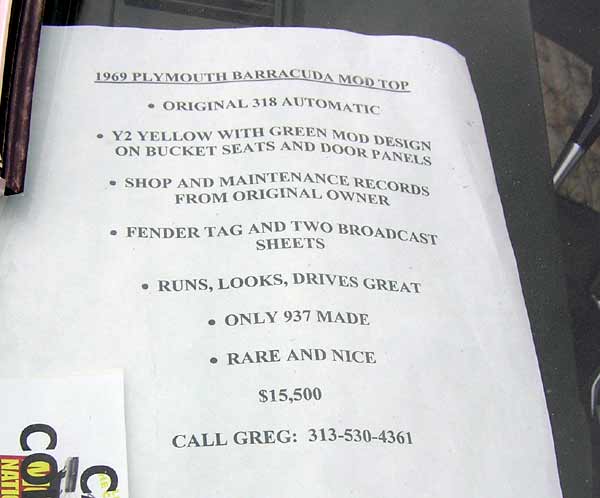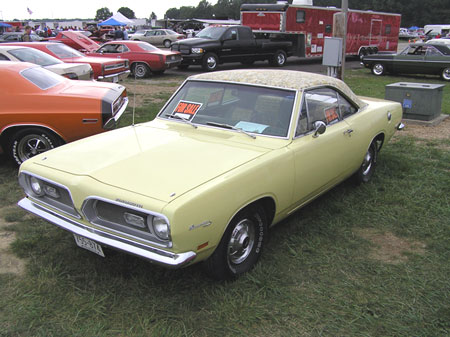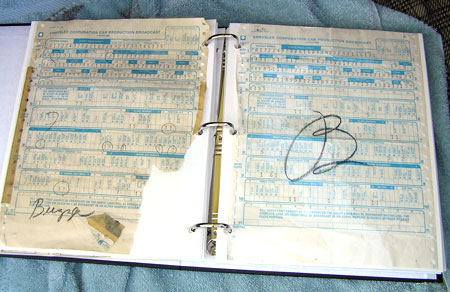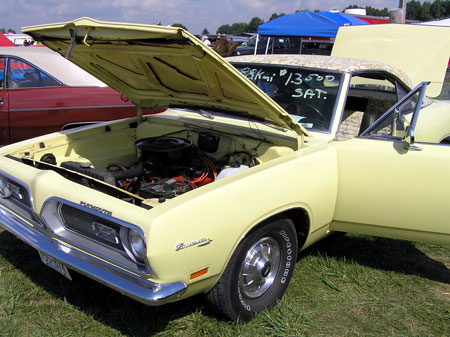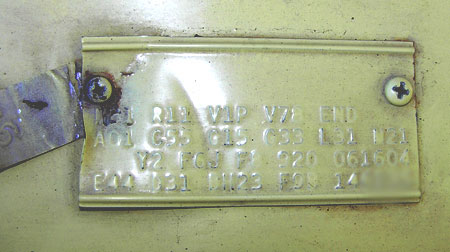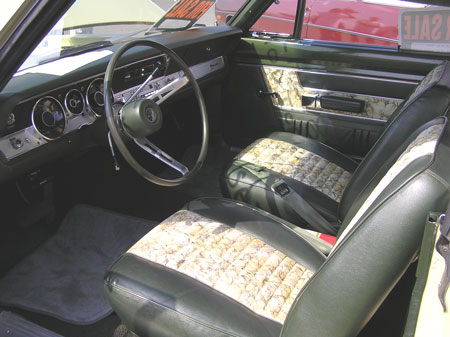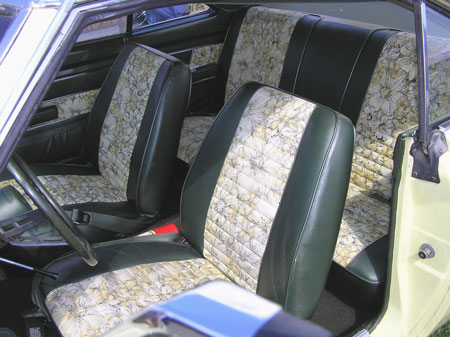 The Fender Tag:


M31 R11 V1P V78 END
A01 C55 G15 G33 L31 M21 
   Y2 F6J F8 920 061604
E44 D31 BH23 F9B 14XXXX


M31 = Body Belt Mouldings; R11 = Music Master Radio (2 Watt); V1P = Yellow floral vinyl roof; V78 = Delete accent stripe; END = end of codes

A01 = Light Package; C55 = Bucket seats; G15 = Tinted windshield; G33 = Driver's side remote mirror; L31 = Fender/hood mounted turn signals; M21 = Drip Rail Mouldings (above side windows);

Y2 = Sunfire Yellow exterior paint; F6J = Green vinyl seats with yellow and black floral inserts (mod interior), also yellow and black floral inserts on the door panels; F8 = Dark Green Interior paint (console, instrument panel), and black carpet; 920 = September 20, 1968 build date; 061604 = order number

E44 = 318 2bbl engine (230hp); D31 = A904 3 speed Automatic Transmission (Torqueflite); BH = Barracuda High Price Class; 23 = 2 Door Hardtop; F9B = 318/1969/Built at Hamtramck, MI; 14XXXXX = Sequence number.
---

Go back to the Mod Registry Info Page!
Last updated 1/20/2006 10:26:23 AM