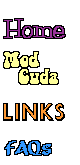 Mod Top #79
Blair Jones in Saskatchewan, Canada has a 1969 Barracuda 340/727 ModTop.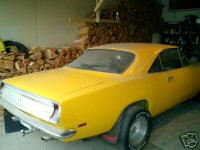 The Fender Tag:


V7X    END
J25   L31   M21   M31   R11   V1P
A01   A04   C16   C55   G15   G33
     Y2   F6P   X9   909   068551
E55   D32   BH23  P9B   135XXX


V7X = Black Longitudinal Stripe; END = End of codes

J25 = 3 speed variable wipers; L31 = Fender mounted turn signals; M21 = Drip Rail Mouldings; M31 = Body Belt Mouldings; R11 = Radio - 2 Watt AM radio Music Master; V1P = Yellow and Black Floral Vinyl "Mod Top"

A01 = Light package - (Glove Box Lock, Courtesy Lamp, Reading and Dome Lamp, Glove Box Lamp, Cargo Compartment Lamp, Trunk Compartment Lamp, Hood/Fender Turn Signal Lamps, Rear Door Dome Lamp Switch, Ignition Switch Lamp with Timer, Headlamp-on Buzzer, Headlamp Switch Lamp with Timer); A04 = Basic Radio Group; C16 = Woodgrain console; C55 = Bucket seats; G15 = Tinted Windshield (only); G33 = Driver's side remote side mirror

Y2 = Sunfire Yellow exterior paint; F6P = Yellow vinyl seats with yellow and black floral inserts (mod interior), also yellow and black floral inserts on the door panels; X9 = black Interior paint (console, instrument panel), and black carpet; 909 = September 9, 1968 build date; 068551 = order number

E55 = 340 4bbl engine (275hp); D32 = A727 3 speed Automatic Transmission (Torqueflite); BH = Barracuda High Price Class; 23 = 2 Door Hardtop; P9B = 340/1969/Built at Hamtramck, MI; 135XXX = Sequence number.

More info about the car:
Engine that came with the car orginally? - 340
Engine in the car now - original 340
Tranny that came orginally? - 727 auto
Tranny in the car now? - 4-speed
Original Exterior color? - Y2 Sunfire Yellow
Exterior color now? - Deeper Yellow
Interior seat color - F6P Yellow vinyl bucket seats with mod (floral) inserts
More info from the Ebay page when this car was previously for sale:


1969 PLYMOUTH BARRACUDA FORMULA S 340 ... ORIGINAL 119000 MI.

THE FENDERS HAVE ALWAYS HAD THE 340 S EMBLEMS AND THE ORIGINAL 
AIR CLEANER (WHICH IS GONE) 

#S MATCHING 340 ENGINE, EDLEBROCK INTAKE WITH THREE 2 BBL HOLLEYS. 
30K MILES ON ENGINE WITH .030 BORE, .010 CRANK, SCREW IN STUDS. 
THE ENGINE RUNS VERY STRONG.  4 SPEED, 8 3/4 POSI WITH 390 GEARS. 
HEADERS WITH CUDA DUAL EXHAUST. POWER STEERING AND FOUR PISTON POWER 
DISC BRAKES. STRAIGHT BODY WITH NO RUST, (THERE MIGHT BE SOME 
SOMEWHERE BUT I CAN'T FIND IT).THE 1/4S, ROCKERS, TRUNK, FLOOR 
BOARDS, FRAME AND EVERYWHERE SHOWS NO SIGN OF RUST. GLASS IS ALL 
GOOD. THE CAR RUNS GREAT, VERY STRONG. 

THE INTERIOR IS VERY GOOD. BLACK CLOTH BUCKETS BLACK CARPET. 
HEADLINER HAS ONE SMALL SEAM SEPARATION.DASH HAS NOT BEEN CUT UP FOR STEREO. 

THIS CAR HAS SPENT ALL ITS LIFE IN NORTH CENTRAL WASHINGTON STATE, 
OWNED THE PAST 28 YEAR BY MY BROTHER-IN-LAW. IT WAS PURCHASED NEW 
AT GOEHRY'S INC. CHYSLER PLYMOUTH DEALER IN BREWSTER WA. 

THE CAR WAS ORIGINALLY A (MOD TOP) FLOWERED VINYL TOP, WITH 
FLOWERED INTERIOR, AND PALE YELLOW PAINT, AUTOMATIC WITH CONSOLE.
HAD A FOUR BARREL INTAKE. ALL OF WHICH ARE GONE.

EXTRA PARTS:ORIGINAL PARTS  FRONT BUMPER , FRONT FENDERS, HOOD, 
LOWER VALANCE,  AM RADIO, AND CAMSHAFT. FENDERS AND VALANCE WERE 
TAKEN OFF FROM MINOR DAMAGE, VERY USABLE..  SOME EXTRA TRIM & VISORS.

---

Go back to the Mod Registry Info Page!
Last updated 5/6/2006 9:52:51 AM