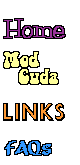 Mod Top #76
Jeromie Stephens in Tucson, AZ has a 1969 Barracuda 318/904 ModTop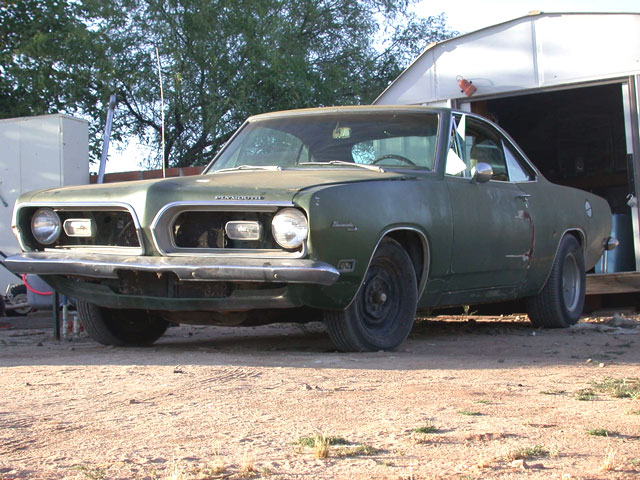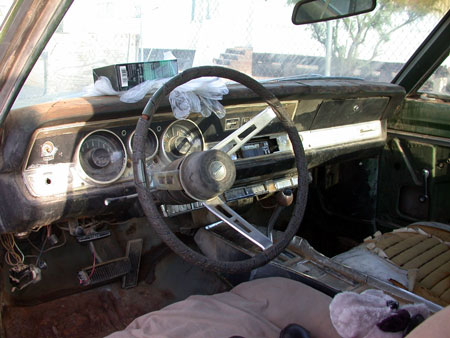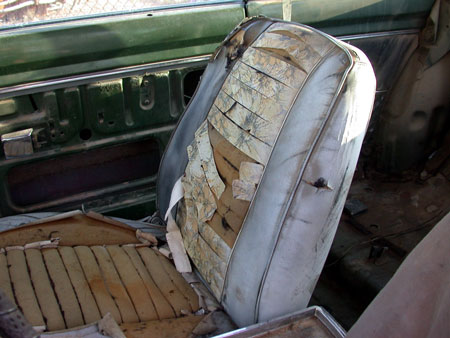 The Fender Tag:


R11 V1P V78 END
C16 C55 G11 H51 M21 M31
F5 F6J F8 C13 158488
E44 D31 BH23 F9B 23XXXX

END = end of codes

R11 = Music Master Radio (2 Watt); V1P = Yellow floral vinyl roof; V78 = Delete accent stripe; END = end of codes

C16 = Console with woodgrain; C55 = Bucket seats; G11 = Tinted glass all windows; H51 = Air conditioning with front heater; M21 = Drip Rail Mouldings (above windows); M31 = Body Belt Mouldings;

F5 = Limelight Metallic Green exterior paint; F6J = Green vinyl seats with yellow and black floral inserts (mod interior), also yellow and black floral inserts on the door panels; F8 = Dark Green Interior paint (console, instrument panel), and black carpet; C13 = December 13, 1968 build date; 158488 = order number

E44 = 318 2bbl engine (230hp); D31 = A904 3 speed Automatic Transmission (Torqueflite); BH = Barracuda High Price Class; 23 = 2 Door Hardtop; F9B = 318/1969/Built at Hamtramck, MI; 23XXXXX = Sequence number.

More info about the car:
Engine that came with the car orginally? - 318
Engine in the car now - 318
Tranny that came orginally? - 904
Tranny in the car now? - 904
Original Exterior color? - F5 Limelight Metallic
Exterior color now? - F8 Green, V1P roof removed years ago
Interior seat color - F6J Yellow vinyl bucket seats with mod (floral) inserts
Extra stuff from Jeromie about his ModTop:
"I just bought this car from a guy who lives abot 6 miles from my house. It is in fine physical condition (minimal rust) - but the interrior is shot (there is some of the floral pattern matireal still on the passenger seat). The vinyl roof is gone, and it appears that the car has been repainted years ago (F8 green). Transmission is shot. Engine appears to by original, but is in sad shape. I'll post photos later - cool car. Didn't know it was a Mod Top vehicle till I decoded the tag at home. Best part is, got it for $500!"
---

Go back to the Mod Registry Info Page!
Last updated 8/6/05 3:39:10 PM