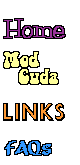 Mod Top #75
Joanna Guntert in New York has a 1969 Satellite all original ModTop


More info about the car:
Engine in the car now - original
Tranny in the car now? - original
Original Exterior color? - Don't know/not sure
Interior seat color - F2Q Turquoise vinyl with mod (floral) inserts
Joanna has some more info about her ModTop Satellite:

"all original. looking for original replacement parts ie. interior, roof, paint. been sitting for 10 years due to lack of space. restoring this summer and in need of these original parts. thanks. "
---

Go back to the Mod Registry Info Page!
Last updated 8/6/05 8:58:41 PM