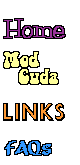 Mod Top #74
**Update1: December 2015; this car was featured on the BringATrailer.com website*
**Update2: 12/24/15; this car was sold on Ebay for $17,500! **
**Update3: August 2017; this car was featured in the Wall Street Journal **
Kim Barnes in Maryland owns this 1969 318/904 Barracuda ModTop.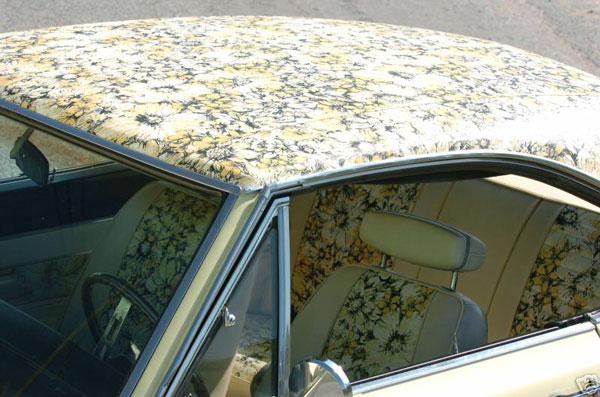 Note: the following 9 pictures are thumbnails from an Ebay page from a while back



The following pictures were from the Ebay sale in December 2015 (where it sold for $17,500)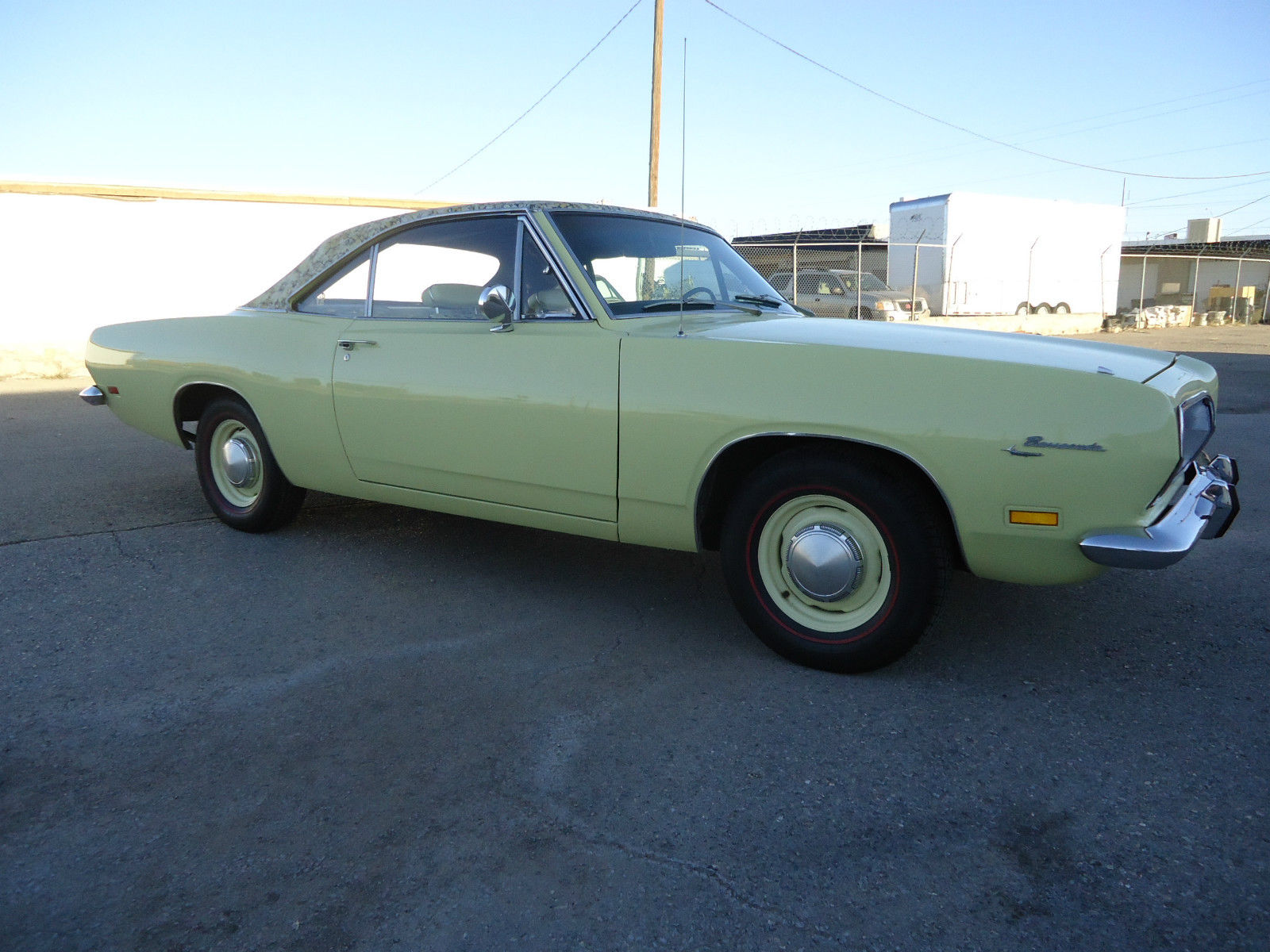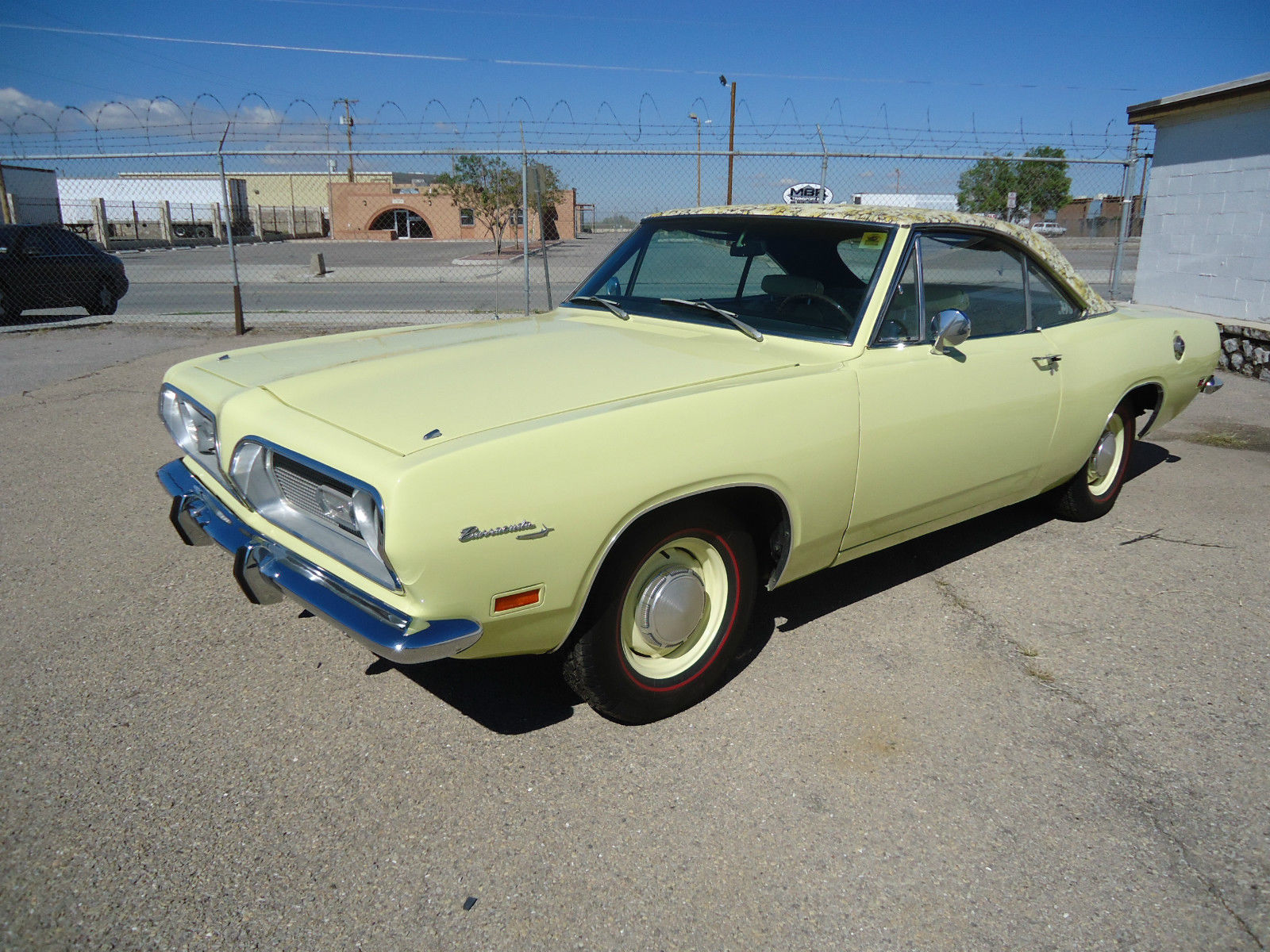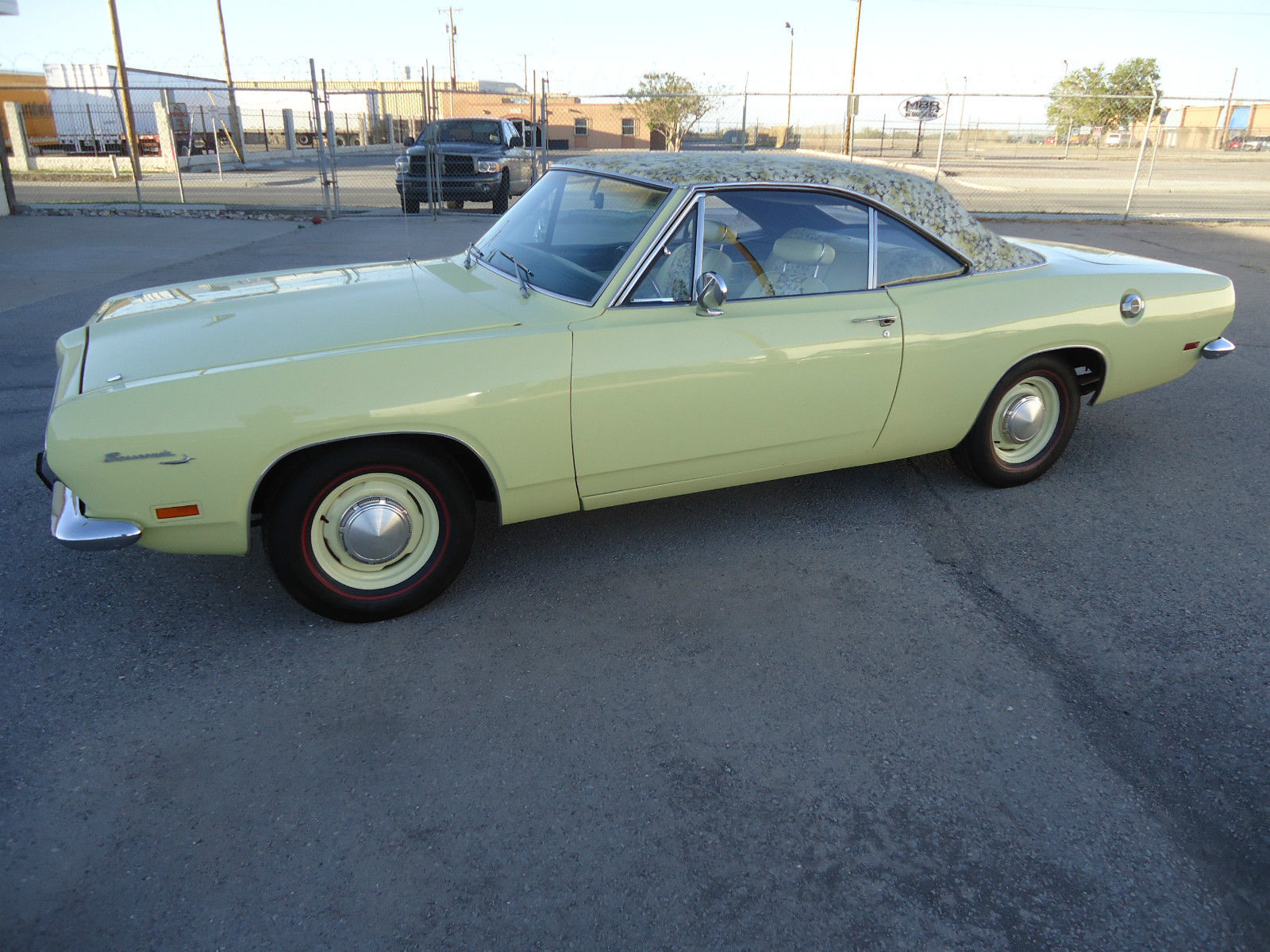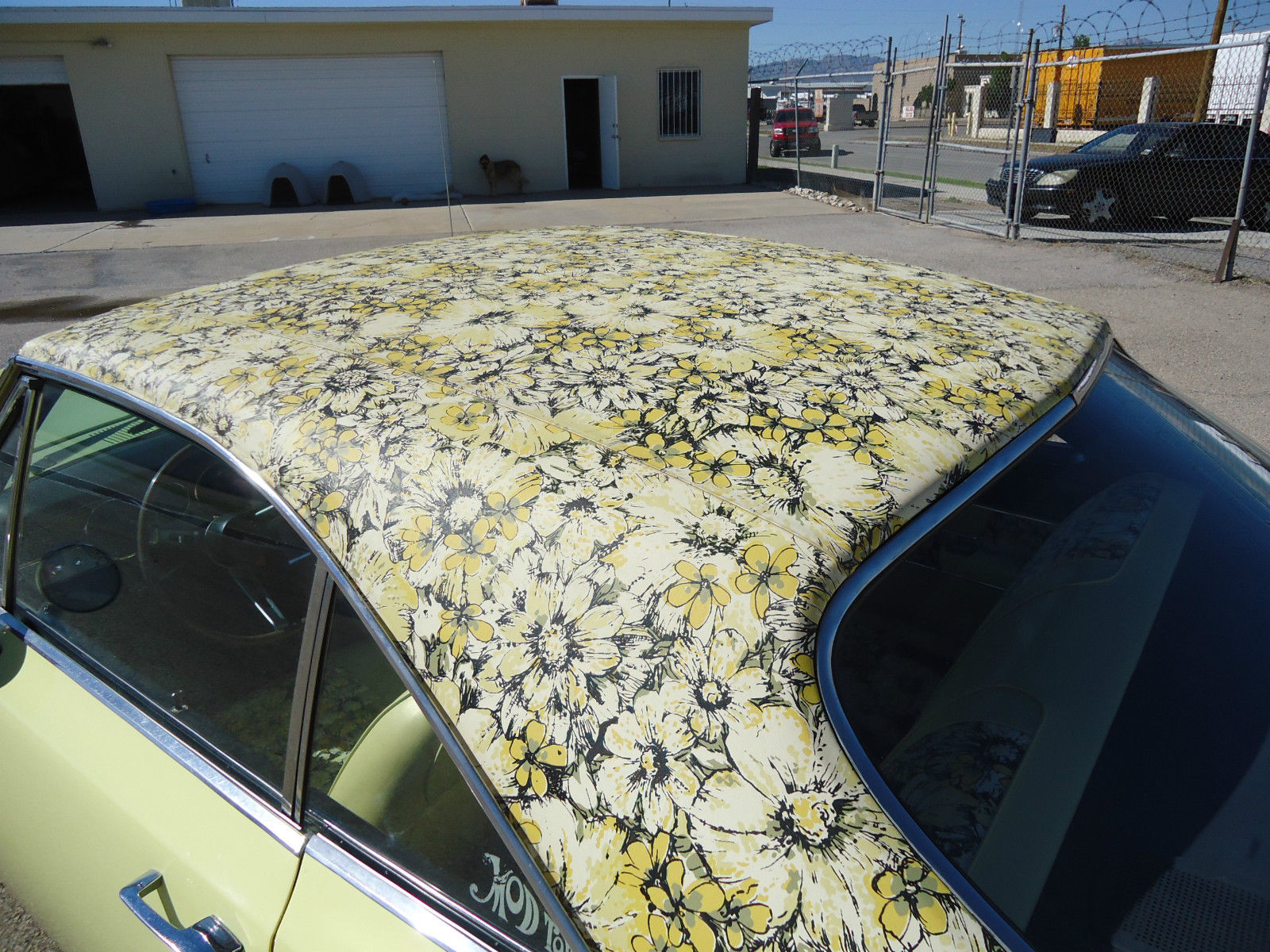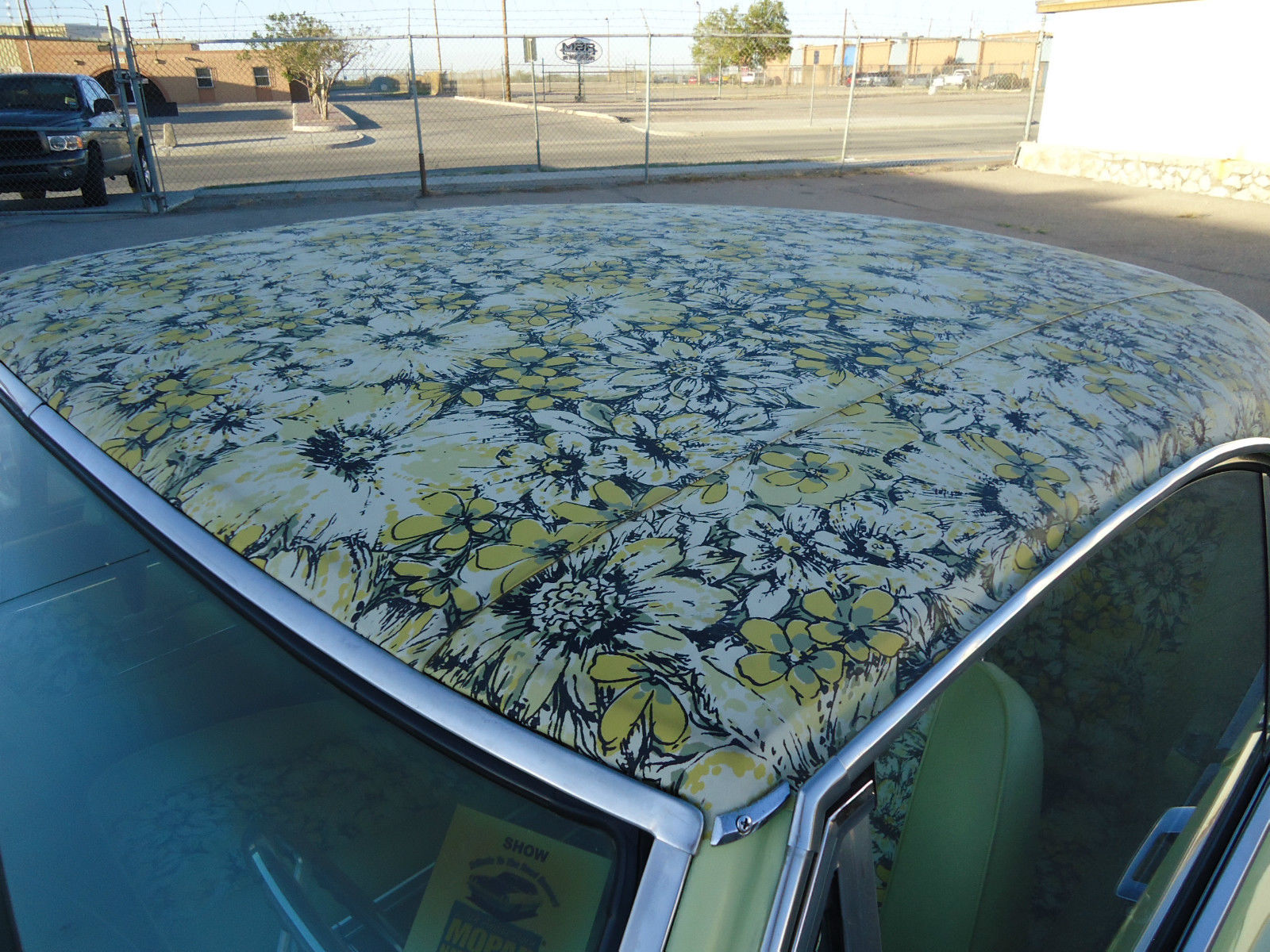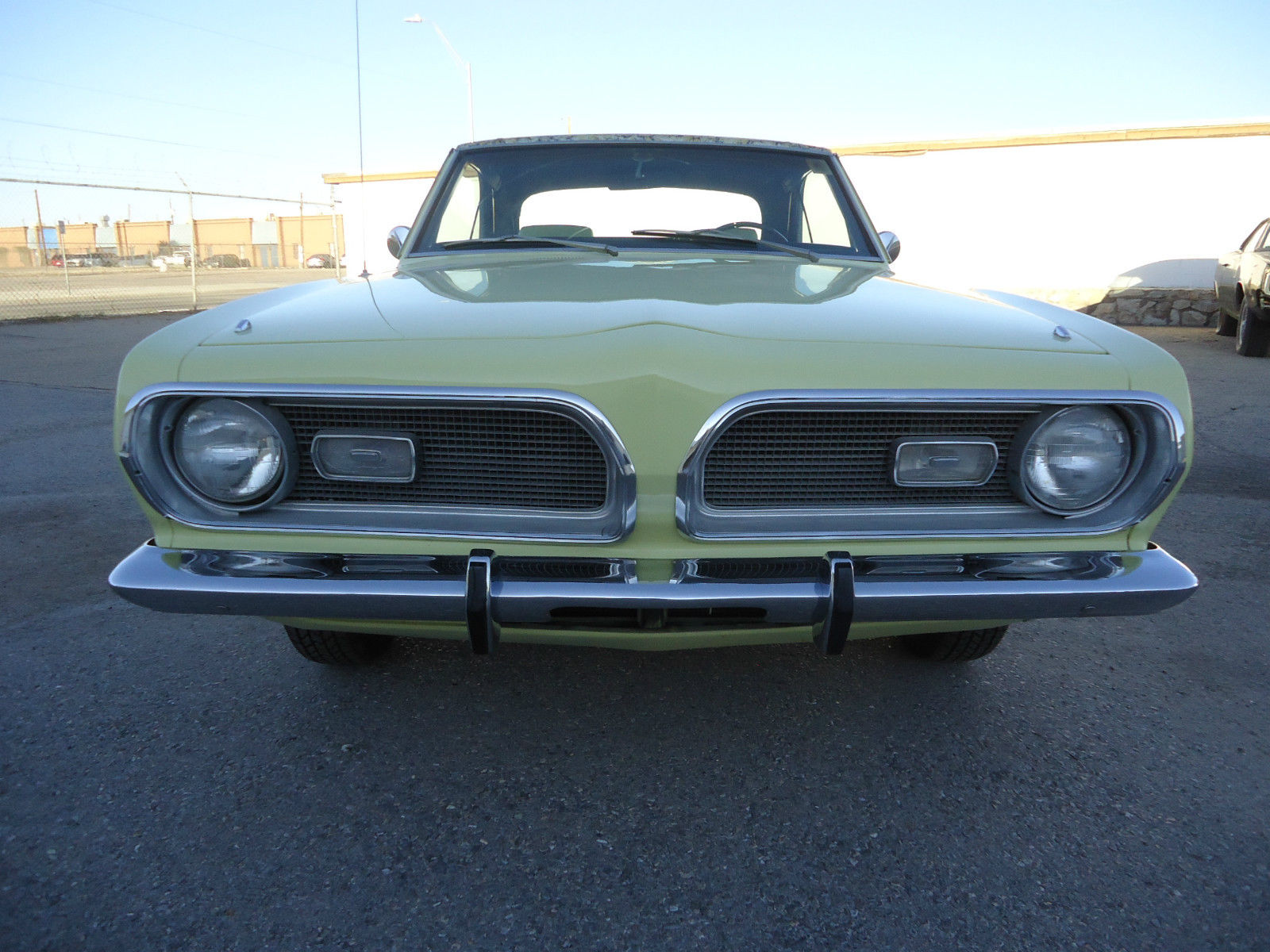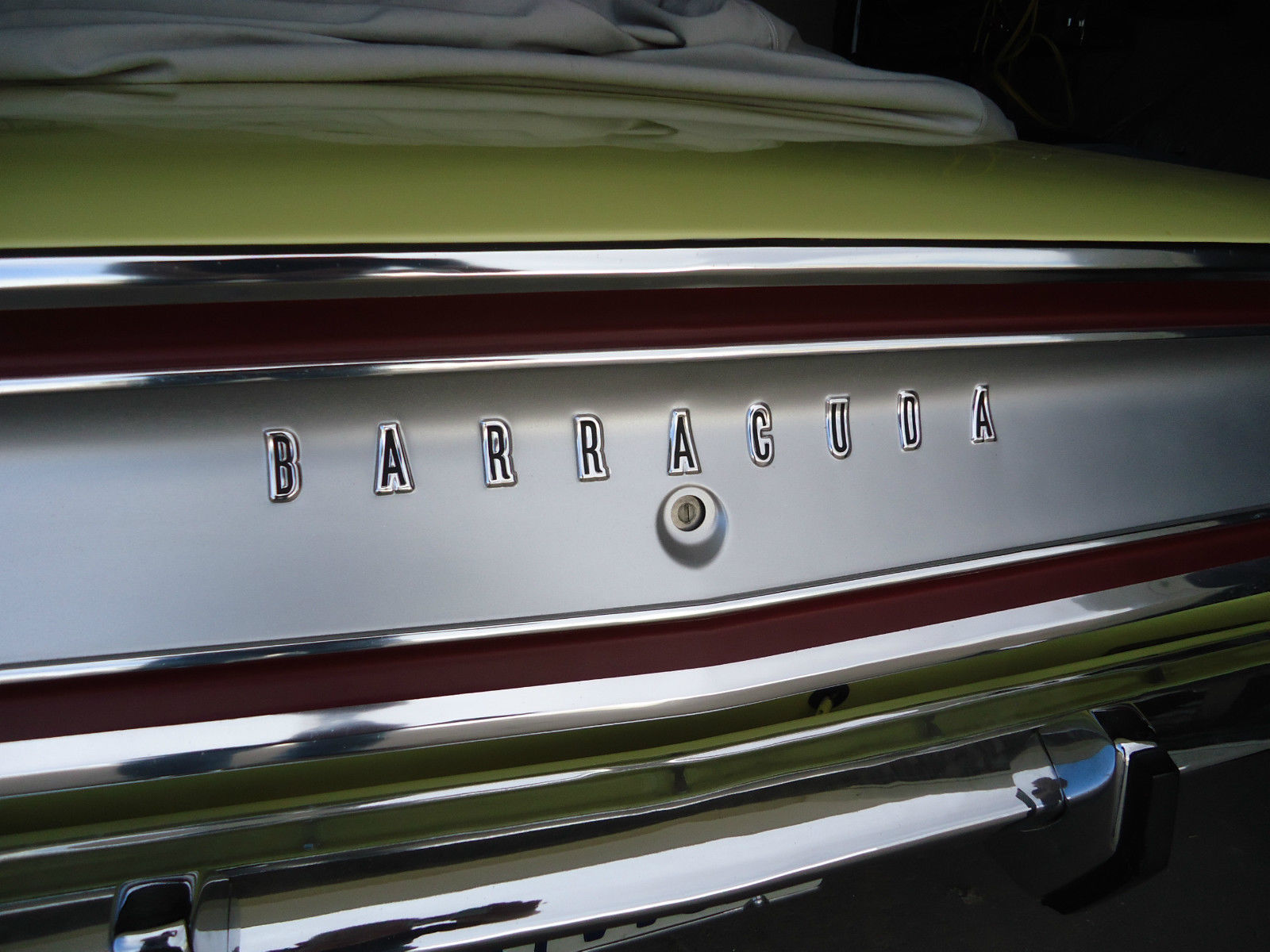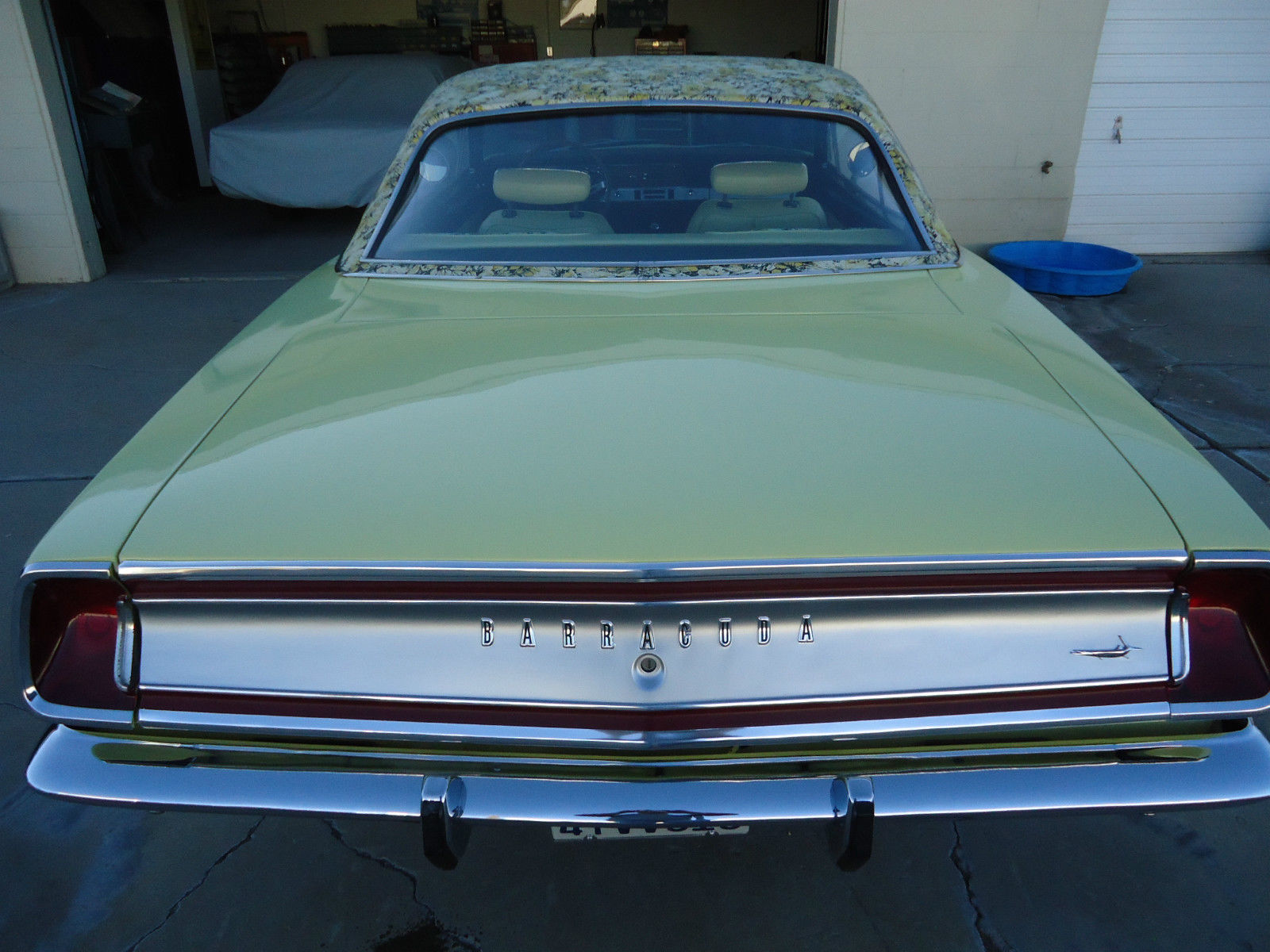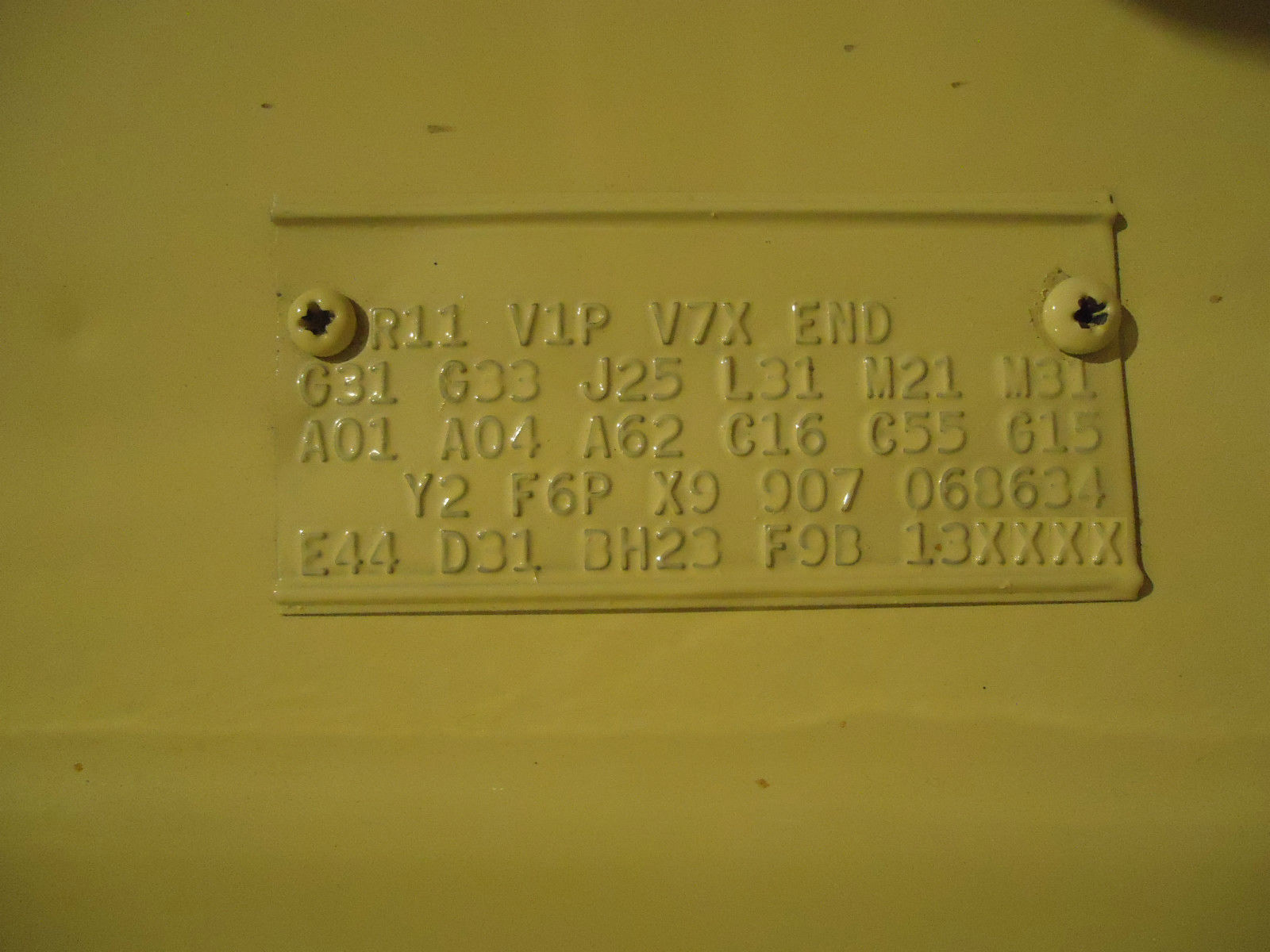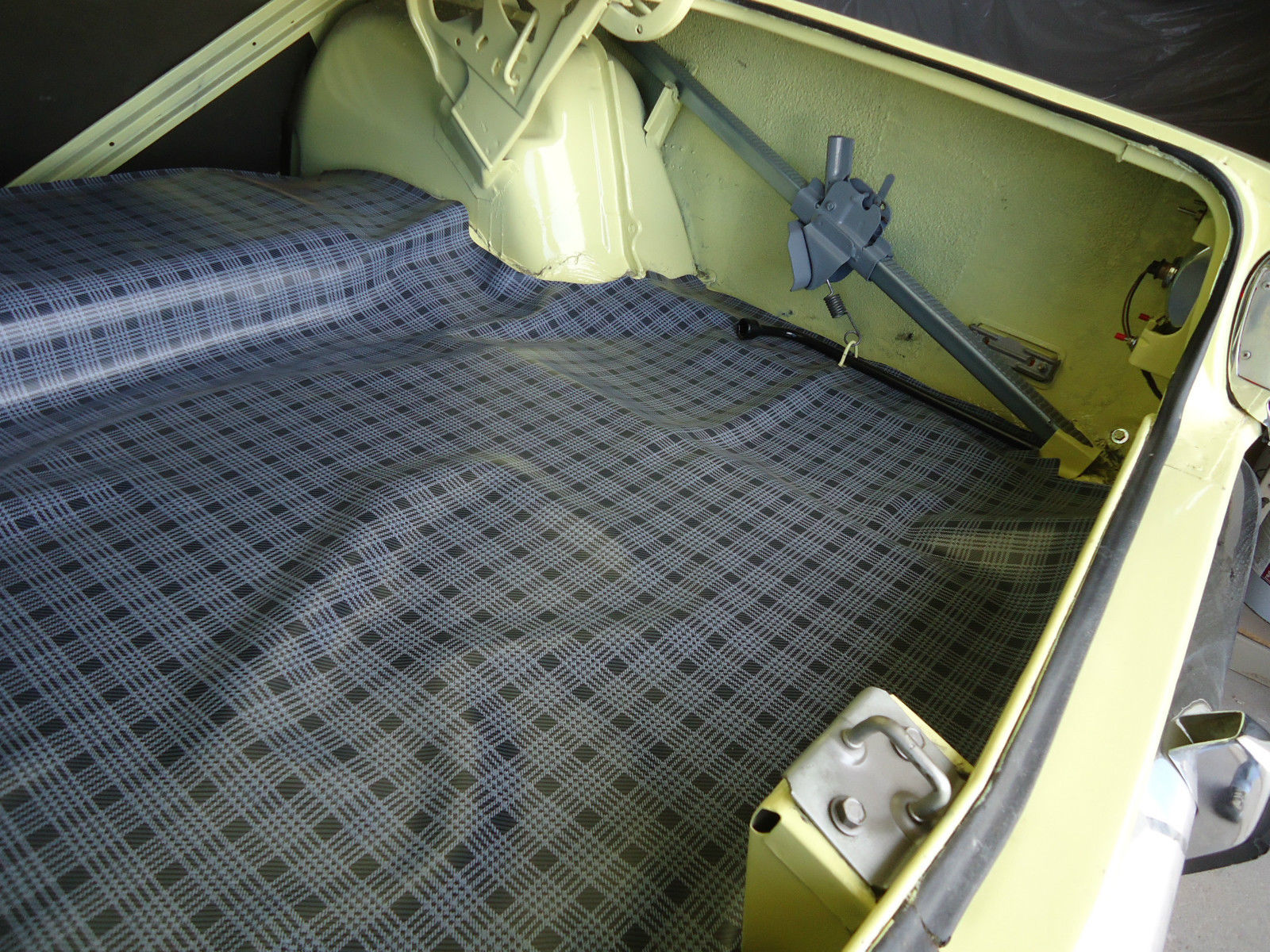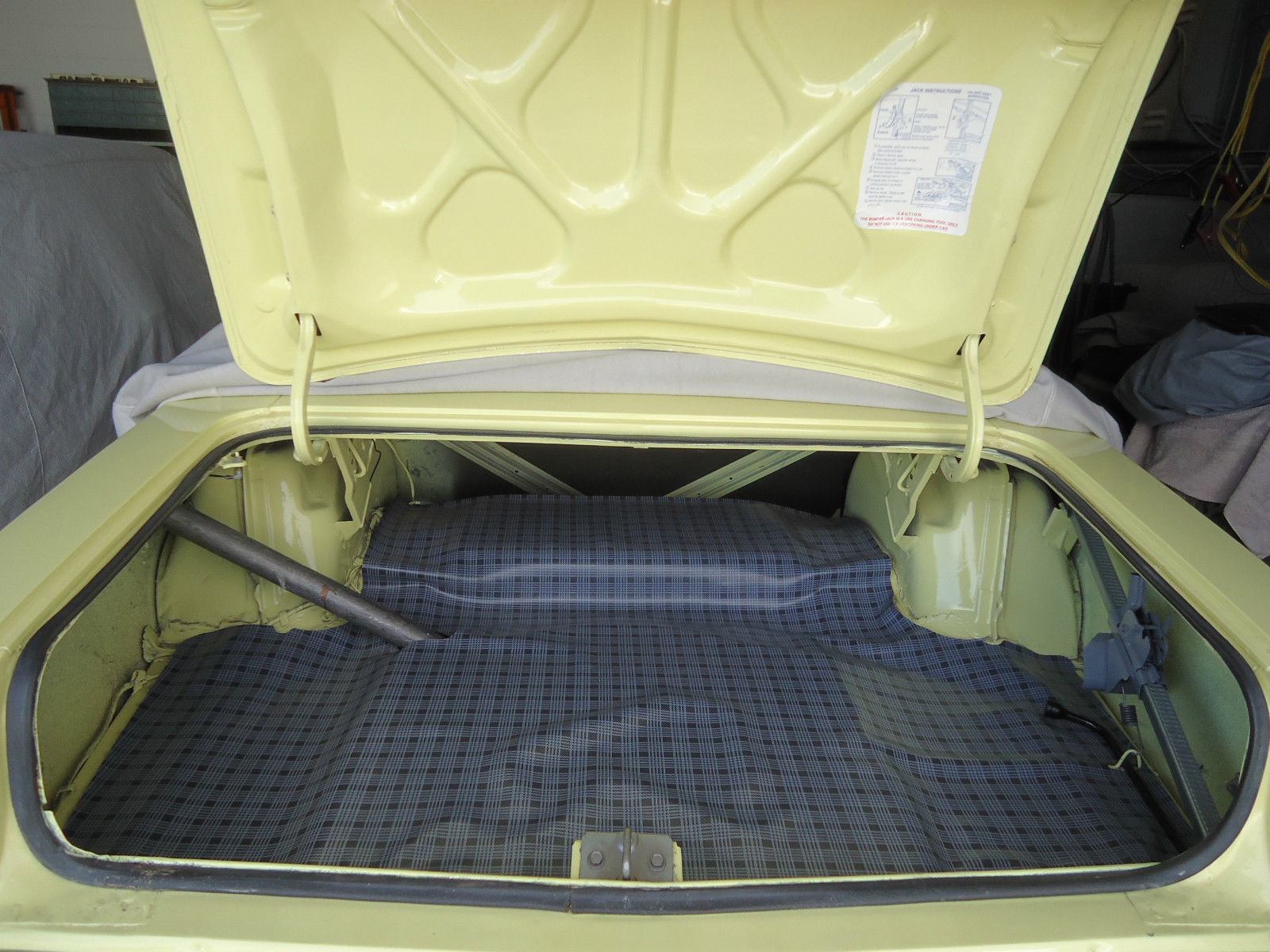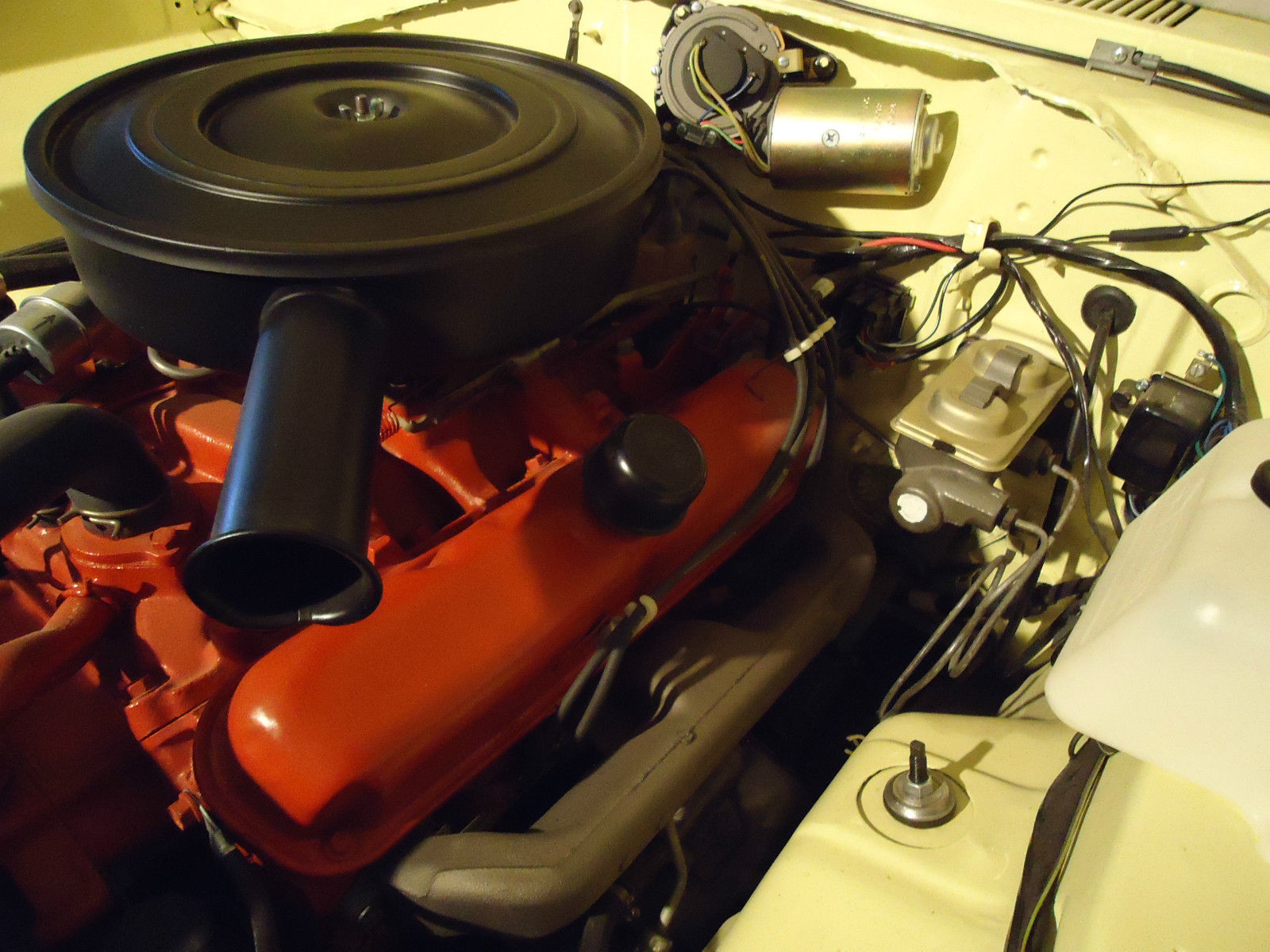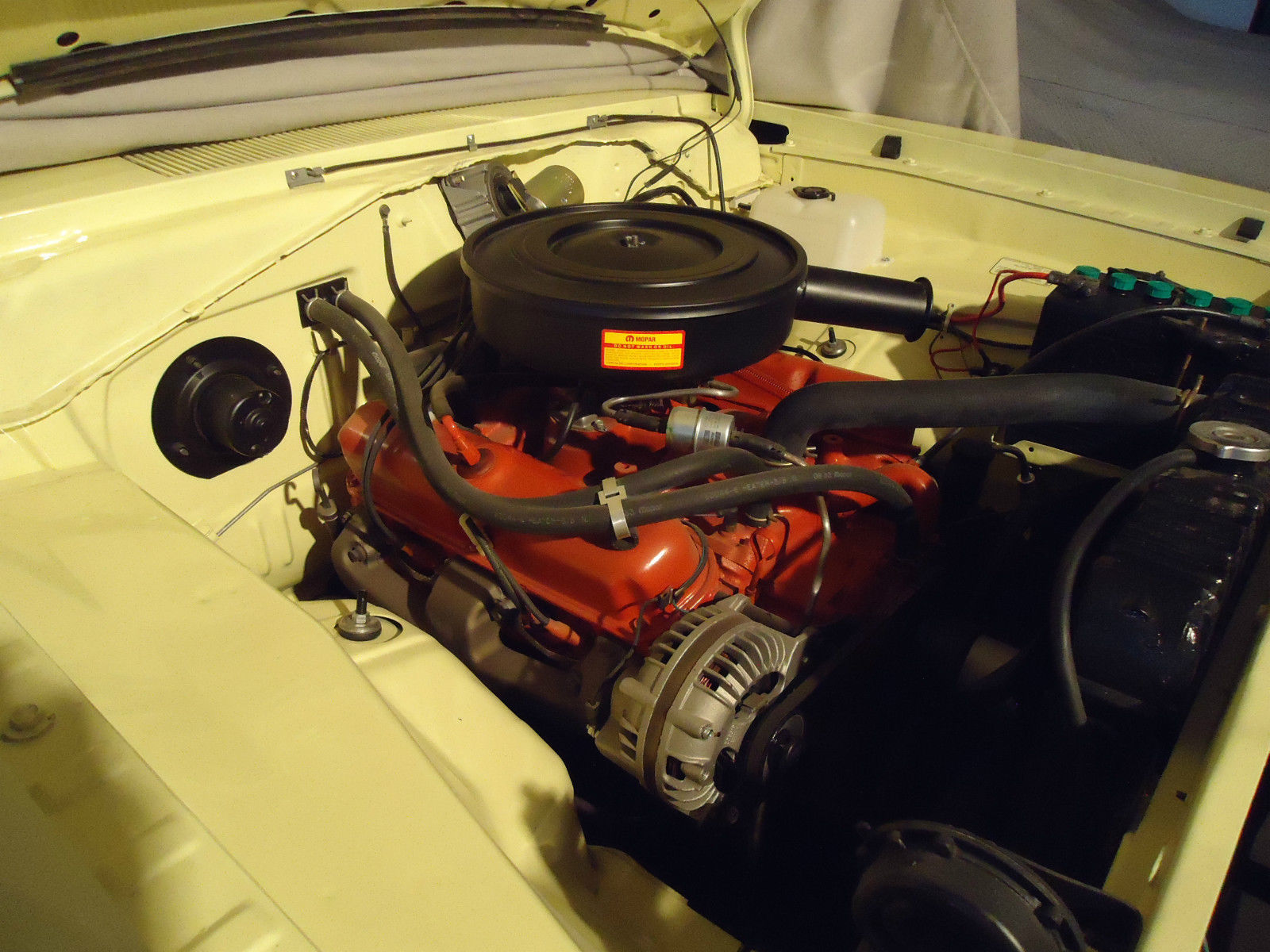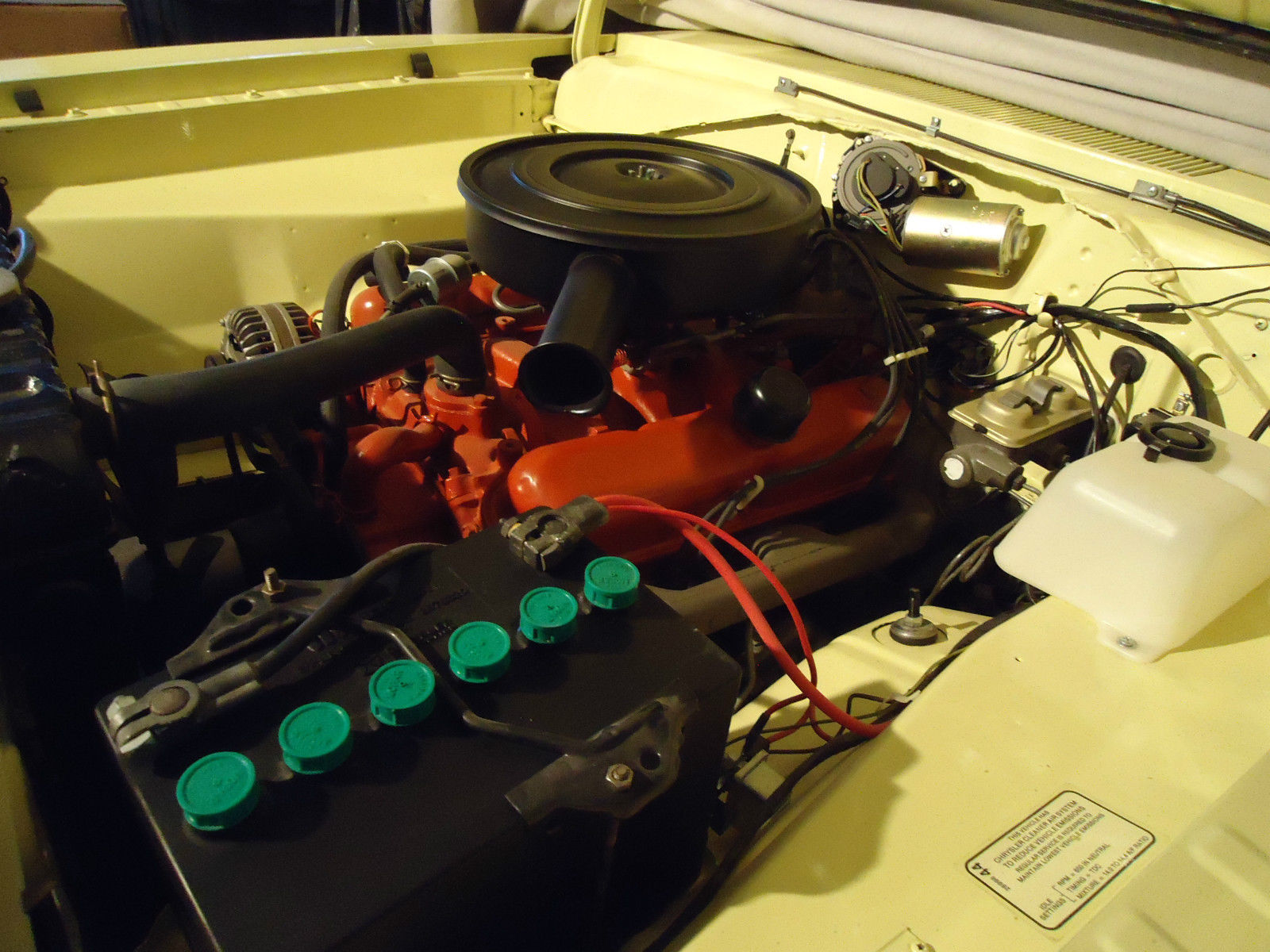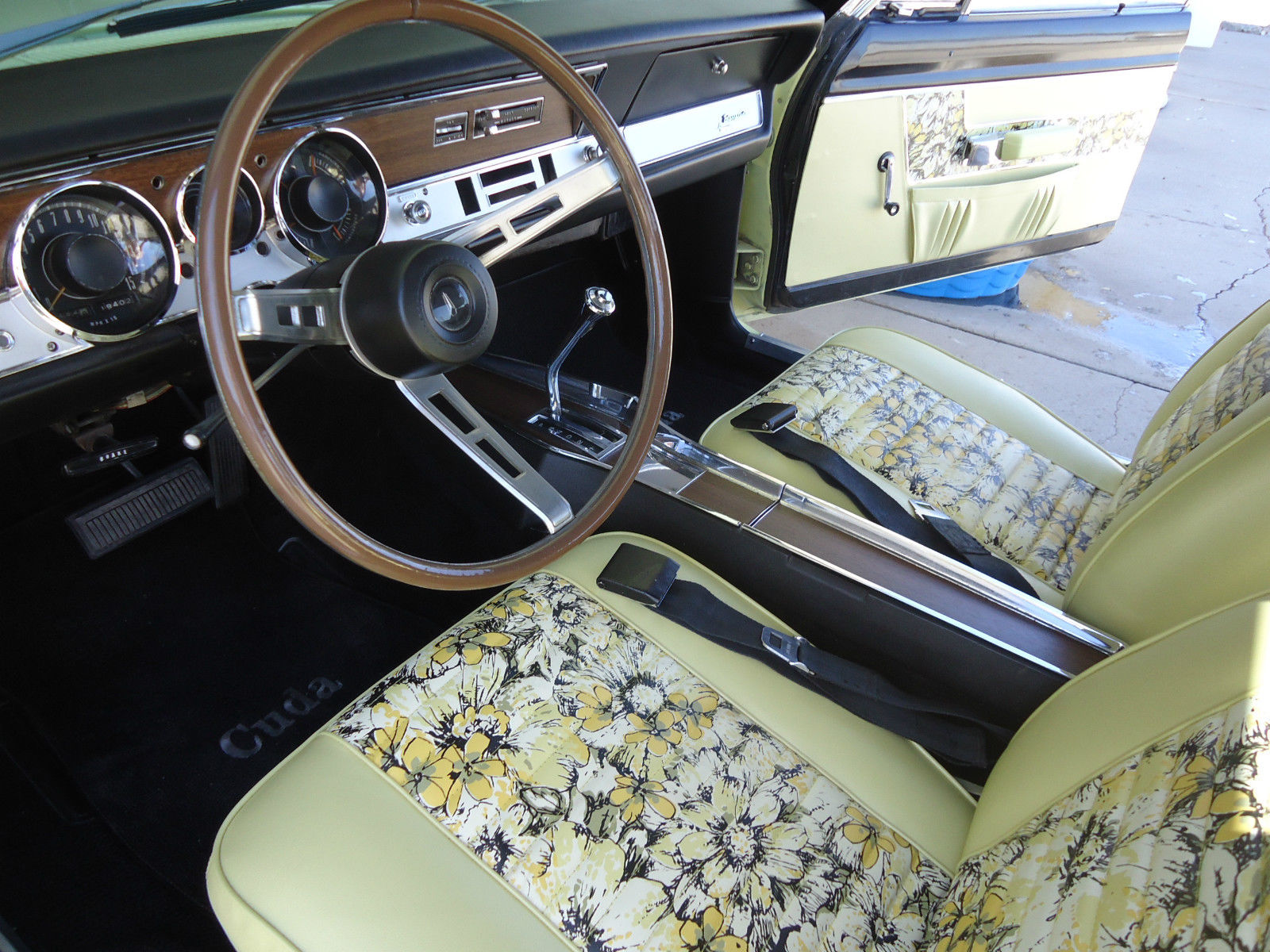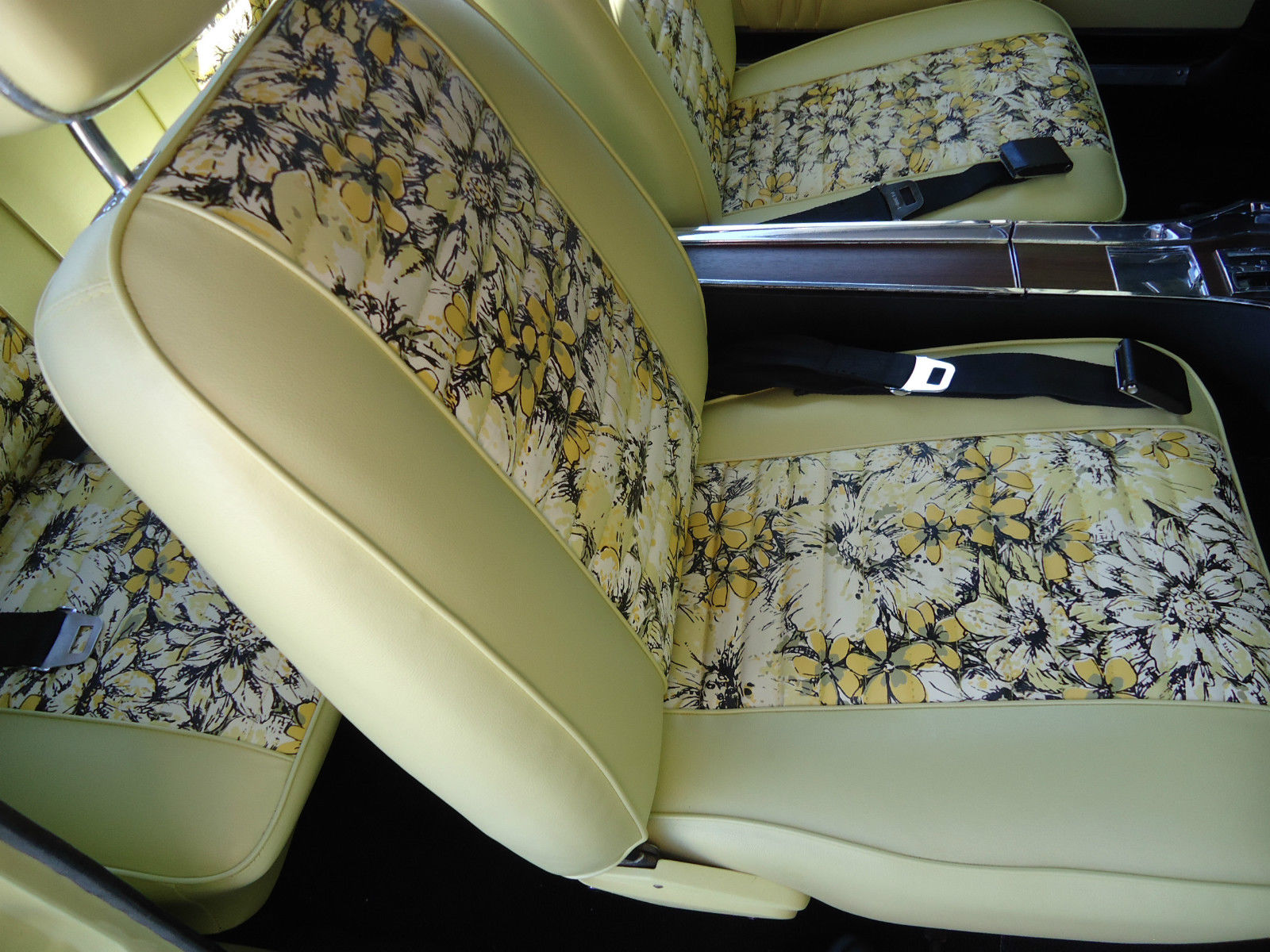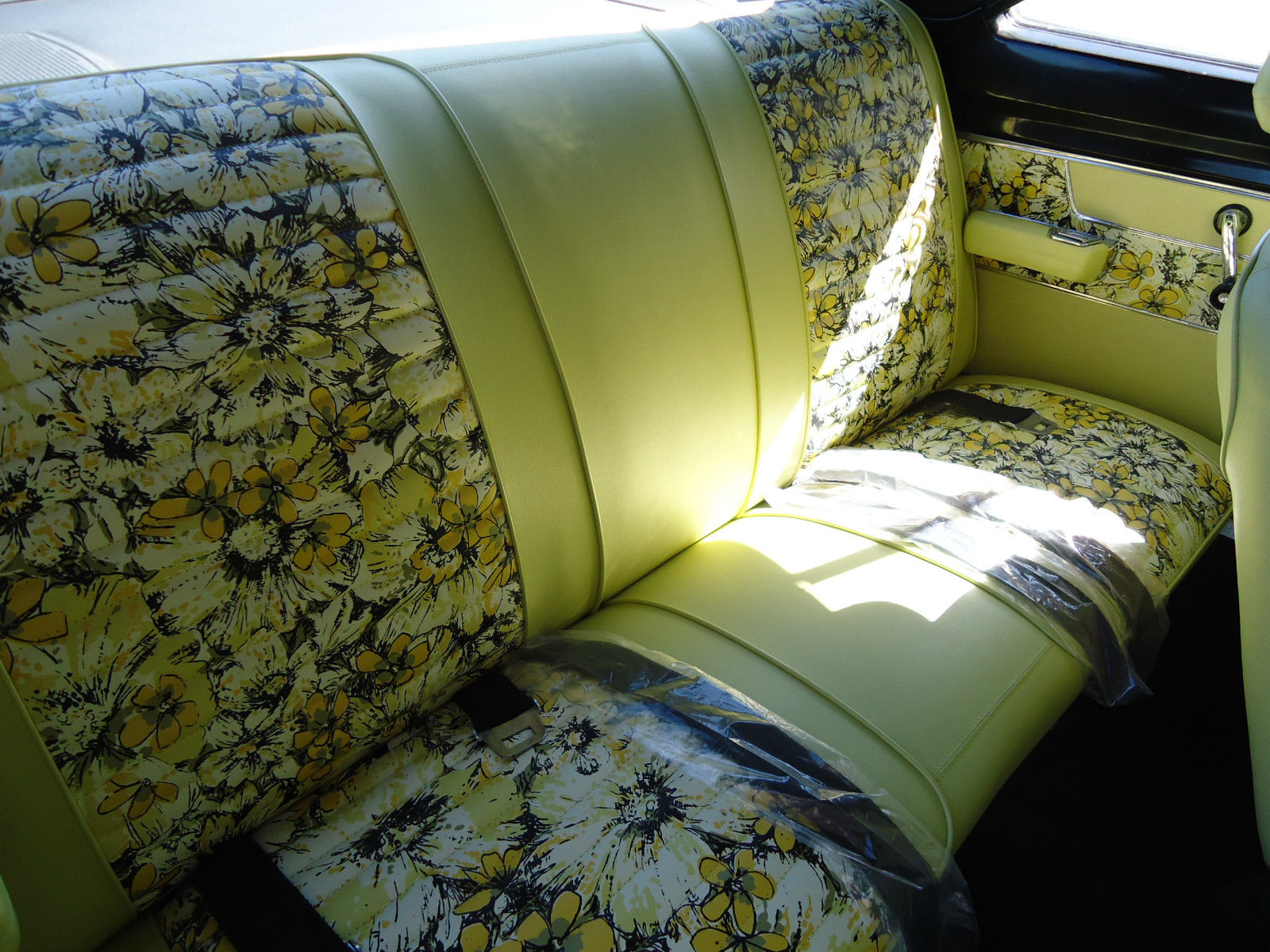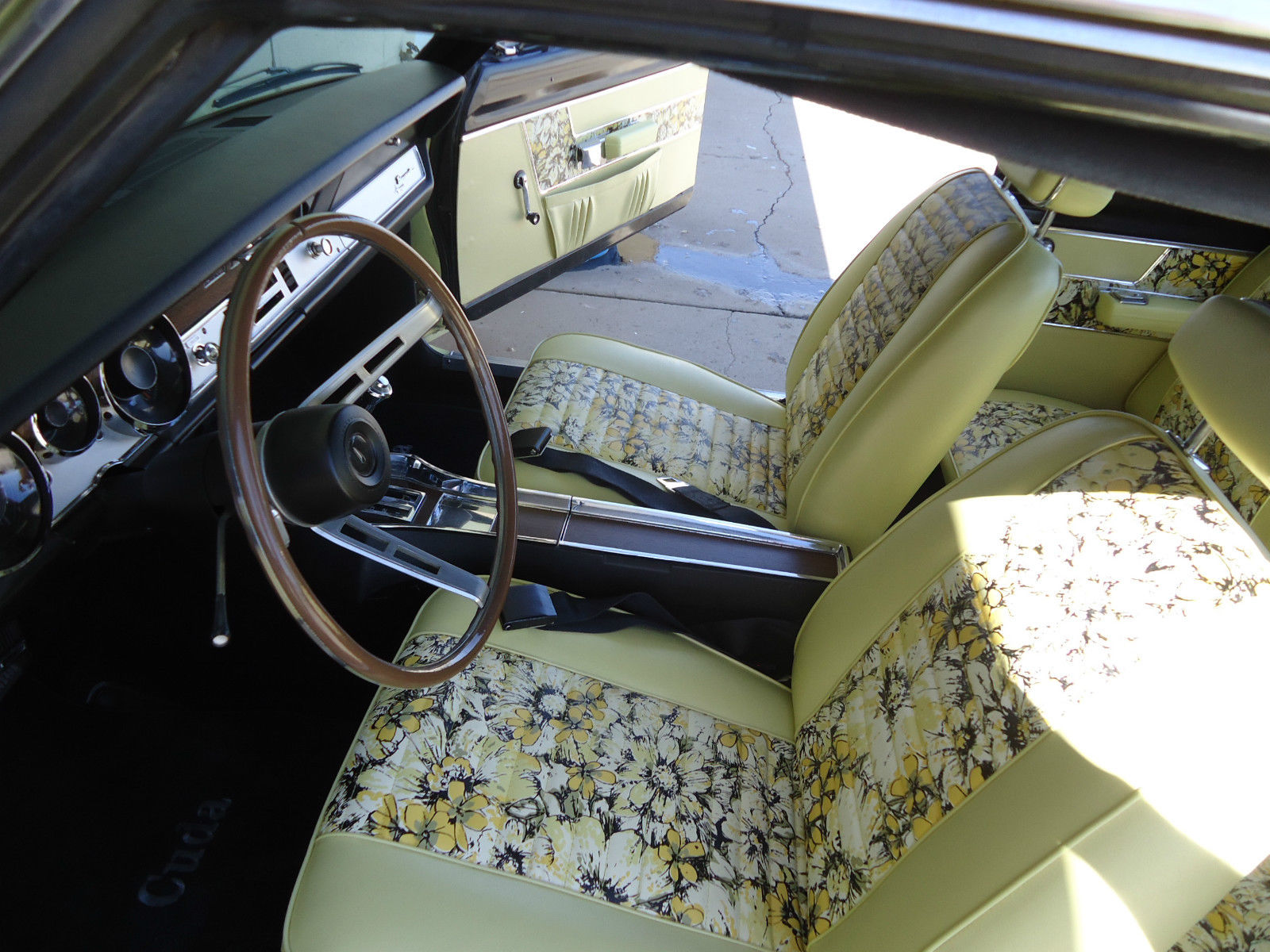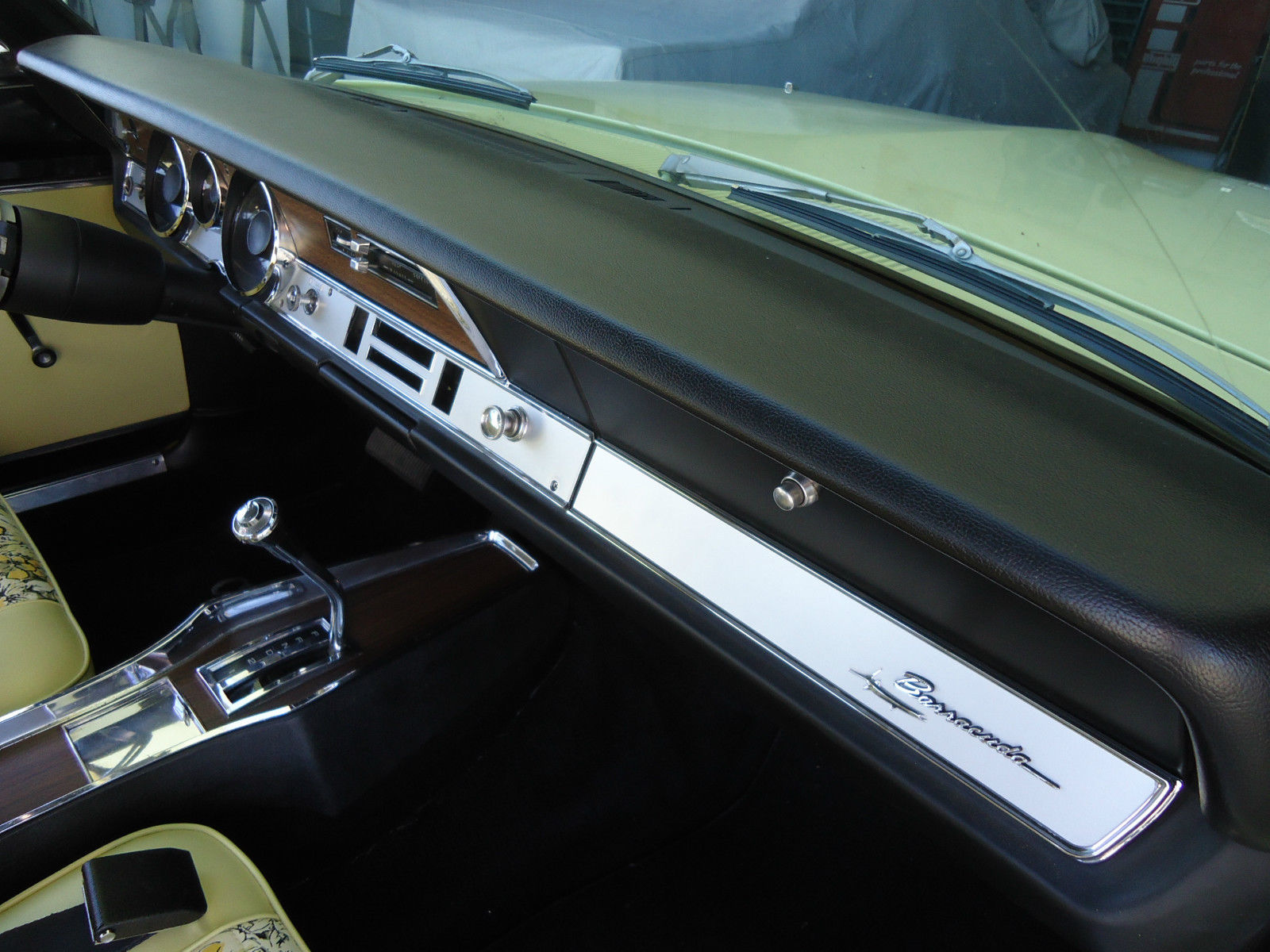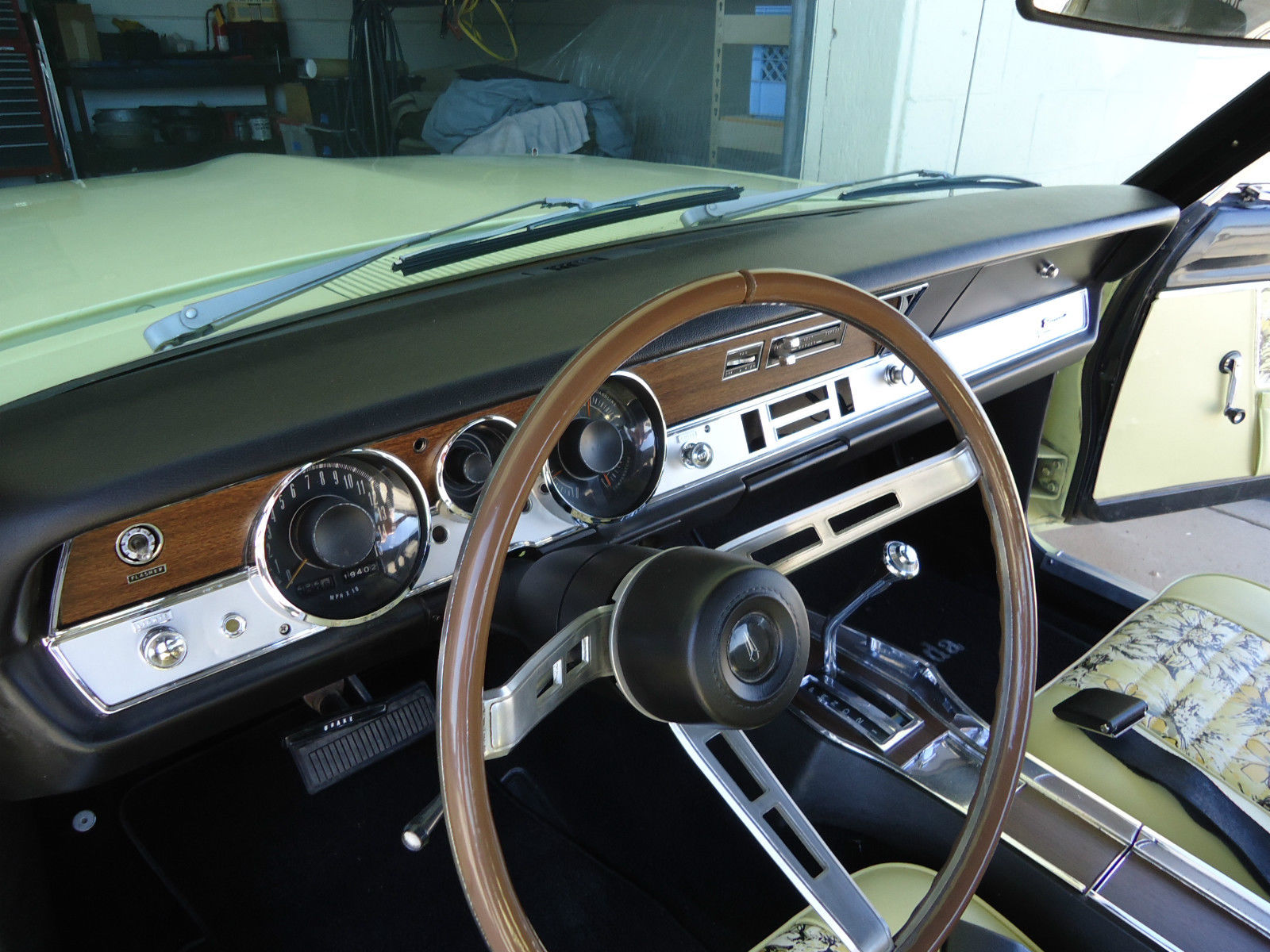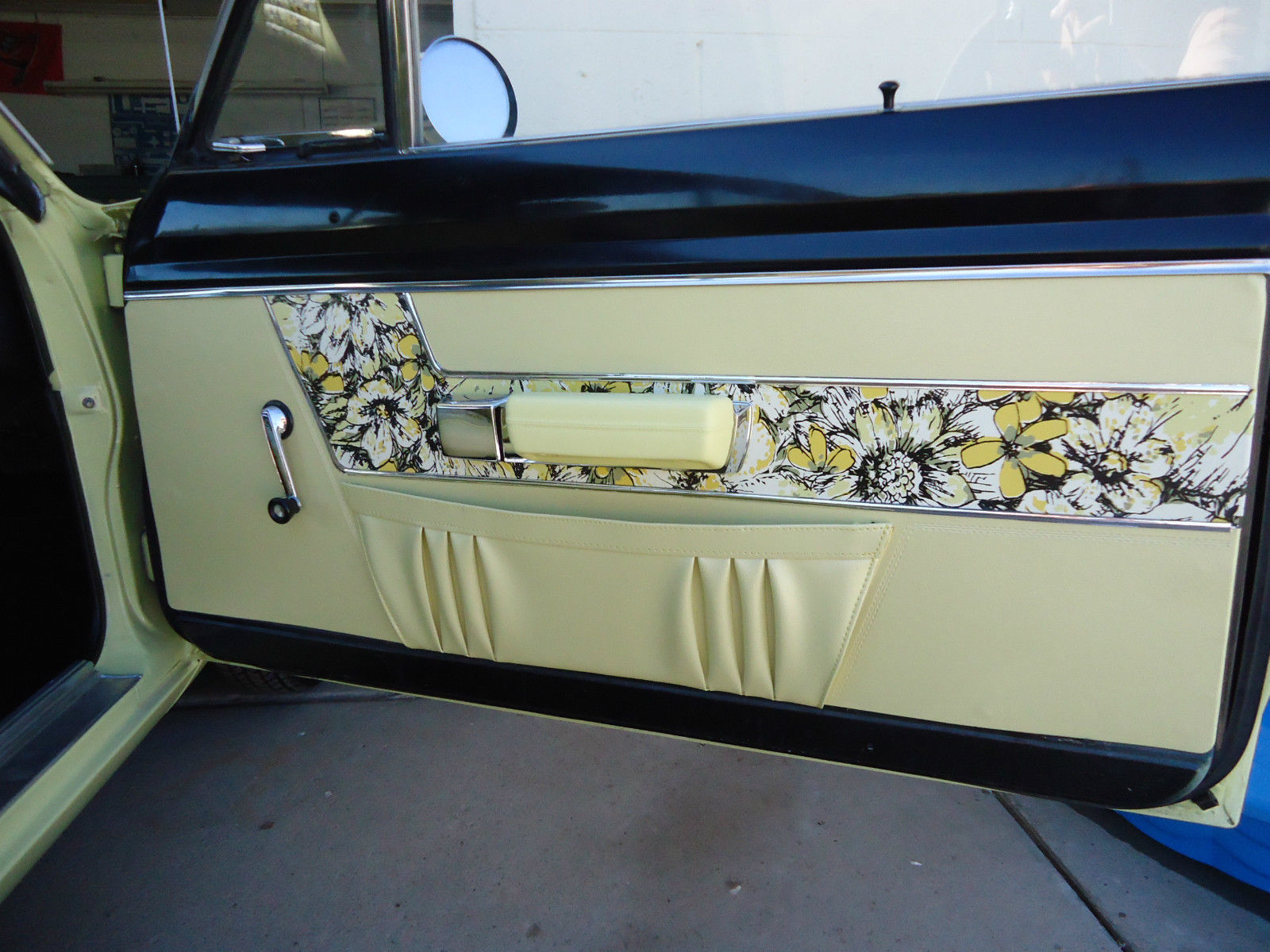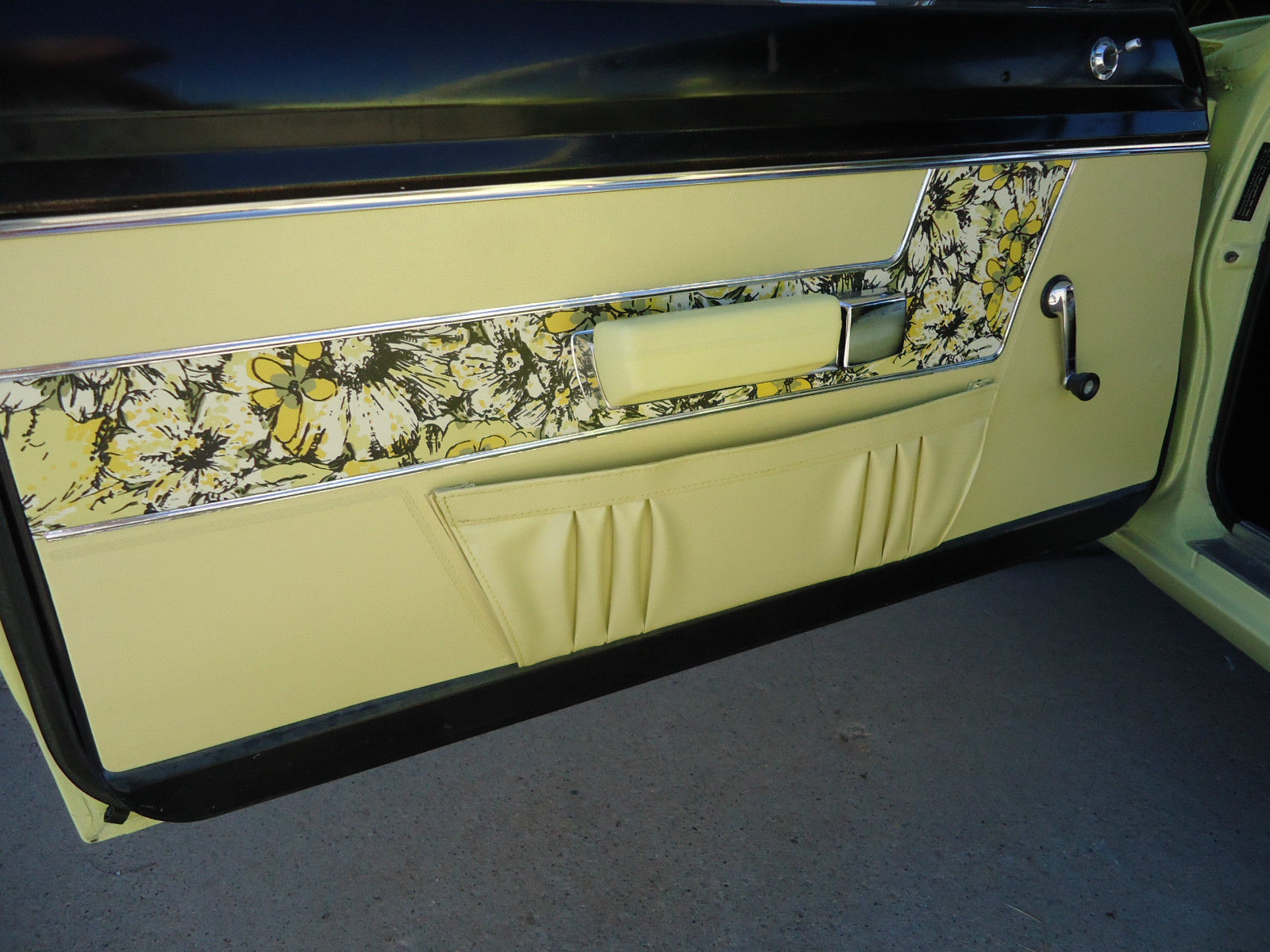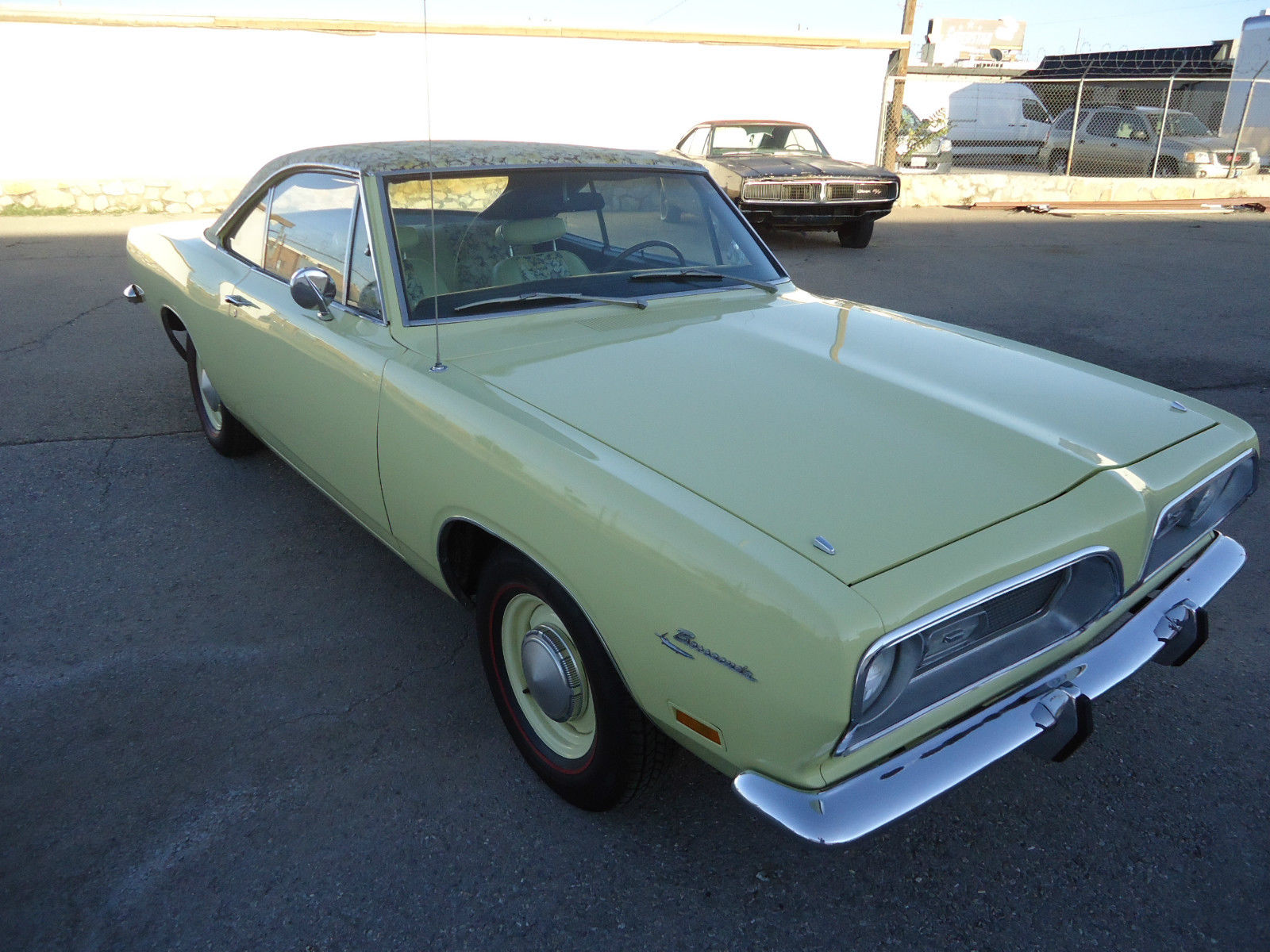 ---

The following fifteen pictures are from the Wall Street Journal online article, "The Plymouth that Runs on Flower Power", A. J. Baime author, Aug. 15, 2017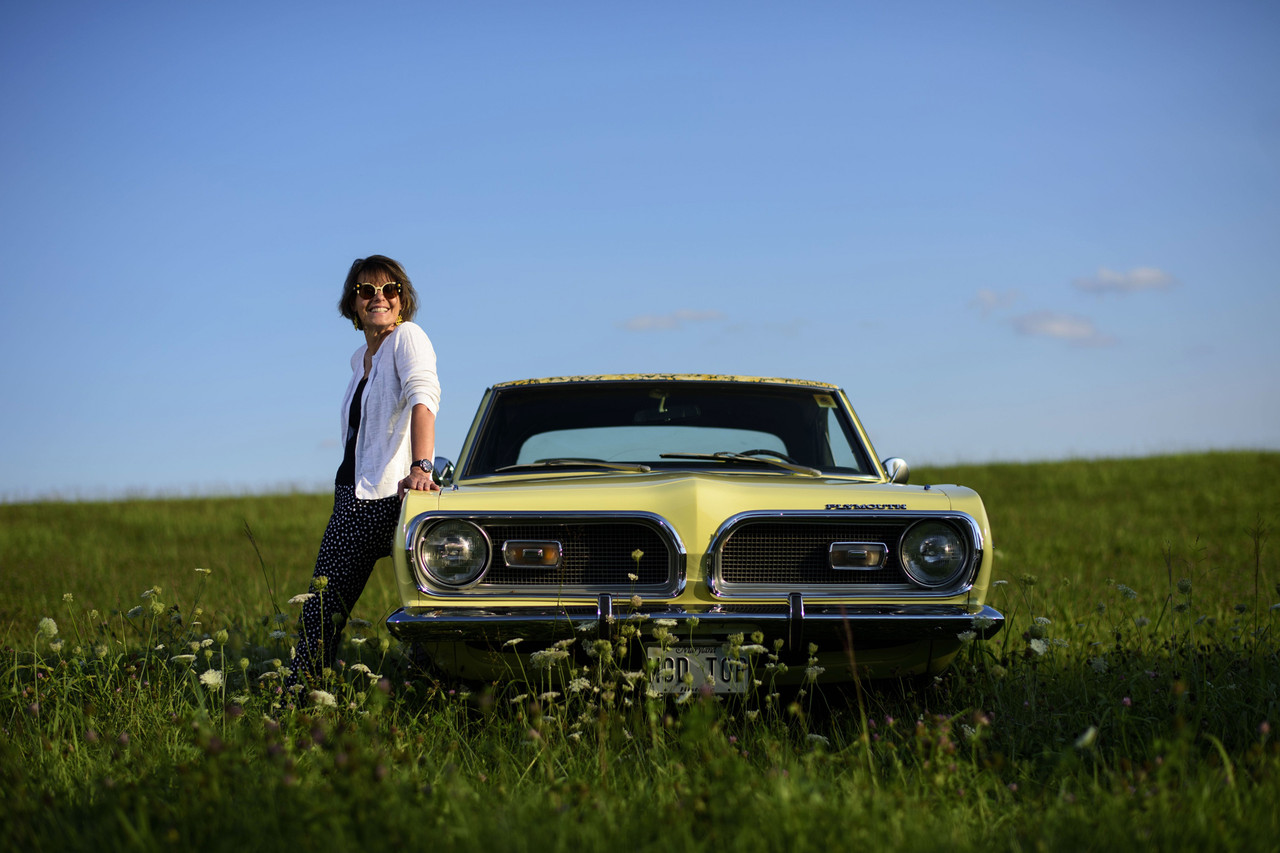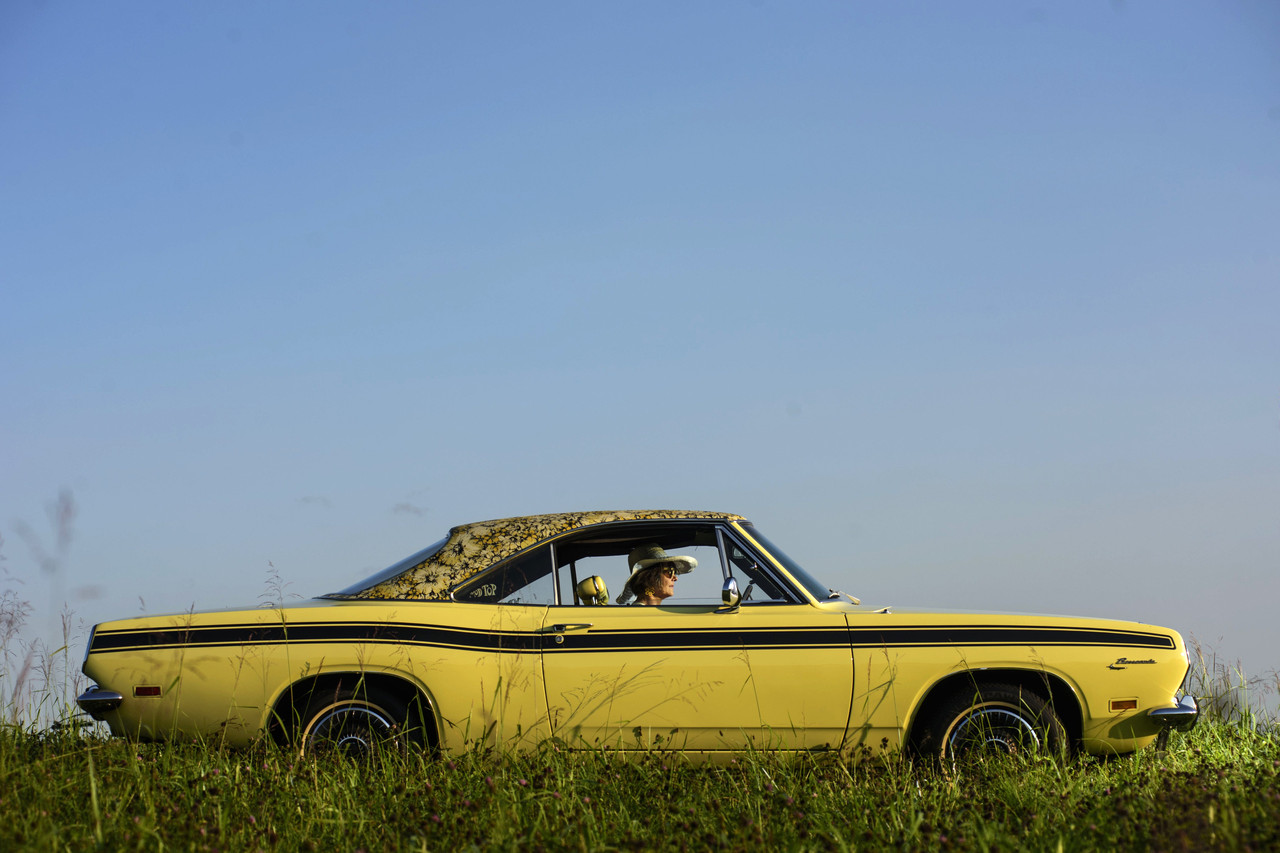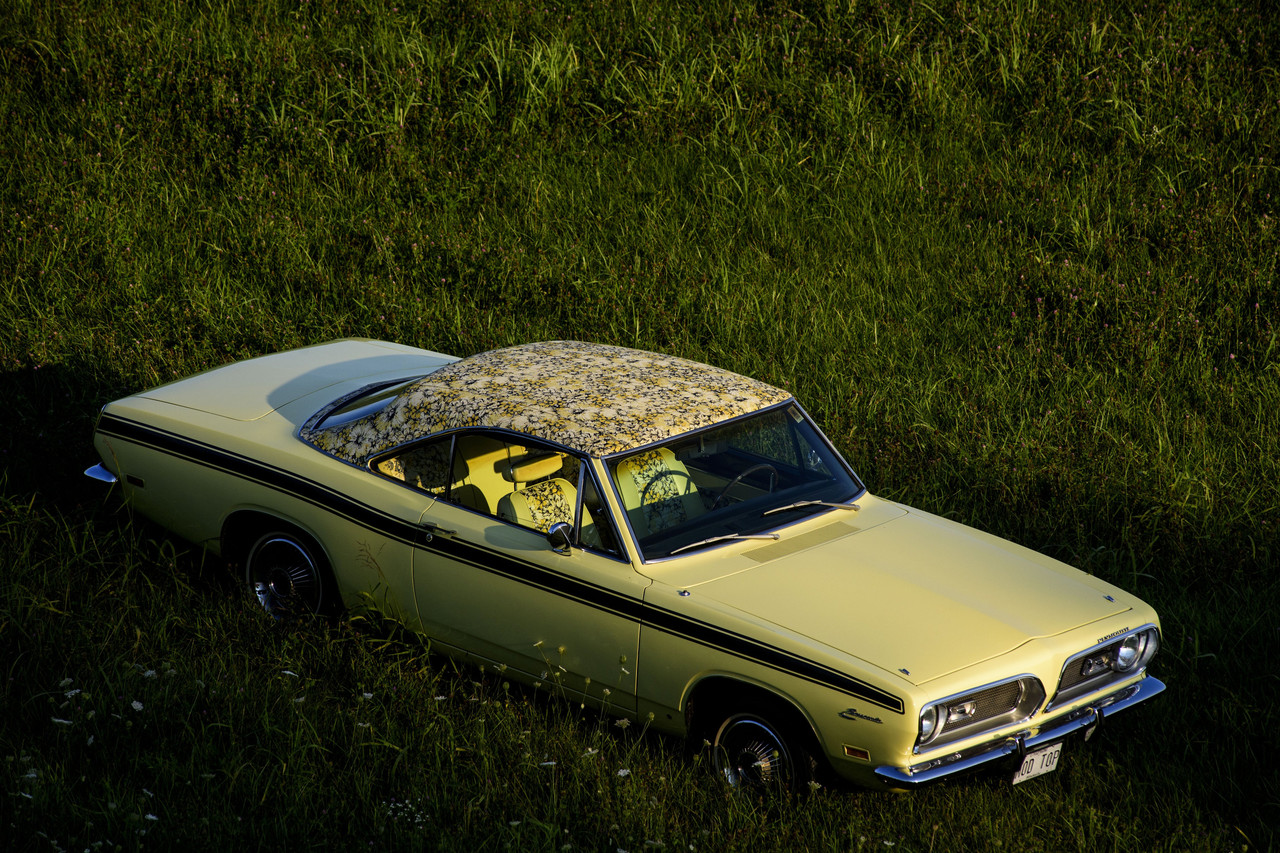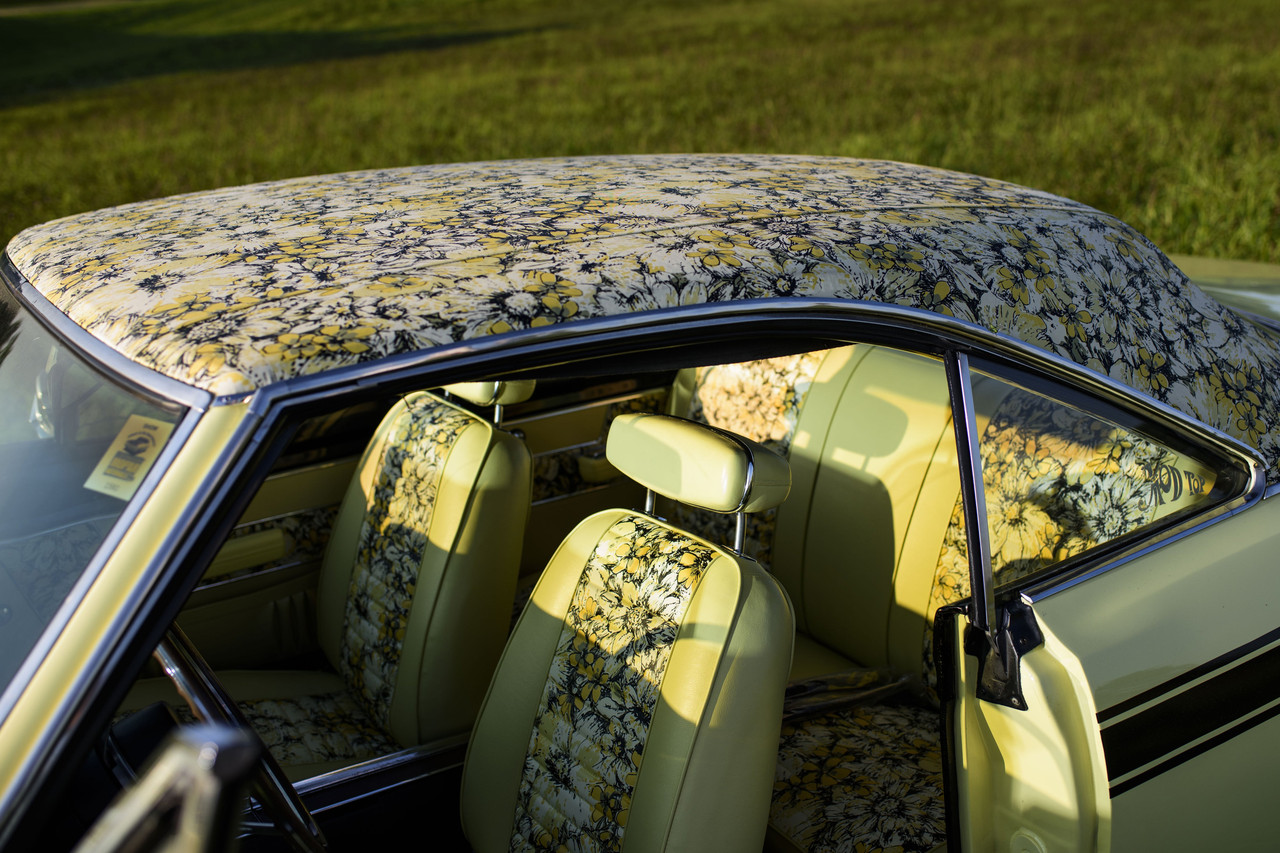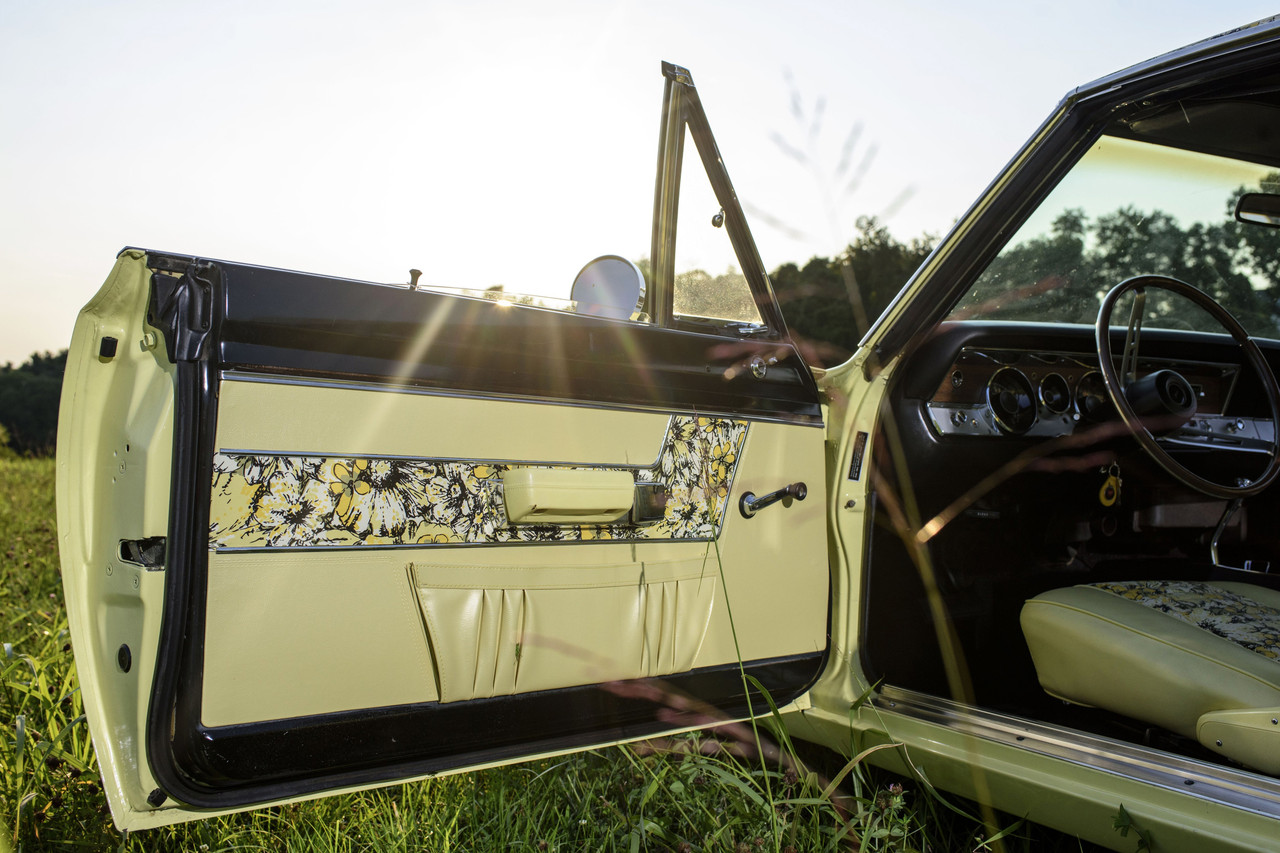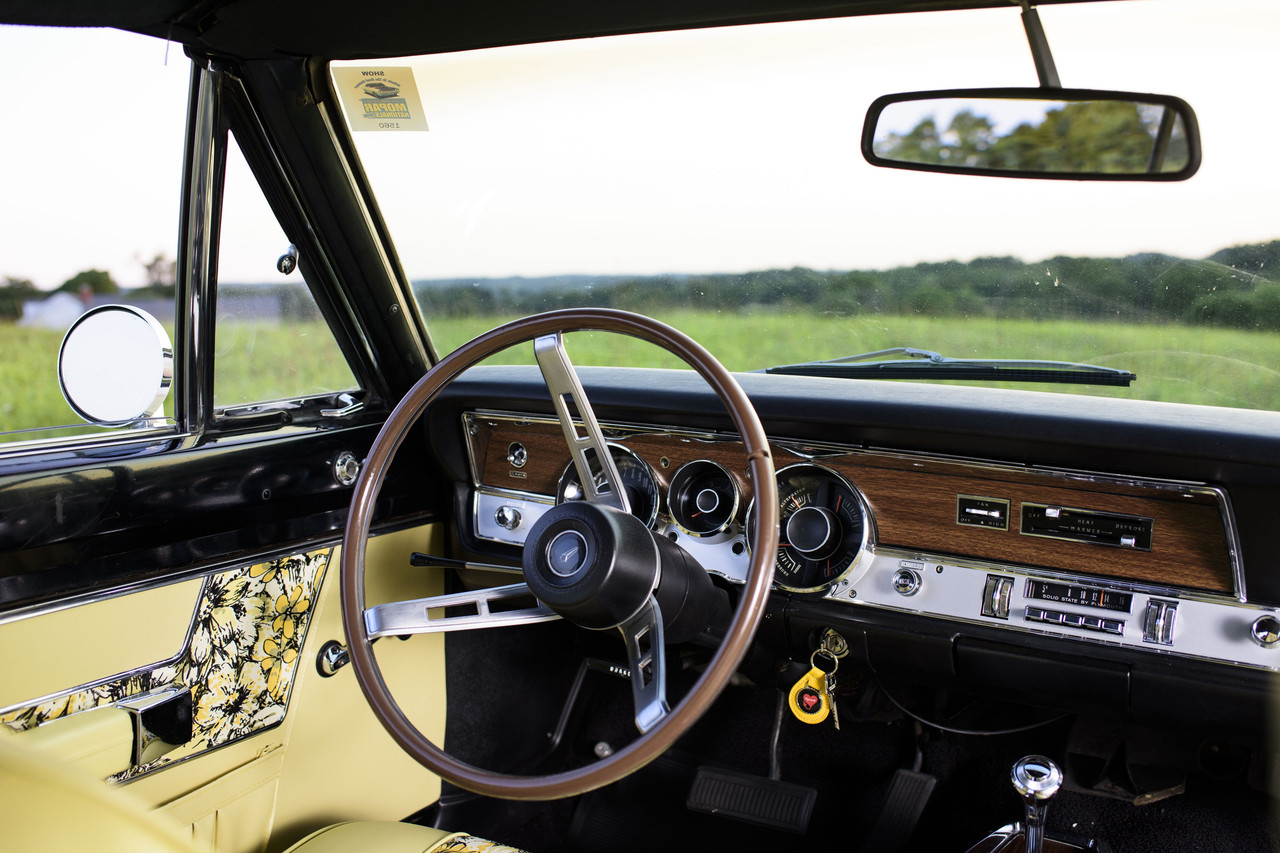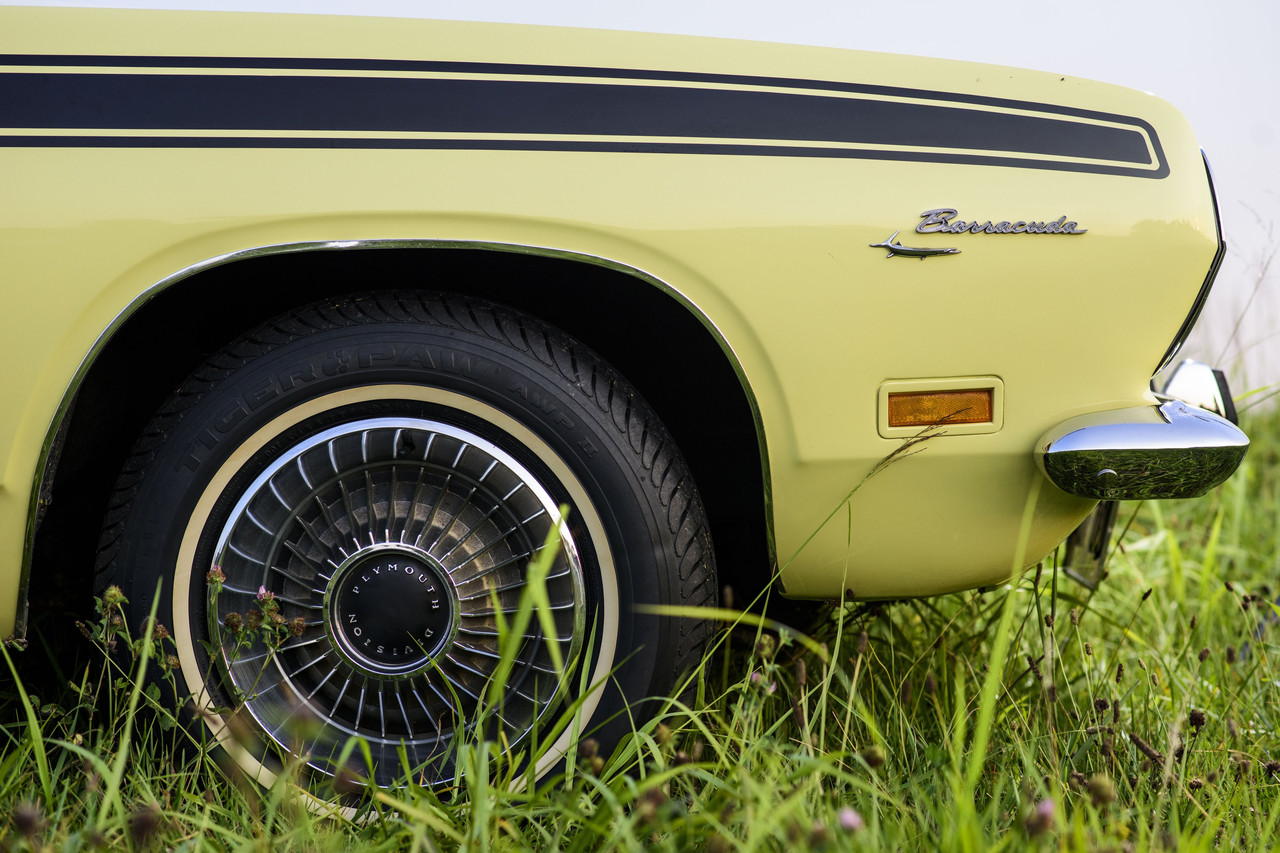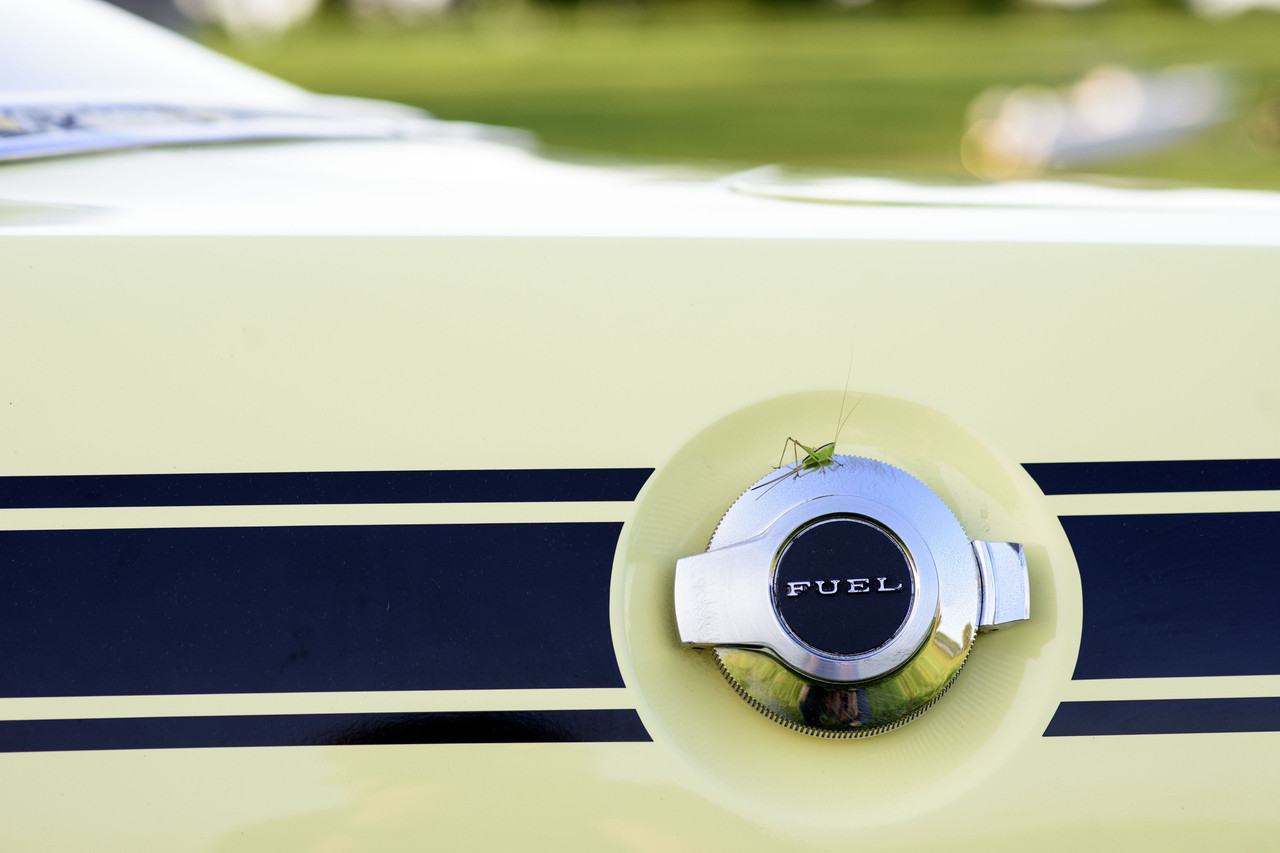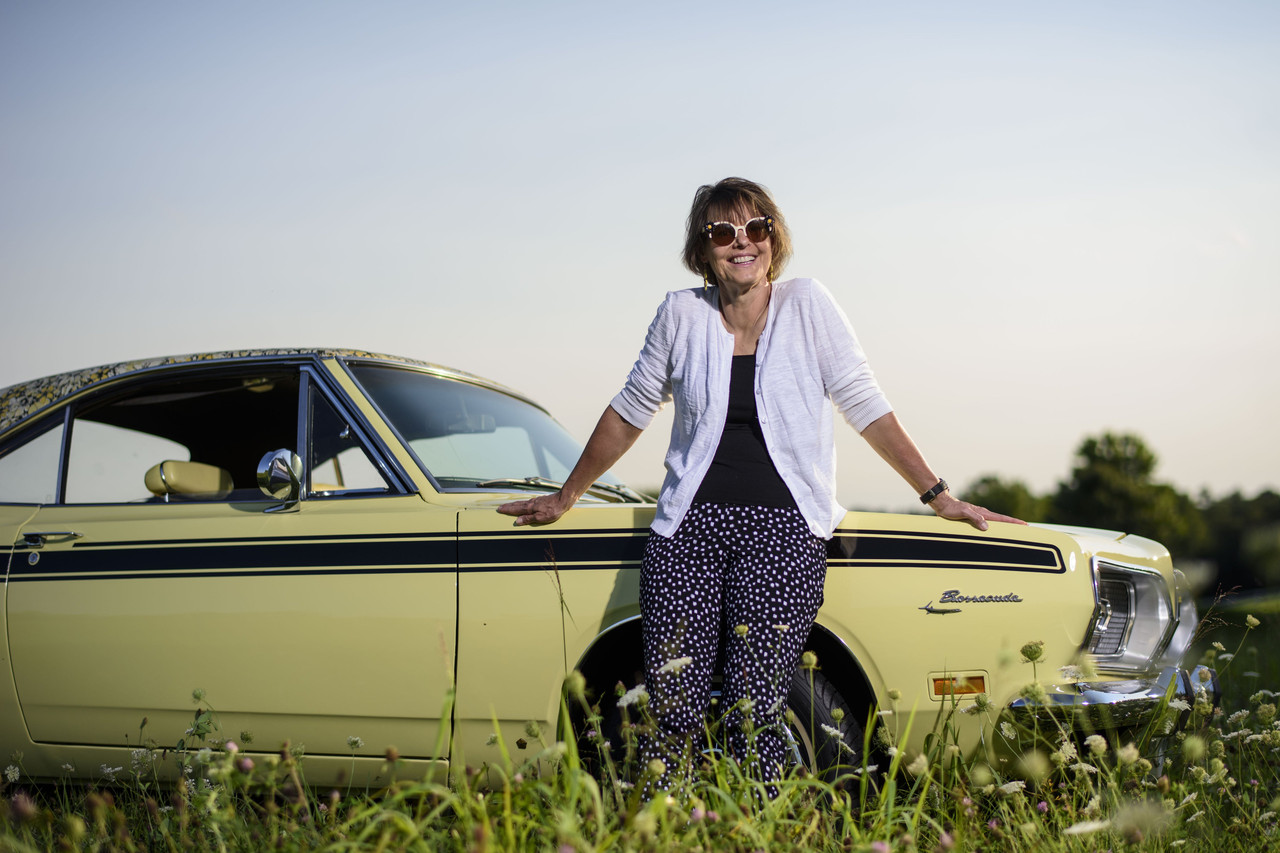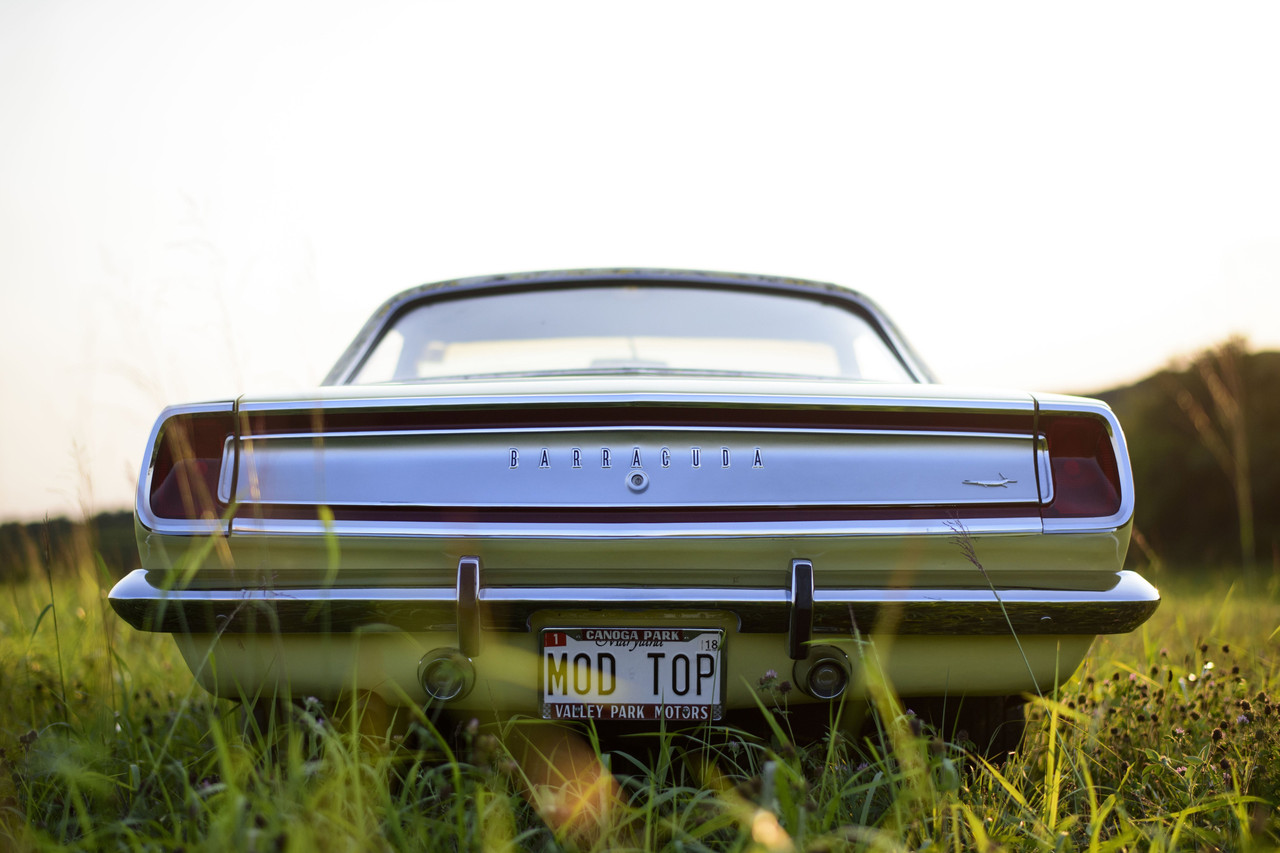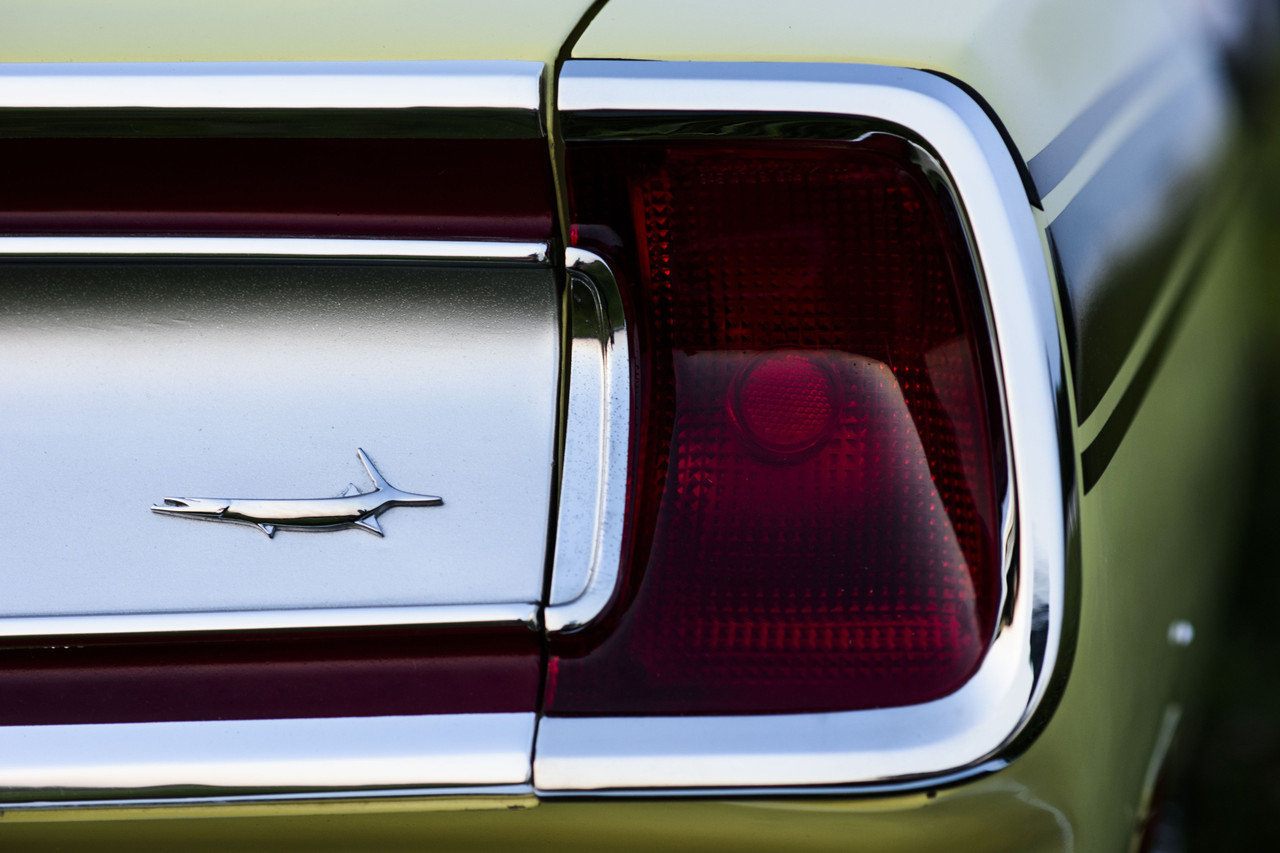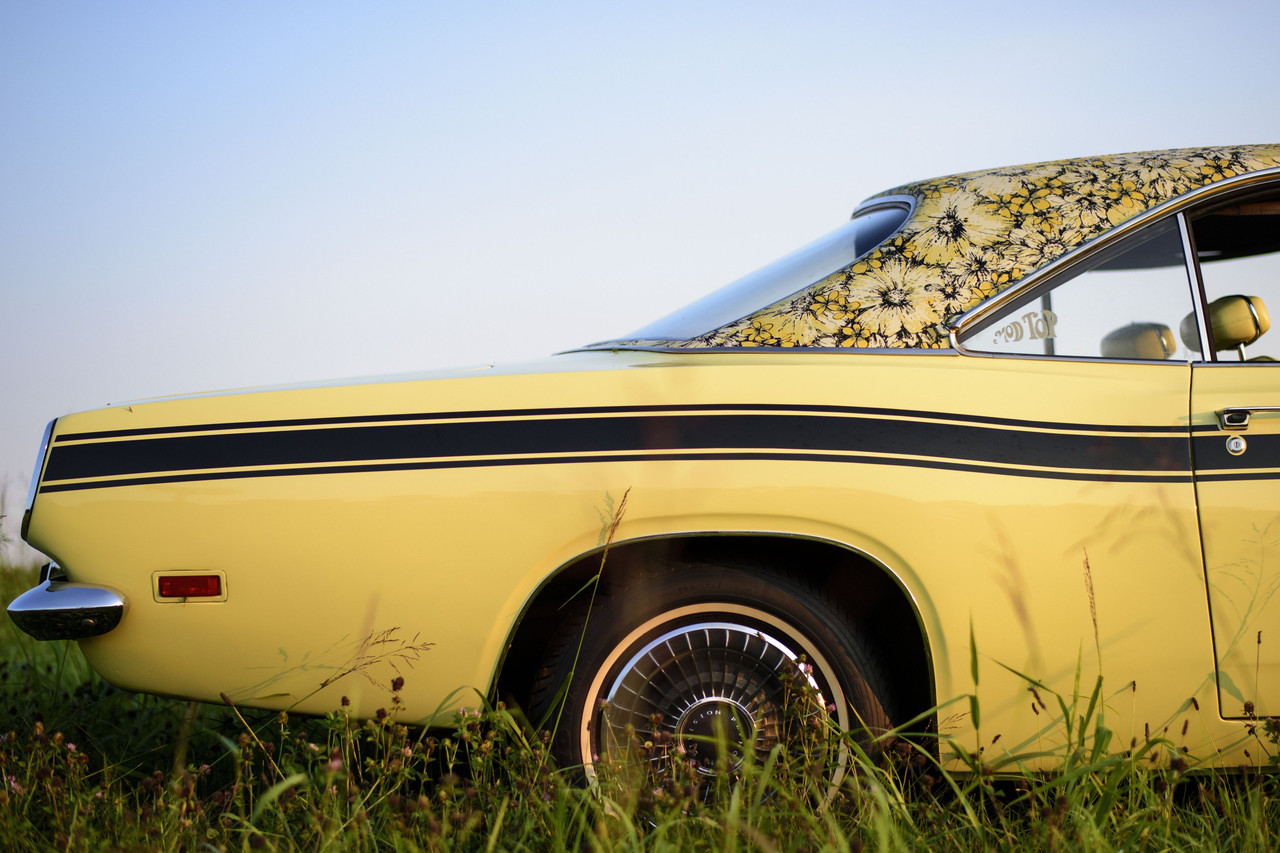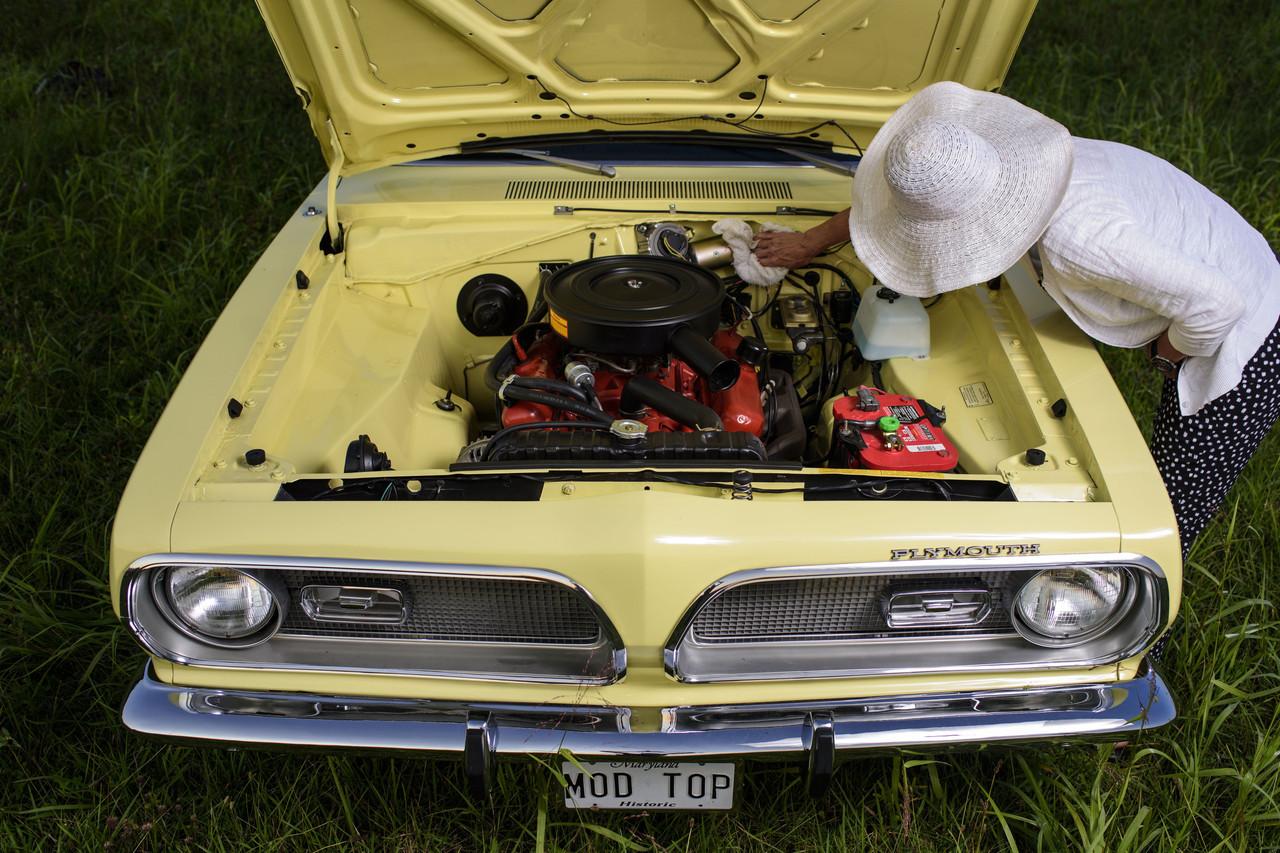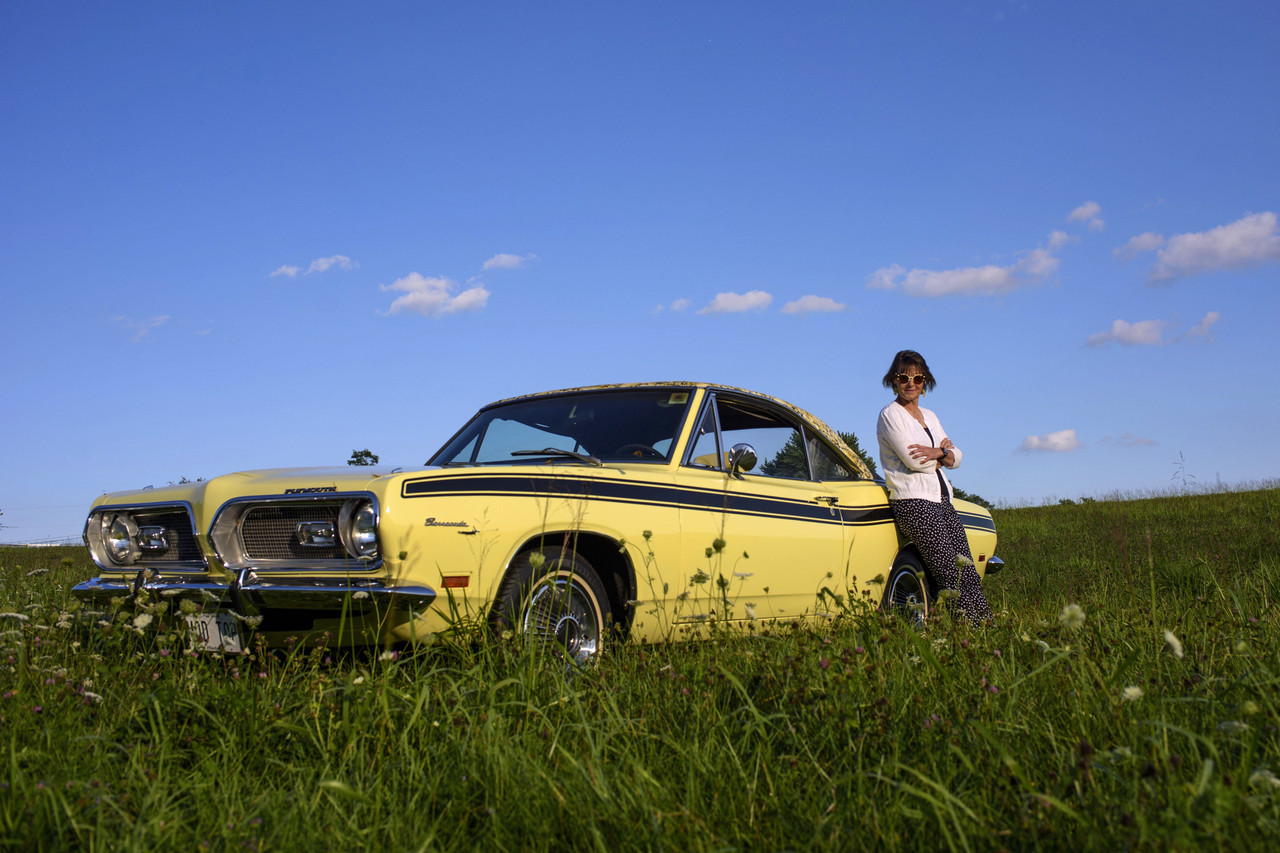 The Fender Tag:


R11 V1P V7X END
G31 G33 J25 L31 M21 M31
A01 A04 A62 C16 C55 G15
   Y2 F6P X9 907 068634
E44 D31 BH23 F9B 13XXXX


R11 = Music Master Radio (2 Watt); V1P = Yellow/black floral vinyl top; V7X = Black longitudinal paint accent stripe; END = End of codes.

G31 = Outside right hand manual chrome racing mirror; G33 = Remote driver's side mirror; J25 = 3 speed variable windshield wipers; L31 = Fender mounted turn signals; M21 = Drip Rail Mouldings; M31 = Body Belt Mouldings

A01 = Light package - (Glove Box Lock, Courtesy Lamp, Reading and Dome Lamp, Glove Box Lamp, Cargo Compartment Lamp, Trunk Compartment Lamp, Hood/Fender Turn Signal Lamps, Rear Door Dome Lamp Switch, Ignition Switch Lamp with Timer, Headlamp-on Buzzer, Headlamp Switch Lamp with Timer); A04 = Basic Radio Group; A62 = Rallye Instrument Cluster; C16 = Woodgrain console; C55 = Bucket seats; G15 = Tinted Windshield (only - not side windows)

Y2 = Sunfire Yellow exterior paint; F6P = Yellow vinyl bucket seats with yellow and black floral "mod" inserts; X9 = Black upper door frame paint (and carpet and console and instrument panel); 907 = Build date of 09/07/68; 068634 = Vehicle Order Number

E44 = 318 2bbl engine (230hp); D31 = A904 3 speed Automatic Transmission (Torqueflite); BH = Barracuda High Price Class; 23 = 2 Door Hardtop; F9B = 318/1969/Built at Hamtramck, MI; 13XXXX = Sequence number.

More info about the car:

Engine that came with the car orginally? - 318
Engine in the car now - same
Tranny that came orginally? - 904 auto
Tranny in the car now? - same
Original Exterior color? - Y2 Sunfire Yellow
Exterior color now? Y2
Interior seat color - F6P Yellow vinyl with mod (floral) inserts
More info from the owner who originally submitted it to the Registry (Dean Reiber):
"I JUST BOUGHT THIS CAR, PRETTY DECENT SHAPE NEEDS LOTS OF DETAILING BUT ALL MOD FABRICS AND TOP IN GREAT SHAPE."

More info from the Ebay page in December 2015:

"Up for auction a fine example of a very rare 1969 Plymouth barracuda with mod top and full mod interior option. Finished in brilliant Y2 sunfire yellow paint offset by rechromed bumpers front and rear and professionally restored trunk finish panel, with new tail lights and bezels. Shod with steel wheels with poverty caps with new red line tires, restored bumper jack and new trunk mat. Completely rust free California and southwest car all its life! Powered by totally stock rebuilt 318 and console shifted 904 automatic trans- both with less than 800 miles on rebuilds. Mechanically sound with new brakes, shocks, exhaust, wiper motor etc., this little cuda starts, runs and stops as it should.....no worries get in and drive anywhere..... On to the stunning pale yellow interior with mod pattern inserts and door panels, EVERYTHING new inside from Legendary interiors, including: dash pad, door panels, arm rests and bases, carpet, seats with new foam,,,, restored console and dash face, only item to complete interior it does need stock thumbwheel radio which I do not have. Try and find a better example of this rare outfitted mopar, documented with original fender tag and partial build sheet, inspections are welcome, good luck and happy bidding!"
---

Go back to the Mod Registry Info Page!
Last updated 2/4/2018 15:08:00 EST