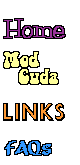 Mod Top #73
Bobby Dodson in Texas has a 1969 LM23 Dart Hardtop 340 ModTop, with some GREAT stories behind it!

The Fender Tag:


R11  V1H  V8W  END
     X9 D2X X9   507   246729
 E55  D21  LM23  P9B   36XXXX


R11 = Music Master Radio (2 Watt); V1H = Green floral vinyl top (this color only available on Darts/Coronets); V8W = White transverse sport stripe; END = End of codes.

X9 = Black Velvet exterior paint; D2X = Deluxe Black vinyl bench seats; X9 = black Interior paint (console, instrument panel); 507 = May 7, 1969 build date; 246729 = order number

E55 = 340, 4bbl, 275 hp; D21 = A833 4-speed floor shift transmission ; LM = Dodge, Medium class ; 23 = 2 door hardtop; P = 340 engine; 9 = 1969 model year; B = built at Hamtramck, MI (a 'burb of Detroit); 36XXXX = sequence number.

More info about the car:
Engine that came with the car orginally? - 340
Engine in the car now - 340
Tranny that came orginally? - 4 speed
Tranny in the car now? - auto
Original Exterior color? - X9 Black Velvet
Interior seat color -
Bobby has some good info about this Rare ModTop Dart:

"I found this car 12 years ago on the showroom floor on display at CESSNA MOTORS in Cleveland Texas. I stopped to look and tried to buy the car but was told it was for display only and not for sale. So I left but never forgot about that car! Well here a week ago I was looking on EBAY and low and behold there the car was for sale! I talked to a friend of mine and he said he had a deal working on the car, he had no deal but was just trying to buy the car cheap! I waited until the day before the auction ended then contaced the owner, Mike Cessna that is when he told me there was no deal on the car and it was for sale! I told Mike that I would be there on Friday the day the auction ended to look at the car again and buy it if I liked it. Well I could not hardly sleep Thursday night! So Friday morning I was up and there at the dealership at 8:30 Am to find out Mike was ill and not going to be there that day - so I talked to Mikes Dad. He started the car up, put it up on the rack etc.then I proceded to do as all buyers do, I tried to get a little lower price. Well mikes Dad was not going to sell the car for one dime less than was for the buy it now price on e bay. After talking a bit I left a $1000.00 deposit then went home to get the rest of the CASH $$$. In about 1 hour later I gave them the rest of the cash and drove the car home! The car had 1994 tags and sticker on the car. The car had not left the dealership in the past 24 years, Mike told me he drove it home one time in 1994, it had been shuttled from a storage garage to the showroom floor back and forth all those years. I went on Monday to talk to Mike about the Dart and he told me many stories. Mainly the one as to how he wound up with the dart. He told me he had a Hemi Charger (Nice to have a Dad that owns a Dodge Dealership). Mike told me one night he got into a race with a GTO Judge and that the Police started chasing them, he said the Judge pulled over but he kept going and the Police stayed in pursuit of him. He said they finally caught him and he went to jail and that they blew 3 of the police car engines up trying to catch him. Mike said that his Dad bailed him out of jail and took the Hemi Charger away from him and gave him the Dart Swinger as Punishnment. Mike said at first glance he hated that car especially the flowerd top, and said that he immediately removed the top and painted it black to match the car. He said he tried his best to tear that car up but it would not blow up! And that he began to really like it. He raced the car in 1972 in SS/I class and told me he was never out run! Geez I could go on and on and on with the stories he told me but there is probably not enough room. The car is in remarkable shape with no rust at all anywhere! The paint job is not the best and eventually it wil get a new one. I am not sure I can put the mod top back on, just don't think it will go with a black car. Although I really like the mod tops! The car was sold originally to a James Lewis then repossed a couple of months later and went back to the dealership. I remember back in the day seeing a few of them but not many! I plan to Drive this car and have fun with it, I also have another 69 Dart 340 Swinger that is going to be raced at a local track here just to show some of these guys that MOPARS are not gone they are still around and will live Forever! I even received the ORIGINAL 1969 title to the car and am trying to figure out how to keep the title and frame it to display with the car."

More good stuff from Bobby as posted to the MoParts Board!

"No I did not change the color! It is an original black on black car originally 4 speed but original owner converted it to an auto in the floor I converted it to auto on the column!Original owner removed the mod top 3 days after his Dad gave him the car and had the body shop paint the top black to match the car.The original owners Dad owned Cessna Motors a Dodge dealership in Cleveland Texas.The original owner blew the original 340 engine a couple of years after he owned the car then put a new 340 in the car and converted it to an auto at that time.A few years later the 340 needed overhauled so he built it up a little at that time.The car was last drove on the road in 1994! until I bought it last year and drove it home.His Dad sold the Dealership and the owner said he had no place to keep it.I couldn't believe he was selling it after owning it all thos years,drove it all through High School ETC.But it is mine now!Car still has all original interior,all bumpers and outside chrome are original and excellent,all original glass and excellent,trunk area original and looks new!I would be glad to post a couple of pictures of the car but my acrobat on my computer is screwed up and I can't even view a picture.Working on getting a new computer soon and I will share some photos.If you go to the Mod Top registry it is listed there but no photo.Car owner is Bobby Dodson.The the owner that owns the black GTS with the torquoise engine would you please post a picture of it so I can see what it looks like.I just tried to picture in my mind those colors together.The engine in the car is black now,that is what he painted it when he rebuilt it years back.I am alsogoing to remove the headers and install the correct exhaust manifolds!"
---

Go back to the Mod Registry Info Page!
Last updated 8/6/05 8:32:48 PM