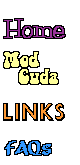 Mod Top #56
Tom Segerson in Indiana has a 340/727 1969 Swinger.

More info about the car:
Engine that came with the car orginally? - 340
Engine in the car now - 383
Tranny that came orginally? - 727
Tranny in the car now? - 727
Color now? - Green
Interior seat color - H4X Black bench
More info from Tom: " saw in the local paper for sale about ten years ago, ive always liked Dart's other than my 68 RoadRunner it's the only kind if Mopar that i ever wanted. i went and looked at the car thought the top was kinda cool so i test drove it and bought it the same day. needs lots of work, its been sitting due to lack of funds for at least 8 years. But i still love the car so i will keep it and try to restore it."


---

Go back to the Mod Registry Info Page!
Last updated 10/13/03 12:56:31 PM