Mod Top #53
Zach Ogorek bought ModTop (#14) formerly owned by Wade Kahn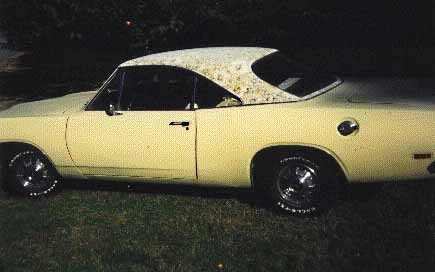 The Fender Tag:


M31 R11 V1P V7X END
A01 C16 C55 G15 L31 M21
   Y3 F6P X9 A18 156389
E55 D32 BH23 P9B 178XXX
M31 = Body belt mouldings; R11 = Music Master Radio (2Watt); V1P = Yellow floral vinyl roof; V7X = Black longitudinal accent stripe; END = end of codes

A01 = Light group (Fender mounted turn signals, trunk light, glove box/ashtray light, ignition light, reading/dome lamp, glove box lock); C16 = Console; C55 = Bucket seats; G15 = Tinted windshield only (not side glass); L31 = Turn signal fender/hood mounted; M21 = Drip Rail Mouldings

Y3 = Yellow Gold exterior paint; F6P = Yellow vinyl seats with yellow floral inserts; X8 = Black upper door frame paint, black carpet, black paint on console; A18 = Build date of 10/18/68; 156389 = Vehicle Order Number

E55 = 340 4bbl engine (275hp); D32 = A727 3 speed Automatic Transmission (Torqueflite); BH = Barracuda High Price Class; 23 = 2 Door Hardtop; P9B = 340/1969/Built at Hamtramck, MI; 178XXX = Sequence number.

More info about the car:
Engine that came with the car orginally? - 340
Engine in the car now - 340
Tranny that came orginally? - 727
Tranny in the car now? - 727
Original Exterior color? - Y3 Yellow Gold
Color now? - Y3 Yellow Gold
Interior bucket seat color - F6P Yellow vinyl with mod inserts
Comments from Zach: "We met Wade Kahn when we were buying some bucket seats from him, and purchased the car from him. His mod top was # 14 on the registry. We our now in the process of restoring the car."


---
Comment from previous owner, Wade Kahn: "THE CAR ORIGINALLY CAME WITH THE RECALLED ROAD WHEELS [Note from Julie: according to 'Barracuda and Challenger' by Paul Zazarine this was 'Chrysler's first attempt at a lightweight aluminum road wheel...Engineering tests indicated that the lug nuts would loosen during operation. Torquing them down resulted in cracking the aluminum-alloy center. Chrysler was determined to get the wheels off all cars to prevent any accidents...' So those recalled wheel are RARE!]"
---

Go back to the Mod Registry Info Page!
Last updated 1/1/2005 5:00:26 PM