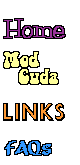 Mod Top #47
Karl Smith in Florida has a very rare (one of 17) 1970 Black (TX9) 383/727 Barracuda with the BLUE floral (V1Q) Mod Top! (Usually, Barracudas come with the yellow floral (V1P) Mod Tops).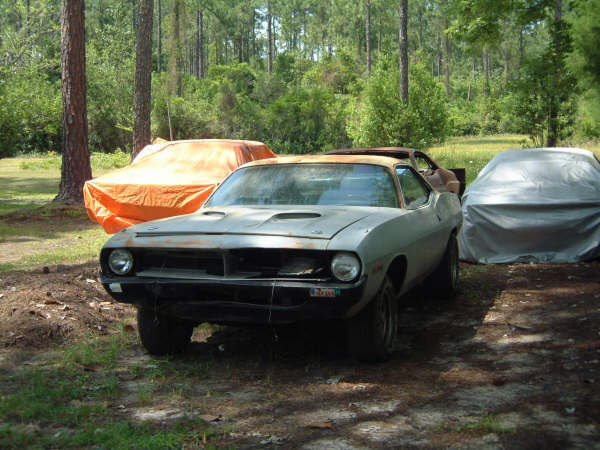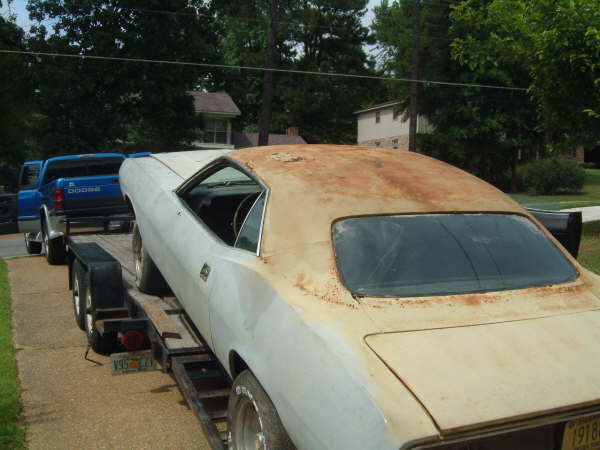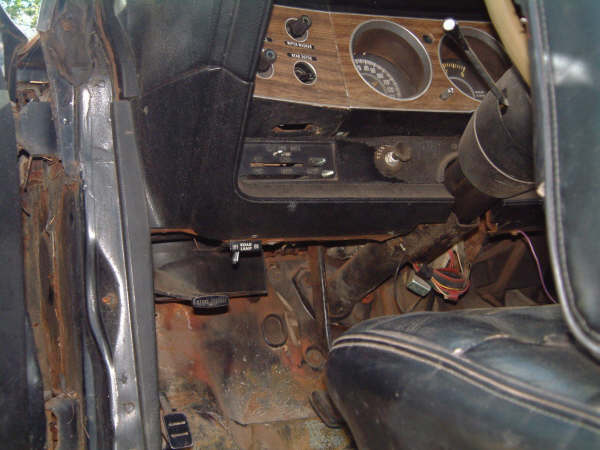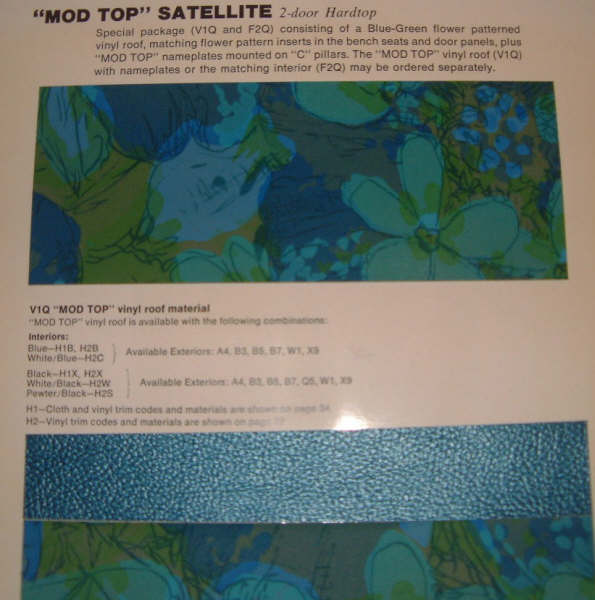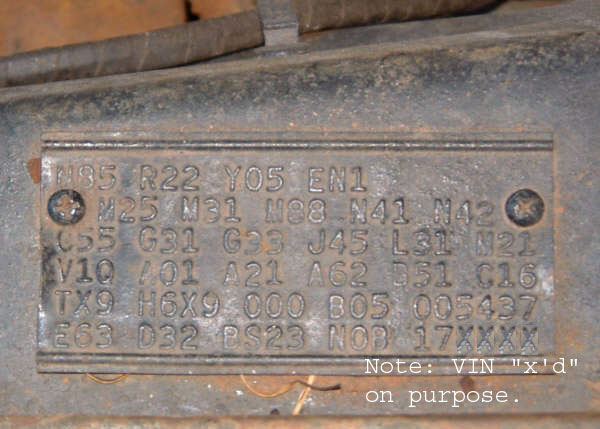 Here is the information on the fender tag:

N85 R22 Y05 EN1 
M25 M31 M88 N41 N42  
C55 G31 G33 J45 L31 M21  
V1Q A01 A21 A62 B51 C16
TX9 H6X9 000 B05 005437 
E63 D32 BS23 N0B 17XXXX

N85 = Tachometer; R22 = Radio - AM with Stereo 8 track; Y05 = U.S. Spec built order (as opposed to Canada or Export); EN1 = End of codes

M25 = Body Sill Mouldings; M31 = Body Belt Mouldings; M88 = Deck Moulding Treatment; N41 = Dual Exhaust; N42 = Bright Exhaust Tips;

C55 = Bucket seats; G31 = Outside right hand manual chrome racing mirror; G33 = Remote driver's side mirror; J45 = Hood Tie Down Pins; L31 = Fender mounted turn signals; M21 = Drip Rail Mouldings;

V1Q = Blue floral vinyl roof (1970 Barracuda only); A01 = Light package - (Glove Box Lock, Courtesy Lamp, Reading and Dome Lamp, Glove Box Lamp, Cargo Compartment Lamp, Trunk Compartment Lamp, Hood/Fender Turn Signal Lamps, Rear Door Dome Lamp Switch, Ignition Switch Lamp with Timer, Headlamp-on Buzzer, Headlamp Switch Lamp with Timer); A21 = Elastomeric Bumpers, front only; A62 = Rallye Instrument Cluster; B51 = Power Brakes; C16 = Woodgrain console;

TX9 = Black Velvet exterior paint; H6X9 = Black vinyl bucket seats; 000 = Full Door Panels; B05 = Build date of 11/05/69; 005437 = Vehicle Order Number

E63 = 383 4bbl engine (335hp); D32 = A727 3 speed Automatic Transmission (Torqueflite); BS = Barracuda Special Price Class; 23 = 2 Door Hardtop; N0B = 383/1970/Built at Hamtramck, MI; 17XXXX = Sequence number.

More info from the owner: "The car came with a dealer installed underdash A/C, Road lamps, rear window defoger, three speaker dash, and rear speaker fader switch I have never seen a Cuda with a blue mod top let alone a black Cuda."


---

Go back to the Mod Registry Info Page!
Last updateed 6/16/2006 12:42:39 PM