Mod Top #38
Rich Bellerby tells us about his rare 1969 340/4-speed Mod Top Swinger!:

Click here for a catalog of Mod Swinger pictures - resto in progress and finished product.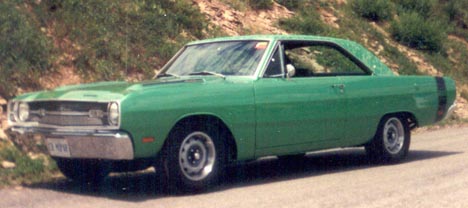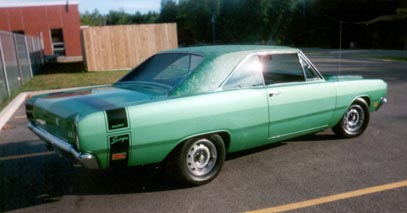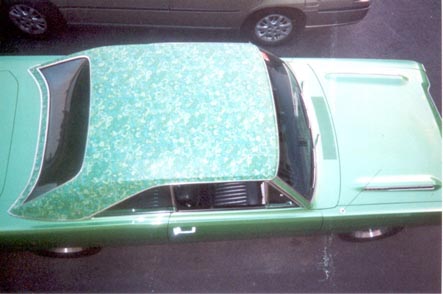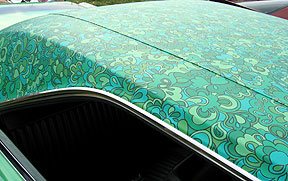 Here is the information on the fender tag:

END
A46 M21 M25 R11 V1H V8X
    F6 D2X X9 430 134700
E55 D21 LM23 P9B XXXXXX


END = end of codes

A46 = Moulding Package (includes upper door frame, drip rail, grille surround, wheel lip and deck lid lower mouldings); M21 = Drip Rail moldings (these go above your side windows, along the edge of the roofline); M25 = Body sill mouldings; R11 = AM radio; V1H = Green floral vinyl top (this color only available on Darts/Coronets); V8X = Transverse tape sport stripe;

F6 = Bright Green Metallic exterior paint; D2X = Deluxe Black vinyl bench seats; X9 = black Interior paint (console, instrument panel), and black carpet; 430 = April 30, 1969 build date; 134700 = order number

E55 = 340, 4bbl, 275 hp; D21 = A833 4-speed floor shift transmission ; LM = Dodge, Medium class ; 23 = 2 door hardtop; P = 340 engine; 9 = 1969 model year; B = built at Hamtramck, MI (a 'burb of Detroit); XXXXXX = sequence number. They start at 100000, and all the cars built on that line get a number.

More info about the car:
Engine that came with the car orginally? - 340
Engine in the car now - 340
Tranny that came orginally? - A833 4 SPD
Tranny in the car now? - A833 4 SPD
Original Exterior color? - F6 BRIGHT GREEN METALLIC
Exterior color now? - : F6 BRIGHT GREEN METALLIC
Interior color - BLACK BENCH D2X BLACK
Rich adds these tidbits of information:

"The car is fully restored and Rich has put about 30,000 miles on it (as of 2011).

Update from Rich! 1/10/15


well its still nice and comfortable in my garage and gets out on a regular basis 
i have over 40,000 miles on it now and still works great 
i took it to the Syracuse nationals for a few years and one year ended up with a  designers dozen pick out of approx 7000 cars that year 
i dont plan on selling it but you never know what might happen 
i do have an extra NOS material that will make an top for my car if i every have to do that 
it will go for sale if i sell my car

---

Go back to the Mod Registry Info Page!
Last updated 1/10/2015 9:44:30 AM