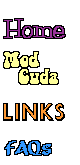 Mod Top #34
Bill Rolik lets us in on his 1969 Plymouth Barracuda:

More info about the car:
Engine that came with the car orginally? - 318
Engine in the car now - 318 (originial)
Tranny that came orginally? - 904
Tranny in the car now? - 904 (original)
Original Exterior color? - Y2 - Sunfire Yellow
Original interior bucket seat color - F6P Yellow vinyl with mod (floral) inserts
Bill adds these tidbits of information:

"The car is original, except that the ModTop vinyl roof has been changed (or dyed) to black. Also, the seat covers have been changed to two-tone yellow and black vinyl, and the Mod sections of the door panels have been painted black. All of the above changes were done prior to me owning the car, and I was not aware that the car was in fact a ModTop car until I retreived the broadcast sheet! This car is also available for sale. All may contact me for additional info! "
(Note: Layson's Restorations is reproducing mod material.


---

Go back to the Mod Registry Info Page!
Last updated 1/6/01 10:08:44 AM EST