Mod Top #30
Lisa in Ontario has a 318/904 Y2 Sunfire Yellow Barracuda Mod Top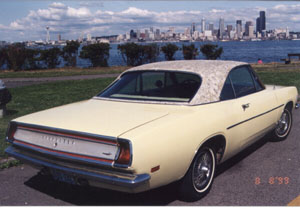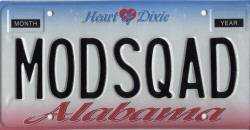 (Note: this used to be owned by Alabamian Rick Thiot)!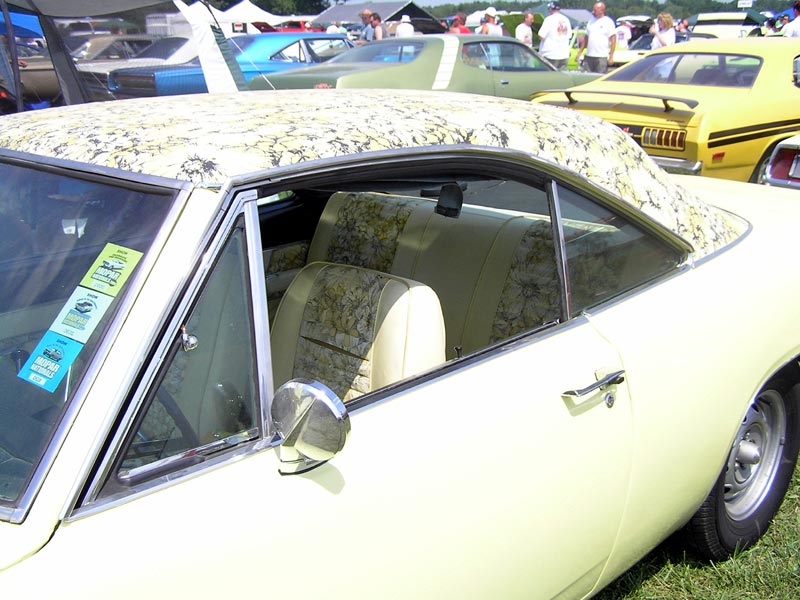 (Note the other Barracuda Mod Top directly behind this one! At the MoPar Nats in 2006)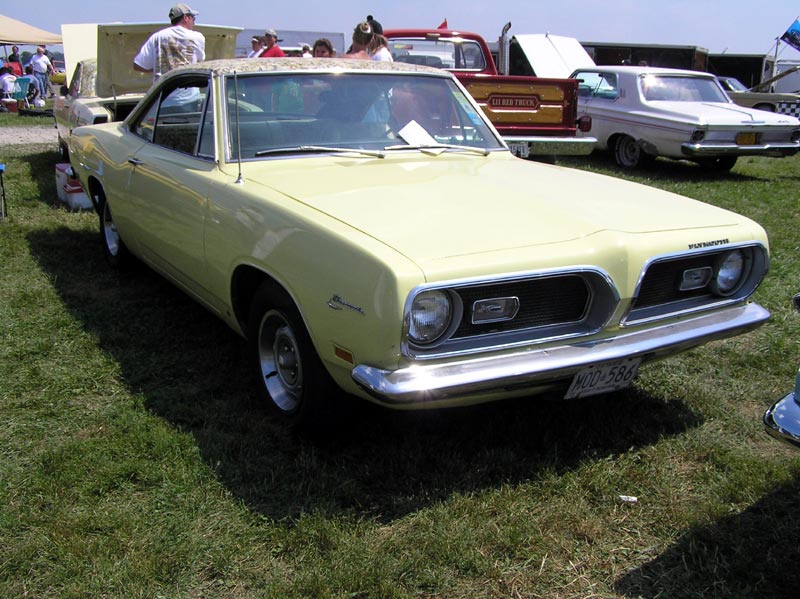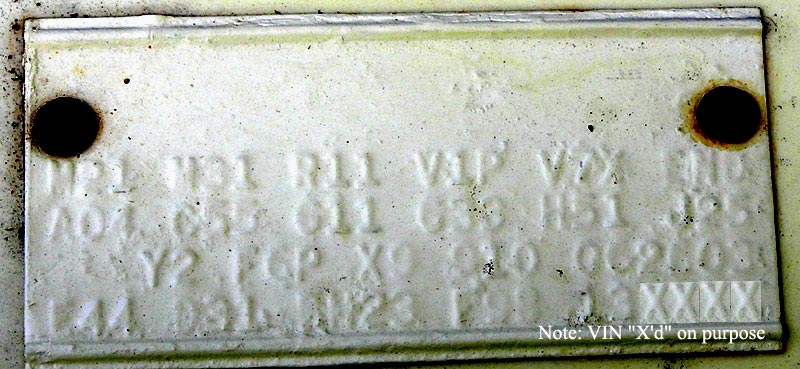 Here is the information on the fender tag:

M21 M31 R11 V1P V7X END
A04 C55 G11 G33 H51 J25
    Y2 F6P X9 910 0G2603
E44 D31 BH23 F9B 138XXX

M21 = Drip Rail moldings (these go above your side windows, along the edge of the roofline); M31 = Body belt mouldings (these go "under" your windows, along the top of the doors and running rearward to the C-pillar); R11 = AM radio; V1P = Floral yellow and black vinyl top; V7X = Black longitudinal paint accent stripe; END = end of codes
A04 = Basic Group (power brakes, Driver's side remote mirror); C55 = Bucket seats; G11 = Tinted glass, all windows; G33 = Driver's Side remote mirror; H51 = Air Conditioning (for those hot Alabama summers); J25 = 3-speed variable windshield wipers;
Y2 = Yellow exterior paint; F6P = Yellow vinyl seats with yellow and black floral inserts (mod interior), also yellow and black floral inserts on the door panels; X9 = black Interior paint (console, instrument panel), and black carpet; 910 = September 10, 1968 build date. This is the same day on which my ModCuda was built; 062603 = order number
E44 = 318, 2bbl, 230 hp; D31 = A904 3-speed automatic transmission ; BH = Barracuda, High class ; 23 = Notchback; F = 318 engine; 9 = 1969 model year; B = built at Hamtramck, MI (a 'burb of Detroit); 138XXX = sequence number. They start at 100000, and all the cars built on that line get a number. My ModCuda, built on the same day, rolled off the assembly line 20 cars after this one.
More info about the car:
Engine that came with the car orginally? - 318
Engine in the car now - 318
Tranny that came orginally? - 727
Tranny in the car now? - 727
Original Exterior color? - Y2 Yellow
Original interior bucket seat color - F6P Yellow vinyl with mod inserts
Other good stuff about Rick's Barracuda:

" Car is originally from Birmingham, Alabama...bought twenty years ago from original owner by a North Alabama local that moved to Seattle. Everyone that sees the car wants to buy it, but he wouldn't sell to anybody. Until I came along. I happened to be in the right place at the right time. Car needs some work, but is in excellent condition for a car that hasn't been restored."


---

Go back to the Mod Registry Info Page!
Last updated 2/14/00 4:48:18 PM EST