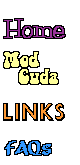 Mod Top #28
Bill Swofford in SC has a 1969 318/904 Barracuda Mod Top that he added to his stable of 5 Barracudas:

Check out the trophies in the picture below! Bill writes,
"The trophy I am holding is for 3rd place judged "A" body stock. (The only "A" body to place that was DROVE to the show) and the BIG TROPHY is 1st place peoples choice award. (south Carolina folks have good taste). The show was the Spartanburg TECH Mopar show 2004 Spartanburg SC. The babe is my daughter she drove the car to the show for dad. (I took my 68 cuda conv).quot;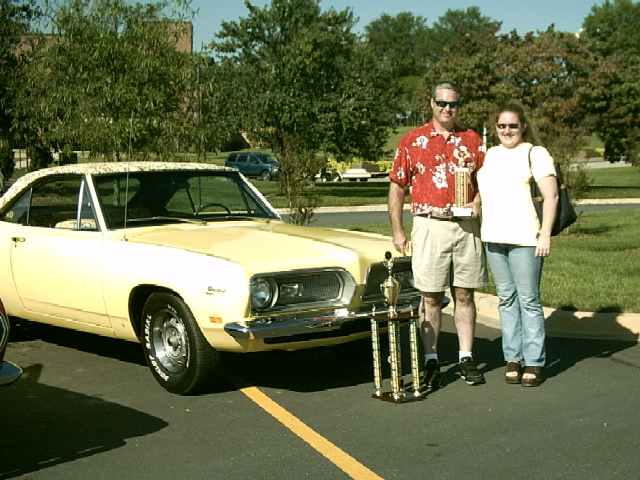 Here is the information on the fender tag:

C55 M21 M31 R11 V10 V7X
Y2 F6P X9 815 062665
E44 B31 BH23 F9B 106XXX

C55 = Bucket seats; M21 = Drip Rail moldings (these go above your side windows, along the edge of the roofline); M31 = Body belt mouldings (these go "under" your windows, along the top of the doors and running rearward to the C-pillar); R11 = AM radio; V10 (V1P??) = Floral yellow and black vinyl top; V7X = Black longitudinal paint accent stripe
Y2 = Yellow exterior paint; F6P = Yellow vinyl seats with yellow and black floral inserts (mod interior), also yellow and black floral inserts on the door panels; X9 = black Interior paint (console, instrument panel), and black carpet; 815 = August 15, 1968 build date. This is *very* early in the model year, and it is the earliest build date for a Mod Barracuda that I have in my registry. I do have a Satellite in the registry that was built on the first build day of the model year, August 1.; 062665 = order number, doesn't mean much to us Barracuda owners!
E44 = 318, 2bbl, 230 hp; B31 = This is probably D31, which is an A904 3-speed automatic transmission. (B31 would be heavy duty 11" drum brakes; and it would be listed up in your third line with your C55, M21, etc); BH = Barracuda, High class (of course!); 23 = Notchback; F = 318 engine; 9 = 1969 model year; B = built at Hamtramck, MI (a 'burb of Detroit); 106223 = sequence number. They start at 100000, and all the cars built on that line get a number. Sometimes there are more than Barracudas on one line, so yours is not necessarily the 6,223rd Barracuda, just the 6,223rd car on that line (which could include Darts, Valiants, other A-bodies most probably).
More info about the car:
Engine that came with the car orginally? - 318
Engine in the car now - original
Tranny that came orginally? - auto
Tranny in the car now? - auto
Original Exterior color? - Y2 Yellow
Original interior bucket seat color - F6P Yellow vinyl with mod inserts
Interior bucket seat color now - White
Other good stuff about Bill's Barracuda:

"I JUST BOUGHT THIS CAR TODAY (11/26/99). I was only looking for a v8 coupe. I found this one with I am told the "MOD" PACKAGE. I assume this option is rare I have 5 67-69 barracudas and have heard and seen sales info and old pictures. but none at shows and only a hand full on the net. "


---

Go back to the Mod Registry Info Page!
Last updated 1/1/2005 5:47:28 PM