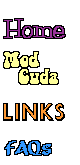 Mod Top #24
John and Janis Gales had a 1969 318/A904 3-speed Torqueflite Barracuda, but I believe it's been sold to another owner.

It was listed for sale in July 2009 in St. Charles, MO:
by: Fast Lane Classic Cars

St Charles Missouri
318c.i. 2BBL V8/ 230 H.P. #s Matching Engine,
(Block# PM318R/26182310/BH23F9B144365),
(Casting# 2536030318-4),
Automatic (A 904 LA) #s Matching Transmission,
7.25in Rear w/ 2.75 Gear Ratio,
P. Steering, P. Brakes,
Factory AC & AM Radio, Bucket Seats,
Correct Floral Mod Top (Code V1P) & Floral Seats (Code F6J),
Appears to be Original Floors, Quarters, & Fenders,
Correct Sunfire Yellow Exterior (Paint Code Y2),
Pretty Original Car,
14in Rallye Wheels w/ Goodyear Polyglas Redline Tires,
Believed to be 64,xxx Actual Miles,
Mildly Restored,
Original Build Sheet & Brochures,
Only 937 Mod Top Barracudas Produced in 1969!!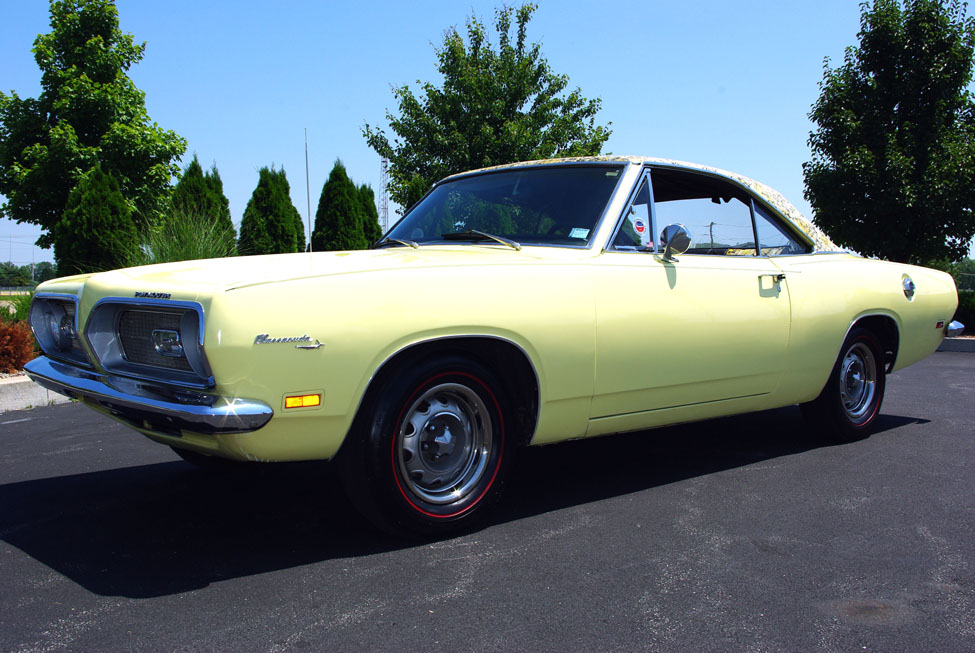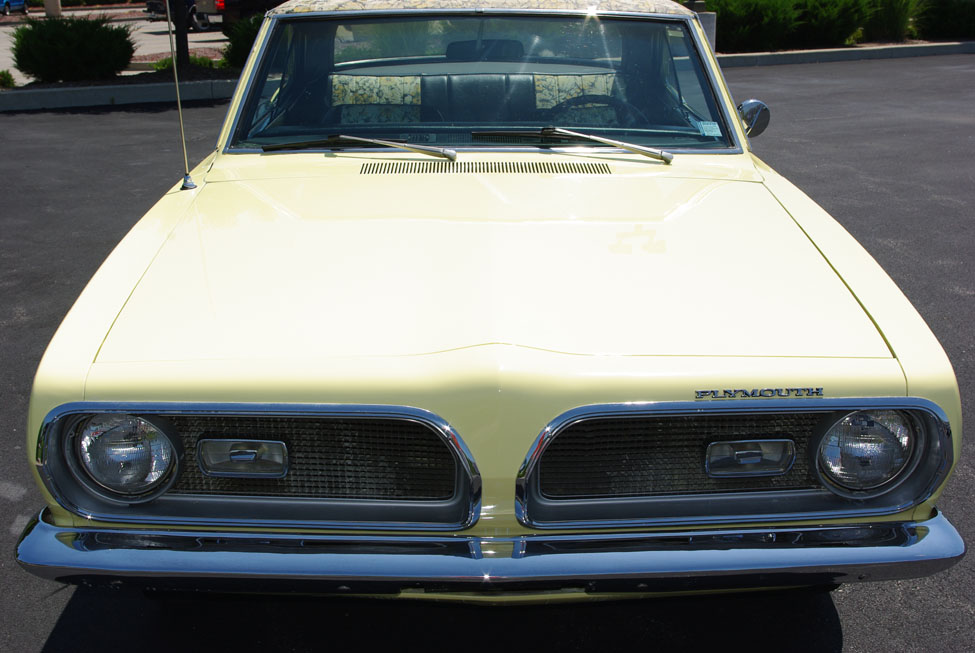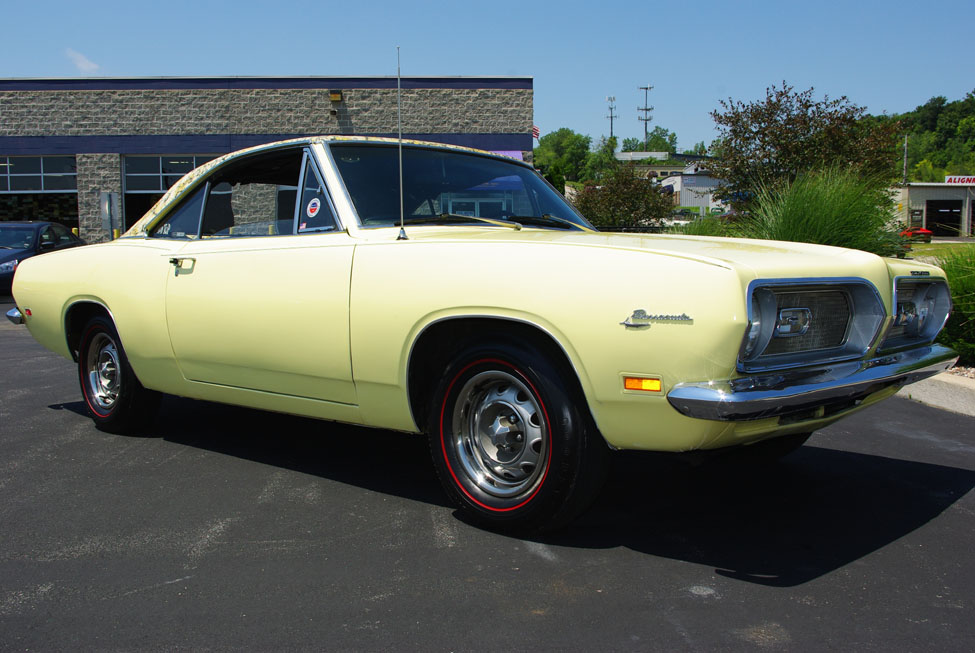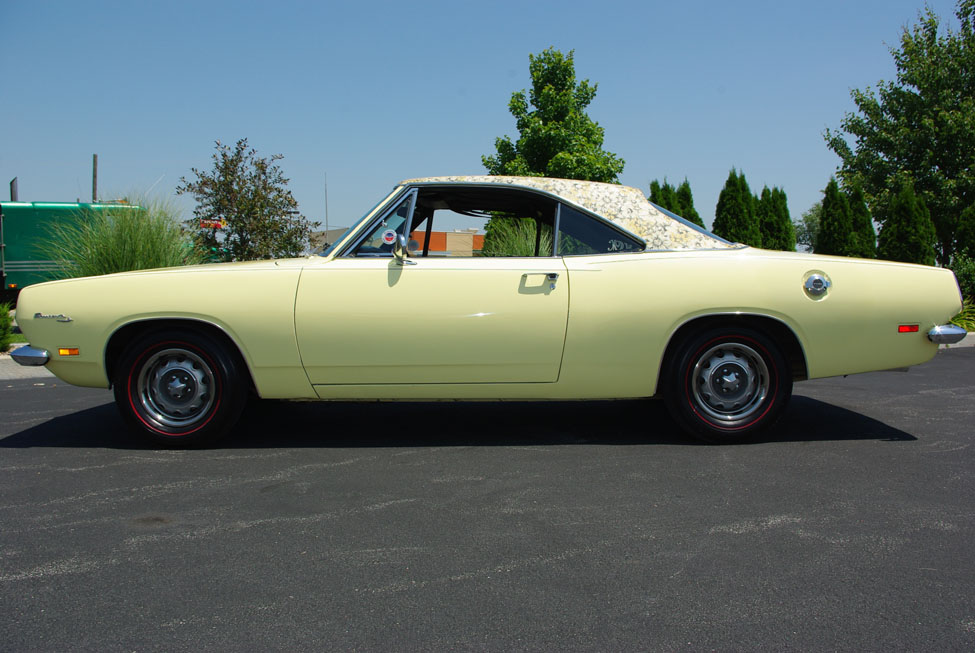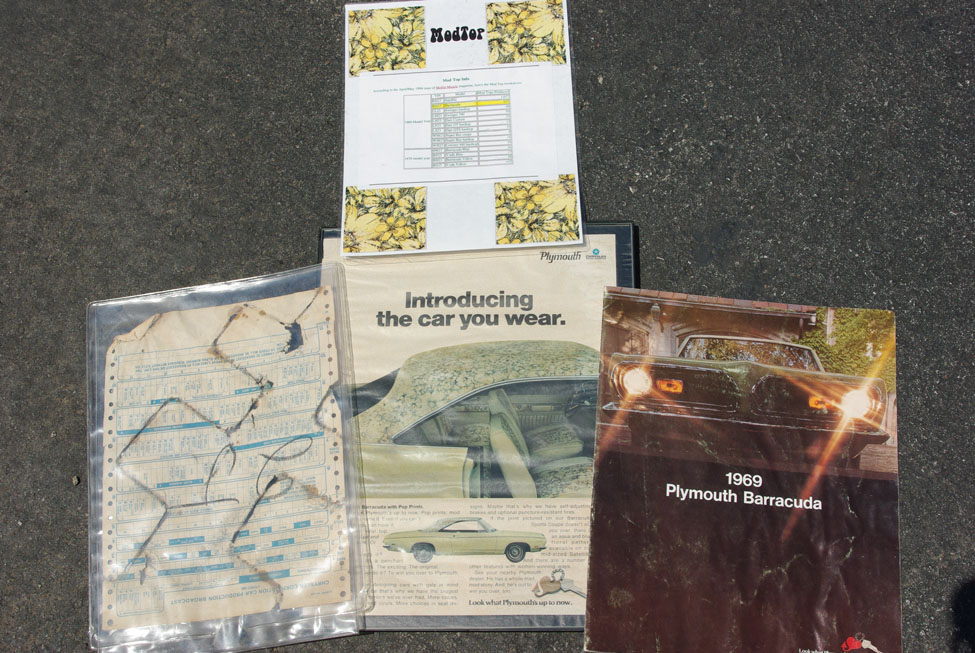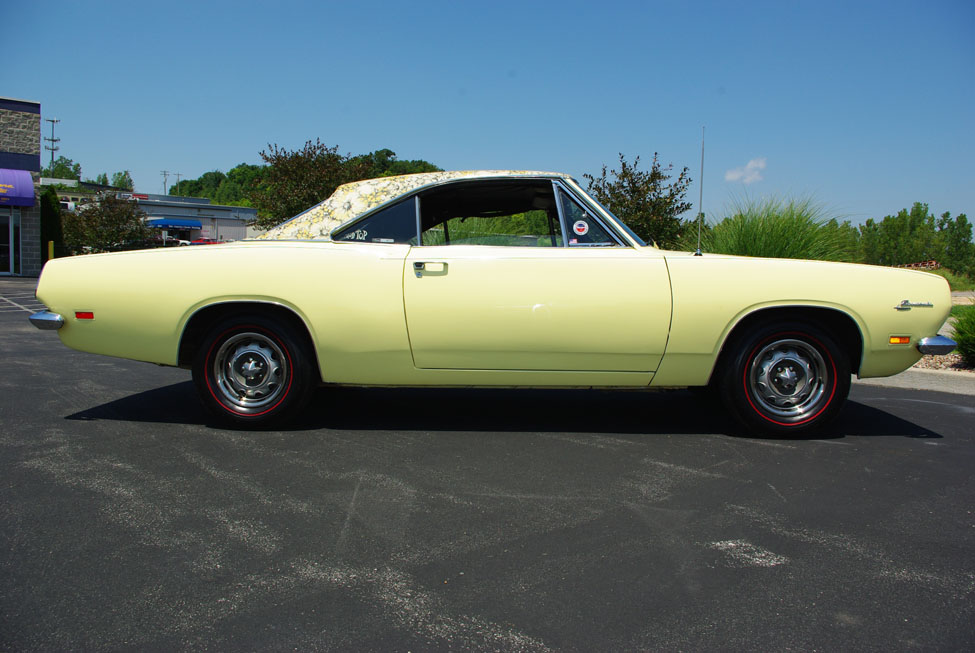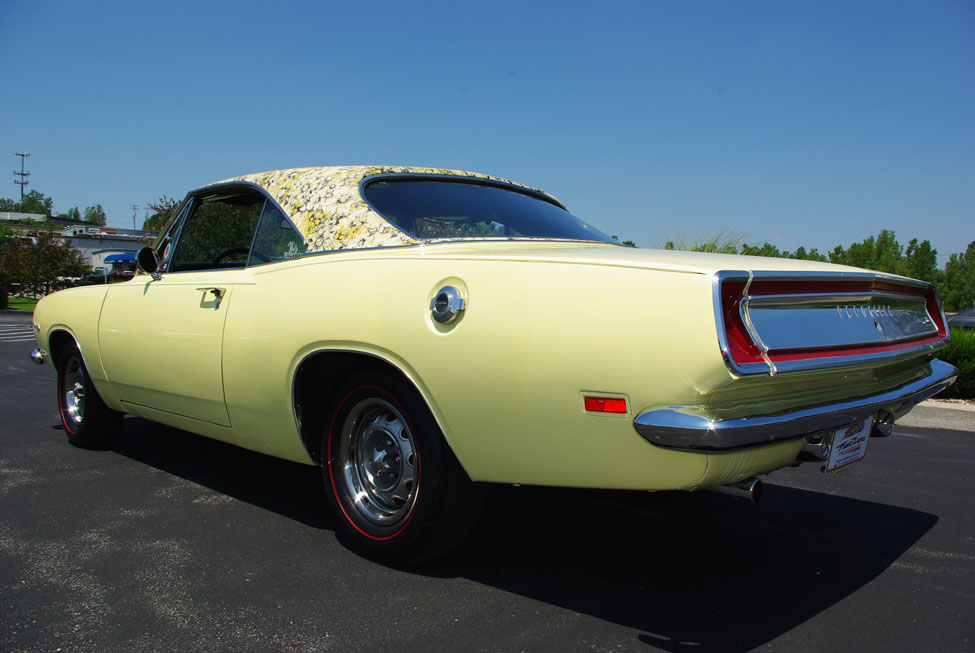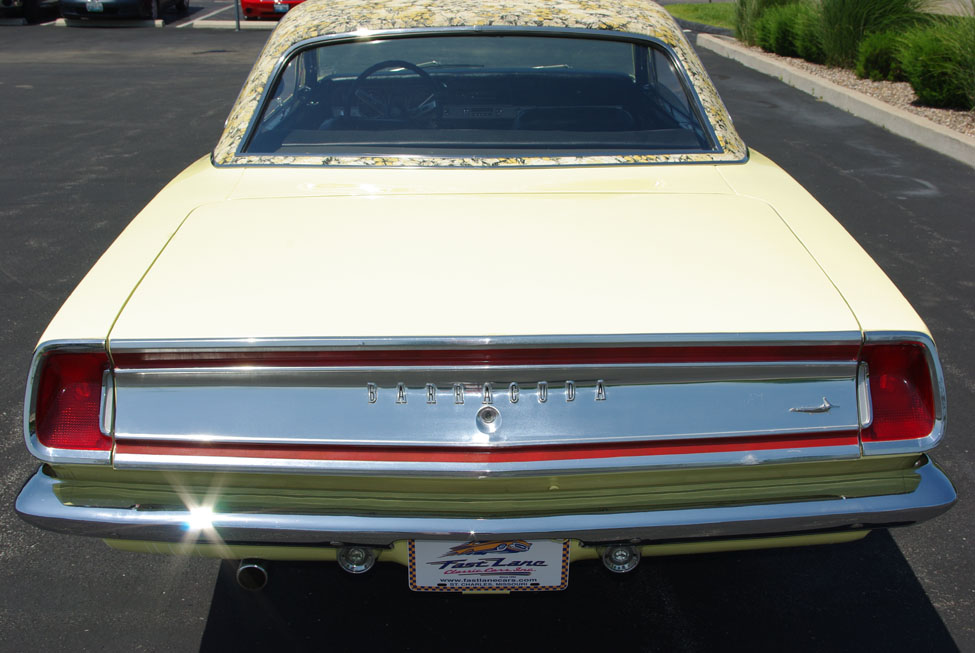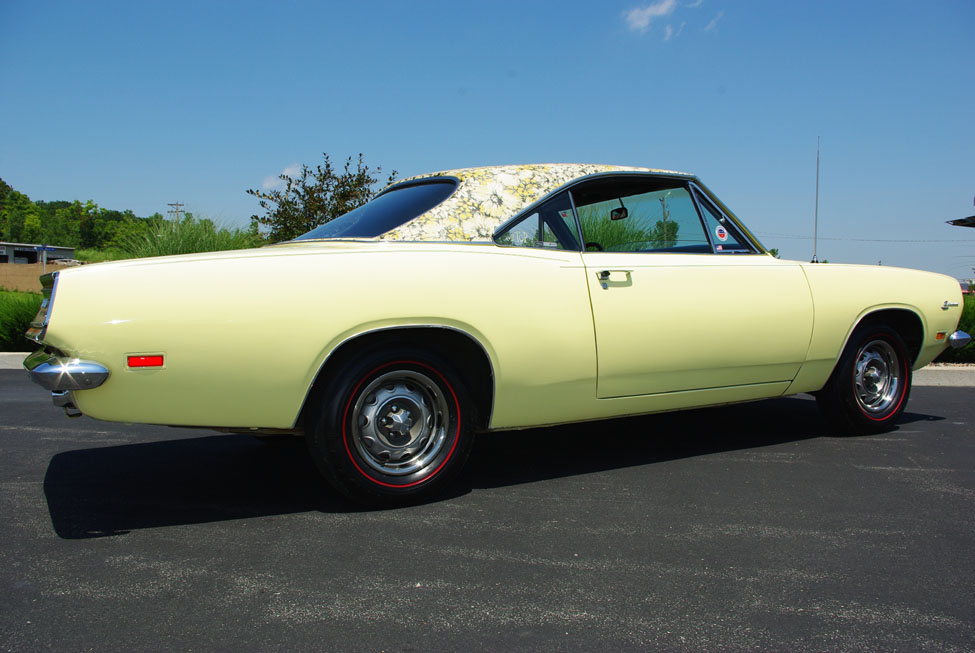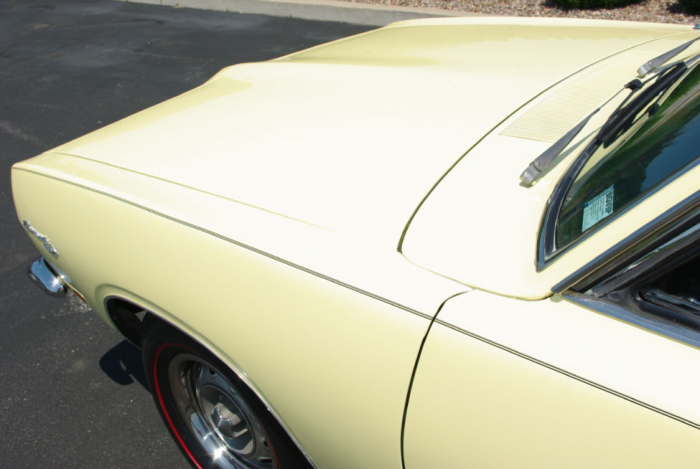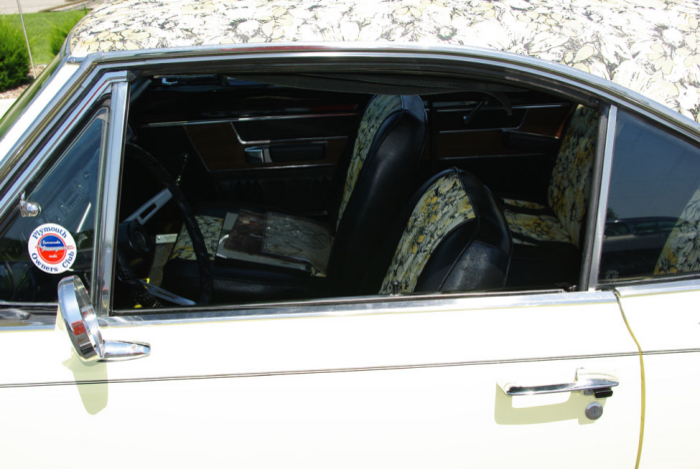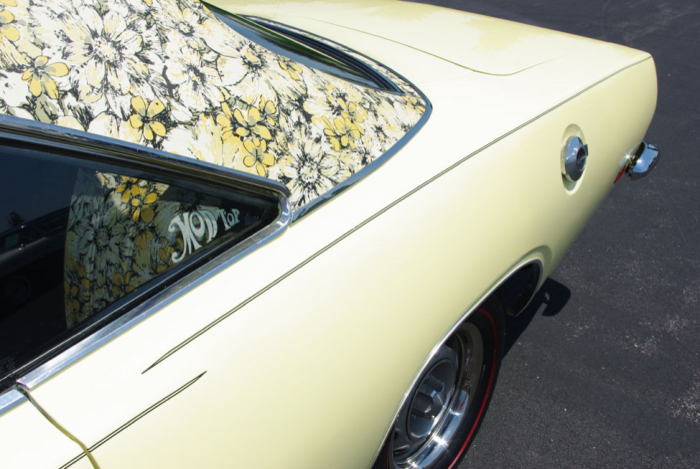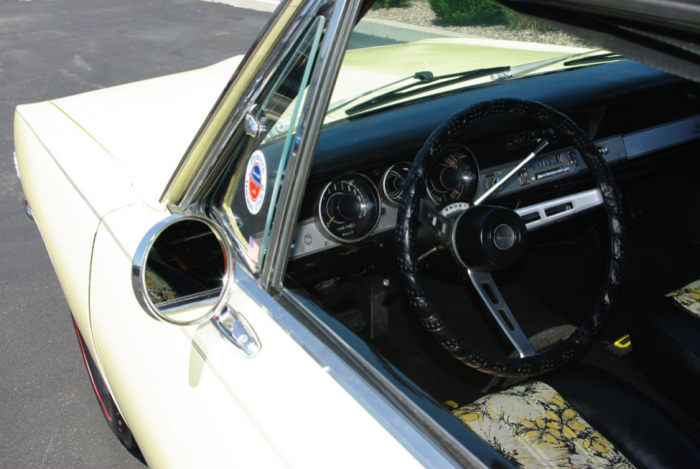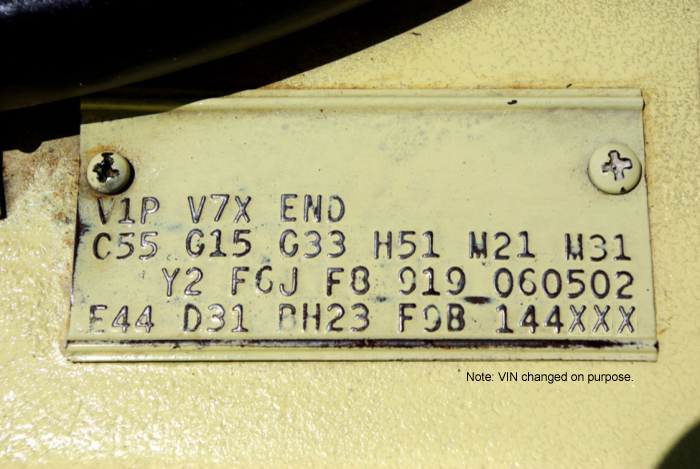 Here are some OLDER pictures: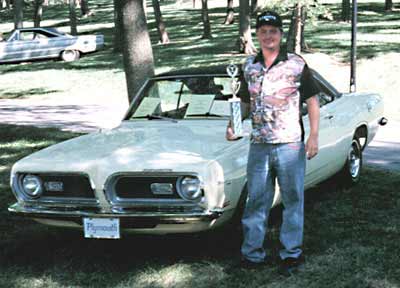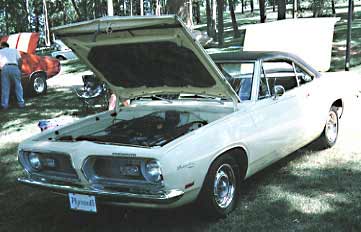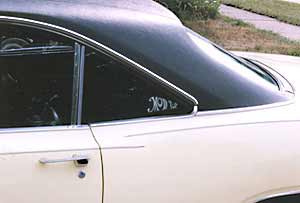 Here is the information on the fender tag:

VIP VX7 END
C55 G15 G33 H51 M21 M31
   Y2 F6J F6 919 060502
E44 D31 BH23 F9B 144XXX
V1P = Yellow floral vinyl roof; VX7 = Probably should be V7X, which is a Black longitudinal accent stripe; END = end of codes
C55 = Bucket seats; G15 = Tinted windshield only (not side glass); G33 = Driver's Side remote mirror; H51 = Air conditioning with front heater; M21 = Drip Rail Mouldings; M31 = Body Belt Mouldings; (No radio indicated!)
Y2 = Sunfire Yellow exterior paint; F6J = Green vinyl seats with yellow floral inserts; F6 = This is probably F8 instead, which is Dark Green upper door frame paint; 919 = Build date of 09/19/68; 060502 = Vehicle Order Number
E44 = 318 2bbl engine (230hp); D31 = A904 3 speed Automatic Transmission (Torqueflite); BH = Barracuda High Price Class; 23 = 2 Door Hardtop; F9B = 318/1969/Built at Hamtramck, MI; 144XXX = Sequence number.
More info about the car:
Engine that came with the car orginally? - 318
Engine in the car now - 318
Tranny that came orginally? - A903 3 Speed Auto Torqueflight
Tranny in the car now? - same
Original Exterior color? - Y2 Sunfire Yellow
Color now? - Y2 Sunfire Yellow
Interior bucket seat color - Black
Some more detailed info on the Gales' Mod Top [Note: The black vinyl top has now been replaced with reproduction floral vinyl (V1P)]:

"The car has Mod Top etched in the back glass. But the Mod top and Mod interior have been replaced with black. We have the build sheet which we now know indicates the car should have both the Mod Top and Mod interior. We are thinking of just putting the roof back Mod and leaving the interior black. The interior was just recently done., We just purchased the car a few days ago and hare really learning alot. We were not even sure what Mod Top meant...It came originally from CA, but the third owner rescued it from behind a gas station in Arkansas. (We are the fourth owners) We spoke with the previous owner last evening and he was able to give us some history. It only has 52,000 orginal miles, which is good. Evidently the second owner was in the military and his parents, the first owners, just stored it for him. Anyway a bit of history for our car. We are still enjoying finding out all the little bits about the car. It was such a blessing just finding it. It is the car my husband has always wanted. This just goes to show that we are given our hearts desires." [God is truly awesome, when we seek Him first, isn't He? -- Julie]


---

Go back to the Mod Registry Info Page!
10/5/2009 12:14:41 PM