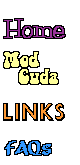 Mod Top #16
Darrell Bradshaw sent this information about his 1969 Satellite

More info about the car:
Engine that came with the car orginally? - 318
Engine in the car now - 440
Tranny that came orginally? - 727
Tranny in the car now? - 727
Original Exterior color? - Not listed
Color now? - B5 Blue
Interior bucket seat color - Blue metallic
That's about all we know about this Mod Satellite.
---

Go back to the Mod Registry Info Page!
Last updated 6/29/98 6:11:18 AM EST