Mod Top #14
Update: This car has been bought by Zach Ogorek!


---

Wade Kahn in Idaho wants us to know this about his 1969 Barracuda Mod Top: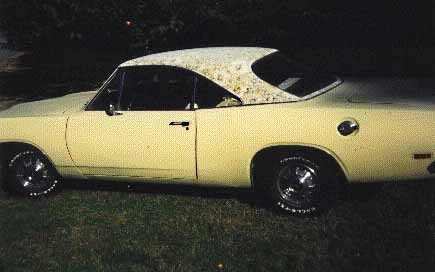 More info about the car:
Engine that came with the car orginally? - 340
Engine in the car now - 340
Tranny that came orginally? - 727
Tranny in the car now? - 727
Original Exterior color? - Sunfire Yellow
Color now? - Sunfire Yellow
Interior bucket seat color - F6P Yellow vinyl with mod inserts
Other stuff from Wade:

"THE CAR ORIGINALLY CAME WITH THE RECALLED ROAD WHEELS [Note from Julie: according to 'Barracuda and Challenger' by Paul Zazarine this was 'Chrysler's first attempt at a lightweight aluminum road wheel...Engineering tests indicated that the lug nuts would loosen during operation. Torquing them down resulted in cracking the aluminum-alloy center. Chrysler was determined to get the wheels off all cars to prevent any accidents...' So those recalled wheel are RARE!]"
---

Go back to the Mod Registry Info Page!
Last updated 10/13/03 9:32:35 AM Eastern Time