Mod Top #13
Tammie in Illinois has a 1969 Barracuda 318/904 Mod Top formerly owned by Al Evans.

This car was at the MoPar Nationals in Columbus, OH in August, 2006
and there was another Mod Top (from Ontario) parked nearby (check out the second picture below):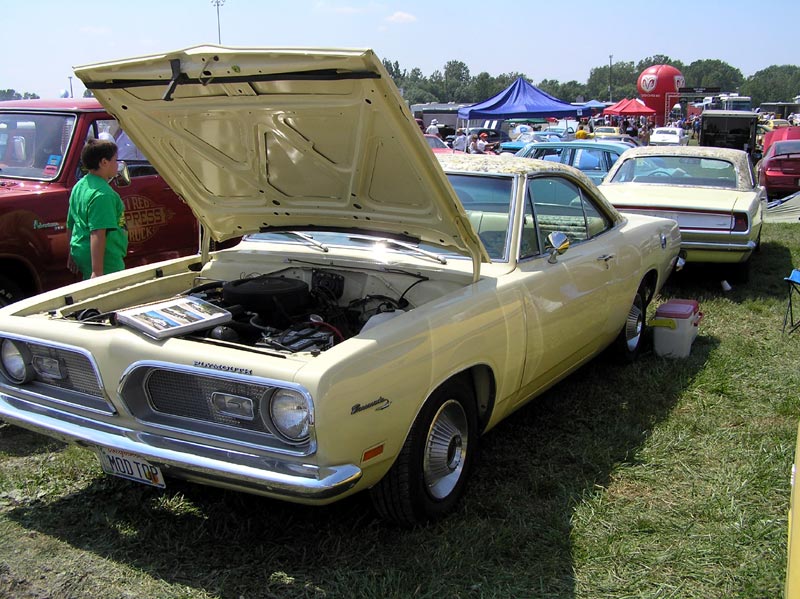 Here's the fender tag:
V1P V78 end
C55 G11 H51 M21 M31 R11
   Y3 F6P X9 A24 155817
E44 D31 BH23 F9B 18XXXX
V1P = Yellow floral vinyl roof; V78 = Delete accent stripe
C55 = Bucket seats; G11 = Tinted glass, all windows; H51 = Air conditioning with front heater; M21 = Drip Rail Mouldings; M31 = Body Belt Mouldings; R11 = Radio, AM Music Master
Y3 = Yellow Gold exterior paint; F6P = Yellow vinyl seats with yellow floral inserts; X9 = Black upper door frame paint; A24 = Build date of 10/24/68; 155817 = Vehicle Order Number
E44 = 318 2bbl engine (230hp); D31 = A904 3 speed Automatic Transmission (Torqueflite); BH = Barracuda High Price Class; 23 = 2 Door Hardtop; F9B = 318/1969/Built at Hamtramck, MI; 18XXXX = Sequence number.
More info about the car:
Engine that came with the car orginally? - 318
Engine in the car now - 318
Tranny that came orginally? - 904
Tranny in the car now? - auto
Original Exterior color? - Y3 Yellow Gold
Color now? - Yellow
Interior bucket seat color - F6P Yellow vinyl with mod inserts
Former owner Al Evans has this to say about his former Mod Top:

"My mod top was found in a wrecking yard, just because the front left fender was crunched ! A guy purchased it and used it for a storage bin and his fishing vehicle . I found it sitting in his yard and drove it home.

There is an additional tag under the main one [fender tag] with ...15...on it.

I also have the build sheet, with a big "2P" in black written on it."
---

Go back to the Mod Registry Info Page!
Last updated 8/18/2006 12:50:05 PM