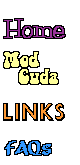 Mod Top #125
Tim Armstrong in Kentucky has an F6 383/727 numbers matching Mod (Floral) Top Super Bee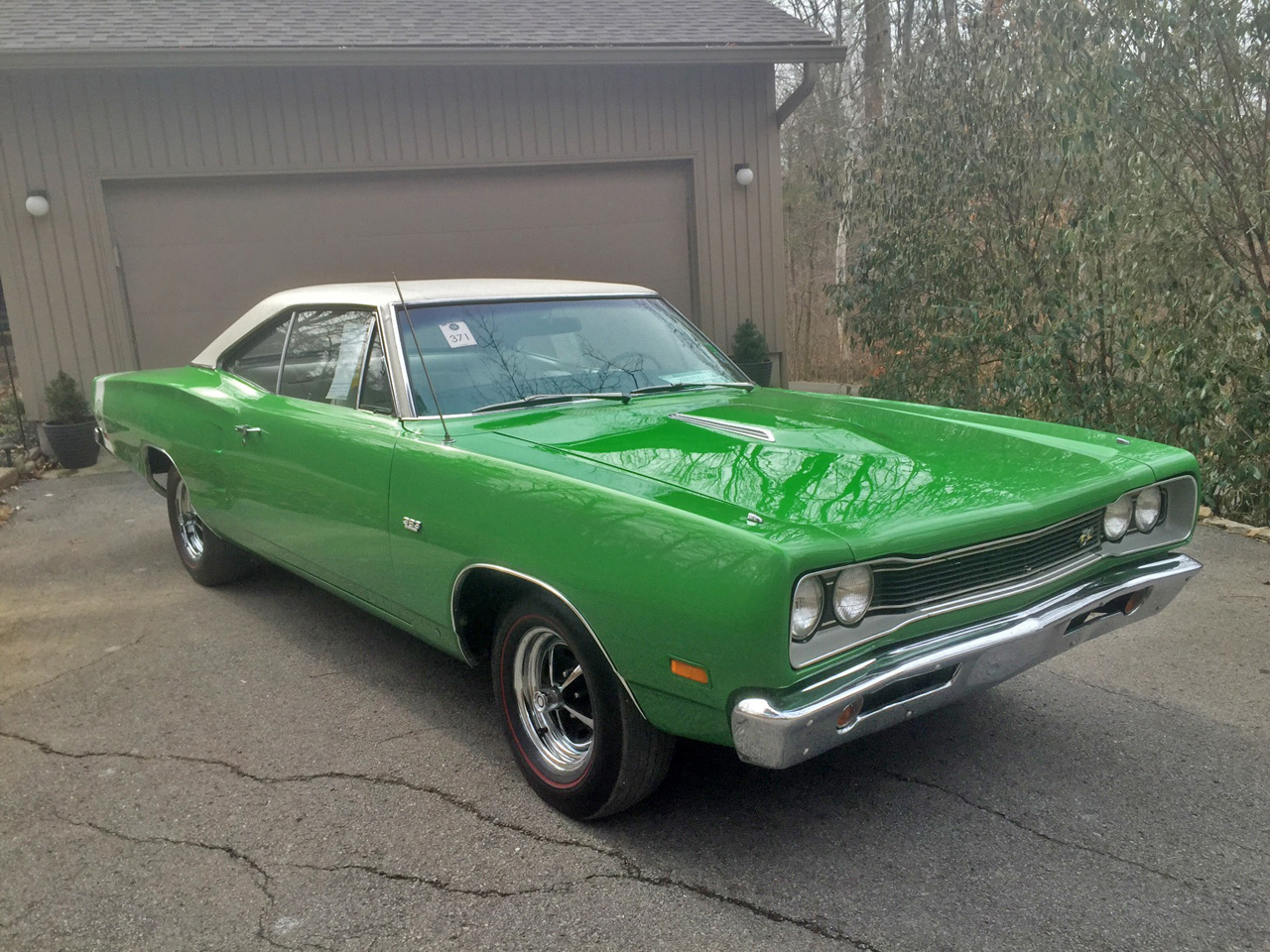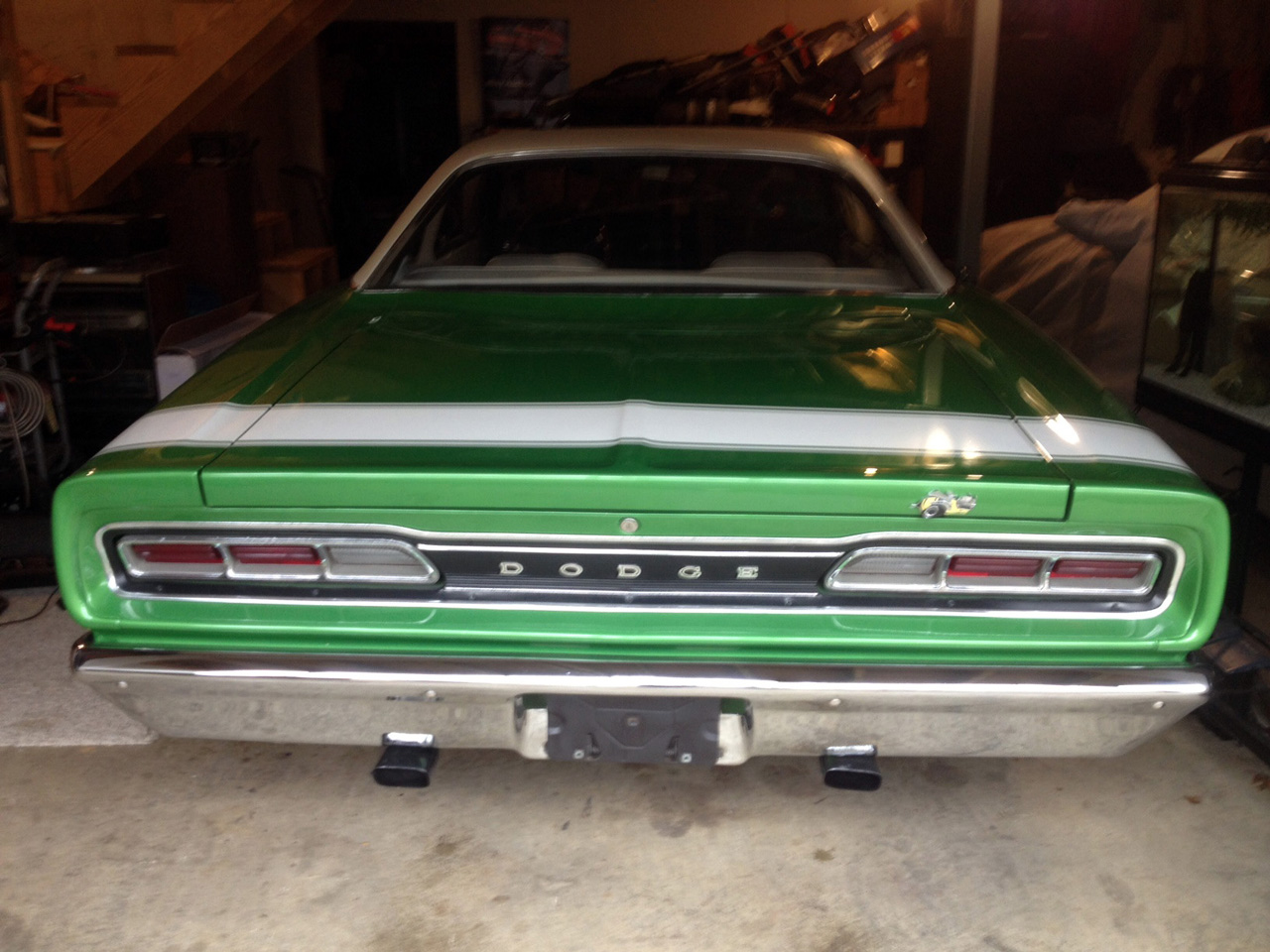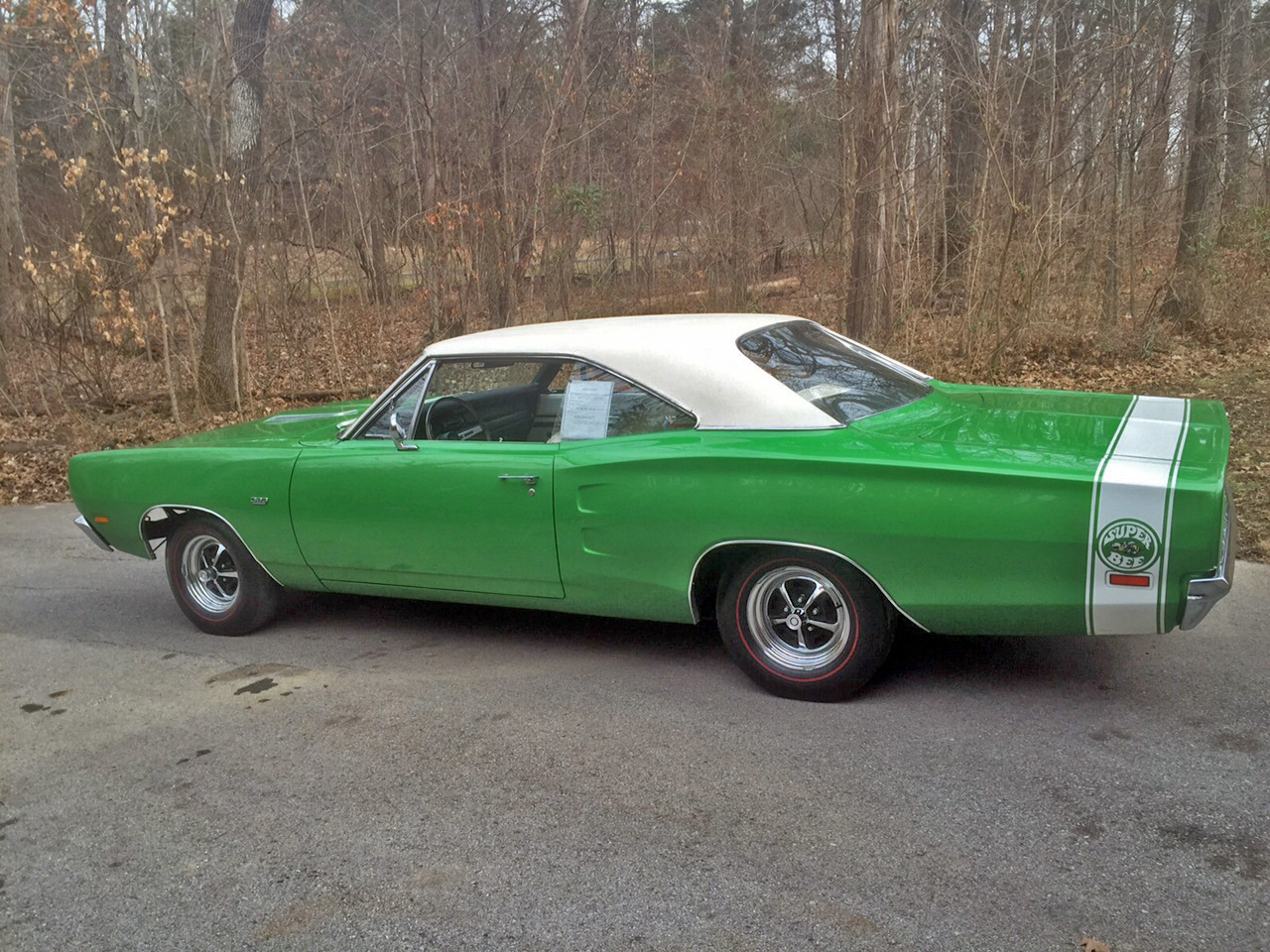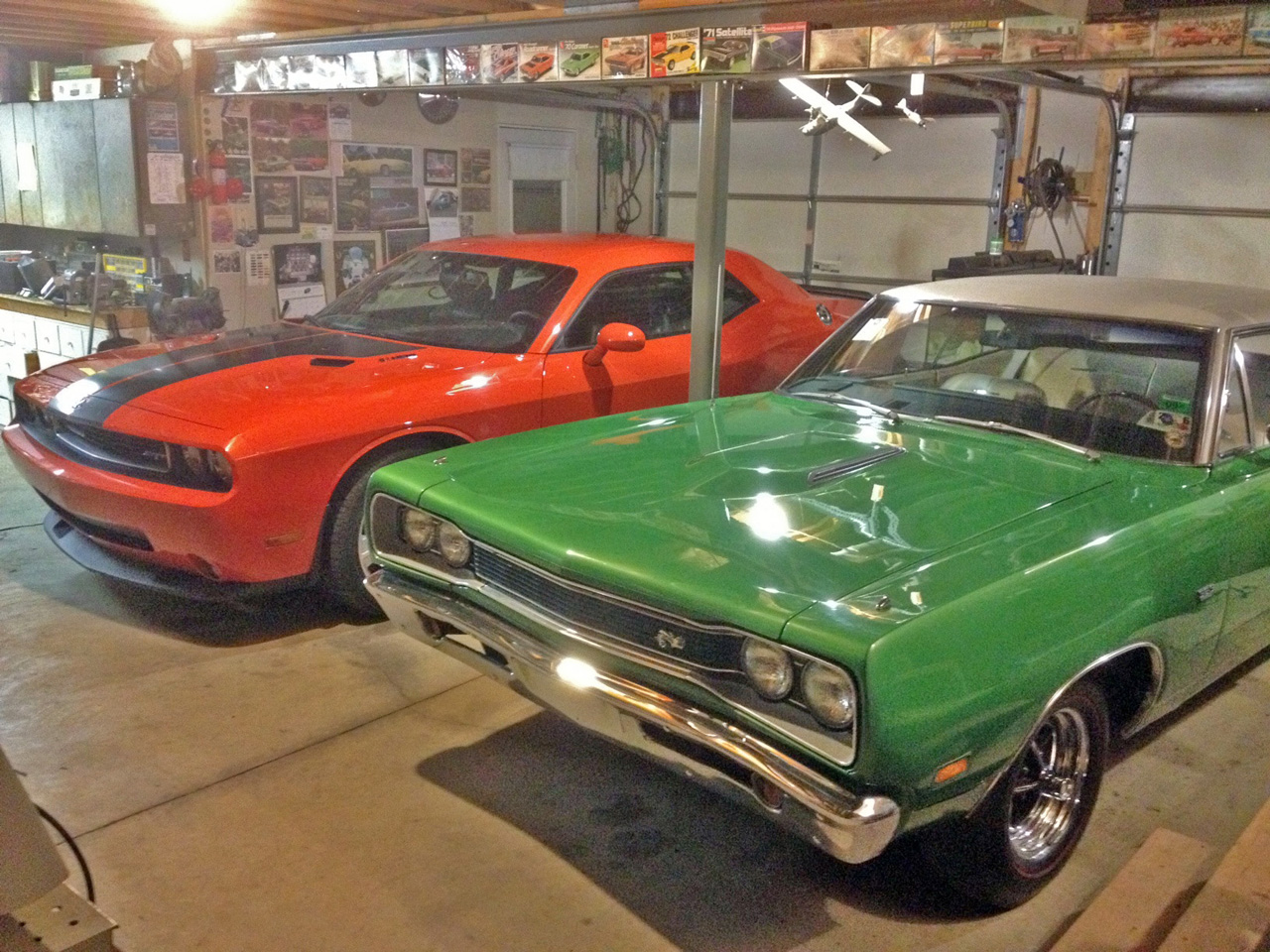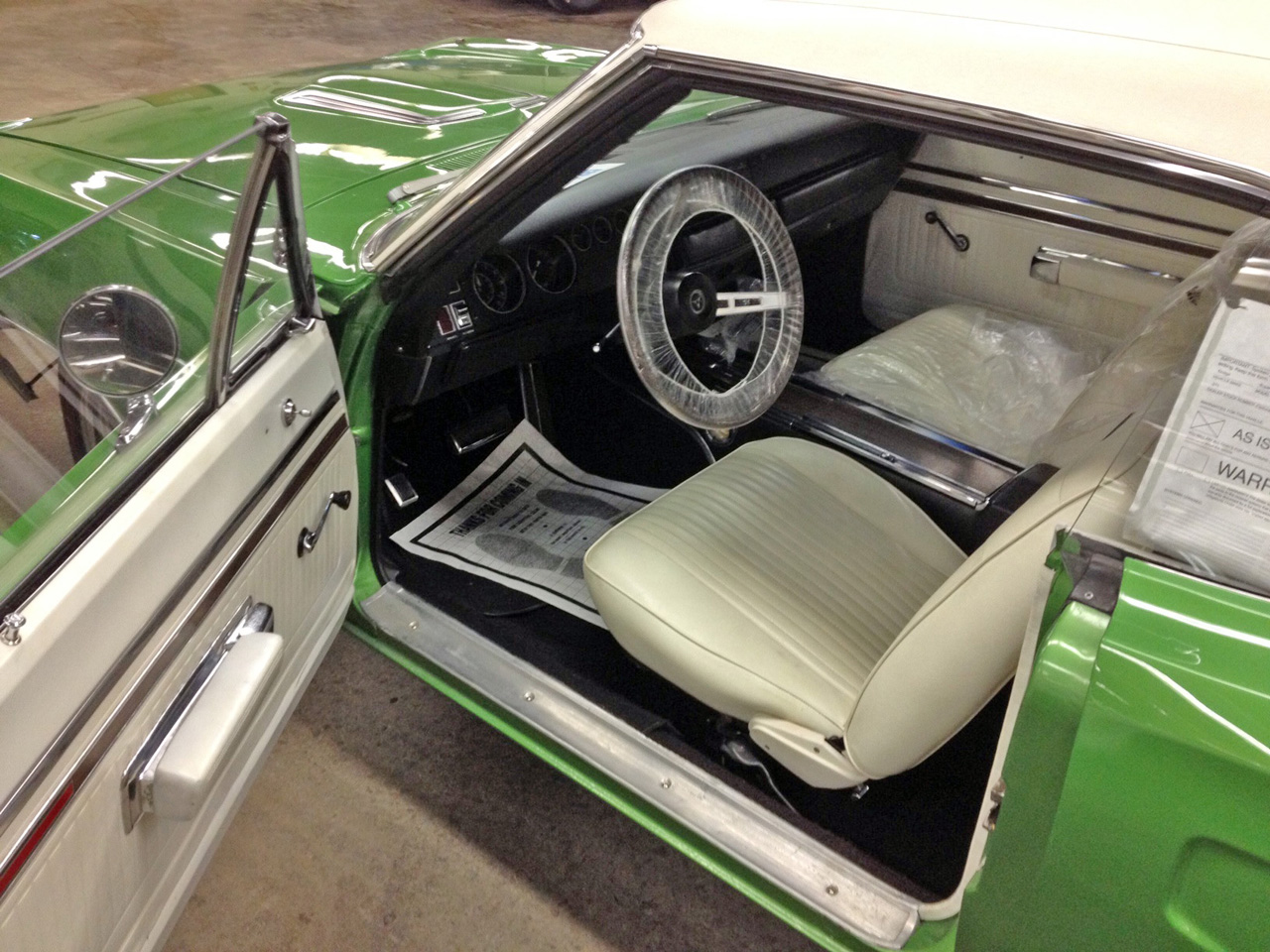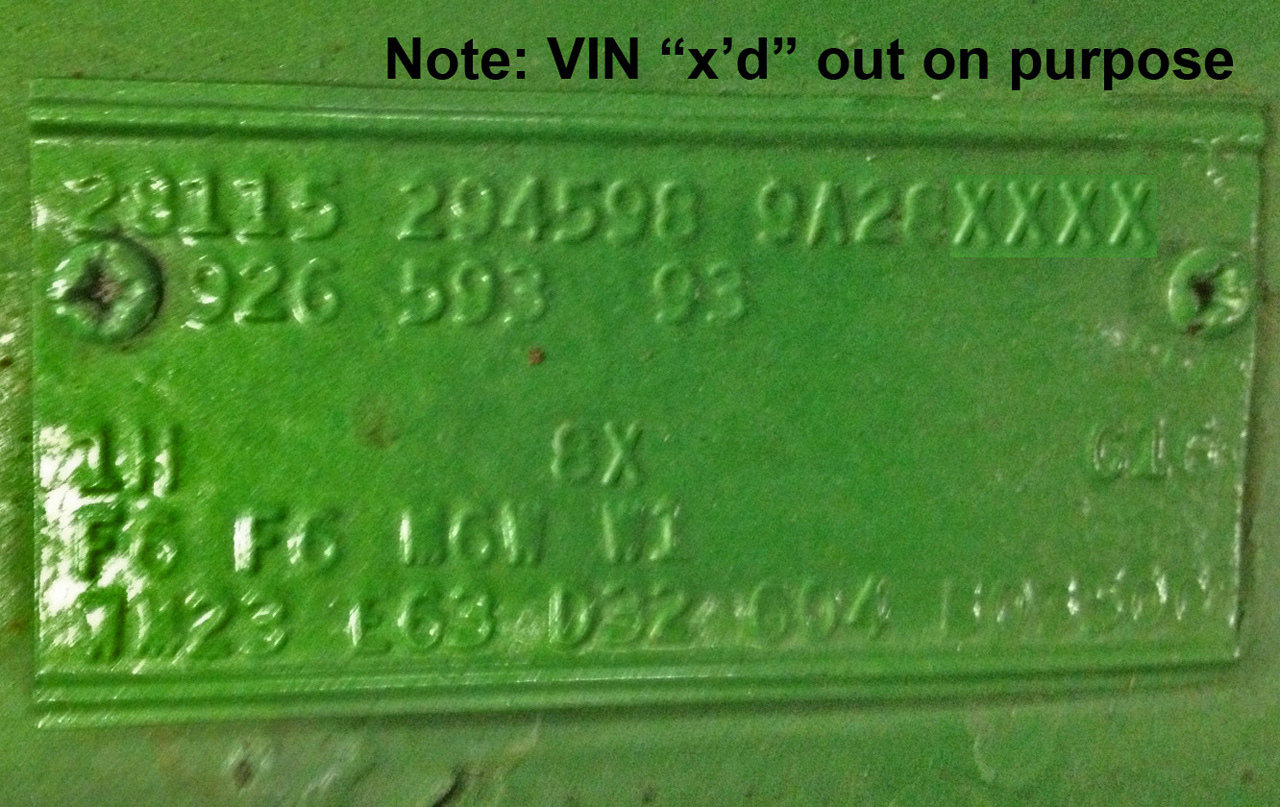 Fender tag:

28115  294598  9A28XXXX
    926  593    93

1H          8X          C16
F6  F6  M6W  W1
WM23  E63  D32  604  B03500
Aaah, a good ol' Lynch Road tag...hmmm...let's see...(with thanks to Andy's 440 website)

28115 = 28 - Gate sequence number, 115 - Base sequence number; 294598 = Line sequence number; 9A28XXXX = 1969, Lynch Road Assy Plant + VIN (last digits "x'd" out)

926 = 383 4-barrel, automatic transmission, heater, 335hp, Orange; 593 = 3.23 open rear diff, 8 3/4, 11" rear & front drums ; 93 = A727 Automatic Transmission, 383-4BBL & 440 HP engines

1H = Dodge Floral Top; 8X = Sport stripe, transverse tape, black; C16 = console between seats w/woodgrain panel

F6 = Bright Green Metallic exterior paint (listed twice, because this car is not two-tone); M6W = Front seat: Medium, vinyl bucket seats, white; W1 = White upper door frame paint;

WM = Dodge, Medium Class ; 23 = 2 door hardtop; E63 = 383 4 barrel (335hp) engine; D32 = A727 3 speed auto transmission; 604 = built on 06/04/69 (very late in model year); B03500 = order number. They start at 100000, and all the cars built on that line get a number.

More info about the car:
Engine that came with the car orginally? - 383
Engine in the car now - 383 numbers matching
Tranny that came orginally? - 727
Tranny in the car now? - 727 numbers matching
Original Exterior color? - F6 Bright Green Metallic
Interior bucket seat color - M6W white buckets (Medium Grade, Vinyl Bucket Seats, White)
More from Tim on this groovy 'Bee:

I'm a long term Mopar collector and came across this 69 Super Bee not knowing at first it's a Mod Top car. It presently has a white vinyl top on it. After looking at the fender tag I was puzzled with the H code instead of an expected W for white top. I wasn't familiar what the H stood for until I looked it up and though wow it's a Mod Top! I bought the car. It is in great condition and drives very well. It is fully documented with the original fender tag and broadcast sheet. It also still retains the numbers matching engine and transmission. What a car! I hope to find some Dodge floral top material to to have the correct vinyl top. Any leads on nos material appreciated. There is very little info out there on Mod Top Bees and production was very low. This car is likely one of the few left in nice condition. Thanks for the registry!
---

Go back to the Mod Registry Info Page!
Page last updated: 2/11/2015 11:58:53 AM