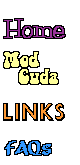 Mod Top #114
Gerry Samp in British Columbia, Canada has a 1969 X9 Black Velvet Mod Top Barracuda

(He also has a Y2 Sunfire Yellow Mod Top)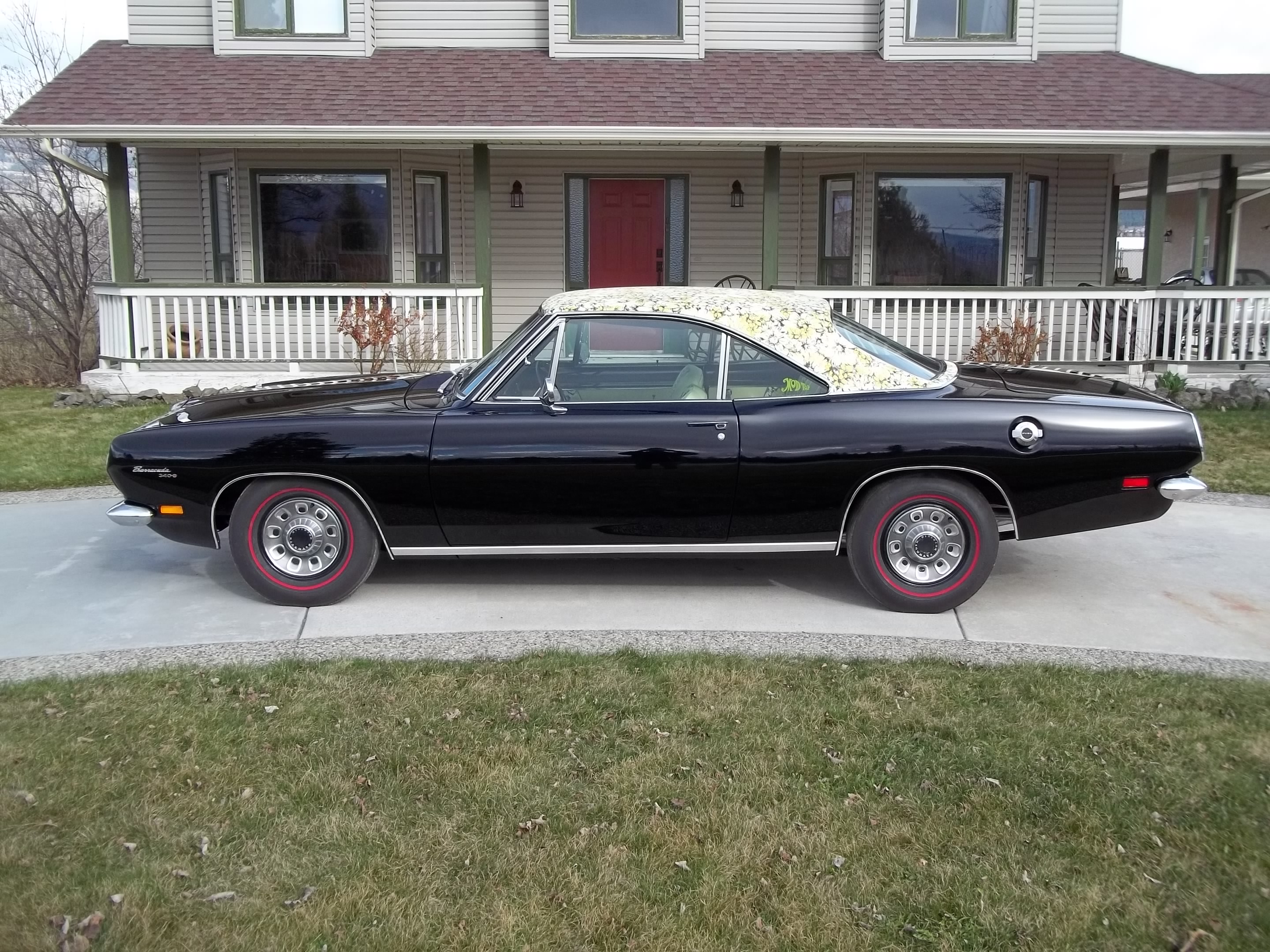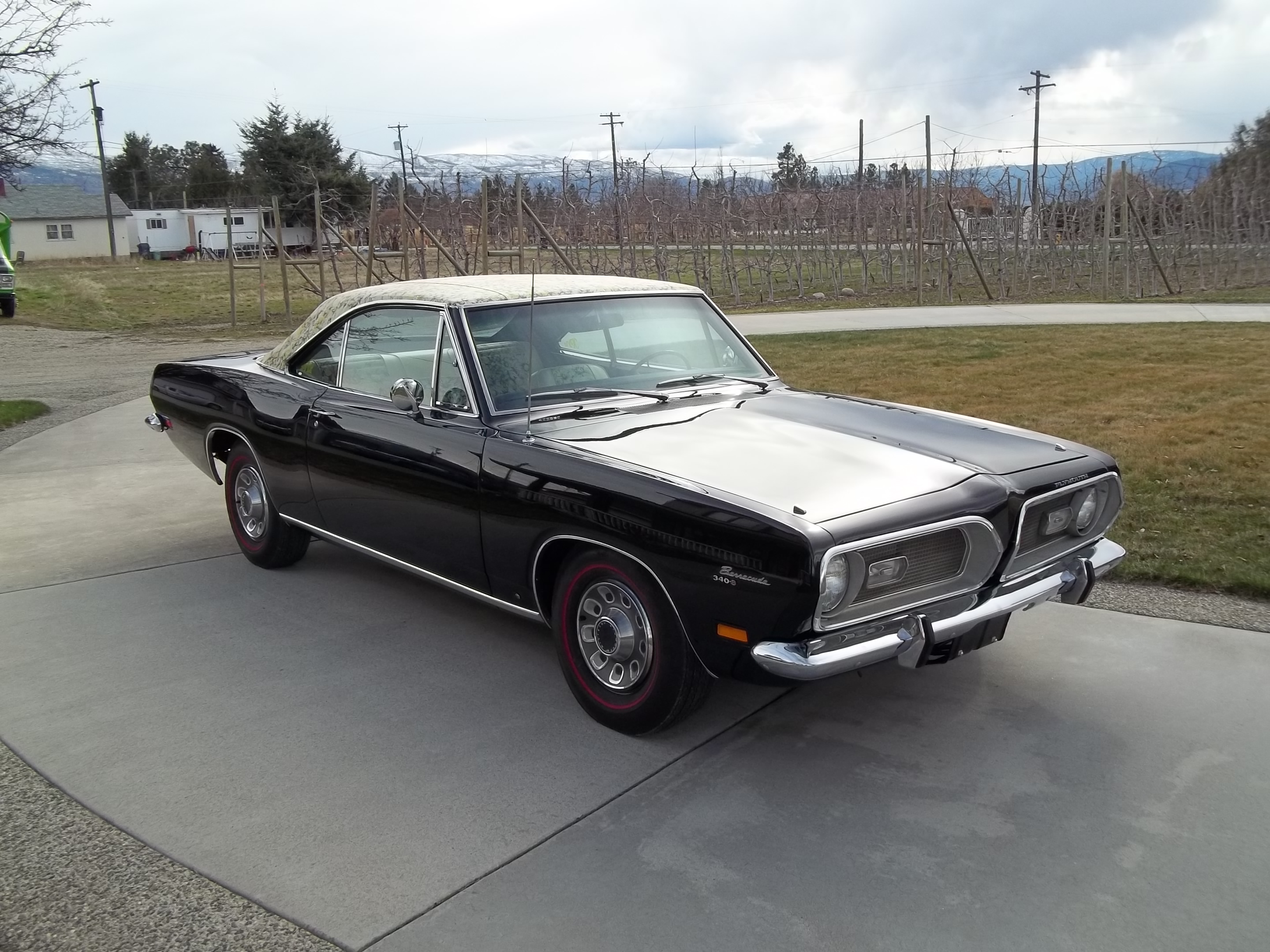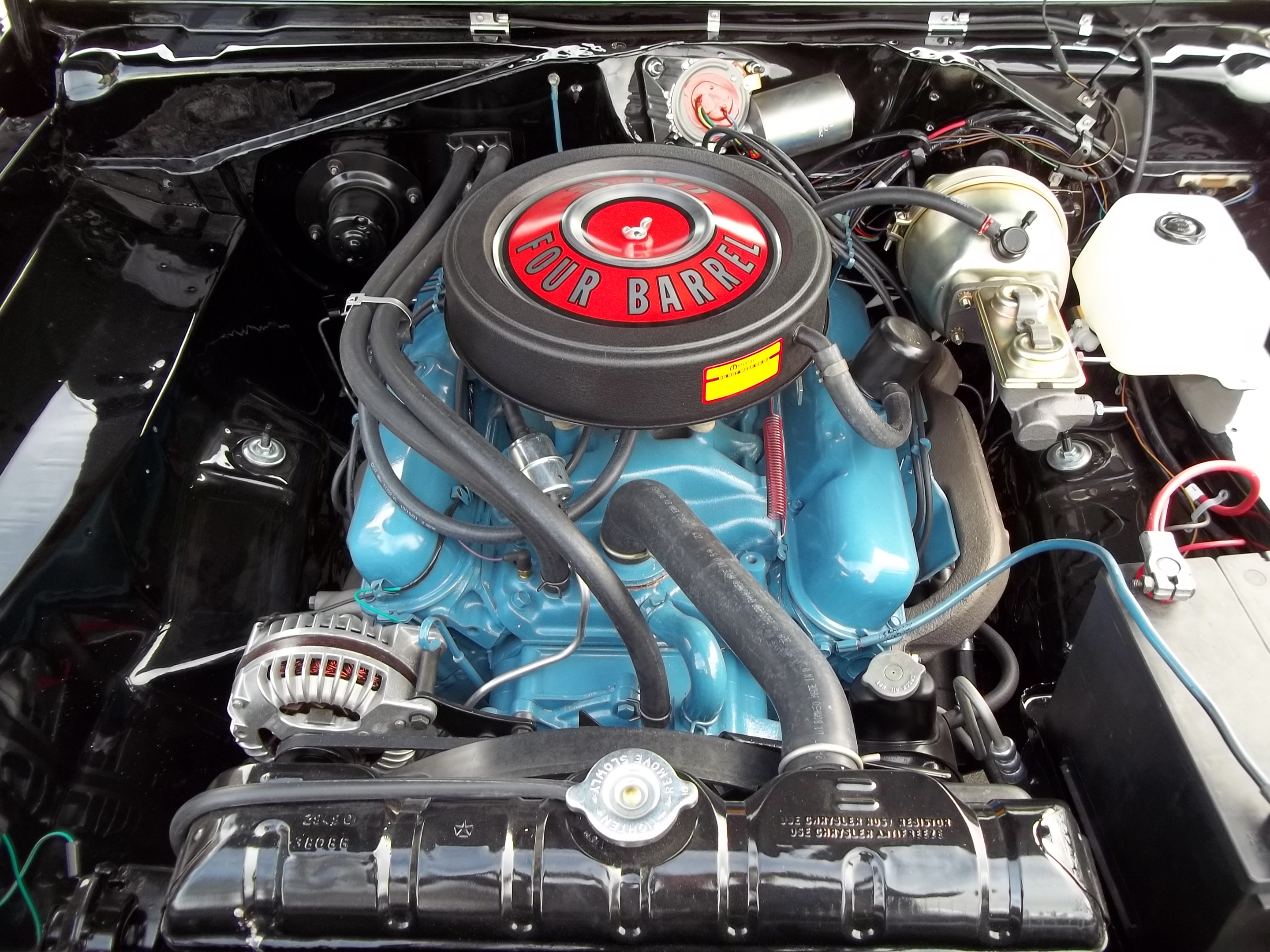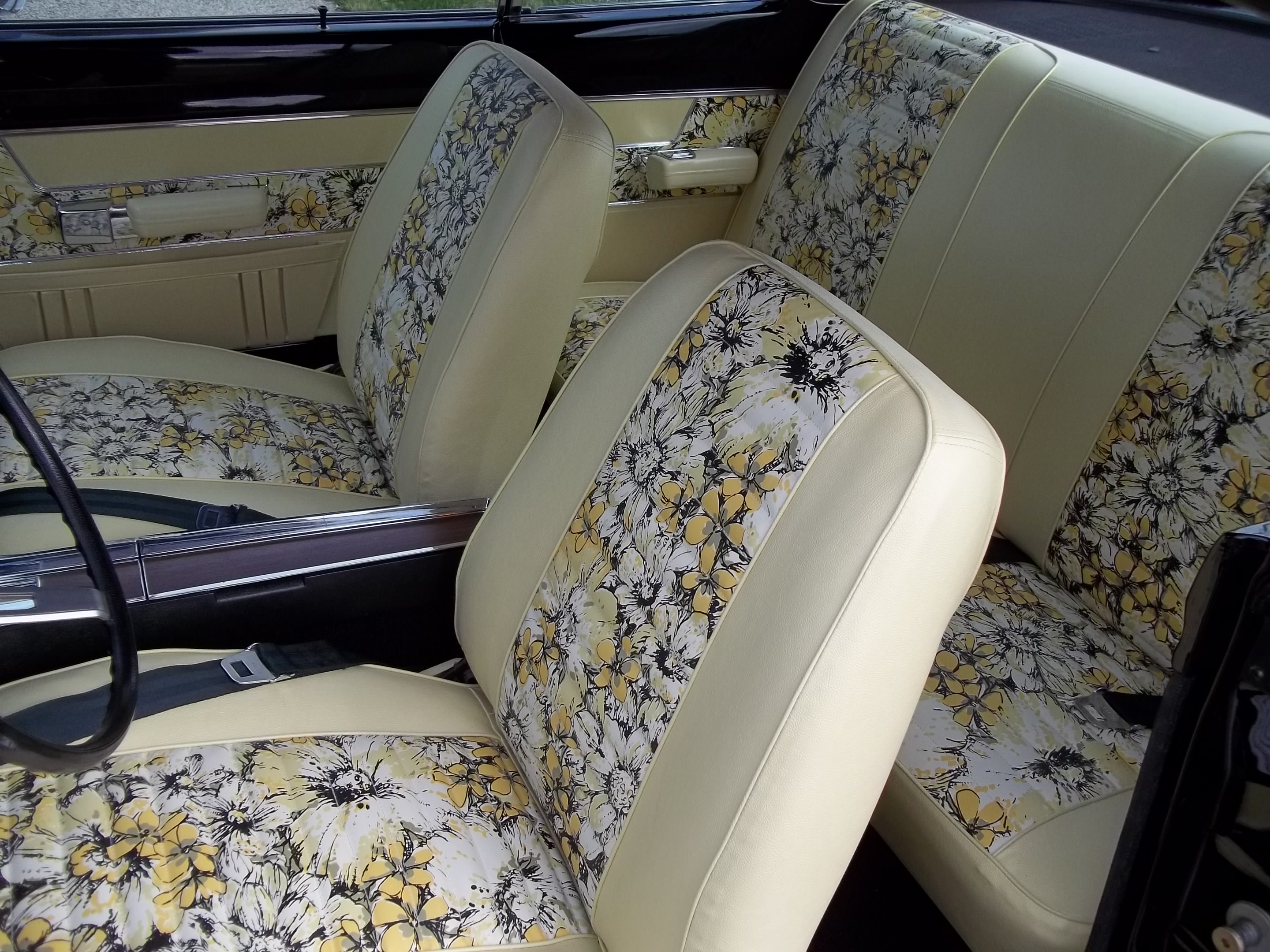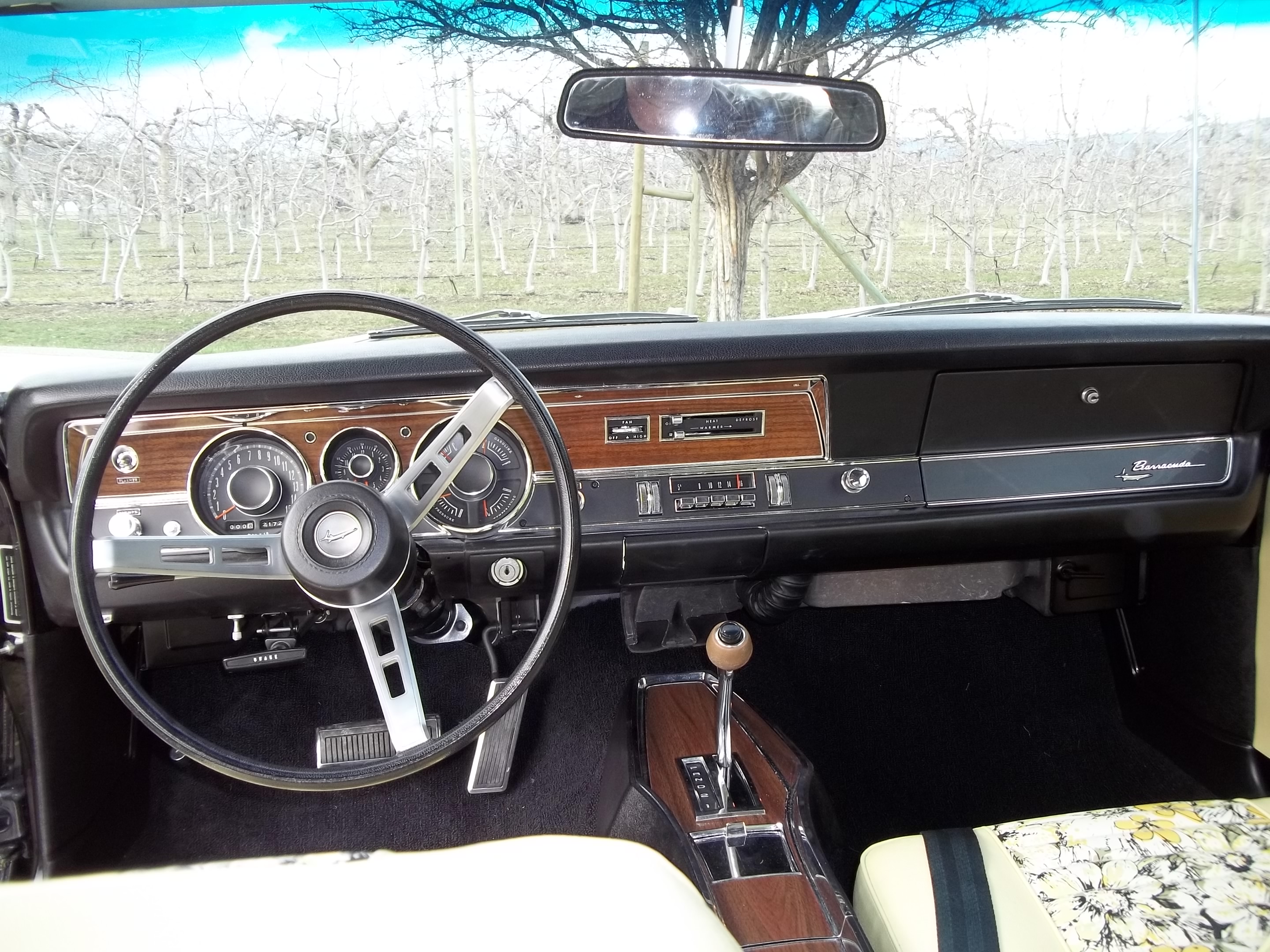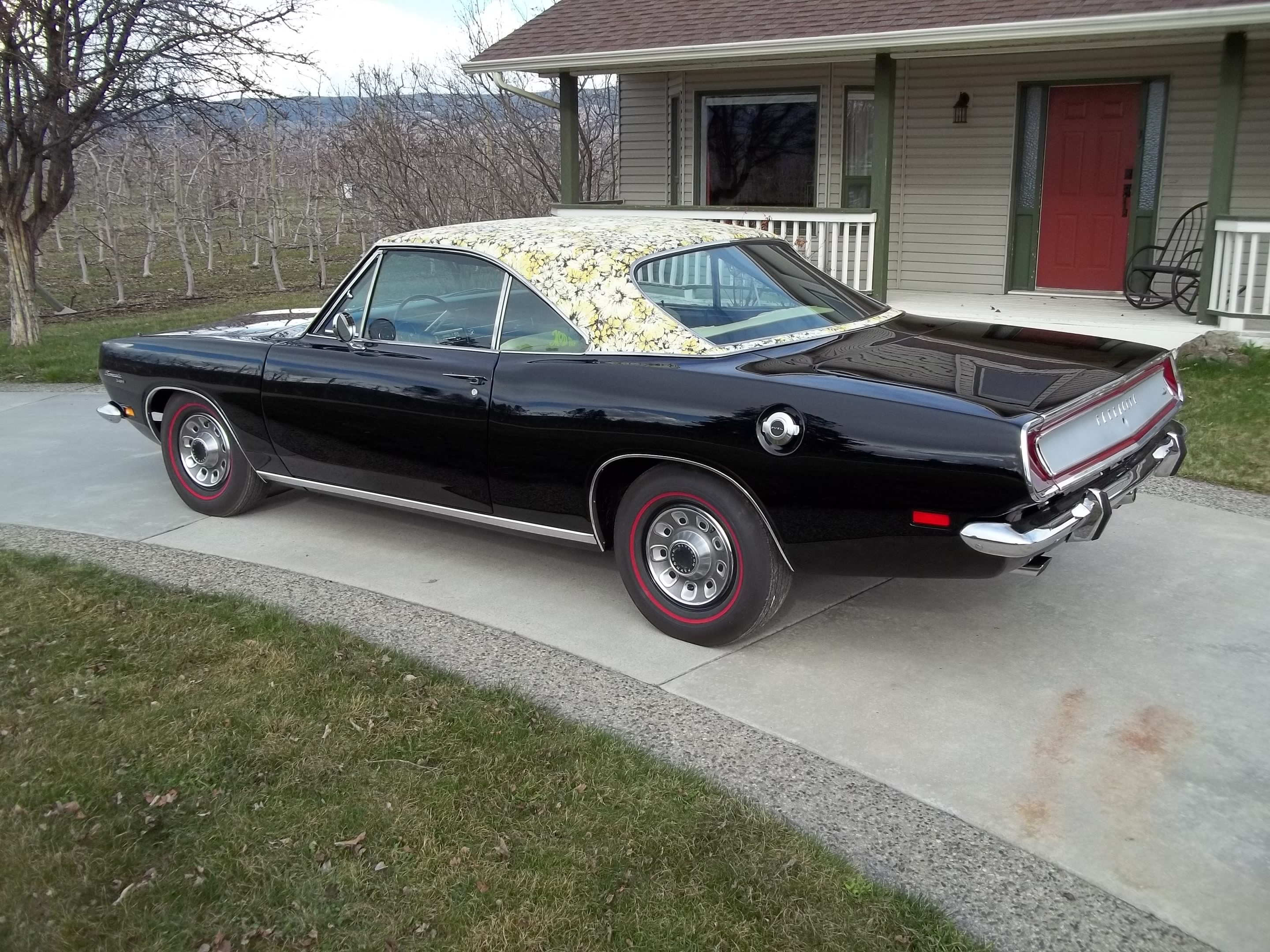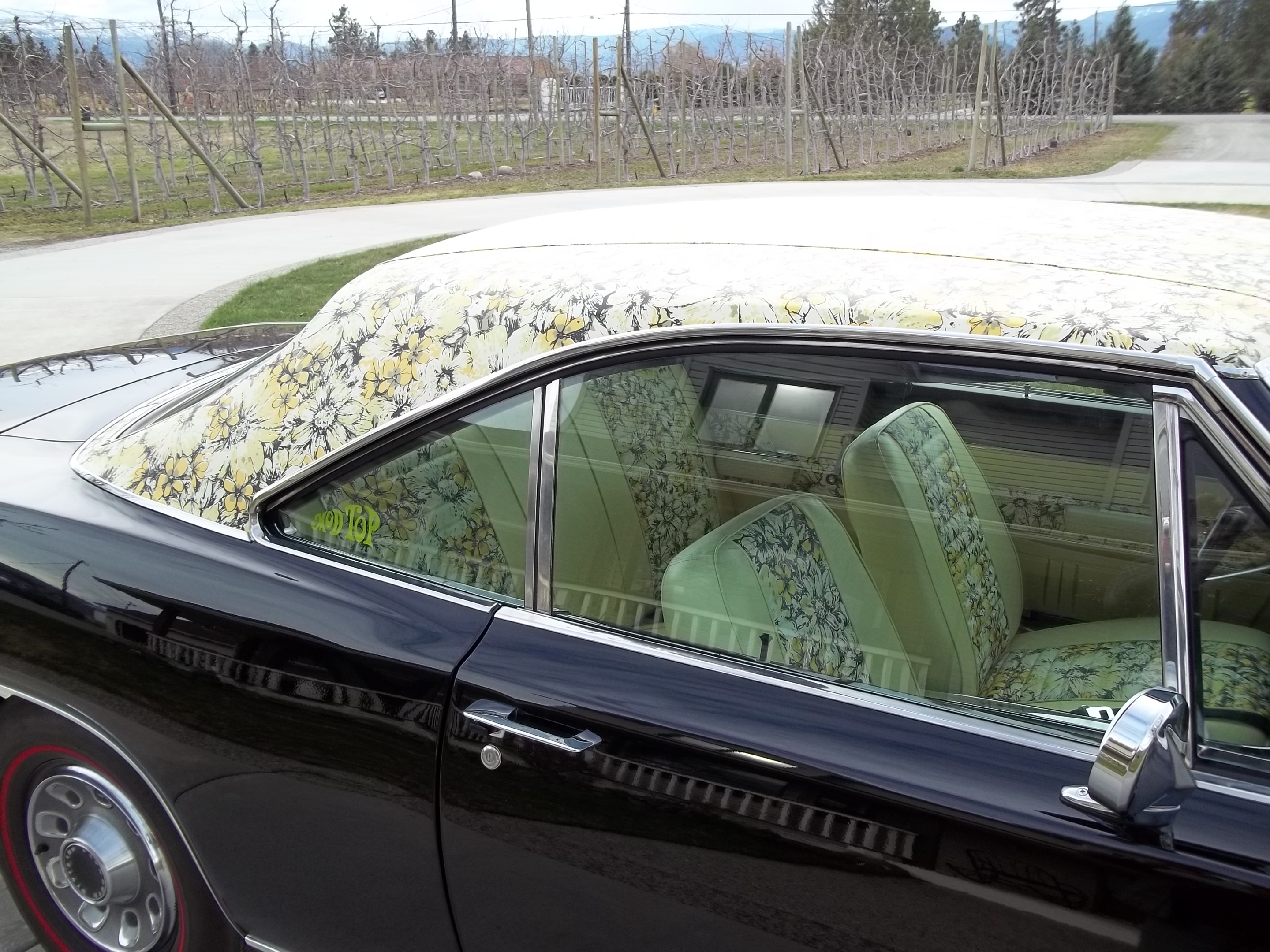 More info about the car:
Engine that came with the car orginally? - 340
Engine in the car now - 340
Tranny that came orginally? - 727 Auto
Tranny in the car now? - 727 Auto
Original Exterior color? - X9 Black Velvet
Interior bucket seat color - F6P Yellow vinyl bucket seats with mod (floral) inserts
Fender tag:

M25 M31 R11 V1P V78
G11 G31 G33 J25 L31 M21
A01 A06 A62 B51 C16 C55
X9 F6P X9 919 067470
E55 D32 BH23 P9B 144XXX
M25 = Body Sill Moldings; M31 = Body Belt Moldings; R11 = AM Radio, Music Master; V1P = Yellow floral vinyl roof; V78 = Delete accent stripe

G11 = Tinted Glass (all); G31 = Passenger's side Manual Standard Mirror; G33 = Driver's side Remote Racing Mirror; J25 = 3 Speed Wipers; L31 = Hood/Fender Mounted Turn Signals; M21 = Roof drip rail moldings

A01 = Light package (glove box lamp, etc); A06 = Sport Group (Sport steering wheel, Rallye dash (150mph speedo, woodgrain trim on instrument panel, trip odo)); A62 = Rallye instrument cluster; B51 = Power Brakes; C16 = Console with Woodgrain; C55 = Bucket Seats;

X9 = Black Velvet exterior paint; F6P = Yellow vinyl seats with yellow and black floral inserts (mod interior), also yellow and black floral inserts on the door panels; X9 = black Interior paint (console, instrument panel, carpet); 919 = September 19, 1968 build date; 067470 = order number

E55 = 340 engine (275hp); D32 = HD 727-A Torqueflite; BH = Barracuda High Price Class; 23 = 2 Door Hardtop; P9B = 340 engine/1969 model year/Built at Hamtramck, MI; 144XXX = Sequence number.

More stuff about this Black Beauty:

"Wade Kahn made mention of a Black mod top his dad had in his "other Info" description of his Modtop. I knew that the Black would be rare and sharp looking. I located Wade and his Dad and struck a deal on the Car."


---

Go back to the Mod Registry Info Page!
Page last updated: 1/11/2013 2:05:13 PM