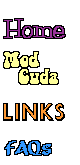 Mod Top #107
This car (previously David Elder's in Georgia) is a 1969 Barracuda F5 Limelight Metallic Mod Top
and was sold on Ebay on 1/18/15 for $5699

Check out the pictures: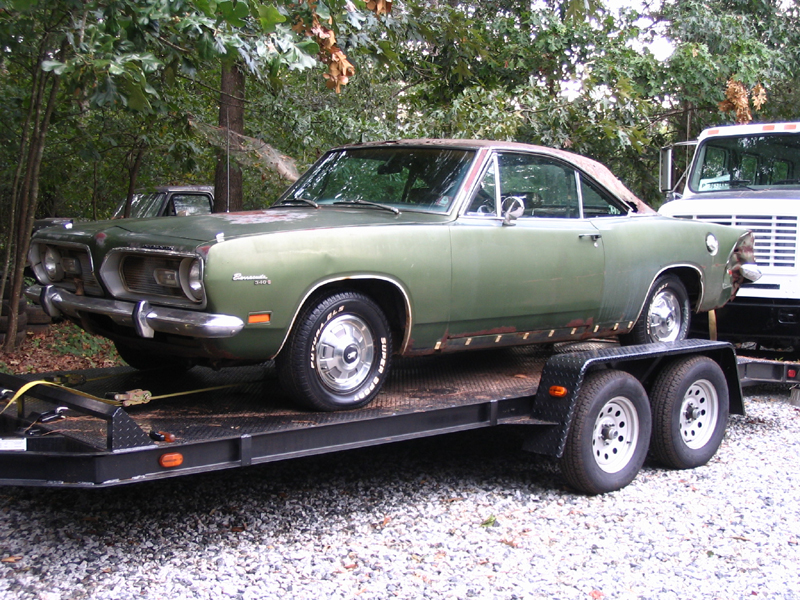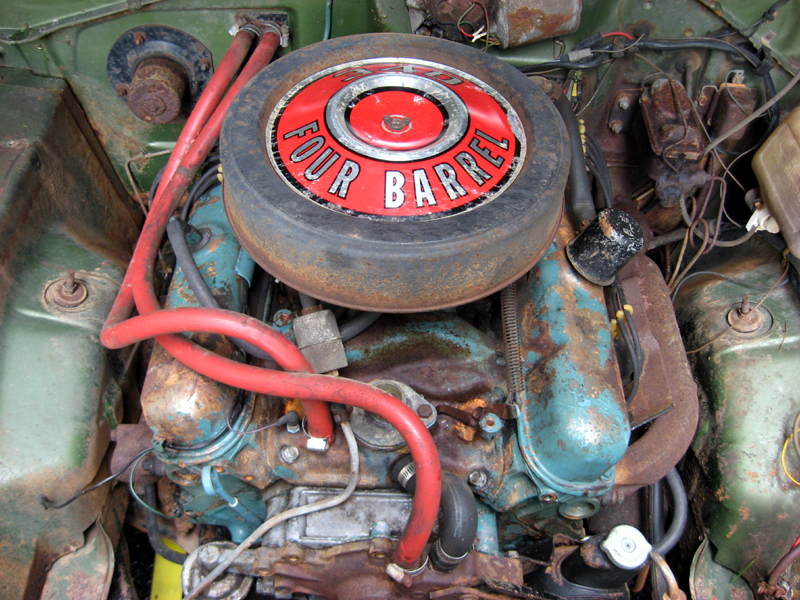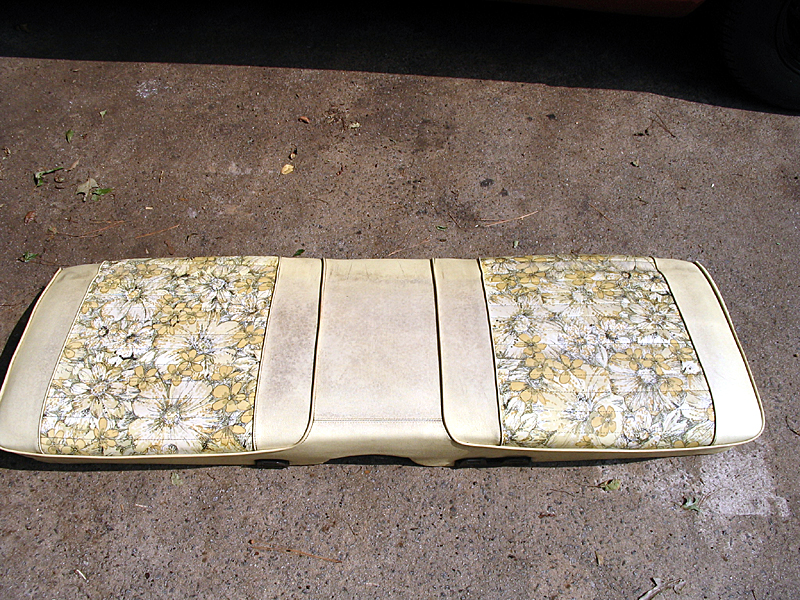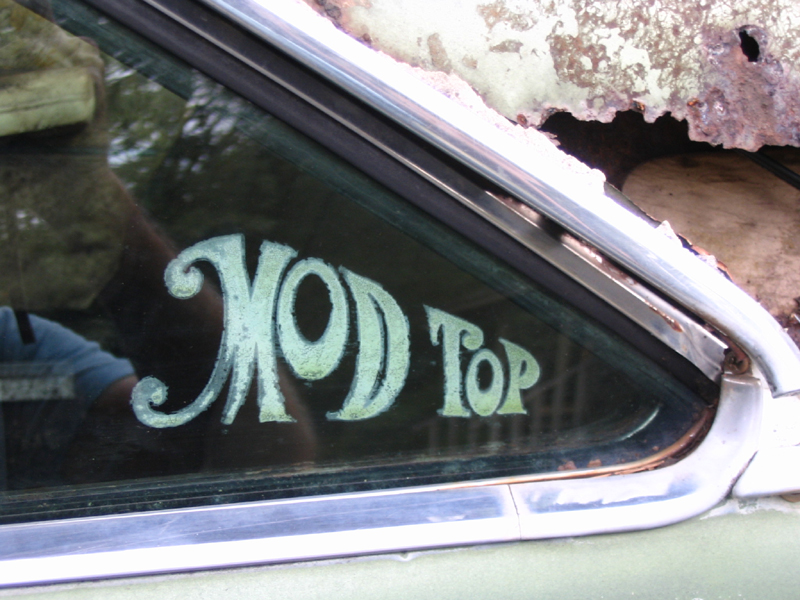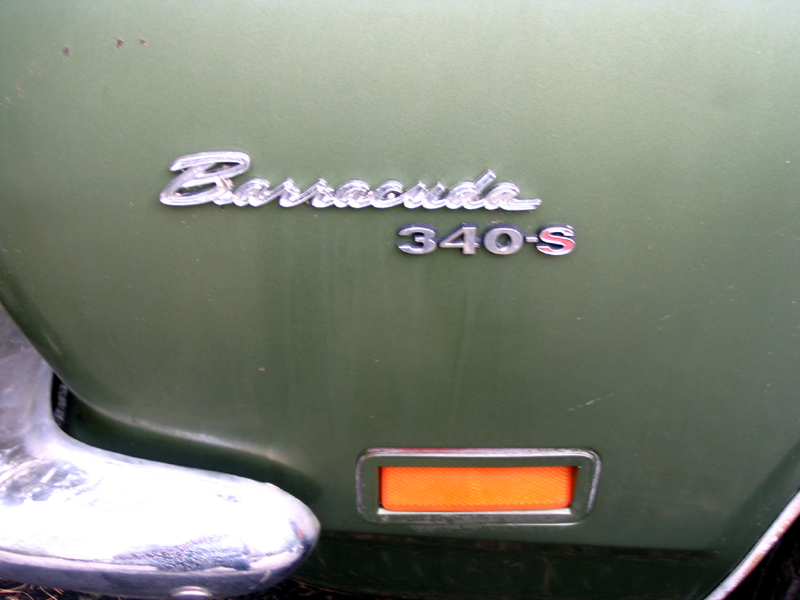 More info about the car:
Original Engine? - 340
Current Engine? - 340
Original Transmission? - A-727
Current Transmission? - A-727
Original Exterior color? - F5 Limelight Metallic
Interior bucket seat color - F6P Yellow vinyl bucket seats with mod (floral) inserts
Fender tag:


completely rusted away

Other good stuff about this Mod Top Barracuda:


"This 69 Barracuda was rescued from a pine forest in North Georgia in 2007. It has been parked in what was a field in approximately 1978 or 1979. I bought the car from the son of the second or third owner. The car was covered in pine straw which is very acidic and this caused major rust issues to the roof. It also destroyed the fender tag. The car is 99% stock and 99% complete and will be saved. All of the factory correct parts are in place. The 340 is locked up but hopefully it can be rebuilt. The frame rails, suspension, and the like are complete and easily fixed. This car is very well optioned with the full 340-S package, a console shifted 727, a factory tach and a Sure Grip 3.23:1 8.75" rearend. Making the car even more rare is the color combination. It has factory F5 Limelight Green on the outside but it has the FP6 Yellow Vinyl Mod Interior with black upper door frame, dash, console, carpet, etc."

More here: http://www.valiantracing.com/


---
Here's the (groovy) description on Ebay in January 2015 by David Elder who was selling it

1969 Plymouth Barracuda
340 Formula S
Mod Top and Mod Interior

It's groovy, it's hip, you dig? This outta sight ride isn't for your old man. Your Skirt will be jazzed when you are bookin' through the backroads in this Cuda.

Enough of that... There is no way to make this short; so if you don't like to read, have a look at the pictures.

Picture this. It is 1969. You walk into Chamblee Chrysler-Plymouth in Atlanta. Sure, you could order any number of cool cars. The options were endless. Think of it. You could check off any number of fun engines on the option sheet. You could have a 383 or a 440 6pak or even a 426 Street Hemi. But your mindset is a bit different. Maybe your head is a little cloudy. That seems likely about this time. Maybe it's just that last week you were driving the Mustang you hope to trade in when you got absolutely blown off the road by some dude in a Formula S 340 Barracuda. To add insult to injury, when you both pulled into the Varsity, he told you it was his mom's new car! Whatever the case may be, there you are in the salesman's office. Now that dude's car was cool, but you are different. You want that powerful 340 CID small block (which must be way underrated at 275 HP judging by how easily that guy handed you your ass the other night). You don't want the car somebody's mom would buy. You want the car that Janis Joplin or the Dead would envy. That is when the salesman shows you the new-for-69 Mod Top and interior packages. At that point you are sold. And after all, if you can order it in time, you and your buddies can head straight to that big festival coming up in New York all your friends are talking about.

That must be roughly how this car started life. Fast forward past the early times of this car to 1976 or 1977. It is now seven or eight years old, and it has seen some action. You are at a bar in Covington, the Pabst Blue Ribbon sign swinging in the breeze out front and a drunken game of poker taking place in the back. You've got this. You lay down your cards, Flush. Something happens. That big dude across the table gives you a grin. He plops down his cards, laughing. Four of a Kind.

The bar owner covers your debt to the big guy, because between the long hair and the peace symbol necklace, he is about to hand you your ass worse than that guy in the Cuda did in 1969. But there is a price - you lose your beloved Mod Top Cuda. Now with around 90,000 miles the bar owner has a new toy to show off to his buddies on the back roads around Newton County. (This part of the story I know to be basically true - I bought the car from the son deceased bar owner in 2007. I even have the Pabst sign if you want it - for an additional fee of course).

Still reading? You should be...

So, how did a romp-em stomp-em symbol of the counter culture like this come to be the rusted heap it is today? Apparently, taking the title of a car from some sap on a bad game of poker was a common occurrence in Covington, GA in the 70s. When the bar owner kicked off, his nearly three acres of property was covered with hundreds of the fruits of other's bad decisions over the years. It appeared that when one car had a problem, the next car was already waiting in the wings. And so it went with the Mod Top Cuda. When it came to pass that whatever failure (or the 100% bald tires - probably due to the 340) took the little Cuda out of service, it was parked in a field along side several other A-body mopars. For the Cuda, this was about 1978. And there it sat. Sat in one place through Billy Beer, Reaganomics, "No New Taxes", The Lewinsky episode, the Twin Towers and Dubya.

It wasn't until the aged bar owner cashed in his chips that the mess he created could be cleaned up. As previously mentioned, quite a few cars had accumulated on his property. I got a call from a buddy in 2007, "You need to come look at these cars." the voice on my flip phone insisted. But I was way busy with work and the impending doom of my career vis a vis the burst of the housing bubble (which really sucked bad in Georgia). A month later, another call, I flip open the phone - "Dave! You really need to come down here and look at these cars!" Ok, Ok, rolling that way... So we head down there and pull up at this slice of 60s-ranch-house-living turned junkyard. My business partner is with me, he is not a car guy, per se. So when we pile out of the truck and walk around, I am looking at a 64 V-200 Valiant 4dr. (Slant six, blue on blue, of course) when I hear him say Mod Top. Now, instantly, two thoughts nearly split my head in half. The first one is, "Why the hell is he saying Mod Top?" He doesn't know what a Mod Top is. The second thought is, "That green 69 Barracuda sitting in the woods over there must be cooler than I initially gave it credit for..." So I run over to the Cuda. Before I can even focus on much else, I see the front Fender - 340-S. Holy &*!%! Really. Now on to the top, there is no top, only pine straw. But sure enough, upon closer inspection I start to see Flowers! Flowers on the seats, flowers on the door panels, flowers on the roof! And the all important decals in the side windows. But then my brain, which is going into overload, nearly explodes once more, what about those 340 emblems on the fenders? Getting the hood unstuck is not a quick task, it takes some wiggling, shaking and prying. Finally it pops up. I fling it open the rest of the way. There it is - complete from the pie pan on down. Amazing. I don't have this kind of luck. The next thing I did was check for the fender tag. After carefully peeling back layers of pine needles, disappointment. Only a little pile of flaky rust where the tag should be.

A deal was struck, trees were cut down, cars were moved out of the way. The Mod Top was dragged through the soil on four flat, bald bias-ply tires. After a couple of feet, the shifter allowed me to select neutral. All four wheels broke loose and began to roll. The car moves for the first time since 1978 and is loaded onto the trailer and headed home.

Talk about the dirtiest car anyone ever bought. This sucker was nasty. I have spent many many hours cleaning this car. That is mostly what I have done to it. cleaned and cleaned and cleaned some more. Cleaned the interior, it was mostly black. Cleaned under the hood, it was entirely black. Cleaned the outside. Some of the paint would probably shine pretty nice with some wax.

Then came a call a couple of years back. The Carlisle All Chrysler Nationals were having a special, indoor display with Mod Top equipped Mopars as the featured Marque. So, we did a little prep work on the car for its big, national-level show debut. I removed the red heater hoses, and put on some black ones that look more correct. I put on some corbin clamps too,since that is what Ma Mopar intended. I had a dead green-cap battery laying around the shop, so I stuck that in there. I had a set of reproduction Firestone Wide Oval Redline tires that had gotten to be old and not safe for driving around on. The bald bias ply tires were removed from the factory wheels on the Mod Top and the wheels were media blasted. I painted the wheels with spray bomb epoxy primer and gloss black and we mounted up the old Coker Redlines once more. Neither the tires nor the wheels are safe for highway use, but they look extra cool. The factory hub caps were re-installed. Since we were headed for a room full of ultra nice, restored cars that cost more than some middle-class homes it was decided that some way to stop the car would be handy, so we got the parking brake working. The car was a hit at the show. I have shown up with some odd-ball cars at shows before, but this car was very well received. Some of the other Mod Top owners told me they thought it stole the show. Just do a Google Image Search for 'Carlisle Mod Top Barracuda'. There are several photos that other people took of this car that show up on the first page of the results.

Stay with me here,we are near the end...
That is pretty much where we are at.

The car needs a lot of work, but it is as rare as they get. Most green Mod Top cars had the green Mod Interior, which means green vinyl and green upper door frames, carpet, console, etc... If you ordered your Mod Top in yellow, then you got yellow vinyl with the flower inserts, black upper door frames, carpet, console and so on. This car is F5 green, and has always been green but it has the yellow interior with black metal and carpet.

If they only made 325 Hardtop Barracudas with 340s and they only made 937 Mod Top Barracudas, they certainly didn't make many 340 Mod Top Barracudas. Now, when you factor in the rarity of having a green car with the typical interior for a yellow car. Who knows, I am unaware of any way to cross reference all of these options against one another. Safe to say this car is in the teens in terms of numbers produced like this. How many survive? There are only a little over 100 Mod Top cars in the Mod Top Registry from 1969 and 1970 combined.

Rarity aside, this thing is a rusty heap. The motor does not turn. Everything else seems to. I bet the pistons would drive out with a big wooden block and a hammer. But that is a mystery left for you to uncover. It did have the advantage of sitting all those years with the air cleaner on the carb with the wingnut installed.

Don't want a restored Mod Top car you say? No problem! If you are building some sort of 340 car and you want everything to work properly,have the correct manifolds and brackets (there are many little differences that make a factory car different from a 318 or a 225) then this is the car for you. Every little nut and bolt and screw that makes all this stuff work properly is present and accounted for. Bigger 26" radiator, kick down linkage, HiPo 340 manifolds (with all the hold down washers and hardware), the list goes on and on.

The car comes with two different Barracuda roofs. AMD can get you the metal for most of the other things you would need. The frame rails seem pretty solid. The trunk floor isn't bad. The roof and floors are aweful. Just look at the photos....

Here is what the fender tag would have said had it not rusted and crumbled away:

BH23P9B Barracuda High Price Class 340 1969 Hamtramck
(1 of 325 2 Door Hdtp, Auto or 4spd)
140344 Sequence Number

A01 Light Package
Glove Box Lock
Map/Courtesy Lamp
Glove Box Lamp
Trunk Compartment Lamp
Hood Turn Signal Lights
Ignition Switch Lamp w/Timer

A53 Formula S Package
340 - 1-4BBL Engine w/Dual Exhaust System w/Chrome Tips
Rallye Suspension & Firm Ride Shocks
14 x 5.5" HD Wheels & 14" Red Sidewall Tires (T73)
Rear Deck Applique
Black Grille
Engine Identification Plaque

B41 Front Disc Brakes W/Std 10" RR Drum
C16 Console W/Woodgrain Panel
C31 Head Restraint – Left and Right Adjustable
C55 Bucket Seats
D32 A727 3-spd A/Trans
D53 3.23 8.75" Axle
D91 Sure Grip Axle - not sure about this one, but why would you have a 340 with an open rear?
E55 340 8 cyl 4bbl 275 HP LA
F5 Limelight Green Metallic
F6P Bucket, Vinyl Yellow Floral & Yellow
G11 Tinted Glass All Windows
G31 RH O/S Mirror Man/Chr/Con
G33 LH O/S Mirror Rem/Chr/Con
H11 Heater - Front
M21 Drip Rail Moldings
M26 Wheel Lip Moldings
M27? Narrow Sill Moldings (M25 otherwise)
M31 Body Belt Moldings
M85 Bumper Guards – FT/RR
N85 Tachometer
R11 Radio – AM Music Master 2 Watt
S77 Power Steering 16:1 Average
S81 Steering Whl – Woodgrain Sports
T73 E70 X 14 RSW 2P/4PR
V1P Vinyl Roof – Full – Yellow Floral "Mod Top" Barracuda Only
V7X Accent Stripes Longitudinal Paint Black
W11 Wheel Covers – Deluxe
X9 Upper Door Frame – Black
Y05 Build for Specifications for: USA Order

Please feel free to email me with questions and I can send you a link to view a whole lot of additional photos.

The car comes with the title I got from the bar owner (dead) and a bill of sale from me.

This car is sold as-is, where-is, with no warranty of any kind expressed or implied. You get what you get, which is what is in the photos.

If you win the car, but lack the ability to get it home, I have a dually and a trailer. I will deliver it for $2.25/loaded mile within a 400 mile radius of Athens, GA. Maybe farther if you live somewhere cool that I want to visit anyway. I will not load the car or leave the driveway without a $1,500.00 non-refundable deposit, either in my bank account or my PayPal account. I will also work with the shipper of your choosing to get the car safely loaded and headed your way.

The winning bidder shall show good faith with a $500.00 deposit within 24 hours of winning the auction. Full payment is due within 7 days. Cash is king. I am not a bank. If you do not have the funds, do not bid. Simple. I want the car to go to a good home, but I am not in a position to give it away.


---

Go back to the Mod Registry Info Page!
Last updated 1/29/2015 3:09:40 PM